Abstract
Medicinal plants have been used by local communities to treat all sorts of diseases, and this unique indigenous knowledge has been documented in various studies. However, using this vast knowledge to formulate and test hypothesis in ethnobotany is not yet a common practice in the discipline despite recent calls for more hypothesis-driven ethnobotanical researches. Here, we collected ethnobotanical data on 811 woody plant species in the Mpumalanga Province of South Africa to test the non-random hypothesis of medicinal plant selection, which predicts a positive correlation between the size of plant families and the number of medicinal plants in the families. We tested this hypothesis by fitting the commonly used simple linear regression model and the negative binomial model. Our analysis confirmed the hypothesis and revealed that some plant families are over-utilised—i.e. contain more medicinal plants than expected. The identification of over-utilised families is the first step towards the prioritisation of research efforts for drug discovery. The proportion of over-utilised families ranges from 50% (linear regression with untransformed data) and 55% (linear regression after log–log transformation) to 34% (negative binomial model). With the simple linear model and untransformed data, the top over-utilised families are Fabaceae (residual =  + 34.44), Apocynaceae (+ 5.82) and Phyllanthaceae (+ 5.53). The log-transformed model confirms these three families as the top over-utilised families but in a slightly different sequence: Fabaceae (+ 1.55), Phyllanthaceae (+ 0.83) and Apocynaceae (+ 0.79). However, using the negative binomial model, Fabaceae is no longer even part of the top 10 over-utilised families, which are now Phyllanthaceae (+ 2.09), Apocynaceae (+ 1.51), Loganiaceae (+ 1.48), Rhamnaceae (+ 1.48), Sapotaceae (+ 1.48), Oleaceae (+ 1.39), Salicaceae (+ 1.39), Clusiaceae (+ 1.30), Boraginaceae (+ 1.28) and Lamiaceae (+ 1.18). This suggests that the relative medicinal value of some families may have been over-estimated in comparison with others. Our study is an illustration of the need to apply appropriate model while testing ethnobotanical hypotheses to inform priority setting for drug discovery.
Access options
Buy single article
Instant access to the full article PDF.
US$ 39.95
Tax calculation will be finalised during checkout.
Subscribe to journal
Immediate online access to all issues from 2019. Subscription will auto renew annually.
US$ 79
Tax calculation will be finalised during checkout.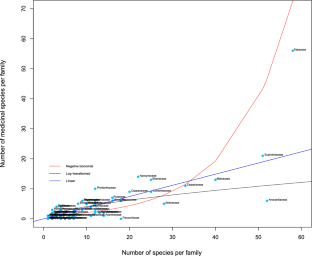 References:s
Albuquerque, U. P. (2006). Re-examining hypotheses concerning the use and knowledge of medicinal plants: A study in the Caatinga vegetation of NE Brazil. Journal of Ethnobiology and Ethnomedicine, 2(1), 30.

Albuquerque, U. P., & Lucena, R. F. P. (2005). Can apparency affect the use of plants by local people in tropical forests? Interciencia, 30, 506–511.

Amiguet, V. T., Arnason, J. T., Maquin, P., Cal, V., Sánchez-Vindas, P., & Alvarez, L. P. (2006). A regression analysis of Q'eqchi'Maya medicinal plants from southern Belize. Economic Botany, 60(1), 24–38.

Arnold, T. H., Prentice, C. A., Hawker, L. C., Snyman, E. E., Tomalin, M., Crouch, N. R., et al. (2002). Medicinal and magical plants of southern Africa: An annotated checklist. Lucknow: National Botanical Institute.

Bennett, B. C., & Husby, C. E. (2008). Patterns of medicinal plant use: An examination of the Ecuadorian Shuar medicinal flora using contingency table and binomial analyses. Journal of Ethno Pharmacology, 116(3), 422–430.

Bessong, P. O., Obi, C. L., Andréola, M. L., Rojas, L. B., Pouységu, L., Igumbor, E., et al. (2005). Evaluation of selected South African medicinal plants for inhibitory properties against human immunodeficiency virus type 1 reverse transcriptase and integrase. Journal of ethnopharmacology, 99(1), 83–91.

da Silva, T. C., da Silva, J. M., & Ramos, M. A. (2018). What factors guide the selection of medicinal plants in a local pharmacopoeia? A case study in a rural community from a historically transformed atlantic forest landscape. Evidence-Based Complementary and Alternative Medicine, 2018, 2519212.

Douwes, E., Crouch, N. R., Edwards, T. J., & Mulholland, D. A. (2008). Regression analyses of southern African ethnomedicinal plants: Informing the targeted selection of bioprospecting and pharmacological screening subjects. Journal of Ethnopharmacology, 119(3), 356–364.

Elansary, H. O., Mahmoud, E. A., Shokralla, S., & Yessoufou, K. (2015). Diversity of plants, traditional knowledge and practices in local cosmetic industry in Egypt: A case study of Alexandria governorate in the Northern Egypt. Economic Botany, 69, 114–126.

Fennell, C. W., Lindsey, K. L., McGaw, L. J., Sparg, S. G., Stafford, G. I., Elgorashi, E. E., et al. (2004). Assessing African medicinal plants for efficacy and safety: Pharmacological screening and toxicology. Journal of ethnopharmacology, 94(2–3), 205–217.

Feeny, P. (1976). Plant apparency and chemical defense. In J. Wallace & R. Mansell (Eds.), Recent advances in phytochemistry. New York: Plenum Press.

Ford, J., & Gaoue, O. G. (2017). Alkaloid-poor plant families, Poaceae and Cyperaceae, are over-utilized for medicine in Hawaiian pharmacopoeia. Economic Botany, 71(2), 123–132.

Gaoue, O. G., Coe, M. A., Bond, M., Hart, G., Seyler, B. C., & McMillen, H. (2017). Theories and major hypotheses in ethnobotany. Economic Botany, 71(3), 269–287.

Germishuizen, G., & Meyer, N. L. (2003). Plants of southern Africa: An annotated checklist. Pretoria: National Botanical Institute.

Hart, G., Gaoue, O. G., de la Torre, L., Navarrete, H., Muriel, P., Macia, M. J., et al. (2017). Availability, diversification and versatility explain human selection of introduced plants in Ecuadorian traditional medicine. PLoS ONE, 12(9), e0184369.

Kapur, S. K., Shahi, A. K., Sarin, Y. K., & Moerman, D. E. (1992). The medicinal flora of Majouri-kirchi forests (Jammu and Kashmir State), India. Journal of Ethnopharmacology, 36, 87–90.

Kew, R. B. G. (2017). Seed Information Database (SID). Version 7.1.

Kunwar, R. M., Baral, K., Paudel, P., Acharya, R. P., Thapa-Magar, K. B., Cameron, M., et al. (2016). Land-use and socioeconomic change, medicinal plant selection and biodiversity resilience in far Western Nepal. PLoS ONE, 11(12), e0167812.

Leso, L. K., Stoffberg, G. H., Mearns, K., Elansary, H. O., & Yessoufou, K. (2017). Ethnobotany at local scale: Diversity of knowledge of medicinal plants and assessment of plant cultural importance in the Polokwane Local Municipality, South Africa. Botany Letters, 164, 93–102.

Magill, R. E., Russell, G. G., Morris, J. W., & Gonsalves, P. (1983). PRECIS, the Botanical Research Institute herbarium data bank. Bothalia, 14(3/4), 481–495.

Moerman, D. E. (1996). An analysis of the food plants and drug plants of native North America. Journal of Ethnopharmacology, 52(1), 1–22.

Moerman, D. E. (1991). The medicinal flora of native North America: An analysis. Journal of Ethnopharmacology, 31(1), 1–42.

Moerman, D. E. (1979). Symbols and selectivity: A statistical analysis of native American medical ethnobotany. Journal of Ethnopharmacology, 1(2), 111–119.

Mpumalanga Provincial Government. About Mpumalanga Province. Available from: http://www.mpumalanga.gov.za/about/province.htm. Accessed January 23, 2018.

O'Hara, R. B., & Kotze, D. J. (2010). Do not log-transform count data. Methods in Ecology and Evolution, 1(2), 118–122.

Phillips, O., & Gentry, A. H. (1993). The useful plants of Tambopata, Peru: I. Statistical hypotheses tests with a new quantitative technique. Economic Botany, 47(1), 15–32.

RBKew 2017. State of the world plants. https://stateoftheworldsplants.com/2017/useful-plants.html. Accessed June 2018.

R Core Team. (2017). R: A language and environment for statistical computing. Vienna: R Foundation for Statistical Computing.

SANBI. (2005). PRECIS (PRE-Computerized Information System) databank. Pretoria: South African National Biodiversity Institute.

Saslis-Lagoudakis, C. H., & Clarke, A. C. (2013). Ethnobiology: the missing link in ecology and evolution. Trends in Ecology & Evolution, 28(2), 67–68.

Saslis-Lagoudakis, C. H., Hawkins, J. A., Greenhill, S. J., Pendry, C. A., Watson, M. F., Tuladhar-Douglas, W., et al. (2014). The evolution of traditional knowledge: Environment shapes medicinal plant use in Nepal. Proceeding of the Royal Society, Biological Sciences, 281, 20132768.

Schmidt, E., Lotter, M., & McCleland, W. (2007). Trees and shrubs of Mpumalanga and Kruger National Park (p. 702). Johannesburg: Jacana Press.

Tshikalange, T. E., Mophuting, B. C., Mahore, J., Winterboer, S., & Lall, N. (2016). An ethnobotanical study of medicinal plants used in villages under Jongilanga Tribal Council, Mpumalanga, South Africa. African Journal of Traditional, Complementary and Alternative Medicine, 13(6), 83–89.

van Wyk, B. E. (2008). A broad review of commercially important southern African medicinal plants. Journal of ethnopharmacology, 119(3), 342–355.

van Wyk, B. E., & Gericke, N. (2000). People's plants: A guide to useful plants of Southern Africa. Pretoria: Briza Publications.

Venter, F. J. (1990). A classification of land for management planning in the Kruger National Park. PhD Thesis, University of South Africa, Pretoria, South Africa.

Williams, V. L., Victor, J. E., & Crouch, N. R. (2013). Red listed medicinal plants of South Africa: Status, trends, and assessment challenges. South African Journal of Botany, 86, 23–35.

Yessoufou, K., Daru, B. H., & Muasva, A. M. (2015). Phylogenetic exploration of commonly used medicinal plants in South Africa. Molecular Ecology Resources, 15(2), 405–413.

Yessoufou, K. (2012). Phylogenetic analysis of plant community assemblages in the Kruger National Park, South Africa (Doctoral dissertation, University of Johannesburg).

York, T., De Wet, H., & Van Vuuren, S. F. (2011). Plants used for treating respiratory infections in rural Maputaland, KwaZulu-Natal, South Africa. Journal of Ethnopharmacology, 135(3), 696–710.

Zeileis, A., Kleiber, C., & Jackman, S. (2008). Regression models for count data in R. Journal of Statistical Software, 27(8), 1–25.
Acknowledgements
The first author gratefully acknowledges funding from the Global Excellence and Stature (GES) and a PhD merit bursary both offered by the University of Johannesburg, in South Africa. We acknowledge the South Africa's National Research Foundation for funding (Grants Nos: 103944; 112113; 111195) to Dr K. Yessoufou.
Additional information
Publisher's Note
Springer Nature remains neutral with regard to jurisdictional claims in published maps and institutional affiliations.
Electronic supplementary material
Below is the link to the electronic supplementary material.
Diagnostic plots showing non-normality of the residuals of untransformed data (XLS 122 kb)
Diagnostic plots showing improved normality of the residuals of untransformed data (PDF 27 kb)
Checklist of all plants recorded and their medicinal status in Mpumalanga province, South Africa. 1, at least one medicinal use is documented for a species in the province; 0, no known medicinal use is recorded for a givens species (PDF 27 kb)
About this article
Cite this article
Muleba, I., Yessoufou, K. & Rampedi, I.T. Testing the non-random hypothesis of medicinal plant selection using the woody flora of the Mpumalanga Province, South Africa. Environ Dev Sustain 23, 4162–4173 (2021). https://doi.org/10.1007/s10668-020-00763-5
Received:

Accepted:

Published:

Issue Date:
Keywords
Ethnobotanical hypothesis

Fabaceae

Generalised linear model with negative binomial

Phyllanthaceae