Abstract
Adaptation of sustainable development practices in developing countries has faced many challenges and barriers due to the lack of policy structure. In Pakistan, sustainable development and specifically procurement practices have continued on the same trend prior to the Paris Agreement. This research study examines policy areas that need enhancement for the implementation of sustainable procurement practices in Pakistan's healthcare industry. The data have been collected from two hospitals and have been analyzed quantitatively with the help of SPSS 22.0. The following factors are investigated to gain a better understanding of underlying issues: the price of equipment, country of origin, international standard compliance (energy, environment, safety and quality standards), actual procurement decision and the most efficient equipment. The Spearman and Chi-square tests are run, and the findings are then utilized to formulate a policy framework. Statistical analysis revealed that price and standard compliance are positively correlated, while the association between country of origin and most efficient equipment using Chi-square test could not be proven. Based on this evaluation, a comprehensive policy framework is proposed covering government and institutional policies, senior management role in terms of commitment toward the implementation of sustainable procurement practices, and introduction of rules incorporating in-depth evaluation of energy, environment, safety and quality standards of all quoted equipment during the procurement process. Such a policy blueprint will assist policymakers and sustainable development planners in the implementation of sustainable processes across various industries.
Graphic abstract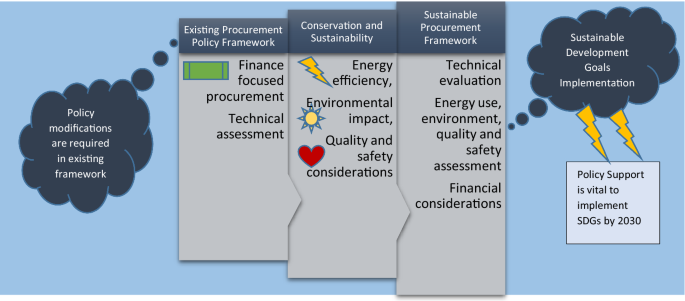 Access options
Buy single article
Instant access to the full article PDF.
US$ 39.95
Tax calculation will be finalised during checkout.
Subscribe to journal
Immediate online access to all issues from 2019. Subscription will auto renew annually.
US$ 79
Tax calculation will be finalised during checkout.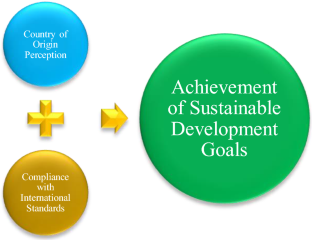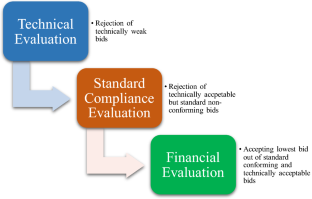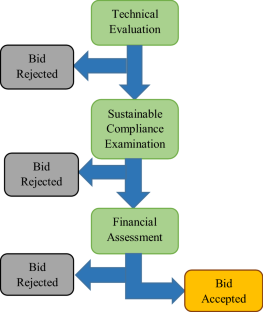 References
Agreement, P. (2015). United nations framework convention on climate change. Paris, France.

Ahmad, F. (2017). Healthcare reforms in the state teaching hospitals of Peshawar, Pakistan: a multi-stakeholder perspective. Southampton: University of Southampton.

Ahmed, S. U., Ali, A., Kumar, D., Malik, M. Z., & Memon, A. H. (2019). China Pakistan economic corridor and Pakistan's energy security: A meta-analytic review. Energy Policy, 127, 147–154.

Ali, M., Rehman, M., & Abdul Rehman, C. (2015). Exploring the dimensions of country of origin and its leverage on consumer buying preferences: A qualitative study of Pakistani consumer market. Singaporean Journal of Business, Economics and Management Studies, 51(2479), 1–26.

Anwar, B., Xiao, Z., Akter, S., & Rehman, R.-U. (2017). Sustainable urbanization and development goals strategy through public–private partnerships in a South-Asian metropolis. Sustainability, 9(11), 1940.

Aviation, D., Pakistan. (2018). Transparency international Pakistan—Aviation division complaint. A. D. Pakistan. Transparency International Pakistan. Accessed 12 December 2018.

Brammer, S., & Walker, H. (2016). Sustainable procurement, institutional context and top management commitment: An international public sector study. In Sustainable value chain management (pp. 67–86). London: Routledge.

Cai, X., Che, X., Zhu, B., Zhao, J., & Xie, R. (2018). Will developing countries become pollution havens for developed countries? An empirical investigation in the Belt and Road. Journal of Cleaner Production, 198, 624–632.

Chao, P., & Jo, M.-S. (2015). The impact of brand, attribute strength and country-of-origin on product evaluation: A web survey. In Proceedings of the 2000 academy of marketing science (AMS) annual conference (pp. 186–191). Springer.

Cho, J., Isgut, A., & Tateno, Y. (2017). Pathways for adapting the sustainable development goals to the national context: the case of Pakistan. Asia-Pacific Development Journal, 24(2), 53–87.

Creswell, J. W., & Creswell, J. D. (2017). Research design: Qualitative, quantitative, and mixed methods approaches. New York: Sage Publications.

Cronk, B. C. (2017). How to use SPSS®: A step-by-step guide to analysis and interpretation. London: Routledge.

Édes, B. W., Hill, J., Reckien, D., Dobias, R. J., Ito, Y., Manzano-Guerzon, H. M., et al. (2012). Addressing climate change and migration in Asia and the Pacific. Asian Development Bank. Available at: https://www.adb.org/sites/default/files/publication/29662/addressing-climate-change-migration.pdf. Accessed 11 June 2018.

Engert, S., & Baumgartner, R. J. (2016). Corporate sustainability strategy–bridging the gap between formulation and implementation. Journal of Cleaner Production, 113, 822–834.

Fahimnia, B., Tang, C. S., Davarzani, H., & Sarkis, J. (2015). Quantitative models for managing supply chain risks: A review. European Journal of Operational Research, 247(1), 1–15.

Finance, M. O. (2018). Pakistan economic survey 2017–18: Health and nutrition (Chapter 11)' M. O. Finance. Government of Pakistan. Available at: http://www.finance.gov.pk/survey/chapters_18/11-Health.pdf. Accessed 06 December 2018.

Govindan, K., Azevedo, S. G., Carvalho, H., & Cruz-Machado, V. (2014). Impact of supply chain management practices on sustainability. Journal of Cleaner Production, 85, 212–225.

Grob, S., & Benn, S. (2014). Conceptualising the adoption of sustainable procurement: An institutional theory perspective. Australasian Journal of Environmental Management, 21(1), 11–21.

Hosseini, S., Ivanov, D., & Dolgui, A. (2019). Review of quantitative methods for supply chain resilience analysis. Transportation Research Part E: Logistics and Transportation Review, 125, 285–307.

Janic, M. (2017). The sustainability of air transportation: A quantitative analysis and assessment. London: Routledge.

Jia, F., Zuluaga-Cardona, L., Bailey, A., & Rueda, X. (2018). Sustainable supply chain management in developing countries: An analysis of the literature. Journal of Cleaner Production, 189, 263–278.

Kalicharan, H. D. (2014). The effect and influence of country-of-origin on consumers' perception of product quality and purchasing intentions. The International Business and Economics Research Journal, 13(5), 897.

Khoumbati, K., Abbasi, M., Shah, S. G. S., & Stergioulas, L. K. (2018). Integration of public sector healthcare information systems with private sector healthcare providers in Pakistan: Challenges, opportunities and solutions. In Y. K. Dwivedi, N. P. Rana, E. L. Slade, M. A. Shareef, M. Clement, A. C. Simintiras, & B. Lal (Eds.), Emerging markets from a multidisciplinary perspective (pp. 233–240). Berlin: Springer.

Kim, N., Chun, E., & Ko, E. (2017). Country of origin effects on brand image, brand evaluation, and purchase intention: A closer look at Seoul, New York, and Paris fashion collection. International Marketing Review, 34(2), 254–271.

Király, G., Köves, A., & Balázs, B. (2017). Contradictions between political leadership and systems thinking. Journal of Cleaner Production, 140, 134–143.

Kreft, S., Eckstein, D., & Melchior, I. (2016). Global climate risk index 2017: Who suffers most from extreme weather events? Weather-related loss events in 2015 and 1996 to 2015. German Watch. Available at: https://germanwatch.org/sites/germanwatch.org/files/publication/16411.pdf. Accessed 12 June 2018.

Leech, N. L., Barrett, K. C., & Morgan, G. A. (2014). IBM SPSS for intermediate statistics: Use and interpretation. London: Routledge.

Liu, J., Yuan, C., Hafeez, M., & Yuan, Q. (2018). The relationship between environment and logistics performance: evidence from Asian countries. Journal of Cleaner Production, 204, 282–291.

Mahmood, Z., Kouser, R., & Iqbal, Z. (2017). Why Pakistani small and medium enterprises are not reporting on sustainability practices? Pakistan Journal of Commerce and Social Sciences, 11(1), 389–405.

Planning, C., Pakistan (2018). Overview of SDGs' M. o. P. D. Reform. Ministry of Planning Development & Reform. Available at: http://pc.gov.pk/web/sdg/sdgpak. Accessed 10 June 2018.

Pokrywczynski, J., & Lu, H. (2016). Brand tracking on social media: The role of country-of-origin perceptions. Journal of Digital and Social Media Marketing, 4(3), 279–291.

Public, P., Regulatory, Authority. (2004). PPRA rules' P. P. R. Authority. Public Procurement Regulatory Authority. Available at: www.ppra.org.pk/doc/rules_u.pdf. Accessed 12 December 2018.

Public, P., Regulatory, Authority. (2018). PPRA notice—Hiring of consultancy services (e-procurement system). P. P. R. A. C. Division). Government of Pakistan. Accessed 12 December 2018.

Quinlan, C., Babin, B., Carr, J., & Griffin, M. (2019). Business research methods. Mason: South Western Cengage.

Rai, J. (2019). Understanding poverty-environment relationship from sustainable development perspectives. Journal of Geography, Environment and Earth Science International, 19(1), 1–19.

Sarker, M. N. I., Bingxin, Y., Sultana, A., & Prodhan, A. (2017). Problems and challenges of public administration in Bangladesh: Pathway to sustainable development. International Journal of Public Administration and Policy Research, 2(1), 008–015.

Shabbir, M. S., & Kassim, N. M. (2018). Supply chain management drivers and sustainability of green initiatives in manufacturing enterprises: A case in Pakistan. International Journal of Entrepreneurship, 22(1S), 1–19.

Steven, A. B., Dong, Y., & Corsi, T. (2014). Global sourcing and quality recalls: An empirical study of outsourcing-supplier concentration-product recalls linkages. Journal of Operations Management, 32(5), 241–253.

Tajdar, S., Ahmad, S., Ahmad, J., & Khan, A. (2015). Customers' prescription of foreign versus local brands in the pharmaceutical industry of Peshawar (Pakistan). Review of Integrative Business and Economics Research, 4(2), 378.

Tarne, P., Lehmann, A., & Finkbeiner, M. (2019). Introducing weights to life cycle sustainability assessment—How do decision-makers weight sustainability dimensions? The International Journal of Life Cycle Assessment, 24(3), 530–542.

Tiwari, S., Wei, C. S., & Mubarak, M. F. (2019). Sustainable procurement: A critical analysis of the research trend in supply chain management journals. International Journal of Business Performance and Supply Chain Modelling, 10(3), 266–282.

Ulucak, R., Yücel, A. G., & Koçak, E. (2019). The process of sustainability: From past to present. In B. Özcan & I. Öztürk (Eds.), Environmental kuznets curve (EKC) (pp. 37–53). Cambridge: Academic Press.

United Nations. (2016). Sustainable development goals: Goal 11. United Nations. Retreived from https://www.un.org/sustainabledevelopment/cities/.

Visbal, O., Herrera-Mendoza, K., Orozco-Acosta, E., & Herzberg, M. (2017). The influence of country of origin cues on product evaluation: Evidence from Swiss and German consumers. Journal of Technology Management and Innovation, 12(2), 18–25.

Yaman, H. M., Ordu, B., Zencirci, N., & Kan, M. (2019). Coupling socioeconomic factors and cultural practices in production of einkorn and emmer wheat species in Turkey. Environment, Development and Sustainability, pp. 1–18.

Zaidi, S. A. H., Mirza, F. M., Hou, F., & Ashraf, R. U. (2018). Addressing the sustainable development through sustainable procurement: What factors resist the implementation of sustainable procurement in Pakistan? Socio-Economic Planning Sciences, 68, 1–12.
Acknowledgements
The authors are thankful to Almighty God for this opportunity to research and express their gratitude toward the global scholar community for creating such platforms to share knowledge and to spread awareness.
Ethics declarations
Conflict of interest
Authors declare that they have no conflict of interest.
Additional information
Publisher's Note
Springer Nature remains neutral with regard to jurisdictional claims in published maps and institutional affiliations.
Electronic supplementary material
Below is the link to the electronic supplementary material.
About this article
Cite this article
Ahmed, S.U., Ali, A., Memon, A.H. et al. Policy framework for implementation of sustainable procurement practices in healthcare industry. Environ Dev Sustain 23, 3929–3945 (2021). https://doi.org/10.1007/s10668-020-00750-w
Received:

Accepted:

Published:

Issue Date:
Keywords
Sustainable development

Sustainable procurement

Policy

Procurement practices

Developing countries