Abstract
On account of sustainable municipal solid waste (MSW) management, the determination of appropriate positions for MSW multi-directional landfill sites includes thought of geomorphological, topographical, hydrological, monetary and environmental parameters. Deciding these regions in a manner that limits ecological contamination and well-being dangers is a significant multi-criteria decision-making issue in the controls of land executives. A landfill site choice procedure has been completed utilizing three pure weighting techniques (rank sum, rank reciprocal and rank-order centroid) coordinated with geographical information system instruments. The outcomes demonstrate that 32,045 km2 (87.4%) of the total area is inadmissible for landfill sites. This study compares the results of three subjective weighting methods at a large-scale regional planning scenario. The exhibited methodology helps chiefs in deciding safe areas for MSW landfill sites. The results show that in the early period of the spatial planning, simplified pure methods can be adequate. In this case, using more complicated methods will not definitely deduce different findings. However, when regional planning requires identifying the spatial scope of the favored specific sites, considering the intersection area proposed by three methods will be ideal.
Access options
Buy single article
Instant access to the full article PDF.
US$ 39.95
Tax calculation will be finalised during checkout.
Subscribe to journal
Immediate online access to all issues from 2019. Subscription will auto renew annually.
US$ 79
Tax calculation will be finalised during checkout.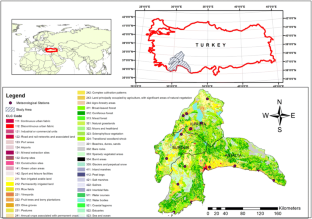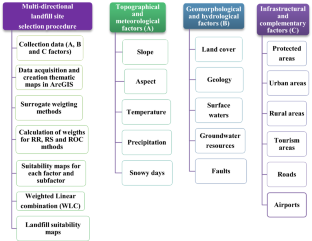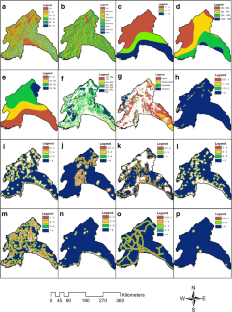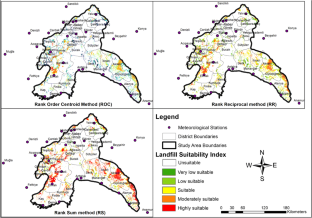 References
Aderoju, O. M., Dias, G. A., & Gonçalves, A. J. (2020). A GIS-based analysis for sanitary landfill sites in Abuja, Nigeria. Environment, Development and Sustainability, 22(1), 551–574.

Ahn, B. S. (2011). Compatible weighting method with rank order centroid: Maximum entropy ordered weighted averaging approach. European Journal of Operational Research, 212(3), 552–559.

Ahn, B. S. (2017). Approximate weighting method for multiattribute decision problems with imprecise parameters. Omega, 72, 87–95.

Ahn, B. S., & Park, K. S. (2008). Comparing methods for multiattribute decision making with ordinal weights. Computers & Operations Research, 35(5), 1660–1670.

Alsamamra, H., Ruiz-Arias, J. A., Pozo-Vázquez, D., & Tovar-Pescador, J. (2009). A comparative study of ordinary and residual Kriging techniques for mapping global solar radiation over southern Spain. Agricultural and Forest Meteorology, 149(8), 1343–1357.

Anagnostopoulos, K. P., Vavatsikos, A. P., Spiropoulos, N., & Kraias, I. (2010). Land suitability analysis for natural wastewater treatment systems using a new GIS add-in for supporting criterion weight elicitation methods. Operational Research, 10(1), 91–108.

Anagnostopoulos, K. P., Vavatsikos, A. P., Spiropoulos, N., & Kraias, I. (2010). Land suitability analysis for natural wastewater treatment systems using a new GIS add-in for supporting criterion weight elicitation methods. Operational Research, 10(1), 91–108.

Asefi, H., & Lim, S. (2017). A novel multi-dimensional modeling approach to integrated municipal solid waste management. Journal of Cleaner Production, 166, 1131–1143.

Baban, S. M. J., & Flannagan, J. (1998). Developing and implementing GIS-assisted constraints criteria for planning landfill sites in the UK. Planning Practice & Research, 13(2), 139–151.

Bahrani, S., Ebadi, T., Ehsani, H., Yousefi, H., & Maknoon, R. (2016). Modeling landfill site selection by multi-criteria decision making and fuzzy functions in GIS, case study: Shabestar, Iran. Environmental Earth Sciences, 75(4), 337.

Barakat, A., Hilali, A., El Baghdadi, M., & Touhami, F. (2017). Landfill site selection with GIS-based multi-criteria evaluation technique. A case study in Béni Mellal-Khouribga Region, Morocco. Environmental Earth Sciences, 76(12), 413.

Barron, F. H., & Barrett, B. E. (1996a). Decision quality using ranked attribute weights. Management Science, 42(11), 1515–1523.

Barron, F. H., & Barrett, B. E. (1996b). The efficacy of SMARTER—Simple multi-attribute rating technique extended to ranking. Acta Psychologica, 93(1–3), 23–36.

Basse, R. M., Charif, O., & Bodis, K. (2016). Spatial and temporal dimensions of land use change in cross border region of Luxembourg. Development of a hybrid approach integrating GIS, cellular automata and decision learning tree models. Applied Geography, 67, 94–108.

Berndt, C., & Haberlandt, U. (2018). Spatial interpolation of climate variables in Northern Germany—Influence of temporal resolution and network density. Journal of Hydrology: Regional Studies, 15, 184–202.

Butler, J., & Olson, D. L. (1999). Comparison of centroid and simulation approaches for selection sensitivity analysis. Journal of Multi-Criteria Decision Analysis, 8(3), 146–161.

Carter, B., & Rinner, C. (2014). Locally weighted linear combination in a vector geographic information system. Journal of Geographical Systems, 16(3), 343–361.

Chabuk, A. J., Al-Ansari, N., Hussain, H. M., Knutsson, S., & Pusch, R. (2017). GIS-based assessment of combined AHP and SAW methods for selecting suitable sites for landfill in Al-Musayiab Qadhaa, Babylon, Iraq. Environmental Earth Sciences, 76(5), 209.

Danielson, M., & Ekenberg, L. (2017). A robustness study of state-of-the-art surrogate weights for MCDM. Group Decision and Negotiation, 26(4), 677–691.

Danielson, M., Ekenberg, L., & He, Y. (2014). Augmenting ordinal methods of attribute weight approximation. Decision Analysis, 11(1), 21–26.

Demesouka, O. E., Anagnostopoulos, K. P., & Siskos, E. (2019). Spatial multicriteria decision support for robust land-use suitability: The case of landfill site selection in Northeastern Greece. European Journal of Operational Research, 272(2), 574–586.

Doljak, D., & Stanojević, G. (2017). Evaluation of natural conditions for site selection of ground-mounted photovoltaic power plants in Serbia. Energy, 127, 291–300.

EEA. (1995). European Environment Agency. Retrieved July 02, 2019 from https://www.eea.europa.eu/publications/COR0-landcover.

Feyzi, S., Khanmohammadi, M., Abedinzadeh, N., & Aalipour, M. (2019). Multi-criteria decision analysis FANP based on GIS for siting municipal solid waste incineration power plant in the north of Iran. Sustainable Cities and Society, 47, 101513.

Gbanie, S. P., Tengbe, P. B., Momoh, J. S., Medo, J., & Kabba, V. T. S. (2013). Modelling landfill location using geographic information systems (GIS) and multi-criteria decision analysis (MCDA): case study Bo, Southern Sierra Leone. Applied Geography, 36, 3–12.

Gigović, L., Pamučar, D., Božanić, D., & Ljubojević, S. (2017). Application of the GIS–DANP–MABAC multi-criteria model for selecting the location of wind farms: A case study of Vojvodina, Serbia. Renewable Energy, 103, 501–521.

Hoornweg, D., & Bhada-Tata, P. (2012). What a waste: A global review of solid waste management (Vol. 15, p. 116). Washington, DC: World Bank.

Jia, J., Fischer, G. W., & Dyer, J. S. (1998). Attribute weighting methods and decision quality in the presence of response error: A simulation study. Journal of Behavioral Decision Making, 11(2), 85–105.

Kamdar, I., Ali, S., Bennui, A., Techato, K., & Jutidamrongphan, W. (2019). Municipal solid waste landfill siting using an integrated GIS–AHP approach: A case study from Songkhla, Thailand. Resources, Conservation and Recycling, 149, 220–235.

Kapilan, S., & Elangovan, K. (2018). Potential landfill site selection for solid waste disposal using GIS and multi-criteria decision analysis (MCDA). Journal of Central South University, 25(3), 570–585.

Karimi, H., Amiri, S., Huang, J., & Karimi, A. (2019). Integrating GIS and multi-criteria decision analysis for landfill site selection, case study: Javanrood County in Iran. International Journal of Environmental Science and Technology, 16(11), 7305–7318.

Karteris, M., Theodoridou, I., Mallinis, G., Tsiros, E., & Karteris, A. (2016). Towards a green sustainable strategy for Mediterranean cities: Assessing the benefits of large-scale green roofs implementation in Thessaloniki, Northern Greece, using environmental modelling, GIS and very high spatial resolution remote sensing data. Renewable and Sustainable Energy Reviews, 58, 510–525.

Khodaparast, M., Rajabi, A. M., & Edalat, A. (2018). Municipal solid waste landfill siting by using GIS and analytical hierarchy process (AHP): A case study in Qom city, Iran. Environmental Earth Sciences, 77(2), 52.

Kirkwood, C. W., & Sarin, R. K. (1985). Ranking with partial information: A method and an application. Operations Research, 33(1), 38–48.

Krige, D. G. (1951). A statistical approach to some basic mine valuation problems on the Witwatersrand. Journal of the Southern African Institute of Mining and Metallurgy, 52(6), 119–139.

Malczewski, J. (2000). On the use of weighted linear combination method in GIS: Common and best practice approaches. Transactions in GIS, 4(1), 5–22.

Mateos, A., Jiménez-Martín, A., Aguayo, E. A., & Sabio, P. (2014). Dominance intensity measuring methods in MCDM with ordinal relations regarding weights. Knowledge-Based Systems, 70, 26–32.

MFWA. (2017). Ministry of Forestry and Water Affairs, 28.10.2017/Regulation No. 30224 on the protection of drinking water basins. (In Turkish).

Michael, E. A., & Samanta, S. (2016). Landslide vulnerability mapping (LVM) using weighted linear combination (WLC) model through remote sensing and GIS techniques. Modeling Earth Systems and Environment, 2(2), 88.

Nasiri, H., Boloorani, A. D., Sabokbar, H. A. F., Jafari, H. R., Hamzeh, M., & Rafii, Y. (2013). Determining the most suitable areas for artificial groundwater recharge via an integrated PROMETHEE II-AHP method in GIS environment (case study: Garabaygan Basin, Iran). Environmental Monitoring and Assessment, 185(1), 707–718.

Reisi, M., Afzali, A., & Aye, L. (2018). Applications of analytical hierarchy process (AHP) and analytical network process (ANP) for industrial site selections in Isfahan, Iran. Environmental Earth Sciences, 77(14), 537.

Rostamzadeh, R., Ghorabaee, M. K., Govindan, K., Esmaeili, A., & Nobar, H. B. K. (2018). Evaluation of sustainable supply chain risk management using an integrated fuzzy TOPSIS–CRITIC approach. Journal of Cleaner Production, 175, 651–669.

Roszkowska, E. (2013). Rank ordering criteria weighting methods—A comparative overview. Optimum Studia Ekonomiczne, 5(65), 14–33.

Sánchez-Lozano, J. M., Antunes, C. H., García-Cascales, M. S., & Dias, L. C. (2014). GIS-based photovoltaic solar farms site selection using ELECTRE-TRI: Evaluating the case for Torre Pacheco, Murcia, Southeast of Spain. Renewable Energy, 66, 478–494.

Stillwell, W. G., Seaver, D. A., & Edwards, W. (1981). A comparison of weight approximation techniques in multiattribute utility decision making. Organizational Behavior and Human Performance, 28(1), 62–77.

Sureeyatanapas, P. (2016). Comparison of rank-based weighting methods for multi-criteria decision making. Engineering and Applied Science Research, 43, 376–379.

Wackernagel, H. (2003). Ordinary Kriging. In Multivariate Geostatistics (pp. 79–88). Berlin: Springer.

Wang, Z., Ren, J., Goodsite, M. E., & Xu, G. (2018). Waste-to-energy, municipal solid waste treatment, and best available technology: Comprehensive evaluation by an interval-valued fuzzy multi-criteria decision making method. Journal of Cleaner Production, 172, 887–899.

Yıldırım, Ü., & Güler, C. (2016). Identification of suitable future municipal solid waste disposal sites for the Metropolitan Mersin (SE Turkey) using AHP and GIS techniques. Environmental Earth Sciences, 75(2), 101.
Acknowledgements
The authors thank civil engineer Serhan Gedik, geological engineer Hasan Akkoçak and also city and regional planner Mehmet Can Özkurt from General Directorate of Highways, Antalya Metropolitan Municipality, General Directorate of Meteorology in Turkey.
Funding
No funding information available.
Ethics declarations
Conflict of interest
All authors states that there is no conflict of interest.
Additional information
Publisher's Note
Springer Nature remains neutral with regard to jurisdictional claims in published maps and institutional affiliations.
Appendix
Appendix
See Table 5.
About this article
Cite this article
Dereli, M.A., Tercan, E. Comparison of GIS-based surrogate weighting methods for multi-directional landfill site selection in West Mediterranean Planning Region in Turkey. Environ Dev Sustain 23, 3438–3457 (2021). https://doi.org/10.1007/s10668-020-00725-x
Received:

Accepted:

Published:

Issue Date:
Keywords
Municipal solid waste

Multi-directional landfill site

Weighted linear combination

GIS

Regional planning

Subjective weighting