Abstract
This case study of rainfed Potohar region of Punjab, Pakistan, illustrates the impact of water sector interventions on the 'three Es' of integrated water resource management: economics, equity, and environment. Small and mini dams constructed with the support of the Agency for Barani Area Development have been selected for this study. For impacts assessment, interviews and field surveys were conducted and data from the Pakistan Bureau of Statistics and Agriculture Marketing Information Services were acquired. Moreover, precipitation data and imagery in Google Earth were also used in this study to further validate the impact of dams on agriculture. Remote sensing imagery was used to estimate vegetative cover through the normalized difference vegetation index. Overall, the study results show a significant increase in the vegetation cover between 2008 and 2016. Therefore, small and mini dams happened to be significant and effective interventions in improving the quality of livelihood and sustained agriculture in the Potohar region of Punjab. Thus, for efficient and sustainable rainwater management, small and mini dams can be considered as a feasible option not only in the unserved areas of the Potohar region but other rainfed areas as well.
Access options
Buy single article
Instant access to the full article PDF.
US$ 39.95
Tax calculation will be finalised during checkout.
Subscribe to journal
Immediate online access to all issues from 2019. Subscription will auto renew annually.
US$ 79
Tax calculation will be finalised during checkout.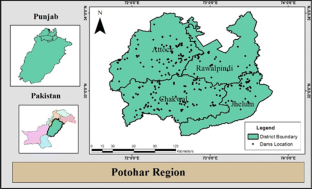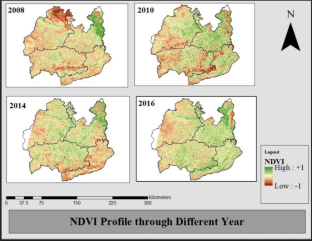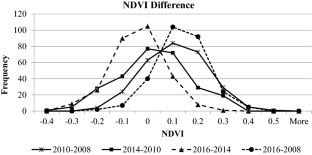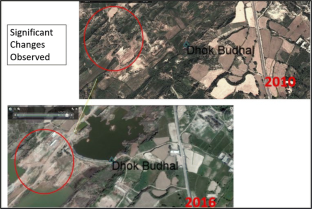 Notes
1.

Kharif crop refers to the planting, cultivation, and harvesting of any domesticated plant sown in the rainy (monsoon) season on the Asian subcontinent. These crops are usually sown in beginning of the first rains in July, during the southwest monsoon season.

2.

Rabi crops refers to agricultural crops, which are sown in autumn and harvested in the winter season.
References
Adnan, S., Mahmood, R., & Khan, A. H. (2009). Water balance conditions in rainfed areas of Potohar and Balochistan Plateau during 1931–1908. World Applied Sciences Journal, 7, 162–169.

Ahmad, S., & Khan, M. (1999). Achievements and issues of watershed management in the 20th century. Water Resources Research Institute National Agricultural Research Centre Islamabad, 2(99).

Ahmed, A., Mustafa, U., & Nasir, M. (2011). Impact of rooftop rain water harvesting technology on women well-being in hilly and fragile areas: Evidence from Pakistan. Islamabad: Pakistan Institute of Development Economics.

Ashraf, M., Kahlown, M. A., & Ashfaq, A. (2007). Impact of small dams on agriculture and groundwater development: A case study from Pakistan. Agricultural Water Management, 92(1–2), 90–98.

Ashraf, M., Majeed, A., & Saeed, M. (2016). Impact evaluation of a karez irrigation scheme in Balochistan-Pakistan: Issue and options. v, 53, 661–671.

Austin, S. F. (2014). Small dams and historic preservation: An assessment of dam infrastructure and contemporary preservation in Texas. San Marcos: Texas State University.

Baig, M. B., Shahid, S. A., & Straquadine, G. S. (2013). Making rainfed agriculture sustainable through environmental friendly technologies in Pakistan: A review. International Soil and Water Conservation Research, 1, 36–52.

Balooni, K., Kalro, A. H., & Kamalamma, A. G. (2008). Community initiatives in building and managing temporary check-dams across seasonal streams for water harvesting in South India. Agricultural Water Management, 95, 1314–1322. https://doi.org/10.1016/j.agwat.2008.06.012.

Dan, A. A. C. J. Y., & Bin, L. X. G. T. (2015). Time series analysis of the impact of rising prices of inorganic fertilizers on field crops production: A case study of Pakistan. Journal of Economics and Sustainable Development, 6, 62–71.

Ghani, M. W., Arshad, M., Shabbir, A., Mehmood, N., & Ahmad, I. (2013). Investigation of potential water harvesting sites at Potohar using modeling approach. Pakistan Journal of Agricultural Sciences, 50, 723–729.

Government of Pakistan. (2006). Government of Pakistan year book for financial year 2005–2006.

Iqbal, M. A., & Iqbal, A. (2015). A study on dwindling agricultural water availability in irrigated plains of Pakistan and drip irrigation as a future life line. American-Eurasian Journal of Agricultural & Environmental Sciences, 15, 184–190. https://doi.org/10.5829/idosi.aejaes.2015.15.2.12504.

Julien, Y., Sobrino, J. A., & Verhoef, W. (2006). Changes in land surface temperatures and NDVI values over Europe between 1982 and 1999. Remote Sensing of Environment, 103, 43–55. https://doi.org/10.1016/j.rse.2006.03.011.

Kazmi, D. H., & Rasul, G. (2006). Early yield assessment of wheat on meteorological basis for Potohar region. Pakistan Journal of Meteorology, 6, 73–87.

Khan, I., & Qureshi, R. (2011). Vegetation analysis and winter season carrying capacity of sub-tropical, sub humid rangelands of Dhrabi watershed, Pakistan. Pakistan Journal of Botany, 43, 1669–1672.

Khlifi, S., Ameur, M., Mtimet, N., Ghazouani, N., & Belhadj, N. (2010). Impacts of small hill dams on agricultural development of hilly land in the Jendouba region of northwestern Tunisia. Agricultural Water Management, 97, 50–56.

Majeed, S., Ali, I., Zaman, S. B., & Ahmad, S. (2010). Productivity of mini dams in Pothwar plateau: A diagnostic analysis. Research Briefings: Natural Research Division, Pakistan Agricultural Research Council, Islamabad, Pakistan, 2(13), 1–19.

Mangrio, A. G., Aslam, M., & Ikram, M. Z. (2011). Estimation and rapport between rainfall-runoff and sediment load as soil loss from Rawal sub-watershed. Pakistan Journal of Agriculture, Agricultural Engineering & Veterinary Sciences, 27, 27–38.

Peters, A. J., Walter-Shea, E. A., Ji, L., Vina, A., Hayes, M., & Svoboda, M. D. (2002). Drought monitoring with NDVI-based Standardized Vegetation Index. Photogrammetric Engineering and Remote Sensing, 68, 71–75.

Renganayaki, S. P., & Elango, L. (2013). A review on managed aquifer recharge by check dams: A case study near Chennai, India. International Journal of Research in Engineering and Technology, 2, 416–423.

Rheingans, R., Dreibelbis, R., & Freeman, M. C. (2006). Beyond the millennium development goals: Public health challenges in water and sanitation. Global Public Health, 1(1), 31–48.

Riaz, M., Sani, B., Babar, K., & Ahmed, S. (2008). Potential recharge zones of over-drawn river basin of Balochistan, Pakistan. Water for Balochistan: Policy Briefings (Vol. 4). Quetta: Govt. of Balochistan, ADB, and Royal Govt. of Netherlands. http://watsan.moenv.gov.pk/Documents/Publications/Water%20for%20Balochistan/3.Potential%20Recharge%20Zones%20of%20over%20drawn.pdf. Accessed 15 July 2013.

Weiss, J. L., Gutzler, D. S., Coonrod, J. E. A., & Dahm, C. N. (2004). Long-term vegetation monitoring with NDVI in a diverse semi-arid setting, central New Mexico, USA. Journal of Arid Environments, 58, 249–272. https://doi.org/10.1016/j.jaridenv.2003.07.001.
Acknowledgements
The authors wish to thank U.S.-Pakistan Center for Advanced Studies in Water (USPCASW), Mehran University of Engineering and Technology, Jamshoro, for the financial support. The authors also like to thank the Agency for Barani Area Development (ABAD) of the Government of Punjab for providing the necessary data for this study. Finally, they thank Dr. Steve Burian and Dr. Rick Bereit from University of Utah (USA) for their support and mentoring.
Additional information
Publisher's Note
Springer Nature remains neutral with regard to jurisdictional claims in published maps and institutional affiliations.
About this article
Cite this article
Panhwar, V., Zaidi, A., Ullah, A. et al. Impact of water sector interventions on economy, equity, and environment in the rainfed region of Punjab, Pakistan. Environ Dev Sustain 23, 2190–2203 (2021). https://doi.org/10.1007/s10668-020-00669-2
Received:

Accepted:

Published:

Issue Date:
Keywords
Field survey

GIS and remote sensing

Impact assessment

Small and mini dams

NDVI

Rainfed agriculture