Abstract
Groundwater, its availability, and/or its adequate supply play an important role to define the economic and environmental sustainability and social well-being of a community, especially when groundwater is the main source to fulfil the demand for domestic and agricultural uses. Humanity is under threat due to scarcity of freshwater, deterioration of its quality and rising water stress around the globe. The situations are expected to become even more acute/conflicting worldwide if cumulative efforts are not practiced. In order to maintain freshwater resources sustainably, they should be used in an effective and efficient manner without compromising the needs of the future generation. The present paper deals with the development of a groundwater sustainability index by taking into consideration of a case study of western Rajasthan, India. The framework for the development of groundwater sustainability index considered five dimensions of groundwater resources defined on the basis of fifteen indicators chosen for the study. Analytical hierarchy process has been applied in order to assess the importance of the selected dimensions of groundwater. The outcomes of the study clearly reflect that the situation of groundwater resources in the region is alarming and the future of groundwater resources is at stake. This study presents the actual status of sustainability of groundwater with particular reference to hyper-arid region of Rajasthan by integrating all important indicators related to protection and management of groundwater in the region.
Access options
Buy single article
Instant access to the full article PDF.
US$ 39.95
Tax calculation will be finalised during checkout.
Subscribe to journal
Immediate online access to all issues from 2019. Subscription will auto renew annually.
US$ 79
Tax calculation will be finalised during checkout.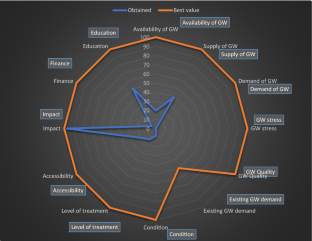 References
Asoka, A., Gleeson, T., Wada, Y., & Mishra, V. (2017). Relative contribution of monsoon precipitation and pumping to changes in groundwater storage in India. Nature Geoscience, 10(2), 109.

Bartlett, A. A. (1999). Colorado's population problem. Population Press, 5(6), 8–9.

Batabyal, A. K., & Chakraborty, S. (2015). Hydrogeochemistry and water quality index in the assessment of groundwater quality for drinking uses. Water Environment Research, 87(7), 607–617.

Bhakar, P., & Singh, A. P. (2018). Life cycle assessment of groundwater supply system in a hyper-arid region of India. Procedia CIRP, 69, 603–608. https://doi.org/10.1016/j.procir.2017.11.050.

Bhakar, P., & Singh, A. P. (2019). Groundwater quality assessment in a hyper-arid region of Rajasthan, India. Natural Resources Research, 28(2), 505–522.

Bright, J. C., Bidwell, V. J., Robb, C., & Ward, J. C. (1998). Environmental performance indicators for groundwater. Technical paper no. 38. Wellington: Freshwater, Ministry for the Environment.

Brundtland, G. H. (1987). Report of the world commission on environment and development: "Our common future". United Nations.

Census of India. (2011). Office of the Registrar General & Census Commissioner, India, Ministry of Home Affairs, Government of India, 2011. http://censusindia.gov.in/. Last Accessed on 25 June, 2019.

CGWB. (2013). Groundwater Information Bikaner District Rajasthan, Central Groundwater Board, Western Region, Jaipur, 2013, Ministry of Water Resources, Government of India. http://cgwb.gov.in/District_Profile/Rajasthan/Bikaner.pdf. Last Accessed on 15 May, 2019.

CGWB. (2017). Dynamic ground water resources of India, Central Ground Water Board, Government of India. http://cgwb.gov.in/GW-Assessment/GWRA-2017-National-Compilation.pdf. Last Accessed on December 1, 2019.

Chaves, H. M., & Alipaz, S. (2007). An integrated indicator based on basin hydrology, environment, life, and policy: The watershed sustainability index. Water Resources Management, 21(5), 883–895.

CIA. (2019). https://www.cia.gov/library/publications/the-world-factbook/fields.349.html. Last Accessed on December 1, 2019.

Cortés, A. E., Oyarzún, R., Kretschmer, N., Chaves, H., Soto, G., Soto, M., et al. (2018). Application of the watershed sustainability index to the Elqui river basin, North-Central Chile. Obras y Proyectos, 12, 57–69.

Cullet, P., & Stephan, R. M. (2017). Introduction to 'groundwater and climate change: Multi-level law and policy perspectives'. Water International, 42(6), 641–645.

Damkjaer, S., & Taylor, R. (2017). The measurement of water scarcity: Defining a meaningful indicator. Ambio, 46(5), 513–531.

Dandautiya, R., Singh, A. P., & Kundu, S. (2018). Impact assessment of fly ash on ground water quality: An experimental study using batch leaching tests. Waste Management and Research, 36(7), 624–634. https://doi.org/10.1177/0734242X18775484.

Dawe, C. J. (1990). Implications of aquatic animal health for human health. Environmental Health Perspectives, 86, 245–255.

de Loe, R. C., Di Giantomasso, S. E., & Kreutzwiser, R. D. (2002). Local capacity for groundwater protection in Ontario. Environmental Management, 29(2), 217–233.

Epa, U. S. (1998). Guidance on implementing the Capacity Development Provisions of the Safe Drinking Water Act Amendments of 1996. Washington, DC: United States Environmental Protection Agency, Office of Water.

European Commission. (2019). Global human settlement. https://ghsl.jrc.ec.europa.eu/.

Falkenmark, M., Lundqvist, J., & Widstrand, C. (1989). Macro-scale water scarcity requires micro-scale approaches: Aspects of vulnerability in semi-arid development. Natural Resources Forum, 13(4), 258–267.

Flint, R. W. (2004a). The sustainable development of water resources. Water Resources, 127, 41–51.

Flint, R. W. (2004b). Sustainable development: What does sustainability mean to individuals in the conduct of their lives and businesses? Public Administration and Public Policy-New York, 108, 67–88.

Gleick, P. H. (1996). Basic water requirements for human activities: Meeting basic needs. Water International, 21(2), 83–92.

Gonzales, P., & Ajami, N. K. (2015). Urban water sustainability: An integrative framework for regional water management. Hydrology and Earth System Sciences Discussions, 12(11), 11291–11329.

Government of India. (2019). Handbook of urban statistics, ministry of urban and housing affairs. http://mohua.gov.in/pdf/5c80e2225a124Handbook%20of%20Urban%20Statistics%202019.pdf. Last Accessed on December 2, 2019.

Green, T. R., Taniguchi, M., Kooi, H., Gurdak, J. J., Allen, D. M., Hiscock, K. M., et al. (2011). Beneath the surface of global change: Impacts of climate change on groundwater. Journal of Hydrology, 405(3–4), 532–560.

Groundwater Year Book. (2016–2017). Rajasthan State, Central Groundwater Board, Western Region, Jaipur, August 2017. http://cgwb.gov.in/Regions/GW-year-Books/GWYB-%202016-17/Rajasthan.pdf. Last Accessed on 15 May, 2019.

Gurdak, J. J. (2017). Groundwater: Climate-induced pumping. Nature Geoscience, 10(2), 71.

Holm, R., Singini, W., & Gwayi, S. (2016). Comparative evaluation of the cost of water in northern Malawi: From rural water wells to science education. Applied Economics, 48(47), 4573–4583.

Ivey, J. L., De Loë, R. C., & Kreutzwiser, R. D. (2002). Groundwater management by watershed agencies: An evaluation of the capacity of Ontario's conservation authorities. Journal of Environmental Management, 64(3), 311–331.

Jacobs, K., Lebel, L., Buizer, J., Addams, L., Matson, P., McCullough, E., et al. (2016). Linking knowledge with action in the pursuit of sustainable water-resources management. Proceedings of the National Academy of Sciences, 113(17), 4591–4596.

Juwana, I., Muttil, N., & Perera, B. J. C. (2012). Indicator-based water sustainability assessment—A review. Science of the Total Environment, 438, 357–371.

Juwana, I., Perera, B. J. C., & Muttil, N. (2010). A water sustainability index for West Java-Part 2: Refining the conceptual framework using Delphi technique. Water Science and Technology, 62(7), 1641–1652.

Kalhor, K., & Emaminejad, N. (2019). Sustainable development in cities: studying the relationship between groundwater level and urbanization using remote sensing data. Groundwater for Sustainable Development. https://doi.org/10.1016/j.gsd.2019.100243.

Kasim, A., Gursoy, D., Okumus, F., & Wong, A. (2014). The importance of water management in hotels: A framework for sustainability through innovation. Journal of Sustainable Tourism, 22(7), 1090–1107.

Kefayati, M., Saghafian, B., Ahmadi, A., & Babazadeh, H. (2018). Empirical evaluation of river basin sustainability affected by inter-basin water transfer using composite indicators. Water and Environment Journal, 32(1), 104–111.

Konar, M., Evans, T. P., Levy, M., Scott, C. A., Troy, T. J., Vörösmarty, C. J., et al. (2016). Water resources sustainability in a globalizing world: Who uses the water. Hydrological Processes, 30(18), 3330–3336.

Kong, N., Li, Q., Sangwan, N., Kulzick, R., Matei, S., & Ariyur, K. (2016). An interdisciplinary approach for a water sustainability study. Papers in Applied Geography, 2(2), 189–200. https://doi.org/10.1080/23754931.2015.1116106.

Koop, S. H., & van Leeuwen, C. J. (2015). Assessment of the sustainability of water resources management: A critical review of the city blueprint approach. Water Resources Management, 29(15), 5649–5670.

Kumar, M., Sharif, M., & Ahmed, S. (2019). Impact of urbanization on the river Yamuna basin. International Journal of River Basin Management, 25, 1–15.

Liverman, D. M., Hanson, M. E., Brown, B. J., & Merideth, R. W. (1988). Global sustainability: Toward measurement. Environmental Management, 12(2), 133–143.

Long, Y., Pan, J., Farooq, S., & Boer, H. (2016). A sustainability assessment system for Chinese iron and steel firms. Journal of Cleaner Production, 125, 133–144.

Mekonnen, M. M., & Hoekstra, A. Y. (2016). Four billion people facing severe water scarcity. Science Advances, 2(2), e1500323.

Mititelu-Ionuş, O. (2017). Watershed sustainability index development and application: Case study of the Motru River in Romania. Polish Journal of Environmental Studies, 26(5), 2095–2105.

Naubi, I., Zardari, N. H., Shirazi, S. M., Roslan, N. A., Yusop, Z., & Haniffah, M. R. B. M. (2017). Ranking of Skudai river sub-watersheds from sustainability indices application of PROMETHEE method. International Journal of Geomate, 12(29), 124–131.

OECD. (2004). OECD key environmental indicators. Paris: OECD.

OECD. Implementing the OECD principles on water governance-indicator framework and evolving practices. http://www.oecd.org/governance/implementing-the-oecd-principles-on-water-governance-9789264292659-en.htm. Last Accessed August 16, 2019.

PRI. (2007). Canadian Water Sustainability Index (CWSI) project report. Ottawa: Policy Research Initiative (PRI). Government of Canada.

Raskin, P., Gleick, P., Kirshen, P., Pontius, G., & Strzepek, K. (1997). Water futures: Assessment of long-range patterns and problems. New York: Comprehensive Assessment of the Freshwater Resources of the World, SEI.

Reilly, T. E., Dennehy, K. F., Alley, W. M., & Cunningham, W. L. (2008). Ground-water availability in the United States (no. 1323). Geological Survey (US).

Ryder, R. A., Edwards, C. J., International Joint Commission, & Great Lakes Fishery Commission. (1985). Conceptual approach for the application of biological indicators of ecosystem quality in the Great Lakes Basin.

Saaty, T. L. (1980). The analytic hierarchy process (p. 324). New York: McGraw-Hill.

Sangwan, K. S., Bhakar, V., & Digalwar, A. K. (2018). Sustainability assessment in manufacturing organizations: Development of assessment models. Benchmarking: An International Journal, 25(3), 994–1027.

Service Level Benchmarking Gazette Notification. (2018–2019). Government of Rajasthan. http://cmar-india.org/Downloads.aspx. Last Accessed on 07 August, 2019.

Shanaghan, P. E., Kline, I. P., Beecher, J. A., & Jones, R. T. (1998). SDWA capacity development. Journal-American Water Works Association, 90(5), 51–59.

Shen, L. Y., Ochoa, J. J., Shah, M. N., & Zhang, X. (2011). The application of urban sustainability indicators—A comparison between various practices. Habitat International, 35(1), 17–29.

Shiklomanov, I. A. (1997). Comprehensive assessment of the freshwater resources of the world—Assessment of water resources and water availability in the world. Geneva: WMO.

Shilling, F., Khan, A., Juricich, R., & Fong, V. (2013). Using indicators to measure water resources sustainability in California. In World environmental and water resources congress 2013: Showcasing the future (pp. 2708–2715).

Singh, A. P. (2008). An integrated fuzzy approach to assess water resources' potential in a watershed. ICFAI Journal of Computational Mathematics, 1(1), 7–23.

Singh, A. P., & Ghosh, S. K. (2003). Conceptual modeling and management of water quality in a River Basin. In A. L. Ramanathan & Ramesh (Eds.), Recent trends in hydrogeochemistry (pp. 207–220). New Delhi: Capital Books.

Singh, A. P., Khakolia, A., Tavanshetti, S., & Yadav, J. (2019). Groundwater quality assessment using GIS and fuzzy logic—A case study of Jhunjhunu District. Pollution Research, 38(3), 655–662.

Singh, A. P., Vidyarthi, A. K., Madan, Karan, & Singh, A. (2017). Status of environmental pollution in Agra industrial cluster: An IEPI approach. Pollution Research, 36(3), 580–589.

Singhal, D. C., Joshi, H., & Mishra, S. (2015). Assessment of ground water sustainability for a subtropical town in Ganga plain: A case study from North-India. Journal of Groundwater Research, 3(4/1), 27–43.

Srinivas, R., Bhakar, P., & Singh, A. P. (2015). Groundwater quality assessment in some selected area of Rajasthan, India using fuzzy multi-criteria decision making tool. Aquatic Procedia, 4, 1023–1030. https://doi.org/10.1016/j.aqpro.2015.02.129.

Srinivas, R., & Singh, A. P. (2018). Impact assessment of industrial wastewater discharge in a river basin using interval-valued fuzzy group decision-making and spatial approach. Environment, Development and Sustainability, 20(5), 2373–2397. https://doi.org/10.1007/s10668-017-9994-9.

Srinivas, R., Singh, A. P., Gupta, A. A., & Kumar, P. (2018). Holistic approach for quantification and identification of pollutant sources of a river basin by analyzing the open drains using an advanced multivariate clustering. Environmental Monitoring and Assessment, 190(12), 720.

Study on Planning of Water Resources of Rajasthan. Water supply and demand by districts. Final report no. 4.6, October 2014. http://water.rajasthan.gov.in/content/dam/water/state-water-resources-planningdepartment/tahaldata/Final%20Report%204.6/Volume1%20Main%20Report/Report%204.6.%20IN-24740-R13-077_Part%20A%20and%20B.pdf. Last Accessed on 18 May, 2019.

Sullivan, C. (2002). Calculating a water poverty index. World Development, 30(7), 1195–1210.

Sullivan, A., White, D., Larson, K., & Wutich, A. (2017). Towards water sensitive cities in the Colorado River Basin: A comparative historical analysis to inform future urban water sustainability transitions. Sustainability, 9(5), 761.

TERI. (2017). Study on assessment of water foot prints of India's long term energy scenarios. New Delhi: The Energy and Resources Institute (TERI). https://www.niti.gov.in/writereaddata/files/document_publication/Report%20Assessment%20of%20Water%20Foot%20Prints%20of%20India's%20Long%20Term%20Energy%20Scenarios_TERI%202017.pdf. Last Accessed on 15 May, 2019.

UN. (1992). The United Nations conference on environment and development (pp. 3–14). Rio de Janeiro: Earth Summit.

UNEP. (2012). Measuring water use in a green economy, United Nations Environment Programme, International Resource Panel, 2012. https://waterfootprint.org/media/…/UNEP-2012-MeasuringWaterUse_1.pdf. Last Accessed on 10 July, 2019.

UNSD. Water indicators and statistics. Abuja, 19–23 May 2008. https://unstats.un.org/unsd/environment/envpdf/UNSD_UNEP_ECOWAS%20Workshop/Session%2004-4-1%20Introduction%20to%20water%20statistics%20(UNSD).pdf. Last Accessed on August 15, 2019.

UNSDG. Sustainable development goals 6.4, 2015. https://sustainabledevelopment.un.org/sdg6. Last Accessed on: 15 May 2019.

Urban Rajasthan Status & Opportunities in Septage. National Institute of Urban Affairs, Government of Rajasthan, 2017. https://scbp.niua.org/download.php?fn=Urban%20Rajasthan-%20Status%20and%20Opportunities%20in%20Septage.pdf. Last Accessed on 27 June, 2019.

Veleva, V., & Ellenbecker, M. (2001). Indicators of sustainable production: Framework and methodology. Journal of Cleaner Production, 9(6), 519–549.

Vollmer, D., Regan, H. M., & Andelman, S. J. (2016). Assessing the sustainability of freshwater systems: A critical review of composite indicators. Ambio, 45(7), 765–780.

Vrba, J., Girman, J., van der Gun, J., Haie, N., Hirata, R., Lopez-Gunn, E., … & Wallin, B. (2007). Groundwater resources sustainability indicators (p. 114). A. Lipponen (Ed.). Paris: Unesco.

Wada, Y., & Bierkens, M. F. (2014). Sustainability of global water use: Past reconstruction and future projections. Environmental Research Letters, 9(10), 104003.

Wang, Q., Li, S., & Li, R. (2019). Evaluating water resource sustainability in Beijing, China: Combining PSR model and matter-element extension method. Journal of Cleaner Production, 206, 171–179.
Additional information
Publisher's Note
Springer Nature remains neutral with regard to jurisdictional claims in published maps and institutional affiliations.
About this article
Cite this article
Singh, A.P., Bhakar, P. Development of groundwater sustainability index: a case study of western arid region of Rajasthan, India. Environ Dev Sustain 23, 1844–1868 (2021). https://doi.org/10.1007/s10668-020-00654-9
Received:

Accepted:

Published:

Issue Date:
Keywords
AHP

Groundwater stress

Groundwater indicators

Ecosystem health

Sustainability index