Abstract
Coordinated actions by actors at different levels with effective community engagement are necessary for sustainable rural water supply and management. However, there are limited studies that analyse and reflect on the lack of coordination among different actors and report the practical ground-level challenges confronted at a local level, in order to increase the robustness and sustainability of rural water supply. Hence, this research brings together actors at three different levels—community, local government and local administration to capture their holistic understanding of actions and strategies, and the possible hurdles which may hinder their implementation. A narrative approach is adapted to derive the outcome based on real-life experiences of the respondents. Prioritized actions are mainly found to follow supply-side approach with a complete lack of demand-responsive strategies or actions as well as focus on providing services at a point of time and not over a period. Despite institutional reforms and changes in laws and strategies, prioritized actions are found to be more regulated by corruption, political intentions and social power relations in the study area. A lack of sense of ownership among local community restricts their participation in operation and maintenance of water sources. The struggle to provide the maintenance and major repairs required to keep water supply operational sustainably are well evident in the study area. While financial constraints are perceived to be a significant barrier in the implementation of the actions, technical and natural hurdles are also identified that demonstrates the need for integrated, contextual and well-coordinated strategies and actions to ensure rural water security. The study lays the ground for a paradigm shift in rural water supply and management in India—from a focus on increasing coverage to a focus on quality infrastructure, regular operation and maintenance and proactive monitoring approaches which will prevent from poorly targeted future investments and lessen the subsequent burden on communities.
Access options
Buy single article
Instant access to the full article PDF.
US$ 39.95
Tax calculation will be finalised during checkout.
Subscribe to journal
Immediate online access to all issues from 2019. Subscription will auto renew annually.
US$ 79
Tax calculation will be finalised during checkout.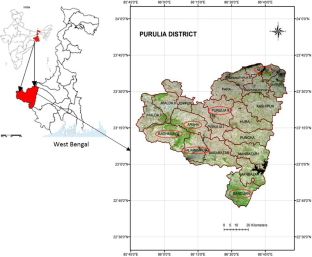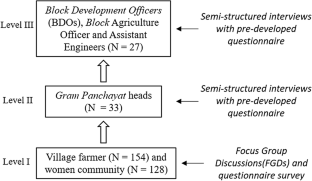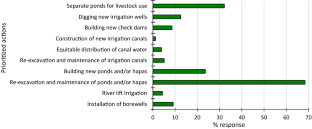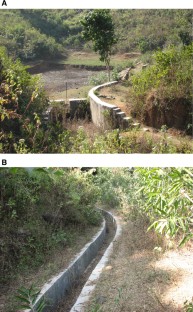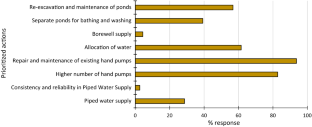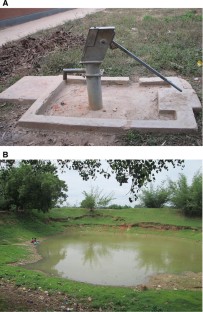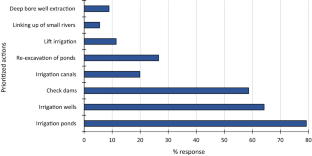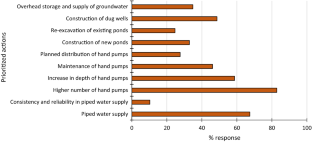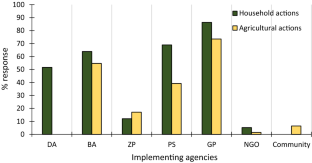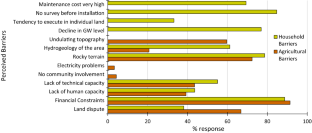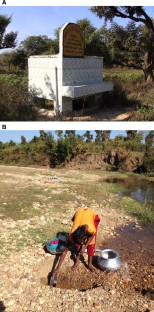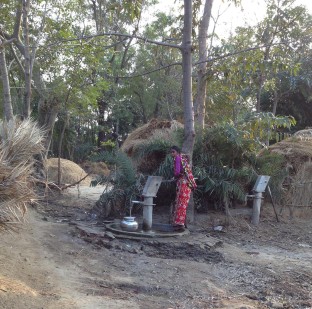 Notes
1.

The various projects, programmes or initiatives are often cumulatively termed as schemes at different administrative levels.

2.

"Slippage" refers to water supply coverage from 'fully covered' households to 'partially covered' households to eventually 'no covered' households.

3.

Gram Panchayat is the lowest tier in the three-tier system of rural governance in India. The GP or village council covers around 10–12 villages and is headed by Pradhan who is elected through village level elections.

4.

Conversion rate as on 16.4.2018.

5.

Integrated Action Plan is a scheme that focusses on the tribal and backward areas of India and provides fund to carry out various public infrastructure and services as per the need of the district.
References
Agrawal, A. (2002). Common resources and institutional sustainability. In E. Ostrom, T. Dietz, N. Dolsak, P. C. Stern, S. Stonich, & E. U. Weber (Eds.), In the drama of the commons (pp. 41–86). Washington, DC: National Academy Press.

Alexander, K. T., Tesfaye, Y., Dreibelbis, R., Abaire, B., & Freeman, M. C. (2015). Governance and functionality of community water schemes in rural Ethiopia. International Journal of Public Health, 60(8), 977–986.

Araral, E., Jr. (2009). What explains collective action in the commons? Theory and evidence from the Philippines. World Development, 37(3), 687–697.

Bakker, K., & Morinville, C. (2013). The governance dimensions of water security: a review. Philosophical Transactions of the Royal Society A, 371(2002), 20130116.

Basu, M., Hoshino, S., & Hashimoto, S. (2015). Many issues, limited responses: coping with water insecurity in rural India. Water Resources and Rural Development, 5, 47–63.

Basu, M., Hoshino, S., & Hashimoto, S. (2016a). Local climate assessment: a meso-scale analysis of long period rainfall in a rural dry sub-humid district from India. International Journal of Environmental Studies, 73(1), 122–137.

Basu, M., Hoshino, S., & Hashimoto, S. (2016b). A pragmatic analysis of water supply and demand, and adaptive capacity in rural areas: development of Rural Water Insecurity Index. Natural Hazards, 81(1), 447–466.

Baumann, E. (2006). Do operation and maintenance pay? Waterlines, 25(1), 10–12.

Chan, K. M., Guerry, A. D., Balvanera, P., Klain, S., Satterfield, T., Basurto, X., et al. (2012). Where are cultural and social in ecosystem services? A framework for constructive engagement. BioScience, 62(8), 744–756.

Chowns, E. (2015). Is community management an efficient and effective model of public service delivery? Lessons from the rural water supply sector in Malawi. Public Administration and Development, 35(4), 263–276.

Cleaver, F. (2017). Development through bricolage: Rethinking institutions for natural resource management. Abingdon: Routledge.

Cook, C., & Bakker, K. (2012). Water security: Debating an emerging paradigm. Global Environmental Change, 22(1), 94–102.

Das, P. (2014). Women's participation in community-level water governance in urban India: The gap between motivation and ability. World Development, 64, 206–218.

District Human Development Report (DHDR). (2012). Department of Planning (p. 35). Kolkata: Government of West Bengal.

Fisher, M. B., Shields, K. F., Chan, T. U., Christenson, E., Cronk, R. D., Leker, H., et al. (2015). Understanding handpump sustainability: Determinants of rural water source functionality in the Greater Afram Plains region of Ghana. Water Resources Research, 51(10), 8431–8449.

Foster, T. (2013). Predictors of sustainability for community-managed handpumps in sub-Saharan Africa: Evidence from Liberia, Sierra Leone, and Uganda. Environmental Science and Technology, 47(21), 12037–12046.

Fuenfschilling, L., & Truffer, B. (2014). The structuration of socio-technical regimes—Conceptual foundations from institutional theory. Research Policy, 43(4), 772–791.

Gleitsmann, B. A., Kroma, M. M., & Steenhuis, T. (2007). Analysis of a rural water supply project in three communities in Mali: Participation and sustainability. Natural resources forum, 31(2), 142–150.

Government of India (GoI). (2003). Swajaldhara guidelines, ministry of rural development. http://megphed.gov.in/knowledge/schemes/Swajguide.pdf. Retrieved March 5, 2018.

Government of India (GoI). (2011). Strategic plan—2011–2022: Ensuring drinking water security in rural India. Department of Drinking Water and Sanitation, Ministry of Rural Development. http://mdws.gov.in/sites/default/files/StrategicPlan_2011_22_Water.pdf. Retrieved March 5, 2018.

Gunda, T., Hess, D., Hornberger, G. M., & Worland, S. (2019). Water security in practice: The quantity-quality-society nexus. Water Security, 6, 100022.

Hards, S. (2012). Tales of transformation: The potential of a narrative approach to pro-environmental practices. Geoforum, 43(4), 760–771.

Harvey, P. A., & Reed, R. A. (2006). Community-managed water supplies in Africa: Sustainable or dispensable? Community Development Journal, 42(3), 365–378.

Hutchings, P., Franceys, R., Mekala, S., Smits, S., & James, A. J. (2017). Revisiting the history, concepts and typologies of community management for rural drinking water supply in India. International Journal of Water Resources Development, 33(1), 152–169.

Kelly, E., Lee, K., Shields, K. F., Cronk, R., Behnke, N., Klug, T., et al. (2017). The role of social capital and sense of ownership in rural community-managed water systems: Qualitative evidence from Ghana, Kenya, and Zambia. Journal of Rural Studies, 56, 156–166.

Kingdon, J. W. (2003). Agendas, alternatives, and public policies (2nd ed.). Boston: Addison-Wesley Longman Inc.

Klug, T., Shields, K. F., Cronk, R., Kelly, E., Behnke, N., Lee, K., et al. (2017). Water system hardware and management rehabilitation: Qualitative evidence from Ghana, Kenya, and Zambia. International Journal of Hygiene and Environmental Health, 220(3), 531–538.

Marks, S. J., & Davis, J. (2012). Does user participation lead to sense of ownership for rural water systems? Evidence from Kenya. World Development, 40(8), 1569–1576.

Mishra, M. (2012). Presence of disparities in human development at micro level in developing countries—A study in Purulia District, West Bengal, India. Asian Journal of Research in Social Sciences and Humanities, 2(1), 7–31.

Neef, A. (2009). Transforming rural water governance: Towards deliberative and polycentric models? Water Alternatives, 2(1), 53.

Prokopy, L. S. (2005). The relationship between participation and project outcomes: Evidence from rural water supply projects in India. World Development, 33(11), 1801–1819.

Rijsberman, F. R. (2006). Water scarcity: Fact or fiction? Agricultural Water Management, 80(1–3), 5–22.

Rogers, P., & Hall, A. W. (2003). Effective water governance (Vol. 7). Stockholm: Global Water Partnership. http://www.gwpforum.org/gwp/library/TEC%207.pdf. Retrieved March 5, 2018.

Schnegg, M., & Linke, T. (2015). Living institutions: Sharing and sanctioning water among pastoralists in Namibia. World Development, 68, 205–214.

Shivakoti, G. P., & Ostrom, E. (2002). Improving irrigation governance and management in Nepal. Oakland: ICE Press.

Truslove, J. P., VA Miller, A., Mannix, N., Nhlema, M., Rivett, M. O., Coulson, A. B., et al. (2019). Understanding the functionality and burden on decentralised rural water supply: Influence of millennium development goal 7c coverage targets. Water, 11(3), 494.

Whaley, L., & Cleaver, F. (2017). Can 'functionality' save the community management model of rural water supply? Water Resources and Rural Development, 9, 56–66.

Whittington, D., Davis, J., Prokopy, L., Komives, K., Thorsten, R., Lukacs, H., et al. (2009). How well is the demand-driven, community management model for rural water supply systems doing? Evidence from Bolivia, Peru and Ghana. Water Policy, 11(6), 696–718.

Zwarteveen, M. (2008). Men, masculinities and water powers in irrigation. Water Alternatives, 1(1), 111.
Acknowledgement
The first author is sincerely thankful to Kyoto University, Japan, for providing the financial support to carry out the study in India. We appreciate the helpful participation of the communities, local leader and local administration in the research survey.
Additional information
Publisher's Note
Springer Nature remains neutral with regard to jurisdictional claims in published maps and institutional affiliations.
About this article
Cite this article
Basu, M., DasGupta, R., Hashimoto, S. et al. A multi-actor and bottom-up perspective on attaining rural water security: qualitative evidence from India. Environ Dev Sustain 23, 1461–1484 (2021). https://doi.org/10.1007/s10668-020-00631-2
Received:

Accepted:

Published:

Issue Date:
Keywords
Water security

Rural water supply

Sustainability

Barriers

Community participation

Local governance