Abstract
The monitoring of inland water resources in arid environments is an essential element due to their fragility. Reliable prediction of the water quality parameters helps to control and manage the water resources in arid regions. Water quality parameters were estimated using remote sensing data acquired from the beginning of 2017 until the end of 2018. The prediction of the water quality parameters was comprehended by using an adjusted autoregressive integrated moving average (ARIMA) and its extension seasonal ARIMA (S-ARIMA). Maximum Chlorophyll Index (MCI), Green Normalized Difference Vegetation Index (GNDVI) and Normalized Difference Turbidity Index (NDTI) were the tested water quality parameters using Sentinel-2 sensor on temporal resolution basis of the sensor. Results indicated that the implementation of the ARIMA model failed to sustain a reliable prediction longer than one-month time while S-ARIMA succeeded to maintain a robust prediction for the first 3 months with confidence level of 96%. MCI has its ARIMA at (1,2,2) and S-ARIMA at (1,2,2) (2,1,1)6, GNDVI has its ARIMA at (2,1,2) and S-ARIMA at (2,1,2) (2,2,2)6, and finally, NDTI has its ARIMA at (2,2,2) and S-ARIMA at (2,2,2) (1,1,2)6. The accuracy of S-ARIMA predictions reached 82% at 6-month prediction period. Meanwhile, there was no solid prediction model that lasted till 12 months. Each of the forecasted water quality parameters is unique in its prediction settings. S-ARIMA model is a more reliable model because the seasonality feature is inherited within the forecasted water quality parameters.
Access options
Buy single article
Instant access to the full article PDF.
US$ 39.95
Tax calculation will be finalised during checkout.
Subscribe to journal
Immediate online access to all issues from 2019. Subscription will auto renew annually.
US$ 79
Tax calculation will be finalised during checkout.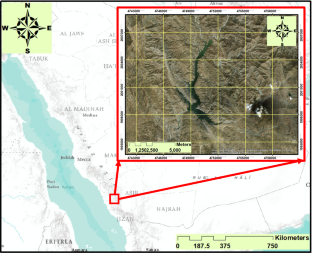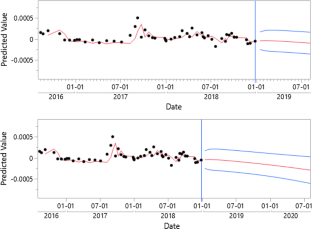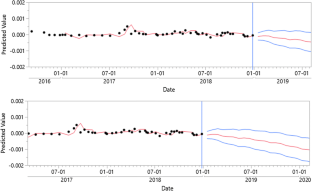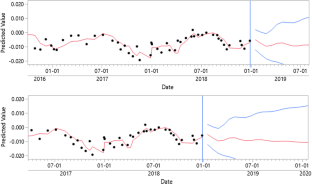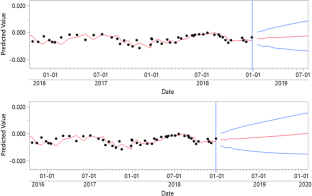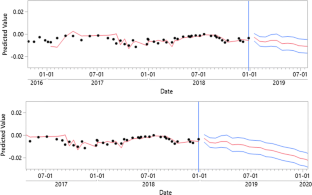 References
Ahmad, S., Khan, I. H., & Parida, B. (2001). Performance of stochastic approaches for forecasting river water quality. Water Research, 35(18), 4261–4266.

Ali, W. (2018). Directorate of water. Water and Agriculture: Ministry of Environment.

Bahrawi, J., & Elhag, M. (2019). Consideration of seasonal variations of water radiometric indices for the estimation of soil moisture content in arid environment in Saudi Arabia. Applied Ecology and Environmental Research, 17(1), 285–303.

Barsi, J. A., Alhammoud, B., Czapla-Myers, J., Gascon, F., Haque, M. O., Kaewmanee, M., et al. (2018). Sentinel-2A MSI and Landsat-8 OLI radiometric cross comparison over desert sites. European Journal of Remote Sensing, 51(1), 822–837.

Bastiaanssen, W. G., & Steduto, P. (2017). The water productivity score (WPS) at global and regional level: Methodology and first results from remote sensing measurements of wheat, rice and maize. Science of the Total Environment, 575, 595–611.

Box, G. E. (1954). Some theorems on quadratic forms applied in the study of analysis of variance problems, I. Effect of inequality of variance in the one-way classification. The Annals of Mathematical Statistics, 25, 290–302.

Box, G., Jenkins, G., & Reinsel, G. (1994). Time series analysis, forecasting and control. Englewood Clifs, NJ: Prentice-Hall.

Elhag, M. (2017). Efficiency concept under stochastic consideration of water value in irrigated agriculture land in Crete, Greece. Water Science and Technology: Water Supply, 17(4), 1185–1192.

Elhag, M., & Bahrawi, J. (2014a). Cloud coverage disruption for groundwater recharge improvement using remote sensing techniques in Asir Region Saudi Arabia. Life Science Journal, 11(1), 192–200.

Elhag, M., & Bahrawi, J. A. (2014b). Potential rainwater harvesting improvement using advanced remote sensing applications. ScientificWorldJournal, 2014, 806959.

Elhag, M., Bahrawi, J. A., Galal, H. K., Aldhebiani, A., & Al-Ghamdi, A. A. (2017a). Stream network pollution by olive oil wastewater risk assessment in Crete, Greece. Environmental Earth Sciences, 76(7), 278.

Elhag, M., Galal, H. K., & Alsubaie, H. (2017b). Understanding of morphometric features for adequate water resource management in arid environments. Geoscientific Instrumentation, Methods and Data Systems, 6(2), 293.

Elhag, M., Gitas, I., Othman, A., Bahrawi, J., & Gikas, P. (2019). Assessment of water quality parameters using temporal remote sensing spectral reflectance in arid environments, Saudi Arabia. Water, 11(3), 556.

ESAgency, E. S. (2017). The sentinel online handbook. From https://sentinels.copernicus.eu/documents/247904/1848117/Sentinel-2_Data_Products_and_Access.

Faruk, D. Ö. (2010). A hybrid neural network and ARIMA model for water quality time series prediction. Engineering Applications of Artificial Intelligence, 23(4), 586–594.

Gitelson, A. A., & Merzlyak, M. N. (1997). Remote estimation of chlorophyll content in higher plant leaves. International Journal of Remote Sensing, 18(12), 2691–2697.

Gupta, R. P. (2017). Remote sensing geology. Belrin: Springer.

Hunt, E. R., Hively, W. D., McCarty, G. W., Daughtry, C. S. T., Forrestal, P. J., Kratochvil, R. J., et al. (2011). NIR-green-blue high-resolution digital images for assessment of winter cover crop biomass. GIScience & Remote Sensing, 48(1), 86–98.

Lacaux, J., Tourre, Y., Vignolles, C., Ndione, J., & Lafaye, M. (2007). Classification of ponds from high-spatial resolution remote sensing: Application to Rift Valley Fever epidemics in Senegal. Remote Sensing of Environment, 106(1), 66–74.

Liu, H., Li, Q., Shi, T., Hu, S., Wu, G., & Zhou, Q. (2017). Application of sentinel 2 MSI images to retrieve suspended particulate matter concentrations in Poyang Lake. Remote Sensing, 9(7), 761.

Masoud, M. (2016). Geoinformatics application for assessing the morphometric characteristics' effect on hydrological response at watershed (case study of Wadi Qanunah, Saudi Arabia). Arabian Journal of Geosciences, 9(4), 280.

Matthews, M. W., Bernard, S., & Robertson, L. (2012). An algorithm for detecting trophic status (chlorophyll-a), cyanobacterial-dominance, surface scums and floating vegetation in inland and coastal waters. Remote Sensing of Environment, 124, 637–652.

Nese, Y., Elhag, M., & Ülkühan, Y. (2017). Consideration of phytoplankton composition and water quality of Anamur (Dragon) Creek, Turkey. Desalination and Water Treatment, 91, 386–394.

Pole, A., West, M., & Harrison, J. (1994). Applied Bayesian forecasting and time series analysis. London: Chapman and Hall/CRC.

Psilovikos, A., & Elhag, M. (2013). Forecasting of remotely sensed daily evapotranspiration data over Nile Delta region, Egypt. Water Resources Management, 27(12), 4115–4130.

Psilovikos, A., Margoni, S., & Psilovikos, A. (2006). Simulation and trend analysis of the water quality monitoring daily data in Nestos river delta. Contribution to the sustainable management and results for the years 2000–2002. Environmental Monitoring and Assessment, 116(1–3), 543–562.

Psilovikos, A., & Sentas, A. (2009). Comparison and assessment of the monitoring data of two REMOS stations in Nestos and Pagoneri for the year 2004. The base for an integrated water management. Desalination, 248(1–3), 1016–1028.

Salem, S. I., Higa, H., Kim, H., Kazuhiro, K., Kobayashi, H., Oki, K., et al. (2017). Multi-algorithm indices and look-up table for chlorophyll-a retrieval in highly turbid water bodies using multispectral data. Remote Sensing, 9(6), 556.

Whitehead, P., Wilby, R., Battarbee, R., Kernan, M., & Wade, A. J. (2009). A review of the potential impacts of climate change on surface water quality. Hydrological Sciences Journal, 54(1), 101–123.

Yilmaz, N., Yardimci, C., Elhag, M., & Dumitrache, C. (2018). Phytoplankton composition and water quality of Kamil Abduş Lagoon (Tuzla Lake), Istanbul-Turkey. Water, 10(5), 603.

Yükselinşaat. (2009). Yükselinşaat A.S BayshDamWeb. 2019, from http://www.yuksel.net/index.php?option=com_content&view=article&id=568%3Abaysh-baraji&catid=78%3Abarajlar-ve-hes&Itemid=348&lang=en.
Acknowledgements
This project was funded by the Deanship of Scientific Research (DSR) at King Abdulaziz University, Jeddah, under Grant No. KEP-MSc-01-155-38. The authors, therefore, acknowledge with thanks DSR for technical and financial support.
Ethics declarations
Conflict of interest
The authors declare no conflict of interest.
Additional information
Publisher's Note
Springer Nature remains neutral with regard to jurisdictional claims in published maps and institutional affiliations.
About this article
Cite this article
Elhag, M., Gitas, I., Othman, A. et al. Time series analysis of remotely sensed water quality parameters in arid environments, Saudi Arabia. Environ Dev Sustain 23, 1392–1410 (2021). https://doi.org/10.1007/s10668-020-00626-z
Received:

Accepted:

Published:

Issue Date:
Keywords
ARIMA

Forecasting

Radiometric water indices

S-ARIMA

Seasonality