Abstract
This study was aimed at assessing farmers' perception and knowledge of soil quality (SQ) change, in light of scientifically measured SQ indicators in the Wanka watershed, northwestern highlands of Ethiopia. Household survey, participatory SQ status assessment, key informant interview and laboratory analysis of selected SQ indicators were used as data collection tools. Independent samples t test (two-tailed) was used to compare the mean difference of SQ indicators between perceived good and poor SQ status. Farmers recognized that there has been SQ decline in their farm lands over the years. Based on perceived SQ status, farmers categorized their farm plots into good, average and poor classes locally called wofram meret, boda and sis/chincha meret, respectively. The identified principal SQ status indicators used by farmers were yield, plow depth, appearance of undesired weedy plant species, fertilizer requirement of soil, topsoil color and soil workability. These farmers' assessment of SQ has well-coincided with major scientific quantitative indicators. Accordingly, plots identified by farmers as good SQ status exhibited better soil nutrients than the perceived poor SQ. Available phosphorus (p < 0.01) and exchangeable potassium (K+) (p < 0.01) were significantly higher in the reported good SQ plots. Conversely, sand content (p < 0.01) and bulk density (p < 0.05) were significantly high in poor SQ category. The synergy between perceived SQ status and scientifically measured SQ indicators signifies the relevance of farmers' soil knowledge in characterizing SQ status of farm plots and manage them accordingly. Thus, strategies that incorporate farmers' soil knowledge in land evaluation and sustainable land management practices should be developed and promoted.
Access options
Buy single article
Instant access to the full article PDF.
US$ 39.95
Tax calculation will be finalised during checkout.
Subscribe to journal
Immediate online access to all issues from 2019. Subscription will auto renew annually.
US$ 79
Tax calculation will be finalised during checkout.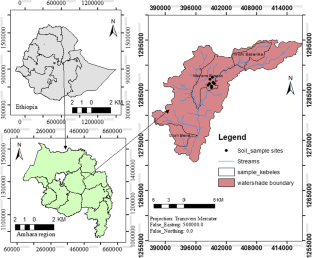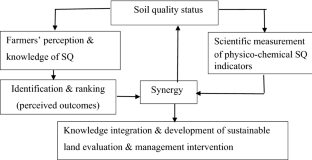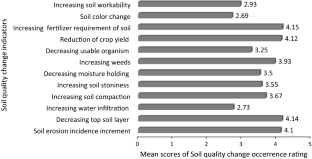 References
Abegaz, A., Winowiecki, L. A., Vågen, T. G., Langan, S., & Smith, J. U. (2016). Spatial and temporal dynamics of soil organic carbon in landscapes of the upper Blue Nile basin of the Ethiopian highlands. Agriculture, Ecosystems & Environment, 218, 190–208.

Amsalu, A., & Graaff, J. D. (2006). Farmers' views of soil erosion problems and their conservation knowledge at Beressa watershed, central highlands of Ethiopia. Agriculture and Human Values, 23, 99–108.

Arshad, M. A., & Martin, S. (2002). Identifying critical limits for soil quality indicators in agro-ecosystems. Agriculture, Ecosystems & Environment, 88, 153–160.

Barrios, E., Delve, R. J., Bekunda, M., Mowo, J., Agunda, J., & Ramisch, J. (2006). Indicators of soil quality: A South–South development of a methodological guide for linking local and technical knowledge. Geoderma, 135, 248–259.

Barrios, E., & Trejo, M. T. (2003). Implications of local soil knowledge for integrated soil management in Latin America. Geoderma, 111, 217–231.

Buthelezi, N., Hughes, J., & Albert, M. (2010). The use of scientific and indigenous knowledge in agricultural land evaluation and soil fertility studies of two villages in KwaZulu-Natal, South Africa. In 19th world congress of soil science, soil solutions for a changing world, August 20–23.

Carter, M. R., & Gregorich, E. G. (2006). Soil sampling and methods of analysis. Saskatoon: Canadian Society of Soil Science.

Chilot, Y. (2007). The dynamics of soil degradation and incentives for optimal management in the Central highlands of Ethiopia. PhD dissertation, University of Pretoria.

Cools, N., Pauw, E. D., & Deckers, J. (2003). Towards an integration of conventional land evaluation methods and farmers' soil suitability assessment: A case study in Northwestern Syria. Agriculture, Ecosystems & Environment, 95, 327–342.

Corbeels, M., Abebe, S. & Mitiku, H. (2000). Farmers' knowledge of soil fertility and local management strategies instrategies in Tigray, Ethiopia. Managing Africa's Soils, No. 10.

CSA (Central Statistical Agency). (2007). The federal democratic republic of Ethiopia central statistical agency, Agricultural Sample Survey, Volume IV.

Dawoe, E. K., Quashie-sam, J., Isaac, M. E., & Oppong, S. K. (2012). Exploring farmers' local knowledge and perceptions of soil fertility and management in the Ashanti region of Ghana. Geoderma, 179–180(2012), 96–103.

Demden, F. H., Llewellyn, R. S., & Burton, M. P. (2005). Adoption of conservation tillage in Australia cropping regions: An application of duration analysis. Technological Forecasting and Social Change, 73, 630–647.

Desbiez, A., Matthews, R., Tripathi, B., & Ellis-jones, J. (2004). Perceptions and assessment of soil fertility by farmers in the Mid-Hills of Nepal. Agriculture, Ecosystems & Environment, 103, 191–206.

Duruiheoma, F. I., Burek, C. V., Bonwick, G., & Alexander, R. (2015). Farmers' perception of soil: Implications for soil conservation & sustainable agriculture in the UK. Global Journal of Agricultural Research, 3(3), 11–24.

Erkossa, T., Stahr, K., & Gaiser, T. (2004). Participatory soil quality assessment: The case of smallholder farmers in Ethiopian highlands. Australian Journal of Soil Research, 42, 793–797.

Estefan, G., Sommer, R., & Ryan, J. (2013). Methods of soil, plant and water analysis: A manual for the West Asia & North Africa region, 3rd edn. Beirut: International Center for Agricultural Research in the Dry Areas (ICARDA).

FAO (Food & Agricultural Organization of the United Nations). (1990). FAO/UNESCO Soil Map of the World Revised Legend, Rome.

Foth, H. D. (1990). Fundamentals of soil science (8th ed.). New York: Wiley.

Getahun, F. (2006). Farmers' indigenous knowledge the missing link in the development of Ethiopian agriculture: A case study of Dejen district, Amhara region. Social Science Research Report Series, No.34.

Gray, L. C., & Moran, P. (2003). Reconciling indigenous knowledge with scientific assessment of soil fertility changes in Southwestern Burkina Faso. Geoderma, 111, 425–437.

Gruver, J. B., & Weil, R. R. (2007). Farmer perceptions of soil quality and their relationship to management-sensitive soil parameters. Renewable Agriculture and Food Systems, 22(4), 271–281.

Guteta, D., & Abegaz, A. (2016). Farmers' perception of soil fertility change and their Preferences for soil fertility management techniques for different land use types in Arsamma watershed, Southwestern Ethiopian highlands. International Journal of Environmental Studies, 73(1), 108–121.

Hurni, H. (1998). Agroecologial belts of Ethiopia: Explanatory notes on three maps at a scale of 1:1,000,000. Research Report, Soil Conservaton Research Program, Addis Ababa, Ethiopia.

Hussein, H., Mohammed, A., & Nicolau, M. D. (2015). Impact of land cover changes and topography on soil quality in the Kasso catchment, Bale mountains of southeastern Ethiopia. Singapore Journal of Tropical Geography, 36, 357–375.

Landon, J. (1991). Booker Tropical Soil Manual: A Hand Book for soil survey & agricultural land evaluation in the tropics and subtropics. New York: Wiley.

Mairura, F., Mugendi, D., Mwanje, J., Ramisch, J., & Mbugua, P. (2007). Assessment of farmers' perceptions of soil quality indicators within smallholder farms in the central highlands of Kenya. In A. Bationo, B. Waswa, J. Kihara, & J. Kimetu (Eds.), Advances in integrated soil fertility management in sub-Saharan Africa: Challenges and opportunities. Dordrecht: Springer.

Maro, G. P., Mrema, J. P., Msanya, B. M., & Teri, J. M. (2013). Farmers' perception of soil fertility problems and their attitudes towards integrated soil fertility management for Coffee in Northern Tanzania. Journal of Soil Science and Environmental Managemen, 4(5), 93–99.

Mengiste, W., Mohammed, M., & Yitebarek, T. (2015). Evaluation of effect of land use types on selected soil physicochemical properties in Itang-Kir area of Gambella region, Ethiopia. Journal of Biology, Agriculture and Healthcare, 5, 13.

Mohr, P. J. (1971). The geology of Ethiopia. Addis Ababa: Haile-Selassie I University Press.

Mowo, J. G., Janssen, B. H., Oenema, O., German, A., Mrema, J. P., & Shemdoe, R. S. (2006). Soil fertility evaluation and management by smallholder farmer communities in Northen Tanzania. Agriculture, Ecosystems & Environment, 116, 47–59.

Muzangwa, L., Mnkeni, P. N. S., & Chiduza, C. (2017). Assessment of conservation agriculture practices by smallholder farmers in the Eastern Cape province of South Africa. Agronomy, 7, 46.

Nawe, J. & Hambati, H. (2013). Integrating traditional and modern knowledge systems in improving agricultural productivity in Upper-Kitete village, Tanzania. Presented at REPOA's 18th Annual Research Workshop held at the Kunduchi Beach Hotel, Dares Salaam, Tanzania.

NMSAE (National Meteorological Service Agency of Ethiopia). (2015). Temperature and rain fall data of Mekaneyesus town (Addis Ababa: Unpublished Document).

Odendo, M., Obare, G., & Salasya, B. (2010). Farmers' perceptions and knowledge of soil fertility degradation in two contrasting sites in western kenya. Land Degradation & Development, 21, 557–564.

Omari, R. A., Dorothea, S., Kimura, B., Addo, E. S., Oikawa, Y., & Yoshiharu, F. Y. (2018). Exploring farmers' indigenous knowledge of soil quality and fertility management practices in selected farming communities of the Guinea savannah agro-ecological Zone of Ghana. Sustainability, 10(4), 1034. https://doi.org/10.3390/su10041034.

Salehi, A., & Maleki, M. (2012). Evaluation of soil physical and chemical properties in poplar plantations in North of Iran. Ecologia Balkanica, 4(2), 69–76.

Schjønning, P., Elmholt, S., & Christensen, B. T. (2004). Managing soil quality: Challenges in modern agriculture. Foulum Tjele: Danish Institute of Agricultural Sciences Research Centre.

Storck, H., Bezabih, E., Berhanu, A., Borowiecki, A. & Shimelis, W. (1991). Farming systems and farm management practices of smallholders in the Hararghe highlands—A baseline Survey. Farming systems and resource economics in the tropics, 11. Wissenschaftsverlag Vauk, Kiel, Germany.

Tesfahunegn, G. B. (2013). Soil quality indicators response to land use and soil management systems in Northern Ethiopia's catchment. Land Degradation and Development, 27, 438–448.

Tesfahunegn, G. B., Tamene, L., & Vlek, P. L. G. (2011). Evaluation of soil quality identified by local farmers in Mai-Negus catchment, northern Ethiopia. Geoderma, 163, 209–218.

Teshome, A., Graaff, J. D., Ritsema, C., & Kassie, M. (2014). Farmers' perceptions about the influence of land quality, land fragmentation and tenure systems on sustainable land management in the north western Ethiopian highlands. Land Degradation & Development, 27, 884–898.

UNDP (United Nations Development Program in Ethiopia). (2013). Annual Report. www.et.undp.org. Accessed 23 Jan 2019.

Van-Reeuwijk, L. P. (2002). Procedures for soil analysis (6th ed.). Wageningen: International Soil Reference and Information Center.

Wassie, H., & Shiferaw, B. (2011). On-Farm verification of lime and NPK fertilizers effects on the Tuber yield of Irish potato (Solanum tuberosum) on some acidic soils of Southern Ethiopia. Journal of the Dry Lands, 4(1), 283–288.

Woniala, J., & Nyombi, K. (2014). Soil fertility management by smallholder farmers and the impact on soil chemical properties in Sironko district, Uganda. Research Journal of Agriculture and Forestry Sciences, 2(1), 5–10.
Acknowledgements
We would like to acknowledge the respondent farmers of the study area for their unreserved cooperation.
Funding
This study was funded by Addis Ababa University.
Ethics declarations
Conflict of interest
The authors declare that they have no competing interests.
Additional information
Publisher's Note
Springer Nature remains neutral with regard to jurisdictional claims in published maps and institutional affiliations.
About this article
Cite this article
Abera, W., Assen, M. & Satyal, P. Synergy between farmers' knowledge of soil quality change and scientifically measured soil quality indicators in Wanka watershed, northwestern highlands of Ethiopia. Environ Dev Sustain 23, 1316–1334 (2021). https://doi.org/10.1007/s10668-020-00622-3
Received:

Accepted:

Published:

Issue Date:
Keywords
Soil quality

Farmers' perception

Synergy

Scientific knowledge