Abstract
Seagrass beds in central Vietnam plays an important role in the aquatic ecosystem. The area of seagrass beds in Cu Lao Cham Marine Protected Area (MPA), central Vietnam, has been reported to be declining in recent years. However, there has not been any study on assessing the changes in the area of seagrass beds in Cu Lao Cham MPA, especially by the application of remote sensing technology for evaluating temporal and spatial changes. The aim of this study is to establish the current status and document historical changes using maps of seagrass area in Cu Lao Cham MPA, central Vietnam, during the period of 2003–2017. This is the first study on assessing the temporal and spatial changes in the area of seagrass beds in central Vietnam using remote sensing technology. The study integrated field surveys, satellite remote sensing and GIS methods to analyse ALOS AVNIR-2 and Landsat satellite image data during the period of 2003–2017. The Kappa coefficients and overall accuracies of the years 2003, 2010 and 2017 were generally higher than 89% and 0.83, respectively, in all cases. Seagrass beds have mainly distributed near small islands such as Hon La, Hon Tai and Hon Dai. In particular, seagrass beds have almost disappeared at Bai Ong and Bai Huong in April 2017. In the period of 2003–2017, the area of the seagrass bed experienced significant changes. The seagrass area loss was 40.17 ha, and it gained 58.6 ha in the period of 2003–2010. In the period of 2010–2017, the loss of seagrass area was 68.76 ha, and the new addition was 7.27 ha. The study has identified a number of impacts of declining seagrass areas including marine pollution, changes in natural conditions and some other direct impacts from human activities and tourism. The results of this study could contribute to conservation of seagrass resources and sustainable livelihood development for the local community.
This is a preview of subscription content, log in to check access.
Access options
Buy single article
Instant access to the full article PDF.
US$ 39.95
Tax calculation will be finalised during checkout.
Subscribe to journal
Immediate online access to all issues from 2019. Subscription will auto renew annually.
US$ 99
Tax calculation will be finalised during checkout.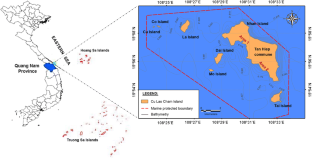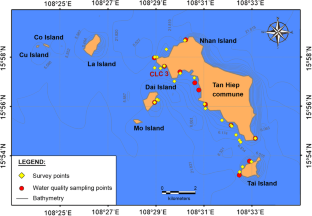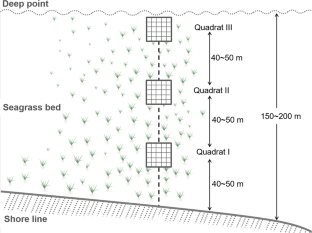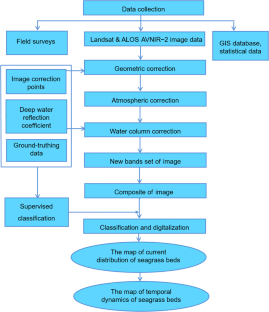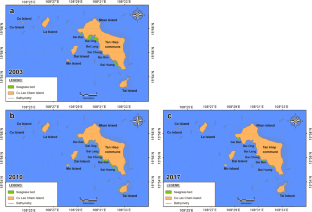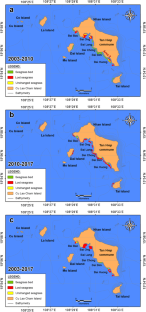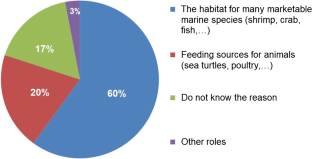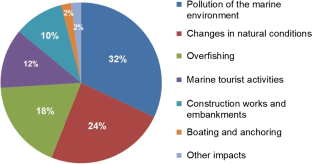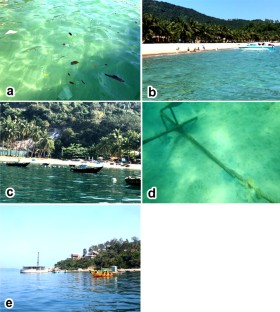 References
Al-Jenaid, S., Ghoneim, E., Abido, M., Alwedhai, K., Mohammed, G., Mansoor, S., et al. (2017). Integrating remote sensing and field survey to map shallow water benthic habitat for the Kingdom of Bahrain. Journal of Environmental Science & Engineering, B6, 176–200. https://doi.org/10.17265/2162-5263/2017.04.002.

Bakirman, T., Gumusay, M. U., & Tuney, I. (2016). Mapping of the seagrass cover along the Mediterranean coast of Turkey using Landsat 8 OLI images. The International Archives of the Photogrammetry, Remote Sensing and Spatial Information Sciences, 8, 1103–1105. https://doi.org/10.5194/isprs-archives-XLI-B8-1103-2016.

Ballhorn, U., Mott, C., Atwood, E., & Siegert, F. (2016). Establishing the baseline for seagrass and mangrove area cover in five Marine and Coastal Priority Protected Areas within the Meso-American Reef area. Río Sarstún Multiple Use Area, Guatemala. Final Report. MAR Fund Phase II.

Björk, M., Short, F., Mcleod, E., & Beer, S. (2008). Managing seagrasses for resilience to climate change (p. 56). IUCN, Gland: Switzerland.

Blakey, T., Melesse, A., & Hall, M. (2015). Supervised classification of benthic reflectance in shallow subtropical waters using a generalized pixel-based classifier across a time series. Remote Sensing, 7, 5098–5116. https://doi.org/10.3390/rs70505098.

Bui, T. T. H., Walton, A., Tran, M. H., Khuu, T. D., Nguyen, B. H., Phan, V. B., et al. (2014). Vietnam marine protected area management effectiveness evaluation (p. 86). Gland, Switzerland: IUCN.

Cao, M. T. (2006). Completion Report on the Cham Islands MPA Project's Activities (10/2003-9/2006). Hoi An: People's Committee of Quang Nam, Cham Islands MPA Management Board.

Cao, V. L., Komatsu, T., Nguyen, V. T., & Nguyen, D. V. (2012). Status and threats on seagrass beds using GIS in Vietnam. In Proceedings of SPIE 8525, Remote Sensing of the Marine Environment II (Vol. 8525, p. 12). https://doi.org/10.1117/12.977277.

Chansang, H., & Poovachiranon, S. (1994). The distribution and species composition of seagrass beds along the Andaman sea coast of Thailand. Phuket Marine Biological Center Research Bulletin, 59, 43–52.

Chen, C. F., Lau, V. K., Chang, N. B., Nguyen, T. S., Tong, P. H. S., & Chiang, S. H. (2016). Multi-temporal change detection of seagrass beds using integrated Landsat TM/ETM+/OLI imageries in Cam Ranh Bay. Vietnam. Ecological Informatics, 35, 43–54. https://doi.org/10.1016/j.ecoinf.2016.07.005.

de los Santos, C. B., Sigurðardóttir, R., Cunha, A., Cook, K., Wiktor, J. M., Tatarek, A., Santos, R. (2014). A survey-based assessment of seagrass status, management and legislation in Europe. In Frontiers in Marine Sciences, International Meeting on Marine Research 2014 (Vol. 1). https://doi.org/10.3389/conf.fmars.2014.02.00027.

Estornell, J., Marti, G. J., Sebastiá, M. T., & Mengual, J. (2013). Principal component analysis applied to remote sensing. Modelling in Science Education and Learning, 6, 83–89. https://doi.org/10.4995/msel.2013.1905.

Ha, N. T., & Tong, P. H. S. (2014). Applying techniques of calculating depth invariant index in mapping the distribution of seagrass beds. Hue University Journal of Sciences, 92(4), 151–163.

Hashim, M., Abdullah, A., Rasib, A. W. (1997). Integration of remote sensing-GIS techniques for mapping seagrass and ocean colour off Malaysian Coasts. In Proceedings of Asian Conference on Remote Sensing 1997.

Hoang, C. T., Ton, T. P., Nguyen, Q. T., & Tong, P. H. S. (2011). application of remote sensing and Geographical Information System (GIS) techniques in assessing the existing situation of seagrass meadow at coastal wetland in Huong Phong commune, Huong Tra district, Thua Thien Hue province. Hue University Journal of Sciences, 65(2), 231–239.

Hoang, C. T., & Tong, P. H. S. (2012). Mapping of coastal ecosystems using Earth observation data: a case study in Thua Thien-Hue province, central Viet Nam. In Bui, H. L., Vo, S. T., Nguyen, N. L. (Eds.), Proceedings of the International Conference on "Bien Dong 2012" (Vol. 1, pp. 324–333). Institute of Oceanography, Vietnam Academy of Science & Technology. Publ. House of Science and Technology.

Hossain, M. S., Bujang, J. S., Zakaria, M. H., & Hashim, M. (2015a). Application of Landsat images to seagrass areal cover change analysis for Lawas, Terengganu and Kelantan of Malaysia. Continental Shelf Research, 110, 124–148. https://doi.org/10.1016/j.csr.2015.10.009.

Hossain, M. S., Sidik, B. J., & Harah, Z. M. (2015b). Landsat image enhancement techniques for subtidal and intertidal seagrass detection and distribution mapping in the coastal waters of Sungai Pulai estuary, Malaysia. Coastal and Marine Sciences, 38(1), 27–41.

Kattika, P., Jatdilok, T., Anuchit, D., & Jaruwan, M. (2018). Effects of wave exposure and shore level on seagrass abundance and distribution in intertidal community. Songklanakarin Journal Scicences and Technology, 40(6), 1446–1450.

Koedsin, W., Intararuang, W., Ritchie, R., & Huete, A. (2016). An integrated field and remote sensing method for mapping seagrass species, cover, and biomass in Southern Thailand. Remote Sensing, 8(12), 1. https://doi.org/10.3390/rs8040292.

Krause-Jensen, D., Quaresma, A.L., Cunha, A.H., Greve, T.M., (2004). How are seagrass distribution and abundance monitored? In Borum, J. et al. (Eds.), European seagrasses: an introduction to monitoring and management (pp. 45–53).

Manuputty, A., Gaol, J. L., Agus, S. B., & Nurjaya, I. W. (2017). The utilization of depth invariant index and principle component analysis for mapping seagrass ecosystem of Kotok Island and Karang Bongkok, Indonesia. IOP Conference Series: Earth and Environmental Sciences, 54(1), 012083. https://doi.org/10.1088/1755-1315/54/1/012083.

McKenzie, L. J., Campbell, S. J., & Roder, C. A. (2001). Seagrass-watch: Manual for mapping & monitoring seagrass resources by community volunteers (p. 100). NFC, Cairns: QFS.

Nadiarti, K., Etty, R., Ita, D., Sugeng, B., Ari, P., & Harald, A. (2012). Challenging for seagrass management in Indonesia. Journal of Coastal Development, 15(3), 234–242.

Nguyen, V. L. (2008). Biodiversity and water quality in the Cham Islands Marine Protected Area 2004–2008. Ha Noi: Institute of Oceanography, Vietnamese Academy of Science and Technology.

Nguyen, M. (2011). Integrated coastal management (p. 73). Hue: Hue University of Science, Hue University.

Nguyen, H. Q., Luong, V. T., & Ho, D. D. (2015a). Study on spatial distribution of coral reefs in Ly Son Island using GIS and remote sensing technique. Journal of Marine Sciences and Technology, 15(3), 264–272. https://doi.org/10.15625/1859-3097/15/3/7222.

Nguyen, V. T., Nguyen, D. T., & Nguyen, H. D. (2002). Vietnamese Seagrasses (p. 165). Ha Noi: The Sciences and Technology Press.

Nguyen, X. H., Nguyen, N. N. T., & Nguyen, T. H. (2015b). Current status and trends of mangroves and seagrasses in Nha Trang Bay. Collection of Marine Research Works, 21(2), 201–211.

Phauk, S., Komatsu, T., Sawayama, S., Noiraksar, T. (2012). Marine habitat mapping: Using ALOS AVNIR–2 satellite image for seagrass beds at Rabbit (Koh Tonsay) Island, Cambodia. In Proceedings of SPIE—The International Society for Optical Engineering (Vol. 8525, pp. 85250V.1–82500V.6). https://doi.org/10.1117/12.999310.

Prathep, A. (2003). Spatial and temporal variations in percentage cover of two common seagrasses at Sirinart Marine National Park, Phuket; and a first step for marine base. Songklanakarin Journal of Science and Technology, 25, 651–658.

Tan Hiep People's Committee (Tan Hiep PC) (2015). An overview of Tan Hiep. Hoi An, Quang Nam, Viet Nam. http://hoian.gov.vn/tanhiep. Accessed May 13, 2018.

The Great Barrier Reef Marine Park Authority (2012). A vulnerability assessment for the Great Barrier Reef. http://hdl.handle.net/11017/2952. Accessed 26 Feb 2019.

Truong, V. D., & Le, A. (2018). Case Study Vietnam: Climate change vulnerability assessment of coastal tourism in Cu Lao Cham Island. In A. Jones & M. Phillips (Eds.), Global climate change and coastal tourism: recognizing problems, managing solutions and future expectations (pp. 221–230). UK: CABI.

United Nations (UN) (2017). The Impacts of Climate Change and Related Changes in the Atmosphere on the Oceans, United Nation, New York. A Technical Abstract of the First Global Integrated Marine Assessment. https://doi.org/10.18356/afd96577-en.

University of Chicago (2006). More species in the tropics because species have been there longer, study suggests. ScienceDaily. University of Chicago Press Journals. http://www.sciencedaily.com. Accessed 21 Feb 2019.

Viet Nam News (VNN) (2018). Tourism boom threatens Cham Island ecosystems. Ha Noi, Viet Nam. https://vietnamnews.vn/environment. Accessed Feb 21, 2019.

Yamane, T. (1967). Statistics: An introductory analysis, (2nd ed., p. 919). New York: Harper and Row.
Acknowledgement
This research was funded by Vietnam National Foundation for Science and Technology Development (Nafosted) under Grant No. 106.06-2017.340 and the Global School of Global Environmental Studies, Kyoto University's Seeds Funding programme for construction of global environmental study basis (2018–2019).
Additional information
Publisher's Note
Springer Nature remains neutral with regard to jurisdictional claims in published maps and institutional affiliations.
About this article
Cite this article
Tin, H.C., Uyen, N.T., Hieu, D.V. et al. Decadal dynamics and challenges for seagrass beds management in Cu Lao Cham Marine Protected Area, Central Vietnam. Environ Dev Sustain 22, 7639–7660 (2020). https://doi.org/10.1007/s10668-019-00540-z
Received:

Accepted:

Published:

Issue Date:
Keywords
Marine protected area

Seagrass

Remote sensing

Landsat

Central Vietnam

Temporal and spatial changes