Abstract
The present work represents the first attempt to apply a polyoxometalates (POMs) type heptamolybdate [Mo7O24]6− as a complexing agent for the removal of toluidine blue (TB) dye by ultrafiltration. Before ultrafiltration study, the interaction between heptamolybdate and dye was investigated using spectrophotometry UV–visible. It was shown that a metachromatic complex dye/POMs type 1:6 was formed with a blue shift from 623 to 550 nm indicating the formation of dye H-aggregates. The ultrafiltration process shows that the addition of heptamolybdate to dye solution greatly improved TB retention from 10 to 97%. The heptamolybdate concentration (0–1 mM), NaCl concentration (0.001–1500 mM), CTAB concentration (0.001–10 mM), pH (2–12) and applied pressure ∆P (2–4 bar) on the dye retention and permeate flux have been investigated. A 25 full factorial design shows that the main influenced factors are CTAB surfactant following by heptamolybdate and salt concentrations.
Graphic abstract
Schematic of the process of TB removal by PAUF method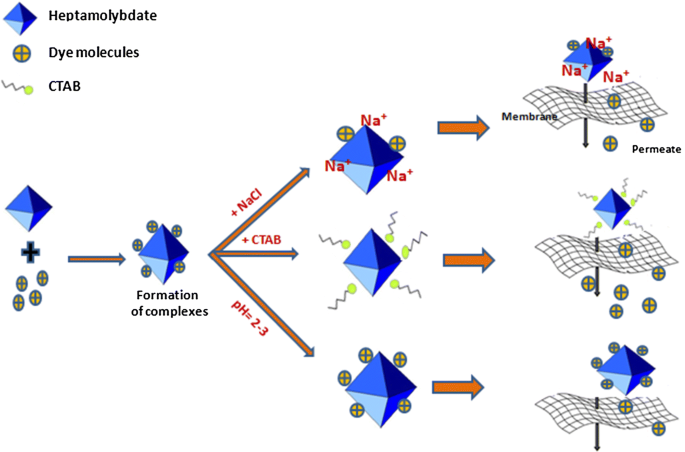 This is a preview of subscription content, log in to check access.
Access options
Buy single article
Instant access to the full article PDF.
US$ 39.95
Price includes VAT for USA
Subscribe to journal
Immediate online access to all issues from 2019. Subscription will auto renew annually.
US$ 99
This is the net price. Taxes to be calculated in checkout.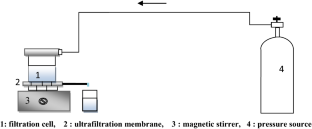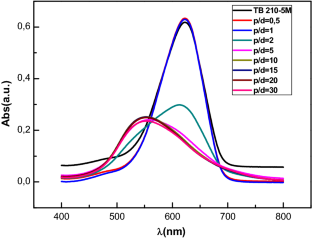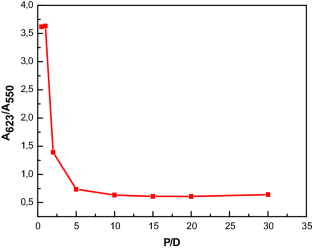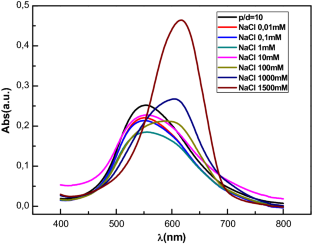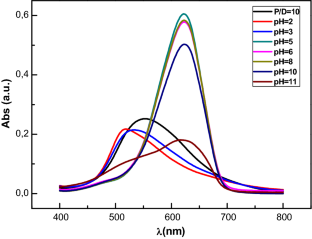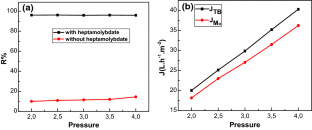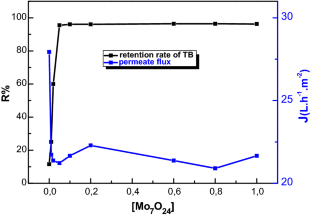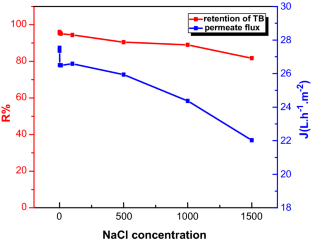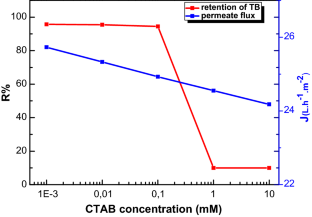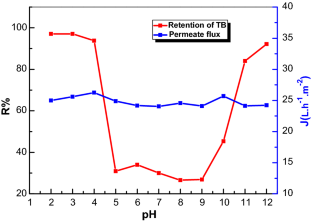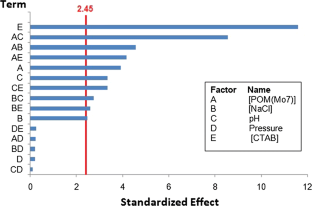 References
Ben Fradj, A., Ben Hamouda, S., Ouni, H., et al. (2014a). Removal of methylene blue from aqueous solutions by poly(acrylic acid) and poly(ammonium acrylate) assisted ultra filtration. Separation and Purification Technology,133, 76–81.

Ben Fradj, A., Lafi, R., Ben Hamouda, S., et al. (2014b). Effect of chemical parameters on the interaction between cationic dyes and poly(acrylic acid). Journal of Photochemistry and Photobiology A: Chemistry,284, 49–54.

Ben Fradj, A., Lafi, R., Gzara, L., et al. (2014c). Spectrophotometric study of the interaction of toluidine blue with poly (ammonium acrylate). Journal of Molecular Liquids,194, 110–114.

Chen, S., Di, Y., Li, Y., et al. (2019). Removal of RhB from aqueous solutions by two polyoxometalates adsorbents. Journal of Inorganic and Organometallic Polymers and Materials.,29(3), 1049–1055.

D'Ilario, L., & Martinelli, A. (2006). Toluidine blue: Aggregation properties and structural aspects. Modelling and Simulation in Materials Science and Engineering,14, 581–595.

Dasgupta, J., Singh, M., Sikder, J., et al. (2015). Ecotoxicology and environmental safety response surface-optimized removal of reactive red 120 dye from its aqueous solutions using polyethyleneimine enhanced ultra filtration. Ecotoxicology and Environmental Safety,121, 271–278.

Fersi, C., Gzara, L., & Dhahbi, M. (2005). Treatment of textile effluents by membrane technologies. Desalination,185, 399–409.

Hammami, M., Dorra Ennigrou, J., Naifer, K. H., & Ferid, M. (2016). Recovery of Samarium (III) from aqueous solutions by poly(sodium 4-styrenesulfonate) assisted-ultrafiltratio. Environmental Progress and Sustainable Energy,00, 1–7.

Hammami, M., Ennigrou, D. J., Horchani-Naifer, K., & Ferid, M. (2018). Comparative study of neodymium recovery from aqueous solutions by polyelectrolytes assisted-ultrafiltration. Korean Journal of Chemical Engineering,35, 518–525.

Huang, J. H., Zhou, C. F., Zeng, G. M., et al. (2010). Micellar-enhanced ultrafiltration of methylene blue from dye wastewater via a polysulfone hollow fiber membrane. Journal of Membrane Science,365, 138–144.

Hueber, D., Hoffmann, M., Louis, B., Pale, P., & Blanc, A. (2014). Inorganic—organic heteropolyacid—Gold (I) hybrids : Structures and catalytic applications. Chemistry–A European Journal,20(14), 3903–3907.

Israel, L., Beyene, M., Chekol, M., & Upadhyay, R. K. (2013). Spectrophotometric study of stability constants of Cr (III), Ni (II) and Cu (II) complexes with a schiff base in different solvents. Oriental Journal of Chemistry,29, 1111–1114.

Juang, R., & Shiau, R. (2000). Metal removal from aqueous solutions using chitosan-enhanced membrane filtration.,165, 159–167.

Kaczmarek, A. M., Van Hecke, K., & Van Deun, R. (2017). Low-percentage Ln 3 + doping in a tetranuclear lanthanum polyoxometalate assembled from [Mo 7 O 24]6− polyanions yielding visible and near-infrared luminescence. Inorganic Chemistry,56, 3190–3200.

Kyzas, G. Z., & Matis, K. A. (2015). Nanoadsorbents for pollutants removal: A review. Journal of Molecular Liquids,203, 159–168.

Lindqvist, I. N. G. V. A. R. (1950). Crystal structure studies on anhydrous sodium molybdates and tungstates. Acta Chemica Scandinavica,4, 1066–1074.

Linke, D. (2009). Chapter 34 detergents. An overview (1st ed.). Amsterdam: Elsevier Inc.

Mahadevaiah, N., Venkataramani, B., & Prakash, B. S. J. (2007). Restrictive entry of aqueous molybdate species into surfactant modified montmorillonite a breakthrough curve study. Chemistry of Materials,19(18), 4606–4612.

Mahmoud, S. Ben, Hamzaoui, A. H., & Essafi, W. (2016). Spectrophotometric study of the interaction of methylene blue with poly (styrene-co-sodium styrene sulfonate). Mediterranean Journal of Chemistry,5, 493–506.

Mansour, N. C., Ouni, H., & Hafiane, A. (2018). Binding of methylene blue to two types of water soluble polymer and its removal by polyelectrolyte enhanced ultrafiltration. Membrane Water Treatment,9(2), 87–94.

Mcrae, E. G., & Kasha, M. (1958). Enhancement of phosphorescence ability upon aggregation of dye molecules. The Journal of Chemical Physics,721, 7–9.

Mondal, S., Ouni, H., Dhahbi, M., & De, S. (2012). Kinetic modeling for dye removal using polyelectrolyte enhanced ultrafiltration. Journal of Hazardous Materials,229–230, 381–389.

Mouelhi, M., Marzouk, I., & Hamrouni, B. (2016). Optimization studies for water defluoridation by adsorption: application of a design of experiments. Desalination and Water Treatment,57(21), 9889–9899.

Nandini, R., & Vishalakshi, B. (2009). A comparitive study of polyelectrolyte-dye interactions. Spectrochimica Acta–Part A: Molecular and Biomolecular Spectroscopy,74, 1025–1030.

Nandini, R., & Vishalakshi, B. (2010). A study of interaction of cationic dyes with anionic polyelectrolytes. Spectrochimica Acta–Part A: Molecular and Biomolecular Spectroscopy,75, 14–20.

Ngang, H. P., Ooi, B. S., Ahmad, A. L., & Lai, S. O. (2012). Preparation of PVDF–TiO2 mixed-matrix membrane and its evaluation on dye adsorption and UV-cleaning properties. Chemical Engineering Journal,197, 359–367.

Omwoma, S., Gore, C. T., Ji, Y., et al. (2014). Environmentally benign polyoxometalate materials. Coordination Chemistry Reviews,286, 17–29.

Panić, V. V., Šešlija, S. I., Nešić, A. R., & Veličković, S. J. (2013). Adsorpcija azo boja na polimernim materijalima. Hemijska Industrija,67, 881–900.

Proust, A., Thouvenot, R., & Gouzerh, P. (2008). Functionalization of polyoxometalates: Towards advanced applications in catalysis and materials science. Chemical Communications,16, 1837–1852.

Purkait, M. K., DasGupta, S., & De, S. (2004). Removal of dye from wastewater using micellar-enhanced ultrafiltration and recovery of surfactant. Separation and Purification Technology,37, 81–92.

Saleh, A., Tuzen, M., & Sar, A. (2018). Polyamide magnetic palygorskite for the simultaneous removal of Hg(II) and methyl mercury; with factorial design analysis. Journal of Environmental Management,211, 323–333.

Schwarze, M., Schaefer, L., Chiappisi, L., & Gradzielski, M. (2018). Micellar enhanced ultrafiltration (MEUF) of methylene blue with carboxylate surfactants. Separation and Purification Technology,199, 20–26.

Srinivasan, B. R., Morajkar, S. M., Khandolkar, S. S., et al. (2017). Synthesis, structure and properties of a hexarubidium heptamolybdate with bridging aqua ligands. Indian Journal of Chemistry–Section A Inorganic, Physical, Theoretical and Analytical Chemistry,56A, 601–609.

Velpula, S., Umapathy, K. S., Thyarla, A., et al. (2017). Dairy wastewater treatment by membrane systems–a review. International Journal of Pure and Applied Bioscience,5, 389–395.

Verbych, S., Bryk, M., & Zaichenko, M. (2006). Water treatment by enhanced ultrafiltration. Desalination,198, 295–302.

Verma, A. K., Dash, R. R., & Bhunia, P. (2012). A review on chemical coagulation/flocculation technologies for removal of colour from textile wastewaters. Journal of Environmental Management,93, 154–168.

Vleugels, L. F. W., Ricois, S., Voets, I. K., & Tuinier, R. (2017). Reversal of metachromasy revisited; displacement of Toluidine-blue from alginate by surfactants. Colloids and Surfaces A: Physicochemical and Engineering Aspects,529, 454–461.

Yu, S., Liu, M., Ma, M., et al. (2010). Impacts of membrane properties on reactive dye removal from dye/salt mixtures by asymmetric cellulose acetate and composite polyamide nanofiltration membranes. Journal of Membrane Science,350, 83–91.

Zhang, T., Brown, J., Oakley, R. J., & Faul, C. F. J. (2009). Towards functional nanostructures: Ionic self-assembly of polyoxometalates and surfactants. Current Opinion in Colloid and Interface Science,14, 62–70.

Zhu, L., Chen, K., Hao, J., et al. (2015). Synthesis and crystallization behavior of surfactants with hexamolybdate as the polar headgroup. Inorganic Chemistry,54, 6075–6077.
Acknowledgements
The authors wish to acknowledge the Head of the Department of chemistry and laboratory of water, membrane and environmental biotechnology (LEMBE) CERTE of Tunisia and all who supported and assisted in conducting this study.
Additional information
Publisher's Note
Springer Nature remains neutral with regard to jurisdictional claims in published maps and institutional affiliations.
About this article
Cite this article
Kahloul, M., Mahfoudhi, S., Chekir, J. et al. Interaction of toluidine blue dye with heptamolybdate: UV–visible and ultrafiltration study. Environ Dev Sustain 22, 4655–4672 (2020). https://doi.org/10.1007/s10668-019-00402-8
Received:

Accepted:

Published:

Issue Date:
Keywords
Ultrafiltration membrane

Complexation

Spectrophotometric study

Heptamolybdate

Toluidine blue