The problem of maintaining equilibrium in the balance of payments between countries has never been solved, since methods of barter gave way to the use of money and bills of exchange. During most of the period in which the modern world has been evolved and the autarky of the middle ages was gradually giving way to the international division of labour and the exploitation of new sources of supply by overseas enterprise, the failure to solve this problem has been a major cause of impoverishment and social discontent and even of wars and revolutions (J. M. Keynes; from a letter to Richard Kahn, 21 August 1941, 1980, p. 21).
Abstract
The aim of this paper is to identify the euro area economic heterogeneity by disentangling the factors and characteristics shaping and exacerbating growth differentials between surplus and deficit countries. The five Kaleckian determinants of profits are used in the paper as the interpretative framework to assess the sources of divergence. According to an SVAR methodology, eight diverging factors and six reinforcing factors were detected as drivers of the differentials. It follows that the two regions represent different economic structures and that this dichotomy, in turn, means that symmetric shocks have asymmetric effects, while asymmetric shocks reinforce the regional differences. An endogenous investment-GDP feedback process and an investment–unemployment loop are mutually reinforcing mechanisms, which impair the production base and constrain future growth, so temporary shocks have long-lasting effects. The analysis emphasizes the need to rethink the European macro mechanism and to achieve a common and shared macro strategy that goes beyond national political interests and inclusively pursues the same objective: convergence.
Access options
Buy single article
Instant access to the full article PDF.
USD 39.95
Price includes VAT (USA)
Tax calculation will be finalised during checkout.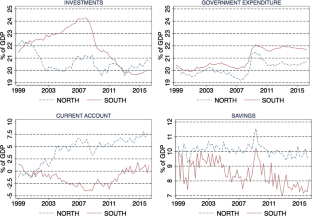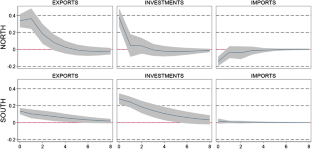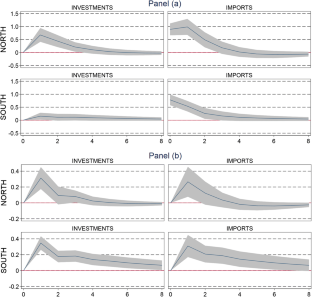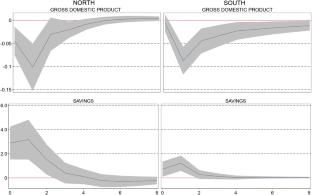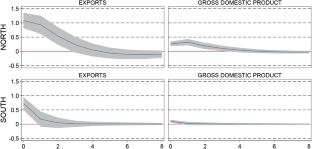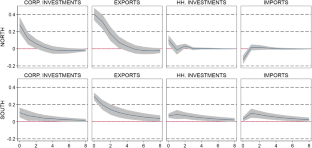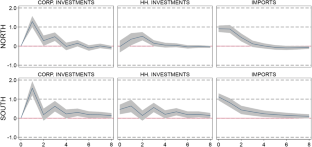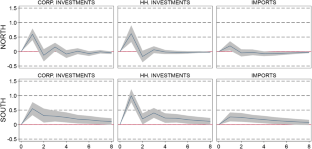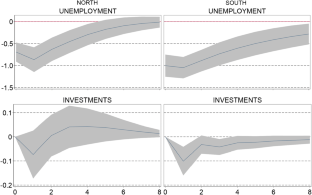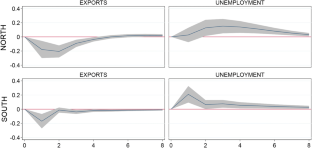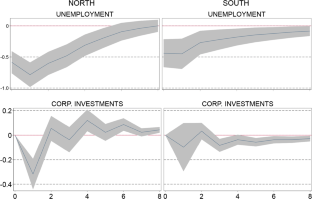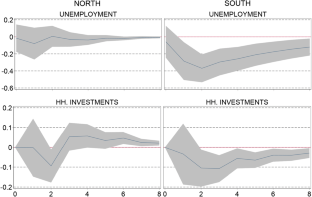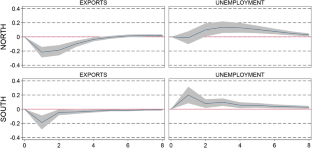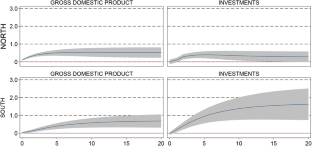 Notes
1.

For a review of the literature see also Stockhammer (2017).

2.

3.

Minsky (1982: 44) emphasizes that the role of the fifth determinant, consumption out of profits, to a large extent depends on interpreting 'the allocation of profits to salaries, research, advertising, and "business style" expenditures…the allocation of profits to consumption follows from the building of a bureaucratic business style, which, like inherited debt, may lead to current period "uncontrolled" expenditures'. Since in the empirical literature it is difficult to find a proxy for this variable, and since it is of small magnitude and is relevant mainly in a sophisticated financial economy, it is omitted from the analysis.

4.

Although the Kalecki profit identity holds with government deficit, in the empirical analysis government expenditure is used as a proxy since data for Austria and Germany are not available for the years 1999–2001. Nevertheless, changes in government expenditure are a good proxy for explaining government deficit fluctuations since taxes are stable over the period of the analysis. Therefore, changes in government expenditure drive the changes in the budget deficit, making both time series strongly co-move.

5.

The national accounts do not report savings out of wage incomes and profit incomes. In this regard, savings out of wages are approximated by gross household savings which are retrieved from Eurostat. This variable measures the part of the gross disposable income which is not spent as final consumption expenditure. In this respect, rentiers and capitalists have a higher savings propensity than workers, and household saving consists of savings out of wage income as well out of capital incomes. Therefore, this variable overestimates saving out of wages and reflects the overall saving propensity of workers, capitalist and rentiers.

6.

In the Northern region, Germany counts for almost 70%, the Netherlands 16%, Belgium 10% and Austria 7%, while in the Southern region France has a weighting of 40%, Italy 35%, Spain 21% and Portugal 4%. Although the Northern region pattern is mainly driven by the German economy, the other countries have a similar trend in trade balance, wage index and debt level (see Stockhammer 2015; Stockhammer and Wildauer 2016; Covi 2017).

7.

The remaining one-third comes from private-financial corporations such as banks and insurance companies.

8.

Gross domestic product and the unemployment rate are used as a proxy for economic activity. More precisely, the former captures the effects on the productive capacity while the latter on the distributional consequences. They should be interpreted as complementary analyses instead of alternative specifications.

9.

This procedure is different from testing hypotheses concerning the contemporaneous effects of shocks on the coefficients of matrix A, as in Stockhammer and Onaran (2004).

10.

The results are also robust to a different lag-length, for instance by using 2 lags.

11.

The empirical literature has extensively discussed whether government expenditure should be treated as an endogenous or exogenous variable—that is, whether it fluctuates and responds to GDP shocks or is mainly driven by the government's fiscal stance. For this reason, to check the robustness of the results, government expenditure is added to the set of endogenous variables in Sect. 3.5. This is in line with the results from a Wald-test, which does not reject the hypothesis that the interaction between G and the coefficients of other endogenous variables are simultaneously equal to zero. Although in robustness checks it is included as an endogenous component, the results do not change.

12.

Results are also robust when \([ulc]\) is placed before exports since from the SVAR analysis the contemporaneous impact of unit labour costs on exports and imports is statistically not significant.

13.

Exports are directly correlated with the production capacity of the economy and therefore come after investment in the Cholesky order.

14.

In this specific case, switching the ordering of imports and exports does not change the results.

15.

These tests and conditions are also satisfied for the model extensions 1B, 1C, 1D, and 1E and are available upon request.

16.

This contributes to the discussion that a higher expenditure on foreign goods from the Northern countries may directly hamper their economic growth due to their growth model. On the contrary, in the Southern region lower imports of intermediate goods have a direct effect on final output—export capacity.

17.

The model was estimated following the same procedure as for model 1A. Concerning the order of the shocks, savings enter the system of equations before GDP.

18.

The order of the shocks is the following: I, M*, X, M, GDP, U and ulc. Placing M* first in the order does not change the results.

19.

The estimates are shown as cumulative responses to highlight the fiscal multiplier and the critical role that fiscal policy plays à la Minsky in sustaining investments and thus in economic recovery after a deep recession. Note that the fiscal impact is larger in recessions than during expansions and that these estimates refer to the average effect during the period from 1999 to 2015 (Auerbach and Gorodnichenko 2011).

20.

Estimates for the impulse response functions are available on request.

21.

Unemployment in France and Spain were twice as high as in Germany. See Bibow (2013) for a comprehensive analysis of the Franco-German contradiction.

22.

They claimed that austerity policies not only caused significant temporary damage to growth but achieved the opposite outcome by permanently reducing output (DeLong and Summers 2012: 234).

23.

'…the monetary union probably exacerbated these national booms and busts. Second, the existing stabilizers that existed at the national level prior to the start of the union were stripped away from the member states without being transposed at the monetary union level. This left the member states "naked" and fragile, unable to deal with the coming national disturbances' (De Grauwe 2013: 5).

24.

As De Grawue says (2013: 5), 'the endogenous dynamics of booms and busts continued to work at the national level and that the monetary union in no way disciplined these into a union-wide dynamics'.
References
Acemoglu D, Johnson S, Robinson J (2004) Institutions as the fundamental cause of long-run growth. NBER working paper, no. 10481

Aresatis P, Sawyer M (1998) Keynesian economic policies for the new millennium. Econ J 108(446):181–195

Arestis O, McCauley K, Sawyer M (2001) An alternative stability pact for the European Union. Camb J Econ 25(1):113–130

Auerbach AJ, Gorodnichenko Y (2011) Fiscal multipliers in recession and expansion. NBER working paper, no. 17447

Badhuri A, Marglin S (1990) Unemployment and the real wage: the economic basis for contesting political ideologies. Camb J Econ 14(4):375–393

Beetsma R, Giuliodori M (2011) The effects of government purchases shocks: review and estimates for EU. Econ J 121(550):4–32

Beetsma R, Giuliodori M, Klaassen F (2011) The effects of public spending shocks on trade balances and budget deficits in the European Union. J Eur Econ Assoc 6(2–3):414–423

Belke A, Dreger C (2013) Current account imbalances in the euro area: does catching-up explain the development. Rev Int Econ 21(1):6–17

Bibow J (2013) On the Franco-German Euro contradiction and ultimate Euro battleground. Contrib Polit Econ 32(1):127–149

Bibow J (2015) Making the Euro viable: the Euro treasury plan. Levy Economics Institute of Bard College working paper, no. 842

Blanchard OJ, Summers LH (1986) Hysteresis and the European unemployment problem. In: Fisher S (ed) NBER macroeconomics annual 1986, vol 1. MIT Press, Cambridge

Blanchard OJ, Cerutti E, Summers LH (2015) Inflation and activity. IMF working paper, no. 15/230

Bruggemann R, Krolzug HM, Lutkepohl H (2003) Comparison of model reduction methods for VAR processes. Nuffield College Economic working papers, no. 2003/W3

Chen R, Milesi-Ferretti G-M, Tressel T (2012) External imbalances in the Euro Area. Econ Policy 28(73):101–142

Christiano L, Eichenbaum M, Evans C (1999) Monetary policy shocks: What have we learned and to what end? In: Taylor JB, Woodford M (eds) Handbook of macroeconomics. Elsevier, Amsterdam, pp 65–148

Claessens S, Mody A, Vallee S (2012) Paths to Eurobonds. IMF working paper, no. 12/172

Cottarelli C (2016) A European fiscal union: the case for a larger central budget. Econ Polit 33(1):1–8

Covi G (2017) Testing the demand regime hypothesis in the euro area. Evidence from a VAR approach. App Econ Lett. https://doi.org/10.1080/13504851.2017.1352075

Covi G, Eydam U (2018) End of the sovereign-bank doom loop in the European Union? The Bank Recovery and Resolution Directive. J Evol Econ. https://doi.org/10.1007/s00191-018-0576-2

De Grawue P (2007) Economics of monetary union. Oxford University Press, Oxford

De Grauwe P (2013) Design failures in the Eurozone: Can they be fixed? European Commission Economic Papers, no. 491

DeLong JB, Summers LH (2012) Fiscal policy in a depressed economy. Brookings Pap Econ Act 2012:233–297

Eichengreen B (2010) Imbalances in the euro area. University of California, Berkeley. http://eml.berkeley.edu/~eichengr/Imbalances_Euro_Area_5-23-11.pdf. Accessed 1 May 2017

Fatas A, Summers LH (2015) The permanent effect of fiscal consolidation. CEPR discussion paper, no. 10902

Fazzari S, Ferri P, Greenberg E (2008) Cash flow, investment, and Keynes–Minsky cycles. J Econ Behav Organ 65(3–4):555–572

Ginzburg A, Nocella G, Simonazzi A (2013) Economic relations between Germany and Southern-Europe. Camb J Econ 37(3):653–675

Kaldor N (1970) The case for regional policies. Scott J Polit Econ 60(5):337–348

Kaldor N (1971) Conflicts in national economic objectives. Econ J 81(321):1–16

Kalecki M (2010) Theory of economic dynamics: an essay on cyclical and long-run changes in capitalist economy. Routledge, London

Keynes JM (1980) The collected writings of John Maynard Keynes XXV: activities 1940–1944: shaping the post-world war, the Clearing Union. Cambridge University Press, Cambridge

Kollmann R, Ratto M, Roeger W, Veld J, Vogel L (2015) What drives the German current account? And how does it affect other EU Member States? Econ Policy 30(81):47–93

Konzelmann SJ (2014) The political economics of austerity. Camb J Econ 38(4):701–741

Krugman P (1987) The narrow moving band, the Dutch disease, and the competitive consequences of Mrs. Thatcher. J Dev Econ 27(1–2):41–55

Lane PR, Milesi-Ferretti G-M (2010) The cross-country incidence of the global crisis. IMF Econ Rev 59(1):77–110

Laski K, Podkaminer L (2012) The basic paradigms of EU economic policy-making need to be changed. Camb J Econ 36(1):253–270

Laski K, Walther H (2013) Kalecki's profit equation after 80 years. WIIW working paper, no. 100

Lavoie M, Stockhammer E (2013) Wage-led growth: an equitable strategy for economic recovery. Palgrave Macmillan, London

Lutkepohl H (2005) New introduction to multiple time series analysis. Springer, Berlin

Meade JE (1957) The balance of payments problems of a free trade area. Econ J 67:379–396

Minsky HP (1982) Can 'It' happen again? Essays on instability and finance. ME Sharpe Inc, New York

Minsky HP (2008) Stabilizing an unstable economy. McGraw-Hill, New York

Mundell RA (1961) A theory of optimum currency areas. Am Econ Rev 51(4):657–665

Naastepad CWM, Storm S (2015) Europe's hunger games: income distribution, cost competitiveness and crisis. Camb J Econ 39(3):959–986

Naastepad CWM, Storm S (2017) Bhadruri–Marglin meet Kaldor–Marx: wages, productivity and investment. Rev Keynes Econ 5(1):4–24

Obstfeld M (1997) Europe's gamble. Brookings Pap Econ Act 2:241–317

O'Rourke HK, Taylor AM (2013) The cross of Europe. J Econ Perspect 27(3):167–192

Padoan C (2015) After the crisis, a new European governance. Econ Polit 32(3):271–276

Pasimeni P (2014) An optimum currency crisis. EJCE 11(2):173–204

Podkaminer L (2017) 'Old' Europe's wage dynamics and trade imbalances: Is there a link? Empirica. https://doi.org/10.1007/s10663-016-9365-z

Ryoo S (2013) Minsky cycles in Keynesian models of growth and distribution. Rev Keynes Econ 1(1):37–60

Ryoo S (2016) Household debt and housing bubbles: a Minskian approach to boom-bust cycles. J Evol Econ 26(5):971–1006

Scitovsky T (1958) Economic theory and western European integration. Stanford University Press, Stanford

Shambaugh JC (2012) The Euro's three crises. Brookings Pap Econ Act 2012:157–231

Stadler GW (1990) Business cycle models with endogenous technology. Am Econ Rev 80(4):763–778

Stockhammer E (2007) Wage moderation does not work: unemployment in Europe. Rev Radic Political Econ 39(3):391–397

Stockhammer E (2008) Wage flexibility or wage coordination? Economic policy implications of the wage-led demand regime in the euro area. EJEEP 5(1):54–62

Stockhammer E (2011a) Peripheral Europe's debt and German wages: the role of wage policy in the euro area. IJPP 7(1):83–96

Stockhammer E (2011b) Wage norms, capital accumulation, and unemployment: a post-Keynesian view. Oxf Rev Econ Pol 27(2):295–311

Stockhammer E (2015) Rising inequality as a cause of the present crisis. Camb J Econ 33(9):935–958

Stockhammer E (2017) Wage-led versus profit-led demand: what have we learned? A Kaleckian-Minskyan view. Rev Keynes Econ 5(1):25–42

Stockhammer E, Michell J (2017) Pseudo-Goodwin cycles in a Minsky model. Camb J Econ 41(1):105–125

Stockhammer E, Onaran Ö (2004) Accumulation, distribution and employment: a structural VAR approach to a Kaleckian macro-model. Struct Change Econ Dyn 15(4):421–447

Stockhammer E, Onaran Ö (2005) Two different export-oriented growth strategies. Emerg Mark Finance Trade 41(1):65–89

Stockhammer E, Onaram Ö (2013) Wage-led growth: theory, evidence, policy. Rev Keynes Econ 1(1):61–78

Stockhammer E, Wildauer R (2016) Debt-driven growth? Wealth, distribution and demand in OECD countries. Camb J Econ 40(6):1609–1634

Taylor L (2012) Growth cycles, asset prices and finance. Metroeconomica 63(1):40–63
Ethics declarations
Conflict of interest
The author declares that he has no conflict of interest.
Electronic supplementary material
Below is the link to the electronic supplementary material.
About this article
Cite this article
Covi, G. Euro area growth differentials: diverging and reinforcing factors in a Kaleckian SVAR approach. Empirica 47, 147–180 (2020). https://doi.org/10.1007/s10663-018-9407-9
Keywords
Euro area

Business cycle

Growth differentials

Path-dependency

Minsky/Kalecki
JEL Classification