Abstract
This study assessed some physicochemical properties and heavy metal contamination of four major dumpsites in Nsukka metropolis. Soil samples were collected randomly at depth of 15 cm. Physicochemical properties were determined. Levels of lead, chromium, iron, manganese, zinc, cadmium, and copper were analyzed using atomic absorption spectrophometer (AAS). Soil pH ranged 5.68–6.82, temperature 25.30–29.67 ° C, and moisture 2.23–7.66%. Soil particle size distribution had higher percentages of sand 40–55% followed by silt 15–35% and clay 10–30%. Average levels of Pb, Cr, Fe, Mn, Zn, Cd, and Cu from the dumpsites ranged from 0.08 ± 0.04 mg/kg to 1.40 ± 0.15 mg/kg, 0.17 ± 0.09 mg/kg to 1.66 ± 0.87 mg/kg, 14.05 ± 5.13 mg/kg to 21.08 ± 0.01 mg/kg, 4.47 ± 0.54 mg/kg to 16.83 ± 0.80 mg/kg, 9.10 ± 3.05 mg/kg to19.33 ± 0.12 mg/kg, 0.02 ± 0.01 mg/kg to 1.15 ± 0.30 mg/kg, and 0.77 ± 0.26 mg/kg to 7.29 ± 2.65 mg/kg, respectively. Heavy metal profile in the dumpsite soils was Fe > Zn > Mn > Cu > Cr > Pb > Cd. Heavy metal load by dumpsites was Obimo > Ikenga Hotel > UNN > Obukpa. All the heavy metals evaluated except Fe increased as pH, temperature, and sand contents of dumpsite soil increased. Retention of Fe by soil was positively related to its clay contents. The values of heavy metals in soils from the dumpsites were far below the permissible limits set by European Regulatory Standard (EURS STD), US Environmental Protection Agency (USEPA), and Federal Environmental Protection Agency (FEPA) for standard soil. The dumpsites require no remediation as at the time of this study.
This is a preview of subscription content, log in to check access.
Access options
Buy single article
Instant access to the full article PDF.
US$ 39.95
Price includes VAT for USA
Subscribe to journal
Immediate online access to all issues from 2019. Subscription will auto renew annually.
US$ 199
This is the net price. Taxes to be calculated in checkout.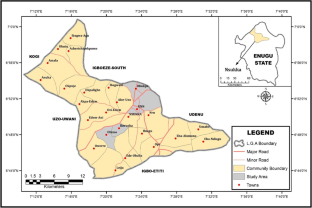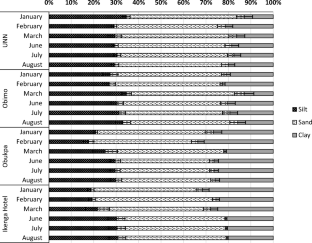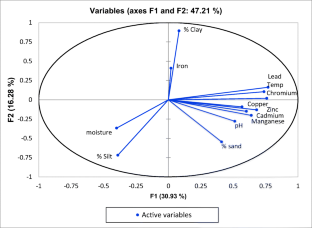 References
Adelekan, B. A., & Alawode, A. O. (2011). Contributions of municipal refuse dumps to heavy metals concentrations in soil profile and groundwater in Ibadan Nigeria. Journal of Applied Biosciences, 40, 2727–2737.

Agbaire, P. O., & Emoyan, O. O. (2012). Bioaccumulation of heavy metals by earthworm (lumbricusterrestris) and associated soils in domestic dumpsite in Abraka, Delta State, Nigeria. International Journal of Plant, Animal and Environmental Sciences, 2(3), 204–209.

Ahmed, I., Rao, P., & Hussain, M. (2014). Quality assessment of soil at municipal solid waste dumpsite and possibilities of reclamation of land. International Journal of Innovative Science, Engineering & Technology, 1(7), 274–294.

Alloway, B. J. (1995). The origin of heavy metals in soils. In B. J. Alloway (Ed.), Heavy metals in soils (pp. 39–57). London: Blackie Academy and Professional.

Alloway, B. J, and Ayres, D. C. (1997). Chemical principle of environmental pollution. In: Alloway, B. J, and Ayres, D. C. (Editors).Waste and their disposal (2nd) Blackie Academy and Professional, London, 353–357.

American Public Health Association (AHPA) (2005). Standard methods for the examination of water and wastewater. AWWA/AHPA/WEF, 20th Edition.

Awokunmi, E. E., Asaolu, S. S., & Ipinmoroti, K. O. (2010). Effect of leaching on heavy metals concentration of soil in some dumpsites. African Journal of Environmental Science and Technology, 4(8), 495–499.

Awokunmi, E. E., Asaolu, S. S., Ajayi, O. O., & Adebayo, O. A. (2012). The role of EDTA on heavy metals phytoextraction by Jatropha gossypifolia grown on soil collected from dumpsites in Ekiti State, Nigeria. British Journal of Environment and Climate Change, 2(2), 153–162. https://doi.org/10.9734/BJECC/2012/1291.

Azimi, A., Azri, A., Rezkazemi, M., & Ansarpour, M. (2017). Removal of heavy metals from industrial wastewaters: a review. ChemBioEng Reviews, 4, 37–59.

Baker, D. E. and Amacher, M. C. (1982). Nickel, copper, zinc and cadmium. In: Page, A. L., Miller, R. H. and Kenney, D. R. (eds), Methods of soil analysis, part 2, chemical and microbiological properties, 2nd ed., Agronomy monograph, Vol. 9, ASA and SSSA, Madison, WI, U.S.A., pp. 323–336.

Bradl, H. B. (2005). Chapter 1 Sources and origins of heavy metals. In: Heavy metals in the environment: origin, interaction and remediation. Interface Science and Technology, 1–27. https://doi.org/10.1016/s1573-42.

Buteh, D. S., Chindo, I. Y., Ekanem, E. O., & Williams, E. M. (2013). Elemental composition study of leachate in some dumpsites in Bauchi Metropolis. Journal of Environment and Earth Science, 3(5), 27–31.

Chukwuocha, A. C., Ngozi, B., Onwuso, G. I., & Ajoku, U. G. (2015). Heavy metals concentration of dumpsites and their influence onthe soil physical properties in three major cities of south eastern Nigeria. Journal of Environment and Earth Science, 5(13), 189–196.

Cohen, M. D., Kargacin, B., Klein, C. B., & Costa, M. (1993). Mechanisms of chromium carcinogenicity and toxicity. Critical Reviews in Toxicology, 23(3), 255–281. https://doi.org/10.3109/10408449309105012.

Cortez, L. A. S., & Ching, J. A. (2014). Heavy metal concentration of dumpsite soil and accumulation in Zea mays (corn) growing in a closed dumpsite in Manila, Philippines. International Journal of Environmental Science and Development, 5(1), 77–80.

Department of Sustainable Natural Resources (n.d.). Soil survey standard test method: particle size analysis. https://www.environment.nsw.gov.au/resources/soils/testmethods/psa.pdf. Accessed 1 June 2020.

Dhembare, A. J., Kakad, S. L., Ghorpade, Y. S., & Parkhe, S. B. (2017). Physico-chemical properties of soil in and around Loni area. Archives of Applied Science Research, 9(3), 27–34.

Hernandez Soriano, M. C. (Ed.). (2012). Soil health and land use management. KU Leuven, Belgium. https://doi.org/10.5772/2516.

Hong, A. H., Law, P. L., & Onni, S. S. (2014). Environmental burden of heavy metal contamination levels in soil from sewage irrigation area of Geriyo catchment, Nigeria. Civil and Environmental Research, 6(10), 118–124.

Hseu, Z. Y., Chen, Z. S., Tsai, C. C., Tsui, C. C., Cheng, S. F., Liu, C. L., & Lin, H. T. (2002). Digestion methods for total heavy metals in sediments and soils. Water, Air, and Soil Pollution, 141(1/4), 189–205.

Huang, P. M., Wang, S. L., Tzou, Y.-M., Huang, Y., Weng, B., Zhuang, S., & Wang, M. K. (2012). Physicochemical and biological interfacial interactions: impacts on soil ecosystem and biodiversity. Environmental Earth Sciences, 68(8), 2199–2209. https://doi.org/10.1007/s12665-012-1903-9.

Ideriah, J. K. T., Omuaru, O. T. V., & Adiukwu, U. P. (2005). Heavy metal contaminations of soils around municipal solid wastes dump in Port Harcourt, Nigeria. Global Journal of Environmental Sciences, 4(1), 1–4. https://doi.org/10.4314/gjes.v4i1.2433.

Magahud, J. C., Badayos, R. B., Sanchez, P. B., & Cruz, P. C. S. (2015). Levels and sources of potassium, calcium, sulfur, iron and manganese in major paddy soils of Philippines. International Journal of Philippines Science and Technology, 8(2), 1–8.

Manahan, S. E. (2001). Fundamentals of environmental chemistry (2nd ed.pp. 853–861). LLC Boca Ralton: CRC Press.

McGovern, E. C. (1987). Background concentrations of 20 elements in soils with special regard for New York State. Wildlife Pathology Unit, New York State Department of Environmental Conservation.

Mohammed, S. A., & Folorunsho, J. O. (2015). Heavy metals concentration in soil and Amaranthus retroflexus grown on irrigated farmlands in the Makera Area, Kaduna, Nigeria. Journal of Geography and Regional Planning, 8(8), 210–217. https://doi.org/10.5897/JGRP2015.0498.

Nduka, J. K. C., Orisakwe, O. E., Ezenweke, I. O., Abiakam, C. O., Nwangwuma, C. K., & Maduabuchi, J. M. U. (2006). Metal contamination and infilteration into the soil at refuse dumpsite in Awka, Nigeria. International Archives of Occupational and Environmental Health, 61, 197–204.

Njokuocha, R. C. (2006). Airborne pollen grains in Nsukka, Nigeria. Grana, 45(1), 73–80. https://doi.org/10.1080/00173130600555797.

Norseth, T. (1981). The carcinogenicity of chromium. Environmental Health Perspectives, 40, 121–130. https://doi.org/10.1289/ehp.8140121.

Ogbonna, D. N., Kii, B. L., & Youdeowei, P. O. (2009). Some physico-chemical and heavy metal levels in soils of waste dumpsites in Port Harcourt municipality and environs. Journal of Applied Sciences and Environmental Management, 13(4), 65–70. https://doi.org/10.4314/jasem.v13i4.55414.

Ogunmodede, O. T., Ajayi, O. O., Amoo, I. A., & Adewole, E. (2013). Characterization of dumpsite soil: case study of Ado – Ekiti and IjeroEkiti Nigeria. IOSR Journal of Environmental Science, Toxicology and Food Technology, 3(6), 43–50.

Ogunyemi, S., Awodoyin, R. O., & Opadeji, T. (2003). Urban agriculturalproduction: heavy metal contamination of Amaranthus cruenties L.grown on domestic refuse landfill soil in Ibadan Nigeria. Emirate Journal of Agricultural Science, 15(2), 87–94. https://doi.org/10.9755/ejfa.v15i2.5009.

Ojo, I. O., Ojo, J. O., & Oladele, O. (2015). Analysis of heavy metals and some physicochemical parameters in soil of major industrial dumpsites in Akuretownship, Ondo State of South Western Nigeria. International Journal of Chemistry, 7(1), 55–61. https://doi.org/10.5539/ijc.v7n1p55.

Okigbo, B. N. (1980). Plant and food in Igbo culture. Owerri Imo state: Ahiajoku lecture Ministry of Information, culture, Youths and Sports.

Olatunji, O., Olalekan, S., Fatoki, S., Bhekumusa, J., Ximba, B., & Opeolu, O. (2013). Hydrodynamics and partitioning of selected heavy metals in surface and subsurface soil. World Environment, 3(2), 37–44.

Pratush, A., Kumar, A., & Hu, Z. (2018). Adverse effect of heavy metals (As, Pb, Hg, and Cr) on health and their bioremediation strategies: a review. International Microbiology, 21, 97–106. https://doi.org/10.1007/s10123-018-0012-3.

Rahman, S. H., Khanam, D., Adyel, T. M., Islam, M. S., Ahsan, A. M., & Akbor, M. A. (2012). Assessment of heavy metal contamination of agricultural soil around Dhaka Export Processing Zone (DEPZ), Bangladesh: implication of seasonal variation and indices. Applied Sciences, 2, 584–601. https://doi.org/10.3390/app2030584.

Tale, K. S., & Ingole, S. (2015). A review on role of physico-chemical properties in soil quality. Chemical Science Review and Letters, 4(13), 57–66.

Tchounwou, P. B., Yedjou, C. G., Patlolla, A. K., & Sutton, D. J. (2012). Heavy metal toxicity and the environment. Experientia. Supplementum, 101, 133–164. https://doi.org/10.1007/978-3-7643-8340-4_6.

Uba, S., Uzairu, A., Harrison, G. F. S., Balarabe, M. L., & Okunola, O. J. (2008). Assessment of heavy metals bioavailability in dumpsites of Zaria Metropolis, Nigeria. African Journal of Biotechnology, 7(2), 122–130. https://doi.org/10.5897/AJB08.812.

Ukpong, E. C., Antigha, R. E., & Moses, E. O. (2013). Assessment of heavy metals content in soils and plants around waste dumpsites in Uyo Metropolis, AkwaIbom State. International Journal of Engineering Science, 2(7), 75–86.

United State Environmental Protection Agency (US EPA) (2003). Ecological soil screening level for Iron. U.S. Environmental Protection Agency Office of Solid Waste and Emergency Response 1200 Pennsylvania Avenue, N.W. Washington, DC 20460.

Wang, X. F., Xing, M. L., Shen, Y., Zhu, X., & Xu, L. H. (2006). Oral administration of Cr (VI) induced oxidative stress, DNA damage and apoptotic cell death in mice. Toxicology, 228, 16–23. https://doi.org/10.1016/j.tox.2006.08.005.

Williams, P. T. (2005). Waste treatment and disposal (2nd ed.pp. 171–244). England: Wiley.

Yennawar, V. B., Bhosle, A. B., & Khadke, P. A. (2013). Soil analysis and its environmental impact on Nanded City, Maharastra. Research Front, 1(1), 65–70.
Additional information
Publisher's note
Springer Nature remains neutral with regard to jurisdictional claims in published maps and institutional affiliations.
About this article
Cite this article
Ohanu, C.M., Ekeh, F.N., Ohanu, I.B. et al. Evaluation of some heavy metals and physicochemical properties of public refuse dumpsites in Nsukka metropolis, Nigeria. Environ Monit Assess 192, 477 (2020). https://doi.org/10.1007/s10661-020-08450-8
Received:

Accepted:

Published:
Keywords
Bioremediation

Environmental health

Heavy metal

Soil

Waste management