Abstract
Many workers are exposed to health problems arising from molds, fungi, and their toxins during waste processing. Aflatoxin B1 (AFB1) level in airborne and settled dust, aflatoxin B1-albumin (AFB1-Alb) adduct in serum, liver and kidney biochemical tests, and body redox change of workers in municipal dry waste-processing sites were investigated. The surface, personal, and area air dust and the blood of workers' samples were collected from the plastic and bread waste-sorting sections in three recycling municipal dry waste sites. Digestion (only for serum samples), passed through SPE cartridge, elution, and collection with methanol, immune-affinity column clean-up, and HPLC system equipped with post-column derivatization method and fluorescence detection were performed for determination of AFB1 and AFB1-Alb levels in the samples. The mean level of dust and AFB1 in the personal and area air, and in the settled dust and the AFB1-Alb in the serum of workers in the bread waste sorting, was higher than plastic waste-sorting samples, in all of the sites. The differences in the biochemical profiles of subjects exposed to aflatoxin B1 as compared to the control group especially in liver and kidney function parameters as well as antioxidant factors of the serum were significant. The workers in handling of municipal waste may be exposed to potentially hazardous levels of aflatoxin B1. The adverse effects of AFB1 on the kidney and liver may be caused by changes in the redox system.
This is a preview of subscription content, log in to check access.
Access options
Buy single article
Instant access to the full article PDF.
US$ 39.95
Price includes VAT for USA
Subscribe to journal
Immediate online access to all issues from 2019. Subscription will auto renew annually.
US$ 199
This is the net price. Taxes to be calculated in checkout.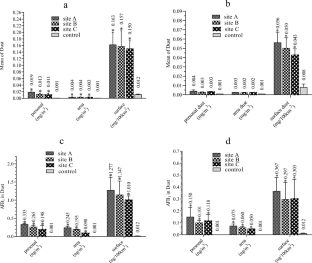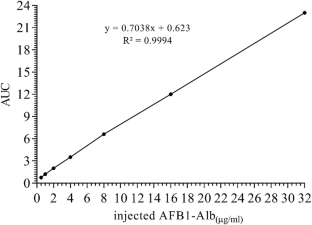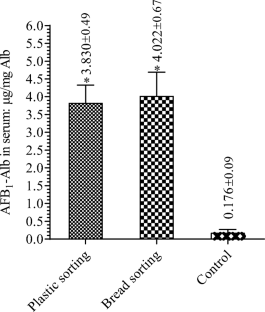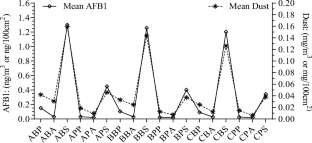 References
Abdalla, M. S., Saad-Hussein, A., Shousha, W. G., Moubarz, G., & Mohamed, A. H. (2014). Hepatotoxic effects of aflatoxin in workers exposed to wheat flour dust. Egyptian Journal of Environmental Research, 2, 51–56.

Autrup, J. L., Schmidt, J., Seremet, T., & Autrup, H. (1991). Determination of exposure to aflatoxins among Danish workers in animal-feed production through the analysis of aflatoxin B1 adducts to serum albumin. Scandinavian Journal of Work, Environment & Health, 17(6), 436–440.

Bennett, J., & Klich, M. (2003). Mycotoxins. Clinical Microbiology Reviews, 16(3), 497–516.

Benzie, I. F., & Strain, J. J. (1996). The ferric reducing ability of plasma (FRAP) as a measure of "antioxidant power": The FRAP assay. Analytical Biochemistry, 239(1), 70–76.

Bhatnagar, D., Cary, J. W., Ehrlich, K., Yu, J., & Cleveland, T. E. (2006). Understanding the genetics of regulation of aflatoxin production and Aspergillus flavus development. Mycopathologia, 162(3), 155–166.

Bragoszewska, E. (2019). The dose of fungal aerosol inhaled by workers in a waste-sorting plant in Poland: A case study. International Journal of Environmental Research and Public Health, 17(1), 177

Brera, C., Caputi, R., Miraglia, M., Iavicoli, I., Salerno, A., & Carelli, G. (2002). Exposure assessment to mycotoxins in workplaces: aflatoxins and ochratoxin A occurrence in airborne dusts and human sera. Microchemical Journal, 73(1–2), 167–173.

Bünger, J., Antlauf-Lammers, M., Schulz, T. G., Westphal, G. A., Müller, M. M., Ruhnau, P., & Hallier, E. (2000). Health complaints and immunological markers of exposure to bioaerosols among biowaste collectors and compost workers. Occupational and Environmental Medicine, 57(7), 458–464.

Bunger, J., Westphal, G., Monnich, A., Hinnendahl, B., Hallier, E., & Muller, M. (2004). Cytotoxicity of occupationally and environmentally relevant mycotoxins. Toxicology, 202(3), 199–211.

Burg, W. R., & Shotwell, O. (1984). Aflatoxin levels in airborne dust generated from contaminated corn during harvest and at an elevator in 1980. Journal of the Association of Official Analytical Chemists, 67(2), 309–312.

Cinkotai, F., Lockwood, M., & Rylander, R. (1977). Airborne micro-organisirns and prevalence of byssinotic symptoms in cotton mills. The American Industrial Hygiene Association Journal, 38(10), 554–559.

Dahlqvist, M., Johard, U., Alexandersson, R., Bergström, B., Ekholm, U., Eklund, A., Milosevich, B., Tornling, G., & Ulfvarson, U. (1992). Lung function and precipitating antibodies in low exposed wood trimmers in Sweden. American Journal of Industrial Medicine, 21(4), 549–559.

de León-Martínez, L. D., Díaz-Barriga, F., Barbier, O., Ortíz, D. L. G., Ortega-Romero, M., Pérez-Vázquez, F., & Flores-Ramírez, R. (2019). Evaluation of emerging biomarkers of renal damage and exposure to aflatoxin-B 1 in Mexican indigenous women: a pilot study. Environmental Science and Pollution Research, 26(12), 12205–12216.

Degen, G. (2008). The challenge to assess workplace related risks from mycotoxin exposure. Mycotoxin Research,24(3), i–ii.

Dvorackova, I. (1976). Aflatoxin inhalation and alveolar cell carcinoma. British Medical Journal, 1(6011), 691.

Fung, F., & Clark, R. F. (2004). Health effects of mycotoxins: a toxicological overview. Journal of Toxicology: Clinical Toxicology, 42(2), 217–234.

Ghosh, S., Desai, M. R., Pandya, G., & Venkaiah, K. (1997). Airborne aflatoxin in the grain processing industries in India. American Industrial Hygiene Association Journal, 58(8), 583–586.

Golmohamadi, R. (2012). Allowed occupational exposure limits; requirements, guidelines, and technical guidelines of Environmental and Occupational Health Center, Environmental and Occupational Health Center, Ministry of Health and Medical Education Iran; Environmental Research Center, Tehran University of Medical Science.

Groopman, J. D., Kensler, T. W., & Wild, C. P. (2008). Protective interventions to prevent aflatoxin-induced carcinogenesis in developing countries. Annual Review of Public Health, 29, 187–203.

Haglind, P., & Rylander, R. (1984). Exposure to cotton dust in an experimental cardroom. British Journal of Industrial Medicine, 41(3), 340–345.

Hagmar, L., Schütz, A., Hallberg, T., & Sjöholm, A. (1990). Health effects of exposure to endotoxins and organic dust in poultry slaughter-house workers. International Archives of Occupational and Environmental Health, 62(2), 159–164.

Hayes, R. B., van Nieuwenhuize, J. P., Raatgever, J. W., & ten Kate, F. J. (1984). Aflatoxin exposures in the industrial setting: an epidemiological study of mortality. Food and Chemical Toxicology, 22(1), 39–43.

Heederik, D., Brouwer, R., Biersteker, K., & Boleij, J. S. (1991). Relationship of airborne endotoxin and bacteria levels in pig farms with the lung function and respiratory symptoms of farmers. International Archives of Occupational and Environmental Health, 62(8), 595–601.

Heidarian, E., Jafari-Dehkordi, E., & Seidkhani-Nahal, A. (2011). Beneficial effects of artichoke on liver phosphatidate phosphohydrolase and plasma lipids in rats fed by lipogenic diet. International Journal of Phytomedicine, 3(2), 285–293.

Hygienists, A. C. o.G. I. (2011). 2011 TLVs® and BEIs® based on the documentation of the threshold limit values for chemical substances and physical agents and biological exposure indices. Cincinnati, Ohio, ACGIH® Signature Publication.

IARC. (1987). Overall evaluations of carcinogenicity: an updating of International Agency of Research on Cancer monographs. IARC: Lyon.

ISO, T. (1983). 7708-air quality-particle size fractions definitions for the health-related sampling. Geneva. International Organization for Standardization.

Kennedy, S. M., Christiani, D. C., Eisen, E. A., Wegman, D. H., Greaves, I. A., Olenchock, S. A., Ye, T.-T., & Lu, P.-L. (1987). Cotton dust and endotoxin exposure-response relationships in cotton textile workers 1–4. American Review of Respiratory Disease, 135(1), 194–200.

Kensler, T. W., Roebuck, B. D., Wogan, G. N., & Groopman, J. D. (2011). Aflatoxin: a 50-year odyssey of mechanistic and translational toxicology. Toxicological Sciences,120(suppl_1), S28–S48.

Krajewski, J. A., Tarkowski, S., Cyprowski, M., Szarapinska-Kwaszewska, J., & Dudkiewicz, B. (2002). Occupational exposure to organic dust associated with municipal waste collection and management. International Journal of Occupational Medicine and Environmental Health, 15(3), 289–301.

Kussak, A., Andersson, B., & Andersson, K. (1995). Determination of aflatoxins in airborne dust from feed factories by automated immunoaffinity column clean-up and liquid chromatography. Journal of Chromatography A, 708(1), 55–60.

Lai, H., Mo, X., Yang, Y., He, K., Xiao, J., Liu, C., Chen, J., & Lin, Y. (2014). Association between aflatoxin B1 occupational airway exposure and risk of hepatocellular carcinoma: a case-control study. Tumour Biology, 35(10), 9577–9584.

Leong, Y.-H., Latiff, A. A., Ahmad, N. I., & Rosma, A. (2012). Exposure measurement of aflatoxins and aflatoxin metabolites in human body fluids. A short review. Mycotoxin Research, 28(2), 79–87.

Madsen, A. M., Alwan, T., Orberg, A., Uhrbrand, K., & Jorgensen, M. B. (2016). Waste workers' exposure to airborne fungal and bacterial species in the truck cab and during waste collection. The Annals of Occupational Hygiene, 60(6), 651–668.

Madsen, A. M., Frederiksen, M. W., Jacobsen, M. H., & Tendal, K. (2020). Towards a risk evaluation of workers' exposure to handborne and airborne microbial species as exemplified with waste collection workers. Environmental Research, 183, 109177.

Malmros, P., Sigsgaard, T., & Bach, B. (1992). Occupational health problems due to garbage sorting. Waste Management & Research, 10(3), 227–234.

Mayer, S., Engelhart, S., Kolk, A., & Blome, H. (2008). The significance of mycotoxins in the framework of assessing workplace related risks. Mycotoxin Research, 24(3), 151–164.

McDermott, H. J. (2004). Air monitoring for toxic exposures. Hoboken: Wiley

Moron, M. S., Depierre, J. W., & Mannervik, B. (1979). Levels of glutathione, glutathione reductase and glutathione S-transferase activities in rat lung and liver. Biochimica et Biophysica Acta (BBA)-General Subjects, 582(1), 67–78.

Neghab, M., & Chobine, A. (2007). The relationship between occupational exposure to cement dust and prevalence of respiratory symptoms and disorders. Journal of Kermanshah University of Medical Sciences (BEHBOOD), 11(2), 215–226.

Nuntharatanapong, N., Suramana, T., Chaemthavorn, S., Zapuang, K., Ritta, E., Semathong, S., Chuamorn, S., Niyomwan, V., Dusitsin, N., Lohinavy, O., & Sinhaseni, P. (2001). Increase in tumour necrosis factor-alpha and a change in the lactate dehydrogenase isoenzyme pattern in plasma of workers exposed to aflatoxin-contaminated feeds. Arhiv za Higijenu Rada i Toksikologiju, 52(3), 291–298.

Ohkawa, H., Ohishi, N., & Yagi, K. (1979). Assay for lipid peroxides in animal tissues by thiobarbituric acid reaction. Analytical Biochemistry, 95(2), 351–358.

Olsen, J. H., Moller, H., & Jensen, O. M. (1988). Risks for respiratory and gastric cancer in wood-working occupations in Denmark. Journal of Cancer Research and Clinical Oncology, 114(4), 420–424.

Park, D. U., Ryu, S. H., Kim, S. B., & Yoon, C. S. (2011). An assessment of dust, endotoxin, and microorganism exposure during waste collection and sorting. Journal of the Air & Waste Management Association (1995), 61(4), 461–468.

Poulsen, O. M., Breum, N. O., Ebbehoj, N., Hansen, A. M., Ivens, U. I., van Lelieveld, D., Malmros, P., Matthiasen, L., Nielsen, B. H., Nielsen, E. M., et al. (1995). Collection of domestic waste. Review of occupational health problems and their possible causes. Science of the Total Environment, 170(1–2), 1–19.

Rahkonen, P. (1992). Airborne contaminants at waste treatment plants. Waste Management & Research, 10(5), 411–421.

Rushing, B. R., & Selim, M. I. (2019). Aflatoxin B1: a review on metabolism, toxicity, occurrence in food, occupational exposure, and detoxification methods. Food and Chemical Toxicology, 124, 81–100.

Saad-Hussein, A., Taha, M. M., Beshir, S., Shahy, E. M., Shaheen, W., & Elhamshary, M. (2014). Carcinogenic effects of aflatoxin B1 among wheat handlers. International Journal of Occupational and Environmental Health, 20(3), 215–219.

Saad-Hussein, A., Taha, M., Fadl, N., Awad, A., Mahdy-Abdallah, H., Moubarz, G., Aziz, H., & El-Shamy, K. (2016). Effects of airborne Aspergillus on serum aflatoxin B1 and liver enzymes in workers handling wheat flour. Human & Experimental Toxicology, 35(1), 3–9.

Schlosser, O., Robert, S., & Noyon, N. (2020). Airborne mycotoxins in waste recycling and recovery facilities: occupational exposure and health risk assessment. Waste Management, 105, 395–404.

Seidkhani-Nahal, A., Allameh, A., & Soleimani, M. (2019). Antioxidant and reactive oxygen species scavenging properties of cellular albumin in HepG2 cells is mediated by the glutathione redox system. Biotechnology and Applied Biochemistry, 66(2), 163–171.

Selim, M. I., Juchems, A. M., & Popendorf, W. (1998). Assessing airborne aflatoxin B1 during on-farm grain handling activities. American Industrial Hygiene Association, 59(4), 252–256.

Shrivastava, A., & Gupta, V. B. (2011). Methods for the determination of limit of detection and limit of quantitation of the analytical methods. Chronicles of young scientists, 2(1), 21.

Sigsgaard, T., Abel, A., Donbák, L., & Malmros, P. (1994a). Lung function changes among recycling workers exposed to organic dust. American Journal of Industrial Medicine, 25(1), 69–72.

Sigsgaard, T., Malmros, P., Nersting, L., & Petersen, C. (1994b). Respiratory disorders and atopy in Danish refuse workers. American Journal of Respiratory and Critical Care Medicine, 149(6), 1407–1412.

Smid, T., Heederik, D., Houba, R., & Quanjer, P. H. (1992). Dust-and endotoxin-related respiratory effects in the animal feed industry. American Journal of Respiratory and Critical Care Medicine, 146(6), 1474–1479.

Torres, E., Subida, R. and Rabuco, L. (1991). The profile of child scavengers in Smokey Mountain. University of Philippines College of Public Health, Balut, Tondo, Manila 1.

Viegas, S., Veiga, L., Figueiredo, P., Almeida, A., Carolino, E., & Viegas, C. (2015). Assessment of workers' exposure to aflatoxin b1 in a portuguese waste industry. The Annals of Occupational Hygiene, 59(2), 173–181.

Wang, Y., Chai, T., Lu, G., Quan, C., Duan, H., Yao, M., Zucker, B.-A., & Schlenker, G. (2008). Simultaneous detection of airborne Aflatoxin, Ochratoxin and Zearalenone in a poultry house by immunoaffinity clean-up and high-performance liquid chromatography. Environmental Research, 107(2), 139–144.

Weston, R. F. (1995). U.S. EPA. Environmental, economic and energy impacts of material recovery facilities - a mite program evaluation. O. O. R. A. DEVELOPMENT. Washington, D.C., U.S. Environmental Protection Agency. EPA/600/R-95/125 1–190.
Acknowledgments
The authors would like to thank the staff of the waste management organization in the municipality of Karaj for their help.
Funding
This manuscript is a master's thesis results in the field of air and waste occupational health and toxicology, thereby was supported financially by The Medical sciences Faculty of Tarbiat Modares University.
Ethics declarations
Conflict of interest
The authors declare that they have no conflict of interest.
Ethical consideration
The study conformed to the Helsinki declaration and was approved by the Faculty of Medical Sciences at Tarbiat Modares University Ethics Committee (IR.TMU.REC.1394.156). All of the participants were informed about the aims of the study, and blood samples were taken after the written consent form was taken from individuals who accepted to contribute to the study. None of the tests had cost for the participants, and the results were reported to them.
Informed consent
Informed consent to participate in the study and publication of data (without identifying the personal data) was obtained from individuals.
Ethical approval
The study conformed to the Helsinki declaration and was approved by the Faculty of Medical Sciences at Tarbiat Modares University Ethics Committee (IR.TMU.REC.1394.156).
Additional information
Publisher's note
Springer Nature remains neutral with regard to jurisdictional claims in published maps and institutional affiliations.
About this article
Cite this article
Karamkhani, M., Asilian-Mahabadi, H., Daraei, B. et al. Liver and kidney serum profile abnormalities in workers exposed to aflatoxin B1 in urban solid waste management centers. Environ Monit Assess 192, 472 (2020). https://doi.org/10.1007/s10661-020-08422-y
Received:

Accepted:

Published:
Keywords
Aflatoxin B1
Aflatoxin B1-albumin

Dust

Exposure evaluation

Municipal solid waste processing

Redox system