Abstract
This study harnessed some of the many opportunities provided by the TRMM 3B43 data in order to generate maps illustrating the spatial and temporal distribution of significant linear rates of change of annual total precipitation for the surface of earth bounded by latitudes 50° S and 50° N for the years 1998–2018 by applying pixel-based simple linear regression. These maps are valuable for many applications and should enhance our understanding of the global precipitation patterns and trigger more research in order to explain what has not been explained. It has been found that the whole study area had a mean significant linear rate of change of − 0.4 mm/year. Nearly half of its area had significant linear rates of increase with a mean of 8.5 mm/year while the other half had significant linear rates of decrease with mean of − 7.6 mm/year. Landmass alone can be divided into nearly two halves; the first had significant linear rates of increase with a mean of 5.2 mm/year while the second had significant linear rates of decrease with mean of − 7.0 mm/year. Water areas alone also can nearly be divided into two halves; the first showed significant linear rates of increase with a mean of 9.6 mm/year while the second showed significant linear rates of decrease with mean of − 7.8 mm/year. Grouping the whole study area into six climatic zones and 21 administrative land and water regions and applying pixel-based Tukey test showed that the obtained significant linear rates of change varied significantly among these climatic and administrative regions.
This is a preview of subscription content, log in to check access.
Access options
Buy single article
Instant access to the full article PDF.
US$ 39.95
Price includes VAT for USA
Subscribe to journal
Immediate online access to all issues from 2019. Subscription will auto renew annually.
US$ 199
This is the net price. Taxes to be calculated in checkout.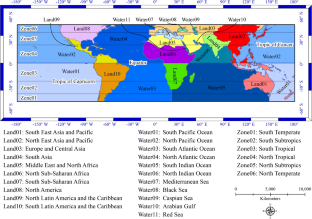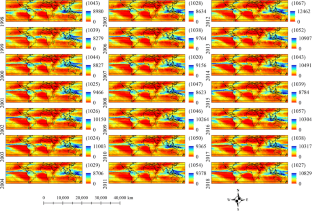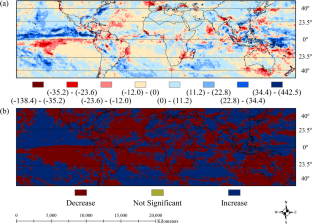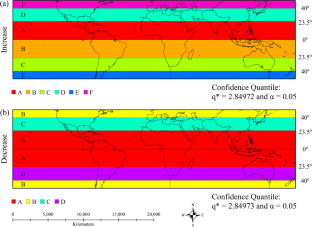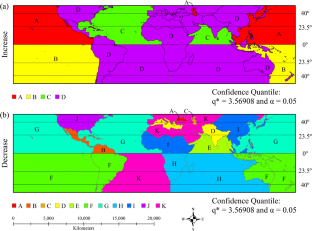 References
Adler, R. F., Gu, G., Sapiano, M., Wang, J. J., & Huffman, G. J. (2017). Global precipitation: means, variations and trends during the satellite era (1979–2014). Surv Geophys, 38, 679–699.

Almazroui, M. (2011). Calibration of TRMM rainfall climatology over Saudi Arabia during 1998–2009. Atmos Res, 99, 400–414.

Ballari D., Castro E., and Campozano L. 2016. Validation of satellite precipitation (TRMM 3B43) in Ecuadorian coastal plains, Andean highlands and Amazonian rainforest. ISPRS - International Archives of the Photogrammetry, Remote Sensing and Spatial Information Sciences. XLI-B8: 305-311.

Cai Y.C., Jin C.J., Wang A.Z., Guan D.X., Wu J.B., Yuan F.H., Xu L.L., and Bu C.Q. 2014. Accuracy evaluation of the TRMM satellite-based precipitation data over the mid-high latitudes. 25: 3296-3306. (In Chinese)

Caloiero, T., Coscarelli, R., & Gaudio, R. (2019). Spatial and temporal variability of daily precipitation concentration in the Sardinia region (Italy). Int J Climatol, 39, 5006–5021.

Chandrasekar, V., & Cifelli, R. (2012). Concepts and principles of rainfall estimation from radar: multi sensor environment and data fusion. Indian Journal of Radio & Space Physics, 41, 389–402.

Chang, X., Xu, Z., Zhao, G., Cheng, T., & Song, S. (2018). Spatial and temporal variations of precipitation during 1979-2015 in Jinan City. China. Journal of Water and Climate Change, 9, 540–554.

Chauncheng Z., Shuxia Y., Jun L., Zhiguo R., and Wenjiao D. 2016. Accuracy assessment of tropical rainfall measuring mission (TRMM) satellite product over Tianshan Mountainous, Northwest of China. International Proceedings of Chemical, Biological and Environmental Engineering. Volume 94 of IPCBEE.

Choubin, B., Khalighi-Sigaroodi, S., Mishra, A., Goodarzi, M., Shamshirband, S., Ghaljaee, E., & Zhang, F. (2019). A novel bias correction framework of TMPA 3B42 daily precipitation data using similarity matrix/homogeneous conditions. Sci Total Environ, 694, 133680.

Dhib, S., Bargaoui, Z., & Mannaerts, C. M. (2019). Validation of TRMM satellite rainfall algorithm for forest basins in Northern Tunisia. In H. El-Askary, S. Lee, E. Heggy, & B. Pradhan (Eds.), Advances in Remote Sensing and Geo Informatics Applications. CAJG 2018. Advances in Science, Technology & Innovation (IEREK Interdisciplinary Series for Sustainable Development). Cham: Springer.

Diaz-Delgado, C., & Iniestra, J. G. (2014). Flood risk assessment in humanitarian logistics process design. Journal of Applied Research and Technology, 12, 976–984.

Herrera, C., Ruben, R., & Dijkstra, G. (2018). Climate variability and vulnerability to poverty in Nicaragua. Journal of Environmental Economics and Policy, 7, 324–344.

Huang Y., Wang H., Xiao W., Chen L., Yan D., Zhou Y., Jiang D., and Yang M. 2018. Spatial and temporal variability in the precipitation concentration in the upper reaches of the Hongshui River Basin, Southwester ChinaAdvances in Meteorology. Article ID 4329757.

Huffman G.J. 2019. The Transition in Multi-Satellite Products from TRMM to GPM (TMPA to IMERG).

Huffman, G. J., Adler, R. F., Bolvin, D. T., Gu, G., Nelkin, E. J., Bowman, K. P., Hong, Y., Stocker, E. F., & Wolff, D. B. (2007). The TRMM Multi-satellite precipitation analysis: quasi-global, multi-year, combined-sensor precipitation estimates at fine scale. J Hydrometeorol, 8, 38–55.

Huffman G.J., Adler R.F., Bolvin D.T., and Nelkin E.J. 2010. The TRMM Multi-satellite Precipitation Analysis (TMPA). Chapter 1 in Satellite Rainfall Applications for Surface Hydrology, F. Hossain and M. Gebremichael, Eds. Springer Verlag, ISBN: 978-90-481- 2914-0, 3-22.

IPCC 2014. Climate Change 2014: Synthesis Report. Contribution of Working Groups I, II, and III to the Fifth Assessment Report of the Intergovernmental Panel on Climate Change [Core Writing Team, R.K. Pachauri and L.A. Meyer (eds.)]. IPCC, Geneva, Switzerland, 151 pp.

Karaseva, M. O., Prakash, S., & Gairola, R. M. (2012). Validation of high-resolution TRMM-3B43 precipitation product using rain gauge measurements over Kyrgyzstan. Theor Appl Climatol, 108, 147–157.

Kidd, C., Levizzani, V., & Bauer, P. (2009). A review of satellite meteorology and climatology at the start of the twenty-first century. Progress in Physical Geography: Earth and Environment, 33, 474–489.

Kinda, S. R., & Badolo, F. (2019). Does rainfall variability matter for food security in developing countries? Cogent Economics and Finance, 7, 1640098.

Kishore, P., Jyothi, S., Basha, G., Rao, S. V. B., Rajeevan, M., Velicogna, I., & Sutterley, T. C. (2016). Precipitation climatology over India: validation with observations and reanalysis datasets and spatial trends. Clim Dyn, 46, 541–556.

Kummerow, C., Barnes, W., Kozu, T., Shiue, J., & Simpson, J. (1998). The Tropical Rainfall Measuring Mission (TRMM) sensor package. J Atmos Ocean Technol, 15, 809–817.

Mantas, V. M., Liu, Z., & Pereira, A. J. S. C. (2015). Validation of TRMM multi-satellite precipitation analysis (TMPA) products in the Peruvian Andes. Atmos Res, 163, 132–145.

McHugh, M. L. (2011). Multiple comparison analysis testing in ANOVA. Biochemia Medica, 21, 203–209.

Montgomery, D. C., Peck, E. A., & Vining, G. G. (2012). Introduction to Linear Regression Analysis. Hoboken, New Jersey: John Wiley & Sons, Inc..

Prasetia, R., As-syakur, A. R., & Osawa, T. (2013). Validation of TRMM precipitation radar satellite data over Indonesian region. Theor Appl Climatol, 112, 575–587.

Santos, C. A. G., Neto, R. M. B., Passos, J. S. A., & da Silva, R. M. (2017). Drought assessment using a TRMM-derived standardized precipitation index for the Upper Sao Francisco River basin Brazil. Environ Monit Assess, 189, 250.

Santos, C. A. G., Neto, R. M. B., da Silva, R. M., & Passos, J. S. A. (2018). Integrated spatiotemporal trends trends using TRMM 3B42 data for the Upper Sao Francisco River basin, Brazil. Environ Monit Assess, 190, 175.

Schleiss M., Olsson J., Berg P., Niemi T., Kokkonen T., Thorndahl S., Nielsen R., Nielsen J.E., Bozhinova D., and Pulkkinen S. 2019. The accuracy of weather radar in heavy rain: a comparative study for Denmark, the Netherlands, Finland and Sweden. Hydrology and Earth System Sciences. Preprint https://doi.org/10.5194/hess-2019-427.

Shi, H., Li, T., Wei, J., Fu, W., & Wang, G. (2016). Spatial and temporal characteristics of precipitation over the Three-River Headwaters region during 1961-2014. Journal of Hydrology: Regional Studies, 6, 52–65.

Sieck, L. C., Burges, S. J., & Steiner, M. (2007). Challenges in obtaining reliable measurements of point rainfall. Water Resour Res, 43, W01420.

Song, S., Ding, J., Zong, Z., Yang, A., & Luo, G. (2017). Possible causes for spatial and temporal variation of warm season precipitation in Xinjiang from 1960-2014. Atmosphere., 8, 20.

Strangeways, I. C. (2007). Precipitation. In Theory, Measurement and Distribution. Cambridge: Cambridge University Press.

Szturc, J., Osrodka, K., & Jurczyk, A. (2011). Quality index scheme for quantitative uncertainty characterization of radar-based precipitation. Meteorol Appl, 18, 407–420.

Tan, M. L., & Santo, H. (2018). Comparison of GPM IMERG, TMPA 3B42 and PERSIANN-CDR satellite precipitation products over Malaysia. Atmos Res, 202, 63–76.

Tan, M. L., Ibrahim, A. L., Duan, Z., Cracknell, A. P., & Chaplot, V. (2015). Evaluation of six high-resolution satellite and ground-based precipitation products over Malaysia. Remote Sens, 7, 1504–1528.

Tan, M., Tan, K., Chua, V., & Chan, N. (2017). Evaluation of TRMM product for monitoring drought in the Kelantan River Basin, Malaysia. Water., 9, 57.

Tang, G., Ma, Y., Long, D., Zhong, L., & Hong, Y. (2016). Evaluation of GPM Day-1 IMERG and TMPA Version-7 legacy products over Mainland China at multiple spatiotemporal scales. J Hydrol, 533, 152–167.

Tarek, M. H., Hassan, A., Bhattacharjee, J., Choudhury, S. H., & Badruzzaman, A. B. M. (2017). Assessment of TRMM data for precipitation measurement in Bangladesh. Meteorol Appl, 24, 349–359.

TRMM 2011. TRMM (TMPA/3B43) Rainfall Estimate L3 Month 0.25 Degrees × 0.25 Degrees V7, Greenbelt, MD, Goddard Earth Sciences Data and Information Services Center (GES DISC), Accessed: 18 December 2019, https://doi.org/10.5067/TRMM/TMPA/MONTH/7.

Tukey J.W. 1953. A problem of multiple comparisons. Dittoed Manuscript of 396 Pages. Princeton University.

Upadhyaya, A. (2016). Integrated water resources management and climate change adaptation strategies. Irrigation and Drainage Systems Engineering, 5, 176.

van Weezel, S. (2019). On climate and conflict: precipitation decline and communal conflict. J Peace Res, 56, 514–528.
Additional information
Publisher's note
Springer Nature remains neutral with regard to jurisdictional claims in published maps and institutional affiliations.
About this article
Cite this article
Jaber, S.M., Abu-Allaban, M.M. TRMM 3B43 Product-Based Spatial and Temporal Anatomy of Precipitation Trends: Global Perspective. Environ Monit Assess 192, 437 (2020). https://doi.org/10.1007/s10661-020-08405-z
Received:

Accepted:

Published:
Keywords
TRMM 3B43

Precipitation

Linear rates of change

Simple linear regression

Tukey test