Abstract
Greywater has attracted global attention as a feasible alternative water source over the last few decades. Reuse and recycling of greywater is an economically viable and attractive option for meeting the future water demand. However, its treatment and reliable reuse continue to be based on conventional parameters such as BOD, COD, turbidity, suspended solids and pathogen level. The current investigative study focused on the characterization of segregated grey wastewater (greywater from bathroom, laundry and kitchen) from different economic classes of Indian households which included physical and chemical parameters, organics, nutrients, pathogens, heavy metals, oil and grease and surfactants. Apart from this, the data related to water consumption, frequency and products used for their daily activities were gathered using a questionnaire survey. The average water consumption among different household was found to be 108 L per capita per day. The maximum concentrations of organics such as BOD (678.6 ± 179 mg/L), COD (1507 ± 508 mg/L) and TOC (176.4 ± 131 mg/L) were found in kitchen wastewater. However, maximum concentrations of surfactants (14.02 ± 3.74 mg/L) were obtained in laundry wastewater. Faecal coliform concentration was more in the households which had inhabitants of children below 4 years. Statistical analysis revealed that the parameters monitored differ significantly between different economic classes. The present study showed that the characteristics of greywater highly depend on the wastewater source, household behaviour and activities. This study will be helpful to design a sustainable cost-effective treatment system, enabling greywater generated from different sources to be safely recycled and reused by households.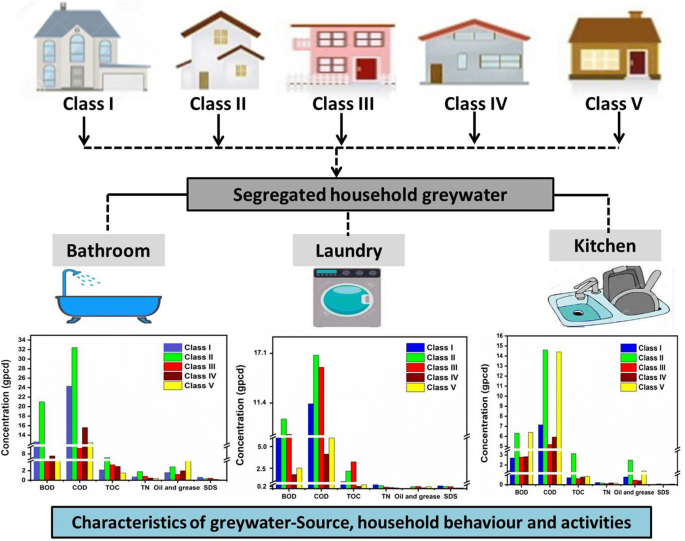 This is a preview of subscription content, log in to check access.
Access options
Buy single article
Instant access to the full article PDF.
US$ 39.95
Price includes VAT for USA
Subscribe to journal
Immediate online access to all issues from 2019. Subscription will auto renew annually.
US$ 199
This is the net price. Taxes to be calculated in checkout.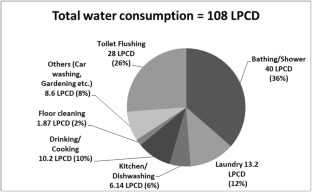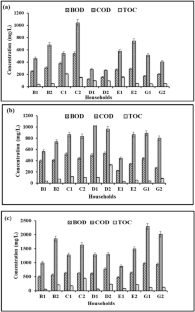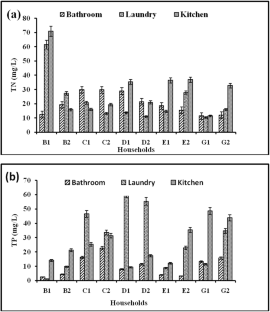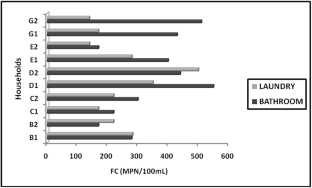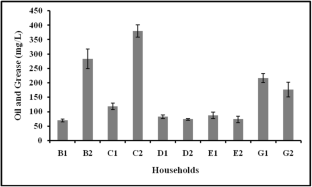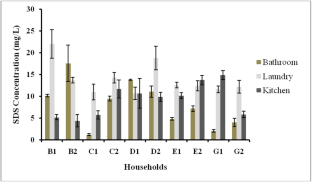 References
Abdul, S., & Sharma, R. N. (2007). Water consumption pattern in domestic households in major Indian Cities. Economic and Political Weekly. Vol. XLII No., 23.

Abu-Ghunmi, L. N. A. H. (2009). Characterization and treatment of grey water: option for (re) use.

Adak, A., Pal, A., & Bandyopadhyay, M. (2005). Spectrophotometric determination of anionic surfactants in wastewater using acridine orange. Indian Journal of chemical technology, 12(2), 145–148.

Al-Gheethi, A. A. S., Noman, E. A., Mohamed, R. M. S. R., Bala, J. D., & Kassim, A. H. M. (2019). Qualitative characterization of household greywater in developing countries: a comprehensive review. In Management of greywater in developing countries (pp. 1–31). Cham: Springer.

Allen, L., Christian-Smith, J., & Palaniappan, M. (2010). Overview of greywater reuse: the potential of greywater systems to aid sustainable water management. Pacific Institute, 654, 19–21.

American Public Health Association (APHA). (2012). Standard method for examination of water and wastewater, 22 (nd ed.). Washington DC: American Public Health Association.

Angelakis, A. N., & Gikas, P. (2014). Water reuse: overview of current practices and trends in the world with emphasis on EU states. Water Utility Journal, 8(67), e78.

Antonopoulou, G., Kirkou, A., & Stasinakis, A. S. (2013). Quantitative and qualitative greywater characterization in Greek households and investigation of their treatment using physicochemical methods. Science of the Total Environment, 454, 426–432.

Bdour, A. N., Hamdi, M. R., & Tarawneh, Z. (2009). Perspectives on sustainable wastewater treatment technologies and reuse options in the urban areas of the Mediterranean region. Desalination, 237(1-3), 162–174.

Birks, R., & Hills, S. (2007). Characterisation of indicator organisms and pathogens in domestic greywater for recycling. Environmental Monitoring and Assessment, 129(1-3), 61–69.

Bodnar, I., Szabolcsik, A., Baranyai, E., Uveges, A., & Boros, N. (2014). Qualitative characterization of household greywater in the northern great plain region of Hungary. Environmental Engineering and Management Journal, 13(11), 2717–2724.

Boyjoo, Y., Pareek, V. K., & Ang, M. (2013). A review of greywater characteristics and treatment processes. Water Science Technology, 67(7), 1403–1424.

Braga, J. K., & Varesche, M. B. A. (2014). Commercial laundry water characterization. American Journal of Analytical Chemistry, 5, 8–16.

Brownlee KA (1966) Statistical theory and methodology in science and engineering.Wiley, New York.

Dash, A. K. (2013). Characterization of domestic wastewater at Bhubaneswar, Odisha. India. Development, 25–27.

do Couto, E. D., Calijuri, M. L., Assemany, P. P., da Fonseca Santiago, A., & de Castro Carvalho, I. (2013). Greywater production in airports: qualitative and quantitative assessment. Resources, Conservation and Recycling, 77, 44–51.

Donner, E., Eriksson, E., Revitt, D. M., Scholes, L., Lützhøft, H. H., & Ledin, A. (2010). Presence and fate of priority substances in domestic greywater treatment and reuse systems. Science of the Total Environment., 408(12), 2444–2451.

Edwin, G. A., Gopalsamy, P., & Muthu, N. (2014). Characterization of domestic grey water from point source to determine the potential for urban residential reuse: a short review. Applied Water Science, 4(1), 39–49.

Eriksson, E., & Donner, E. (2009). Metals in greywater: sources, presence and removal efficiencies. Desalination, 248(1), 271–278.

Eriksson, E., Auffarth, K., Henze, M., & Ledin, A. (2002). Characteristics of grey wastewater. Urban water, 4(1), 85–104.

Foekema, H., van Thiel, L., & Lettinga, B. (2008). Watergebruik thuis 2007 [Water use at home 2007]. (C6026). Amsterdam: TNS NIPO.

Friedler, E., Kovalio, R., Galil, N. I., Mathew, K., & Ho, G. (2005). On-site greywater treatment and reuse in multi-storey buildings. Water Science and Technology, 5(10), 187–194.

Friedler, E., Kovalio, R., & Ben-Zvi, A. (2006). Comparative study of the microbial quality of greywater treated by three on-site treatment systems. Environmental technology, 27(6), 653–663.

Gato-Trinidad, S., Jayasuriya, N., & Roberts, P. (2011). Understanding urban residential end uses of water. Water Science and technology, 64(1), 36–42.

Ghaitidak, D. M., & Yadav, K. D. (2013). Characteristics and treatment of greywater-A review. Environmental Science and Pollution Research, 20(5), 2795–2809.

Hartung, H. (2001). Water for Bukoro and Ndego. Water security issues in Ruwandan resettlement villages. Mimeographs prepared for the domestic roof water harvesting study, Component C.

Heinrich, M. (2007). Water end-use and efficiency project (WEEP)–monitoring report. BRANZ Study Report, 159.

Henze, P., Harremoes, J., Jansen, L. C., & Arvin, E. (2001). Wastewater treatment biological and chemical processes (3rd ed.). Berlin: Springer.

Jiménez-Cisneros, B. (2014). Water reuse and recycling.

Kariuki, F. W., Ngángá, V. G., & Kotut, K. (2012). Hydrochemical characteristics, plant nutrients and metals in household greywater and soils in Homa Bay Town. The Open Environmental Engineering Journal, 5, 103–109.

Keshavarzia, A. R., Sharifzadehb, M., Haghighia, A. A., Amina, S., Keshtkara, S. H., & Bamdada, A. (2006). Rural domestic water consumption behaviour: a case study in Ramjerd area, Fars province, I.R Iran. Water Research, 40(6), 1173–1178.

Mandal, D., Labhasetwar, P., Dhone, S., Dubey, A. S., Shinde, G., & Wate, S. (2011). Water conservation due to greywater treatment and reuse in urban setting with specific context to developing countries. Resource Conservation and Recycling., 55(3), 356–336.

Massoud, M. A., Kazarian, A., Alameddine, I., & Al-Hindi, M. (2018). Factors influencing the reuse of reclaimed water as a management option to augment water supplies. Environmental monitoring and assessment, 190(9), 531.

Mathurasa, L. (2005). Analysis and forecast of domestic water end-uses in Khon Kaen province. IWA, Bangkok: Proceedings of the Aqua Asia Forum.

Matos, C., Teixerira, C. A., Duarte, A. A. L. S., & Bentes, I. (2013). Domestic water uses: characterization of daily cycles in the north region of Portugal. Science of the Total Environment, 458-460, 444–450.

Memon, F. A., Zheng, Z., Butler, D., Shirley-Smith, C., Lui, S., Makropoulos, C., & Avery, L. (2007). Life cycle impact assessment of greywater recycling technologies for new developments. Environmental monitoring and assessment, 129(1-3), 27–35.

Milestone Report. (2001). Domestic roof-water harvesting and water security in the humid tropics. Milestone report D 5, Lanka rainwater harvesting forum.

Milton, A. H., Rahman, H., Smith, W., Shrestha, R., & Dear, K. (2006). Water consumption patterns on rural Bangladesh: Are we under estimating total arsenic load? Journal of Water and Health, 4(4), 431–436.

Mohamed, R. M., Al-Gheethi, A. A., Aznin, S. S., Hasila, A. H., Wurochekke, A. A., & Kassim, A. H. (2017). Removal of nutrients and organic pollutants from household greywater by phycoremediation for safe disposal. International Journal of Energy and Environmental Engineering, 8(3), 259–272.

Morel, A. (2006). Greywater management in low and middle-income countries (No. 628.2 G842g). Dubenforf, CH: Swiss Federal Institute of Aquatic Science and Technology.

Muanda, C., & Lagardien, A. (2008). Investigating Greywater Disposal Options in an Informal Settlement. In Water Institution of Southern Africa, biennial conference. Sun City: South Africa.

Nghiem, L. D., Oschmann, N., & Schäfer, A. I. (2006). Fouling in greywater recycling by direct ultrafiltration. Desalination, 187(1-3), 283–290.

Noutsopoulos, C., Andreadakis, A., Kouris, N., Charchousi, D., Mendrinou, P., Galani, A., & Koumaki, E. (2018). Greywater characterization and loadings–physicochemical treatment to promote onsite reuse. Journal of Environmental Management, 216, 337–346.

Oteng-Peprah, M., & Acheampong, M. A. (2018). Greywater characteristics, treatment systems, reuse strategies and user perception—a review. Water Air Soil Pollution, 229(8), 255.

Palmquist, H., & Hanæus, J. (2004). A Swedish overview of selecting hazardous substances as pollution indicators in wastewater. Management of Environmental Quality: An International Journal, 15(2), 186–203.

Penn, R., Hadari, M., & Friedler, E. (2012). Evaluation of the effects of greywater reuse on domestic wastewater quality and quantity. Urban Water Journal, 9(3), 137–148.

PI Larry Roesner, Qian, Y., Criswell, M., Stromberger, M., & Klein, S. (2006). Long-term effects of landscape irrigation using household graywater–literature review and synthesis.

Poyyamoli, G., Edwin, G. A., & Muthu, N. (2013). Constructed wetlands for the treatment of domestic grey water: an instrument of the green economy to realize the millennium development goals. In The Economy of Green Cities (pp. 313–321). Dordrecht: Springer.

Ramona, G., Green, M., Semiat, R., & Dosoretz, C. (2004). Low strength graywater characterization and treatment by direct membrane filtration. Desalination, 170(3), 241–250.

Ramprasad, C., & Philip, L. (2016). Surfactants and personal care products removal in pilot scale horizontal and vertical flow constructed wetlands while treating greywater. Chemical Engineering Journal, 284, 458–468.

Revitt, D. M., Eriksson, E., & Donner, E. (2011). The implications of household greywater treatment and reuse for municipal wastewater flows and micropollutant loads. Water Research, 45(4), 1549–1560.

Singh, O., & Turkiya, S. (2013). A survey of household domestic water consumption patterns in rural semi-arid village, India. GeoJournal, 78(5), 777–790.

Sivakumaran, S., & Aramaki, T. (2010). Estimation of household water end use in Trincomalee, Sri Lanka. Water International, 35(1), 94–99.

Tay, J. H., Pan, S., He, Y., & Tay, S. T. (2004). Effect of organic loading rate on aerobic granulation: reactor performance. Journal of Environmental Engineering, 130, 1094–1101.

Tongco, M. D. C. (2007). Purposive sampling as a tool for informant selection. Ethnobotany Research and Applications, 5, 147–158.

USEPA, E. (2010). Method 1664 revision A: N-hexane extractable material (HEM; oil and grease) and silica gel treated N-hexane extractable material (SGT-HEM; non-polar material) by extraction and gravimetry. Washington DC: United States Environmental Protection Agency.

Vakil, K. A., Sharma, M. K., Bhatia, A., Kazmi, A. A., & Sarkar, S. (2014). Characterization of greywater in an Indian middle-class household and investigation of physicochemical treatment using electrocoagulation. Separation and Purification technology, 130, 160–166.

Wester, J., Timpano, K. R., Çek, D., Lieberman, D., Fieldstone, S. C., & Broad, K. (2015). Psychological and social factors associated with wastewater reuse emotional discomfort. Journal of Environmental Psychology, 42, 16–23.

Willis, R. M., Stewart, R. A., Panuwatwanich, K., Williams, P. R., & Hollingsworth, A. L. (2011). Quantifying the influence of environmental and water conservation attitudes on household end use water consumption. Journal of Environmental Management, 92(8), 1996–2009.

World Health Organization. (2003). Guidelines for safe recreational water environments: Coastal and fresh waters (Vol. 1). World Health Organization.

Zhang, X. P., & Cheng, X. M. (2009). Energy consumption, carbon emissions, and economic growth in China. Ecological Economics, 68(10), 2706–2712.
Acknowledgements
The authors would like to thank the inhabitants of households for their ready support during sampling and survey.
Funding
The authors wish to express their gratitude to the Ministry of Department of Science and Technology (DST, Government of India, GoI), through the research projects DST/TM/INDO-UK/2K17/66, DST/TN/WTI/WIC/2K17/82, and Indo German Centre for Sustainability (IGCS) (DST/CCP/CoE/141/2018(G) for funding this research activity through Indian Institute of Technology (IIT) Madras.
Additional information
Publisher's note
Springer Nature remains neutral with regard to jurisdictional claims in published maps and institutional affiliations.
Highlights
• Greywater from different sources and socioeconomic classes were characterized.
• Activities of households were mapped using inventory analysis.
• Average water consumption among different households was 108 Lpcd.
• Statistical analysis revealed that parameters monitored differ significantly between economic classes.
• Characteristics of greywater depend upon source, household behaviour and socio-economic background.
Electronic supplementary material
About this article
Cite this article
Delhiraja, K., Philip, L. Characterization of segregated greywater from Indian households: part A—physico-chemical and microbial parameters. Environ Monit Assess 192, 428 (2020). https://doi.org/10.1007/s10661-020-08369-0
Received:

Accepted:

Published:
Keywords
Segregated household greywater

Water consumption

Physical and chemical contaminants

Surfactants

Water recycle and reuse