Abstract
The Sumgait remediation project was implemented in 2015 as a partnership between Blacksmith Institute and the site owner Azerikimya Joint Stock Company (Azerikimya) in Sumgait City, Azerbaijan Republic, about 30 km northwest of Baku. The project was financed by the European Commission and supported by the Ministry of Ecology and Natural Resources (MENR) and Sumgait Municipality. The site is a place on the Caspian Sea coast that was formerly an industrial area highly contaminated with various pollutants and particularly benzo(a)pyrene, benzene, and polychlorinated biphenyls (PCBs). As part of initial environmental assessment, the project team took soil samples at 19 locations at the surface and at the depth of 0.5 m. The maximum topsoil benzo(a)pyrene concentration was 76.21 mg/kg, benzene, 121.5 mg/kg, and PCBs, 121.02 mg/kg. The remediation project involved the removal of 804 m3 of contaminated soil and disposal of the contaminated soil at the MENR Hazardous Waste Polyqon (landfill). A comparison of pre- and post-excavation sampling shows that average contaminant levels in soils in the upper 0.5 m were reduced by an average of 97%. These actions were followed by bioremediation activities. More than 13,000 m3 of clean soil and organic fertilizer were placed and leveled over an area of two hectares. Approximately 1200 locally grown native tree species were planted, and a drip irrigation system was installed. The area is now a park close to the beach.
This is a preview of subscription content, log in to check access.
Access options
Buy single article
Instant access to the full article PDF.
US$ 39.95
Tax calculation will be finalised during checkout.
Subscribe to journal
Immediate online access to all issues from 2019. Subscription will auto renew annually.
US$ 119
Tax calculation will be finalised during checkout.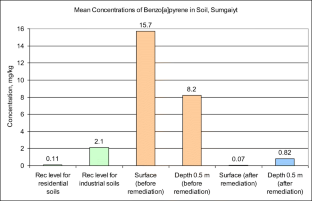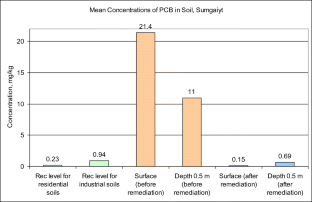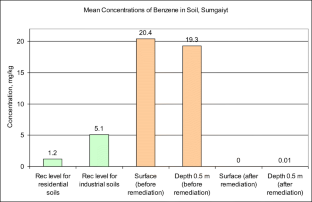 References
Eminov, Z. N. (2012). Changes in industrial structure of industry in large cities and regional centers of Azerbaijan. Scientific herald of Poltava University of Economics and Trade, 4(55), 44–51.

EPA (2017). Regional Screening Levels (RSLs) - Generic Tables (May 2017). https://www.epa.gov/risk/regional-screening-levels-rsls-generic-tables-november-2017. Accessed 12 June 2018.

Ismailov, C. H. N. (2009). The main geological issues of Caspian. Bulletin of Dagestan State Pedagogical University, 4, 92–96.

Kahramanova, S. H. S. H. (2012). Anthropogenic pollution of soils in Absheron Peninsula. Akademicheskij vestnik UralNIIproekt RAASN, 1, 25–30.

Mamedov, B. A. (2011). The current situation and development prospects of the economy of Sumgait City. Science Prospects, 3(18), 133–137.

Rogozina, E. A., Morgunov, P. A. (2016). Method of a detailed preliminary examination of oil-contaminated soil and processing of received data for the rational choice of effective cleaning technology. Petroleum Geology - Theoretical and Applied Studies, 11(4). http://www.ngtp.ru/rub/7/48_2016.pdf. Accessed 12 June 2018.
Acknowledgements
The authors thank Azerkimya and SOCAR for their dedication, hard work, and financial contribution to the implemented project. Also, the project team thanks the Ministry of Ecology and Natural Resources of Azerbaijan and Hazardous Waste Polyqon for substantial in-kind contribution and effective work. Special thanks go to UNIDO and the European Commission for organizational and financial support that made the project possible.
Additional information
Publisher's note
Springer Nature remains neutral with regard to jurisdictional claims in published maps and institutional affiliations.
This article is part of the Topical Collection on Global approaches to assessing, monitoring, mapping and remedying soil pollution
About this article
Cite this article
Sharov, P., Abbasov, R. & Temnikova, A. Remediation of soil contaminated with persistent organic pollutants in Sumgait, Azerbaijan. Environ Monit Assess 191, 464 (2019). https://doi.org/10.1007/s10661-019-7560-7
Received:

Accepted:

Published:
Keywords
Remediation

Chemical contamination

Sumgait

Azerbaijan