Abstract
Hevea brasiliensis (rubber tree) is well known as the tree of life for its by-products such as wood and latex. The introduction of super clones with high yield potential such as RRIM 3001 is among the efforts to improve latex and timber yields. However, the RRIM 3001 super clone is prone to a disease known as trunk bulges. The appearing of bulging on the tapping panel causes difficulties during the tapping process for harvesting the latex and affects the quality of wood produced. In this study, we aimed to characterize Bacillus pumilus (B. pumilus) causing trunk bulges disease of RRIM 3001 super clone rubber tree isolated from the infected rubber trees in Malaysia. During October to December 2017, samples with trunk bulges symptoms were collected from four rubber plantations with reported outbreaks. Ten bacterial isolates from vascular tissues of rubber tree with trunk bulges symptom were confirmed as Bacillus pumilus species by the production of yellow pigmentation, circular, raised and entire form colonies on Bacillus differentiation agar medium. All of the isolates are Gram-positive, rod-shaped, motile, as well as endospores formers. They were positive for catalase activities and negative in both potassium hydroxide (KOH) and sulfide productions. All bacterial isolates utilized glucose, inositol, mannitol, sucrose, xylose and trehalose, but did not utilize lactose and arabinose. Application of 16S rRNA, species-specific primers; Bsub5F/Bsub3R and UP-1S/UP-2Sr (GyrB gene) successfully identified all isolates as B. pumilus. Phylogenetic analysis of both genes further clustered these isolates into the same cluster to a B. pumilus reference strain in the GenBank database (GenBank Accession Nos. KF158227 and MF968898). The results from this study are useful for developing management strategies of B. pumilus in rubber plantations, since rubber tree has been recognized as important commodity crop with high economic value in Malaysia.
Access options
Buy single article
Instant access to the full article PDF.
US$ 39.95
Tax calculation will be finalised during checkout.
Subscribe to journal
Immediate online access to all issues from 2019. Subscription will auto renew annually.
US$ 119
Tax calculation will be finalised during checkout.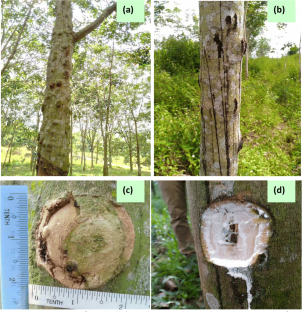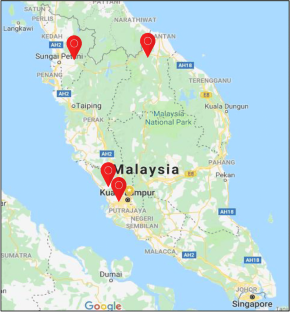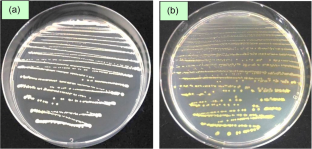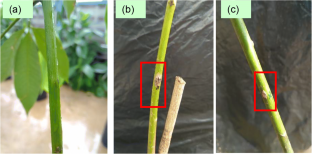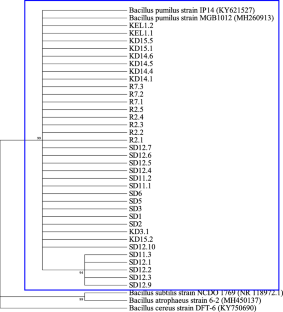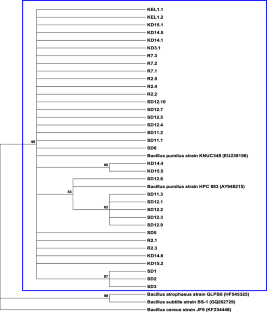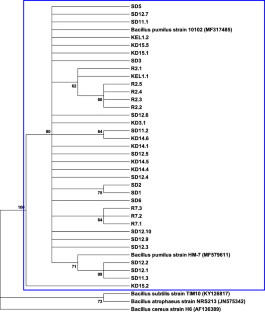 References
Bathily, H., Babana, A. H., & Samaké, F. (2010). Bacillus pumilus, a new pathogen on potato tubers in storage in Mali. African Journal of Microbiology Research, 4(20), 2067–2071.

Branquinho, R., Meirinhos-Soares, L., Carriço, J. A., Pintado, M., & Peixe, L. V. (2014). Phylogenetic and clonality analysis of Bacillus pumilus isolates uncovered a highly heterogeneous population of different closely related species and clones. FEMS Microbiology Ecology, 90(3), 689–698.

Cosmas, L. L., Atong, M., & Poili, E. (2016). Preliminary studies towards identification of ginger wilt disease in Sabah, Malaysia. Pertanika Journal of Tropical Agricultural Science, 39(3), 373–380.

Galal, A. A., El-Bana, A. A., & Janse, J. (2006). Bacillus pumilus, a new pathogen on mango plants. Egyptian Journal of Phytopathology, 34(1), 17–29.

Hedreyda, C. T., & Monsalud, R. G. (2017). Species identification of thermo-tolerant Bacillus isolates using 16S rDNA, gyraseB gene (gyrB) and enzyme gene sequence analysis. Philippine Journal of Science, 146(4), 361–369.

Hosford Jr., R. M. (1982). White blotch incited in wheat by Bacillus megaterium pv. cerealis. Phytopathology, 72(11), 1453–1459.

Huang, C. H., Chang, M. T., Huang, L., & Chu, W. S. (2012). Development of a novel PCR assay based on the gyrase B gene for species identification of Bacillus licheniformis. Molecular and Cellular Probes, 26(5), 215–217.

Kovaleva, V. A., Shalovylo, Y. I., Gorovik, Y. N., Lagonenko, A. L., Evtushenkov, A. N., & Gout, R. T. (2015). Bacillus pumilus-a new phytopathogen of scots pine. Journal of Forest Science, 61(3), 131–137.

Kumar, S., Stecher, G., & Tamura, K. (2016). MEGA7: Molecular evolutionary genetics analysis version 7.0 for bigger datasets. Molecular Biology and Evolution, 33(7), 1870–1874.

Lalithya, K. A., Manjunatha, G., Raju, B., Kulkarni, M. S., & Lokesh, V. (2017). Plant growth regulators and signal molecules enhance resistance against bacterial blight disease of pomegranate. Journal of Phytopathology, 165(11–12), 727–736.

Leary, J. V., & Chun, W. W. C. (1989). Pathogenicity of Bacillus circulans to seedlings of date palm (Phoenix dactylifera). Plant Disease (USA)., 73, 353.

Leary, J. V., Nelson, N., Tisserat, B., & Allingham, E. A. (1986). Isolation of pathogenic Bacillus circulans from callus cultures and healthy offshoots of date palm (Phoenix dactylifera L.). Applied and Environmental Microbiology, 52(5), 1173–1176.

Lelliott, R. A., & Stead, D. E. (1987). Methods for the diagnosis of bacterial diseases of plants (p. 216). Oxford: Blackwell Scientific Publications.

Li, B., Qiu, W., Tan, Q. M., Su, T., Fang, Y., & Xie, G. L. (2009). Association of a Bacillus species with leaf and twig dieback of Asian pear (Pyrus pyrifolia) in China. Journal of Plant Pathology, 91(3), 705–708.

Lin, C. H., Tsai, K. C., Prior, P., & Wang, J. F. (2014). Phylogenetic relationships and population structure of Ralstonia solanacearum isolated from diverse origins in Taiwan. Plant Pathology, 63(6), 1395–1403.

Liu, Y., Lai, Q., Dong, C., Sun, F., Wang, L., Li, G., & Shao, Z. (2013). Phylogenetic diversity of the Bacillus pumilus group and the marine ecotype revealed by multilocus sequence analysis. PLoS One, 8(11).

Logan, N. A., Berge, O., Bishop, A. H., Busse, H. J., De Vos, P., Fritze, D., Heyndrickx, M., Kämpfer, P., Rabinovitch, L., Salkinoja-Salonen, M. S., & Seldin, L. (2009). Proposed minimal standards for describing new taxa of aerobic, endospore-forming bacteria. International Journal of Systematic and Evolutionary Microbiology, 59(8), 2114–2121.

Madigan, M., & Martinko, J. (2005). Brock biology of microorganisms (11th ed.). Prentice Hall: BenjaminCummings Publishing Company.

Malaysian Rubber Board. (2009). Rubber plantation and processing technologies. Kuala Lumpur, Malaysia: Malaysian Rubber Board.

Mazlan, S., Wahab, A., Jaafar, N. M., Sulaiman, Z., Rajandas, H., & Zulperi, D. (2019). First report of Bacillus pumilus causing trunk bulges of rubber tree (Hevea brasiliensis) in Malaysia. Plant Disease, 103(5), 1016.

Miller, C. S., Handley, K. M., Wrighton, K. C., Frischkorn, K. R., Thomas, B. C., & Banfield, J. F. (2013). Short-read assembly of full-length 16S amplicons reveals bacterial diversity in subsurface sediments. PLoS One, 8(2), e56018.

Mokhter, M. S. & Aris, M. N. M. (July 2018) Protuberances on RRIM 3001 tree trunks: wood anatomy and mechanica properties. Paper presented at the meeting of the Seminar RRIM 3001, Akademi Hevea Malaysia.

Parvathi, A., Krishna, K., Jose, J., Joseph, N., & Nair, S. (2009). Biochemical and molecular characterization of Bacillus pumilus isolated from coastal environment in Cochin, India. Brazilian Journal of Microbiology, 40(2), 269–275.

Peng, Q., Yuan, Y., & Gao, M. (2013). Bacillus pumilus, a novel ginger rhizome rot pathogen in China. Plant Disease, 97(10), 1308–1315.

Stackebrandt, E., & Swiderski, J. (2008). From phylogeny to systematics: The dissection of the genus Bacillus. Applications and Systematics of Bacillus and Relatives (Berkeley R, Heyndrickx M, Logan N & De Vos P, eds), pp. 8–22. Blackwell Science, Oxford.

Turnbull, P. C. B. (1996). Bacillus: Barron's medical microbiology. University of Texas Medical Branch.

Vos, P., Garrity, G., Jones, D., Krieg, N.R., Ludwig, W., Rainey, F.A., Schleifer, K.H. Whitman, W.B. eds. (2011). Bergey's manual of systematic bacteriology: Volume 3: The Firmicutes (Vol. 3). Springer Science & Business Media.

Wang, L. T., Lee, F. L., Tai, C. J., & Kasai, H. (2007). Comparison of gyrB gene sequences, 16S rRNA gene sequences and DNA–DNA hybridization in the Bacillus subtilis group. International Journal of Systematic and Evolutionary Microbiology, 57(8), 1846–1850.

Wattiau, P., Renard, M. E., Ledent, P., Debois, V., Blackman, G., & Agathos, S. N. (2001). A PCR test to identify Bacillus subtilis and closely related species and its application to the monitoring of wastewater biotreatment. Applied Mirobiology Biotechnology, 56, 816–819.

Yamamoto, S., & Harayama, S. (1995). PCR amplification and direct sequencing of gyrB genes with universal primers and their application to the detection and taxonomic analysis of Pseudomonas putida strains. Applied Environment Microbiology, 61(3), 1104–1109.

Zarawi, A. G. (July 2018) Performance of RRIM 3001. Paper presented at the meeting of the Seminar RRIM 3001, Akademi Hevea Malaysia

Zeigler, D. R. (2003). Gene sequences useful for predicting relatedness of whole genomes in bacteria. International Journal of Systematic and Evolutionary Microbiology, 53(6), 1893–1900.
Ethics declarations
The authors declare that their research complied with the ethical responsibilities and standards laid down in the "Instructions for Authors" of the European Journal of Plant Pathology.
Conflict of interest
None of the authors of this paper has a financial or personal relationship with other people or organizations that could inappropriately influence or bias the content of the paper.
About this article
Cite this article
Mazlan, S., Jaafar, N.M., Wahab, A. et al. Molecular characterization and phylogenetic analysis of Bacillus pumilus causing trunk bulges of RRIM 3001 superclone rubber tree in Malaysia. Eur J Plant Pathol 159, 825–838 (2021). https://doi.org/10.1007/s10658-021-02208-9
Accepted:

Published:

Issue Date:
Keywords
Bacillus pumilus

Trunk bulges disease

Rubber tree

Species-specific gene

GyrB gene