Abstract
Hop stunt viroid (HSVd) infects a large number of woody plants such as grapevine, citrus, plum, peach, fig, mulberry, pear, pistachio, and almond. Pistachio (Pistacia vera L.) is an important crop in Turkey and very few reports described the presence of viruses or viroids affecting that crop. The viroid was recently detected in one P. vera tree out of a limited number of samples in Kahramanmaras which is one of the most important pistachio-growing areas. Therefore, an extensive research was carried out to investigate the prevalence and genetic diversity of HSVd in Kahramanmaras and two additional major pistachio growing areas. During 2016–2017, a total of 70 leaf samples from pistachio trees were collected and assayed for HSVd by reverse transcription polymerase chain reaction (RT-PCR). The prevalence incidence of HSVd infection was relatively low in the tested plant materials. Comparative analysis of the three Turkish HSVd-pistachio variants was performed with viroidal genome sequences from the NCBI database. Phylogenetic analysis showed that one HSVd-pistachio variant was classified with the reference HSVd isolate from Japan and formed a sub-cluster within the HSVd-hop isolates group, whereas the remaining two variants were clustered into the plum-hop/cit3 group with four Tunisian HSVd-pistachio variants. Further studies are required to verify its infectivity in healthy pistachio trees.
Access options
Buy single article
Instant access to the full article PDF.
US$ 39.95
Tax calculation will be finalised during checkout.
Subscribe to journal
Immediate online access to all issues from 2019. Subscription will auto renew annually.
US$ 119
Tax calculation will be finalised during checkout.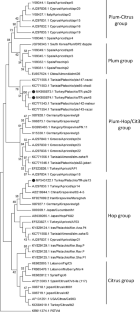 References
Al Rwahnih, M., Rowhani, A., Westrick, N., Stevens, K., Diaz-Lara, A., Trouillas, F., et al. (2018). Discovery of viruses and virus-like pathogens in pistachio using high-throughput sequencing. Plant Disease, 102, 1419–1425.

Altschul, S. F., Madden, T. L., Schaffer, A. A., Zhang, J., Zhang, Z., Miller, W., et al. (1997). Gapped BLAST and PSIBLAST: a new generation of protein database search programs. Nucleic Acids Research 25, 3389–3402.

Amari, K., Gomez, G., Myrta, A., Di-Terlizzi, B., & Pallás, V. (2001). The molecular characterization of 16 new sequence variants of Hop stunt viroid reveals the existence of invariable regions and a conserved hammerhead-like structure on the viroid molecule. Journal of General Virology. https://doi.org/10.1099/0022-1317-82-4-953.

Astruc, N., Macros, J. F., Macquaire, G., Candresse, T., & Pallas, V. (1996). Studies on the diagnosis of hop stunt viroid in fruit trees: identification of new hosts and application of a nucleic acid extraction procedure based on nonorganic solvents. European Journal of Plant Pathology, 102, 837–846.

Balsak, S. C., Buzkan, N., Ay, M. Z., & Gürbüz, M. (2017). Occurrence of Hop stunt viroid (HSVD) in Turkish pistachio trees. Phytopathologia Mediterranea, 56(2), 376.

Buzkan, N., Chiumenti, M., Massart, S., Sarpkaya, K., Karadağ, S., & Minafra, A. (2019). A new emaravirus discovered in Pistacia from Turkey. Virus Research, 263, 159–163. https://doi.org/10.1016/j.virusres.2019.01.012.

Crane, J. C. (1978). Pistachio tree nuts. Westport: Avipublishing Company.

Diaz-Lara, A., Stevens, K., Westrick, N., Golino, D. A., & Al Rwahnih, M. (2017). Identification of a caulimo-like virus in pistachio via high-throughput sequencing (Abstr.). Phytopathology, 103. S5., 1.

Elleuch, A., Hamdi, I., Ellouze, O., Ghrab, M., Fkahfakh, H., & Drira, N. (2013). Pistachio (Pistacia vera L.) is a new natural host of Hop stunt viroid. Virus Genes. https://doi.org/10.1007/s11262-013-0929-8.

FAO (2017). Statistical Databases: Agricultural data. Internet Resource: http://faostat.fao.org (verified Feb 17, 2020).

Gazel, M., & Önelge, N. (2003). First report of grapevine viroids in the east Mediterranean region of Turkey. New Disease Report. https://doi.org/10.1046/j.1365-3059.2003.00827.x.

Gazel, M., Ulubaş-Serçe, Ç., Çağlayan, K., & Faggioli, F. (2008). Sequence variability of Hop stunt viroid isolates from stone fruits in Turkey. Journal of Plant Pathology, 90(1), 23–28.

Gümüş, M., Paylan, I. C., Matic, S., Myrta, A., Sipahioğlu, H. M., & Erkan, S. (2007). Occurrence and distribution of stone fruit viruses and viroids in commercial plantings of Prunus species in western Anatolia, Turkey. Journal of Plant Pathology, 89(2), 265–268.

Hormaza, J. I., Dollo, L., & Polito, V. S. (1994). Determination of relatedness and geographic movements of Pistacia vera (Pistachio; Anacardiaceae) germplasm by RAPD analysis. Economic Botany, 48(4), 349–358.

Hormaza, J. I., Pinney, K., & Polito, V. S. (1998). Genetic diversity of pistachio (Pistacia vera, Anacardiaceae) germplasm based on randomly amplified polymorphic DNA (RAPD) markers. Economic Botany. https://doi.org/10.1007/BF02861298.

Kafkas, S., Kafkas, E., & Perl-Treves, R. (2002). Morphological diversity and a germplasm survey of three wild Pistacia species in Turkey. Genetic Resources and Crop Evolution. https://doi.org/10.1023/A:1015563412096.

Kofalvi, S. A., Marcos, J. F., Canizares, M. C., Pallás, V., & Candresse, T. (1997). Hop stunt viroid (HSVd) sequence variants from Prunus species: Evidence for recombination between HSVd isolates. Journal of General Virology. https://doi.org/10.1099/0022-1317-78-12-3177.

Kreutzberg, V. E. (1940). A new virus of Pistacia vera L. Proc. Acad. Sci. USSR. Geochemistry Section, 27, 614–617.

Maddahian, M., Massumi, H., Heydarnehad, J., Hosseinipour, A., Khezri, A., & Sano, T. (2019). Biological and molecular characterization of hop stunt viroid variants from pistachio trees in Iran. Journal of Phytopathology. https://doi.org/10.1111/jph.12783.

Ohno, T., Takamatsu, N., Meshi, T., & Okada, Y. (1983). Hop stunt viroid: Molecular cloning and nucleotide sequence of the complete cDNA copy. Nucleic Acids Research. https://doi.org/10.1093/nar/11.18.6185.

Tamura, K., Stecher, G., Peterson, D., Filipski, A., & Kumar, S. (2013). MEGA6: Molecular Evolutionary Genetics Analysis Version 6.0., https://doi.org/10.1093/molbev/mst197

Thompson, J. D., Gibson, T. J., Plewniak, F., Jeanmougin, F., & Higgins, D. G. (1997). The CLUSTAL_X windows interface: flexible strategies for multiple sequence alignment aided by quality analysis tools. Nucleic Acids Research, 25(24), 4876–4882.

Valverde, R. A., Dodds, J. A., & Heick, J. A. (1986). Double stranded ribonucleic acid from plants infected with viruses having elongated particles and undivided genomes. Phytopathology, 76(4), 459–465.
Acknowledgments
Grateful thanks are expressed to Dr. Angelantonio Minafra from IPSP-CNR (Bari, Italy) for his helpful suggestions and critical reading of the manuscript.
Funding
This research was granted by Research fund of Kahramanmaraş Sütçü Imam University (2016/5–35 M).
Ethics declarations
Conflict of interest
The authors declare that they have no conflict of interest.
Informed consent
All authors read and approved the final manuscript.
Research involving human participants and/or animals
This article does not contain any studies with human participants or animals performed by any of the authors.
About this article
Cite this article
Balsak, S.C., Buzkan, N. Detection and genetic diversity of Hop stunt viroid infecting Pistachio (Pistacia vera L.) trees in Turkey. Eur J Plant Pathol 159, 707–710 (2021). https://doi.org/10.1007/s10658-020-02187-3
Accepted:

Published:

Issue Date:
Keywords
Pistachio Hop stunt viroid Hostuviroid Pospiviroidae