Abstract
Cercospora coffeicola is the causal agent of brown eye spot, an important disease of coffee (Coffea arabica) in Brazil. However, atypical symptom as darker and larger lesions, named black spot, has been reported in field. In this study, we tested the hypothesis that the causal agent of black spot belongs to the same species pathogenic to brown eye spot. Nineteen strains obtained from diseased coffee found in the five largest coffee-producing states of Brazil were characterized by a combination of molecular phylogenic methods, using a multi-locus approach (internal transcribed spacer regions and intervening 5.8S nrRNAs, actin, calmodulin, histone H3, and translation elongation factor 1-alpha), analyses of morphological markers and pathogenicity. Strains from brown eye spot and black spot disease on coffee leaves formed a clade with C. coffeicola strain from Japan. All strains showed same morphological characteristics and caused brown eye spot symptoms in greenhouse. These results confirm that the species associated with brown eye spot and black spot disease on coffee leaves is C. coffeicola. Additionally, an epitype is proposed for C. coffeicola.
Access options
Buy single article
Instant access to the full article PDF.
US$ 39.95
Tax calculation will be finalised during checkout.
Subscribe to journal
Immediate online access to all issues from 2019. Subscription will auto renew annually.
US$ 119
Tax calculation will be finalised during checkout.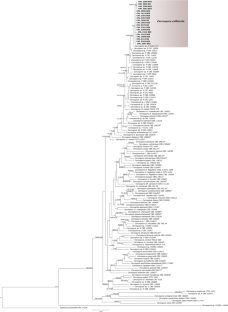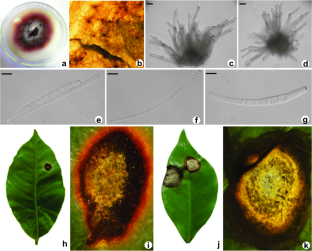 References
Ariyawansa, H. A., Hawksworth, D. L., Hyde, K. D., Jones, E. B. G., Maharachchikumbura, S. S. N., Manamgoda, D. S., Thambugala, K. M., Udayanga, D., Camporesi, E., Daranagama, A., Jayawardena, R., Liu, J. K., McKenzie, E. H. C., Phookamsak, R., Senanayake, I. C., Shivas, R. G., Tian, Q., & Xu, J. C. (2014). Epitypification and neotypification: Guidelines with appropriate and inappropriate examples. Fungal Diversity, 69, 57–91.

Bakhshi, M., Arzanlou, M., Babai-ahari, A., et al. (2015). Application of the consolidated species concept to Cercospora spp. from Iran. Persoonia, 34, 65–86.

Bakhshi, M., Arzanlou, M., Babai-ahari, A., Groenewald, J. Z., & Crous, P. W. (2018). Novel primers improve species delimitation in Cercospora. IMA Fungus, 9, 299–332.

Bradshaw, M., & Tobin, P. (2020). Sequencing herbarium specimens of a common detrimental plant pathogen (powdery mildew) phytopathology. First Look., 110, 1248–1254. https://doi.org/10.1094/PHYTO-04-20-0139-PER.

Carbone, I., & Kohn, L. M. (1999). A method for designing primer sets for speciation studies in filamentous ascomycetes. Mycologia, 91, 553–556.

Chupp, C. (1954). A monograph of the fungus genus Cercospora. New York: Ithaca.

Cooke, M. C. (1881). Some exotic fungi. Grevillea, 9(51), 97–101.

Crous, P. W., & Braun, U. (2003). Mycosphaerella and its anamorphs: 1. Names published in Cercospora and Passalora. CBS Biodiversity Series, 1, 1–571.

Crous, P. W., Groenewald, J. Z., Pongpanich, K., et al. (2004). Cryptic speciation and host specificity among Mycosphaerella spp. occurring on Australian Acacia species grown as exotics in the tropics. Studies in Mycology, 50, 457–469.

Darriba, D., Taboada, G. L., Doallo, R., & Posada, D. (2012). ModelTest 2: More models, new heuristics and highperformance computing. Nature Methods, 9, 772. https://doi.org/10.1038/nmeth.2109.

Dell' Acqua, R., Mantovani, E. S., Braghini, M. T., et al. (2011). Variabilidade in vitro, in vivo e molecular de isolados de Cercospora coffeicola. Tropical Plant Pathology, 36, 313–326.

Ellis, M. B. (1971). Dematiaceous hyphomycetes. Kew, England: Commonwealth Mycological Institute.

Fazuoli, L. C., Medina, F. H. P., Gonçalves, W., et al. (2002). Melhoramento do cafeeiro: variedades tipo arábica obtidas no Instituto Agronômico de Campinas. In L. Zambolim (Ed.), O estado da arte de tecnologias na produção de café (pp. 163–215). Brazil: Universidade Federal de Viçosa.

Feau, N., Hamelin, R. C., & Bernier, L. (2006). Attributes and congruence of three molecular data sets: Inferring phylogenies among Septoria-related species from woody perennial plants. Molecular Phylogenetics and Evolution, 40, 808–829.

Godoy, C. V., Bergamin-Filho, A., & Salgado, C. L. (1997). Doenças do cafeeiro. In H. Kimati, L. Amorim, A. F. Bergamin, L. E. A. Camargo, & J. A. M. Rezende (Eds.), Manual de Fitopatologia, 3rd edn (Vol. 2, pp. 184–200). Brasil: Editora Agronômica Ceres.

Groenewald, J. Z., Nakashima, C., Nishikawa, J., Shin, H. D., Park, J. H., Jama, A. N., Groenewald, M., Braun, U., & Crous, P. W. (2013). Species concepts in Cercospora: Spotting the weeds among the roses. Studies in Mycology, 75, 115–170.

Guatimosim, E., Schwartsburd, P. B., Barreto, R. W., et al. (2017). Novel fungi from an ancient niche: Cercosporoid and related sexual morphs on ferns. Persoonia, 37, 106–141.

Hyde, K. D., & Zhang, Y. (2008). Epitypification: Should we epitypify? Journal of Zhejiang University. Science. B, 9, 842–846.

Kumar, S., Stecher, G., & Tamura, K. (2016). MEGA7: Molecular evolutionary genetics analysis version 7.0 for bigger datasets. Molecular Biology and Evolution, 33, 1870–1874.

Lima, L. M., Pozza, E. A., & Santos, F. S. (2012). Relationship between incidence of brown eyespot of coffee cherries and the chemical composition of coffee beans. Journal of Phytopathology, 160, 209–211.

Nelson, S. C. (2008). Cercospora leaf spot and berry blotch of coffee. CTAHR, Univ. of Hawai, http://www.ctahr.hawaii.edu/oc/freepubs/pdf/PD-41. Accessed 16 Dec 2019.

Nguanhom, J., Cheewangkoon, R., Groenewald, J. Z., et al. (2015). Taxonomy and phylogeny of Cercospora spp. from northern Thailand. Phytotaxa, 233, 27–48.

Noack, F. (1901). Die Krankheiten des Kaffeebaumes in Brasilien. Z Pflkrankh Pflschutz, 11, 196–203.

Pozza, E. A., Carvalho, L. V., & Chalfoun, S. M. (2010). Sintomas e injúrias causadas por doenças em cafeeiro. In R. J. Guimarães, A. N. G. Mendes, & D. P. Baliza (Eds.), Semiologia do cafeeiro: sintomas de desordens nutricionais, fitossanitárias e fisiológicas (pp. 68–106). Brazil: UFLA.

Ronquist, F., Teslenko, M., Vander-Mark, P., et al. (2012). MrBayes3.2: Efficieznt Bayesian phylogenetic inference and model choice across a large model space. Systematic Biology, 61, 539–542.

Santos, L. A., Souza, P. E., Pozza, E. A., et al. (2014). Nova técnica para isolar Cercospora coffeicola Berkeley & Cooke, agente etiológico da cercosporiose do cafeeiro. Coffee Science, 9, 142–144.

Souza, A. G. C., Rodrigues, F. A., Maffia, L. A., & Mizubuti, E. S. G. (2011). Infection process of Cercospora coffeicola on coffee leaf. Journal of Phytopathology, 159, 6–11.

Souza, A. G. C., Maffia, L. A., & Mizubuti, E. S. G. (2012). Cultural and aggressiveness variability of Cercospora coffeicola. Journal of Phytopathology, 160, 540–546.

Souza, A. G. C., Maffia, L. A., Silva, F. F., Mizubuti, E. S. G., & Teixeira, H. (2015). A time series analysis of brown eye spot progress in conventional and organic coffee production systems. Plant Pathology, 64, 157–166.

Walker, J. C. (1925). Studies on disease resistance in the onion. Proceedings of the National Academy of Sciences, 11, 183–189.

White, T. J., Bruns, T., Lee, S., et al. (1990). Amplification and direct sequencing of fungal ribosomal RNA genes for phylogenetics. In M. A. Innis, D. H. Gelfand, J. J. Sninsky, & T. J. White (Eds.), PCR protocols: A guide to methods and applications (pp. 315–322). New York: Academic Press.
Acknowledgments
This research was supported by the National Council for Scientific and Technological Development (CNPq), the Coordination for the Improvement of Higher Education Personnel (CAPES), Foundation for Research Support of the State of Minas Gerais (FAPEMIG), and the National Institute of Science and Technology of Coffee (INCT-Café).
Ethics declarations
Ethical approval
The authors declare that have followed the guidelines of the Ethical Standards requested by EJPP, and this manuscript is original and not published elsewhere.
Conflict of interest
The authors declare no conflict of interest.
Human and animal rights and informed consent
No human participants and/or animals are involved in this research.
Supplementary Information
About this article
Cite this article
Vale, P.A.S., de Resende, M.L.V., dos Santos Botelho, D.M. et al. Epitypification of Cercospora coffeicola and its involvement with two different symptoms on coffee leaves in Brazil. Eur J Plant Pathol 159, 399–408 (2021). https://doi.org/10.1007/s10658-020-02170-y
Accepted:

Published:

Issue Date:
Keywords
Black spot

Brown eye spot

Coffea arabica

Epitype

Multilocus phylogeny

Plant disease