Abstract
Eleven coelomycetous fungi were isolated from diseased leaves of Lasia spinosa (Araceae) in Guangxi Province, China. These isolates produced sporodochial and myrothecium-like conidiomata. Multi-gene analyses (ITS, LSU, cmdA, rpb2, tub2 and tef1) showed that these isolates belonged to Xepicula group with a close relationship to X. leucotricha, but formed an independent branch with high bootstrap support. These isolates represent a new species of Xepicula that can be distinguished mainly by setae that are longer than the three other known species. Based on both morphological and molecular analyses, the new species, X. yifeii sp. nov., is described. Further, pathogenicity tests of in vitro and in vivo inoculation experiments showed that X. yifeii is pathogenic to Lasia spinosa leaves.
This is a preview of subscription content, log in to check access.
Access options
Buy single article
Instant access to the full article PDF.
US$ 39.95
Price includes VAT for USA
Subscribe to journal
Immediate online access to all issues from 2019. Subscription will auto renew annually.
US$ 199
This is the net price. Taxes to be calculated in checkout.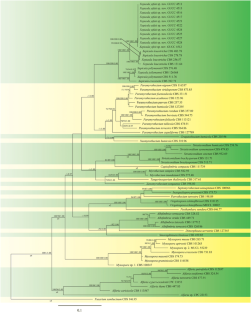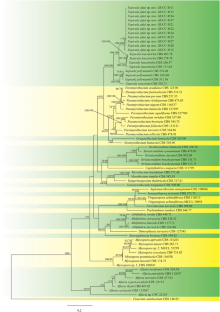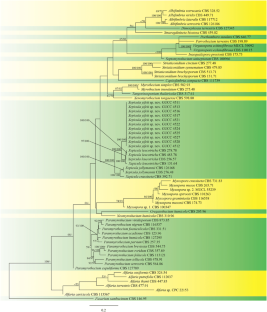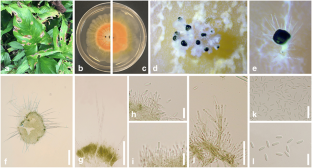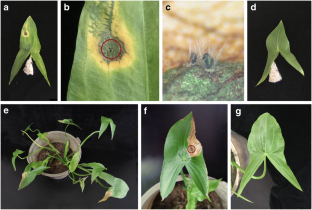 References
Carbone, I., & Kohn, L. M. (1999). A method for designing primer sets for speciation studies in filamentous ascomycetes. Mycologia, 91(3), 553–556.

Chomnunti, P., Hongsanan, S., Aguirre-Hudson, B., Tian, Q., Alias, A. S., Xu, J. C., Liu, X. Z., Stadler, M., & Hyde, K. D. (2014). The sooty moulds. Fungal diversity, 66(1), 1–36.

Crous, P. W., Shivas, R. G., Quaedvlieg, W., van der Bank, M, Zhang, Y., Summerell, B. A., Guarro, J., Wingfield, M. J., Wood, A. R., Alfenas, A. C., Braun, U., Cano-Lira, J. F., García, D., Marin-Felix, Y., Alvarado, P., Andrade, J. P., Armengol, J., Assefa, A., den Breeÿen, A., Camele, I., Cheewangkoon, R., De Souza, J. T., Duong, T. A., Esteve-Raventós, F., Fournier, J., Frisullo, S., García-Jiménez, J., Gardiennet, A., Gené, J., Hernández-Restrepo, M., Hirooka, Y., Hospenthal, D. R., King, A., Lechat, C., Lombard, L., Mang, S. M., Marbach, P. A. S., Marincowitz, S., Marin-Felix, Y., Montaño-Mata, N. J., Moreno, G., Perez, C. A., Pérez Sierra, A. M., Robertson, J. L., Roux, J., Rubio, E., Schumacher, R. K., Stchigel, A. M., Sutton, D. A., Tan, Y. P., Thompson, E. H., Vanderlinde, E., Walker, A. K., Walker, D. M., Wickes, B. L., Wong, P. T. W., & Groenewald, J. Z. (2014). Fungal planet description sheets: 214–280. Persoonia, 32, 184–306.

Fujinawa, M. F., Pontes, N. D. C., Vale, H. M. M. D., Santos, N. F. D., & Halfeld-Vieira, B. A. (2016). First report of Myrothecium roridum causing Myrothecium leaf spot on Begonia in Brazil. Plant Disease, 100(3), 655.

Glass, N. L., & Donaldson, G. (1995). Development of primer sets designed for use with PCR to amplify conserved genes from filamentous ascomycetes. Applied and Environmental Microbiology, 61(4), 1323–1330.

Groenewald, J. Z., Nakashima, C., Nishikawa, J., Shin, H. D., Park, J. H., Jama, A. N., Groenewald, M., Braun, U., & Crous, P. W. (2013). Species concepts in Cercospora: Spotting the weeds among the roses. Studies in Mycology, 75, 115–170.

Lombard, L., Chen, S. F., Mou, X., Zhou, X. D., Crous, P. W., & Wingfield, M. J. (2015). New species, hyper-diversity and potential importance of Calonectria spp. from Eucalyptus in South China. Studies in Mycology, 80, 151–188.

Lombard, L., Houbraken, J., Decock, C., Samson, R. A., Meijer, M., Réblová, M., Groenewald, J. Z., & Crous, P. W. (2016). Generic hyper-diversity in Stachybotriaceae. Persoonia, 36, 156–246.

Mangandi, J. A., Seijo, T. E., & Peres, N. A. (2007). First report of Myrothecium roridum causing Myrothecium leaf spot on Salvia spp. in the United States. Plant Disease, 91(6), –772.

Matic, S., Gilardi, G., Gullino, M. L., & Garibaldi, A. (2019). Emergence of leaf spot disease on leafy vegetable and ornamental crops caused by Paramyrothecium and Albifimbria species. Phytopathology, 109(6), 1053–1061.

Mmbaga, M. T., Li, Y. H., & Kim, M. S. (2010). First report of Myrothecium roridum causing leaf spot on garden hydrangea in the United States. Plant Disease, 94(10), 1266.

Nag Raj, T. R. (1993). Coelomycetous anamorphs with appendage-bearing conidia. Waterloo: Mycologue Publications.

Nylander, J.A.A. (2004). MrModeltest v. 2. Programme distributed by the author. Evolutionary Biology Centre, Uppsala University.

O'Donnell, K., Kistler, H. C., Cigelnik, E., & Ploetz, R. (1998). Multiple evolutionary origins of the fungus causing Panama disease of banana: Concordant evidence from nuclear and mitochondrial gene genealogies. Proceedings of the National Academy of Sciences, 95(5), 2044–2049.

O'Donnell, K., Sarver, B. A., Brandt, M., Chang, D. C., Noble-Wang, J., Park, B. J., Sutton, D. A., Benjamin, L., Lindsley, M., Padhye, A., Geiser, D. M., & Ward, T. J. (2007). Phylogenetic diversity and microsphere array-based genotyping of human pathogenic Fusaria, including isolates from the multistate contact lens-associated U.S. keratitis outbreaks of 2005 and 2006. Journal of Clinical Microbiology, 45(7), 2235–2248.

Preston, N. C. (1948). Observations on the genus Myrothecium. II. Myrothecium gramineum Lib. and two new species. Transactions of the British Mycological Society, 31(3–4), 271–276.

Rehner, S. A., & Samuels, G. J. (1995). Molecular systematics of the Hypocreales: A teleomorph gene phylogeny and the status of their anamorphs. Canadian Journal of Botany, 73, S816–S823.

Ronquist, F., Teslenko, M., Van der, M. P., Ayres, D. L., Darling, A., Hohna, S., Larget, B., Liu, L., Suchard, M. A., & Huelsenbeck, J. P. (2012). Mrbayes 3.2: Efficient Bayesian phylogenetic inference and model choice across a large model space. Systematic Biology, 61(3), 539–542.

Silva, A. D. A., Pinho, D. B., Hélcio, C., Lopes, U. P., & Pereira, O. L. (2014). First report of leaf spot caused by Myrothecium roridum on coffea canephora in Brazil. Plant Disease, 98(11), 1587.

Schoch, C. L., Sung, G. H., López-Giráldez, F., Townsend, J. P., Miadlikowska, J., Hofstetter, V., Rob bertse, B., Matheny, P. B., Kauff, F., Wang, Z., Gueidan, C., Andrie, R.M., Trippe, K., Ciufetti, L. M., Wynns, A., Fraker, E., Hodkinson, B. P., Bonito, G., Groenewald, J. Z., Arzanlou, M., de Hoog, G. S., Crous, P. W., Hewitt, D., Pfister, D. H., Peterson, K., Gryzenhout, M, Wingfield, M. J., Aptroot, A., Suh, S. O., Blackwell, M., Hillis, D. M., Griffith, G. W., Castlebury, L. A., Rossman, A. Y., Lumbsch, H. T., Lücking, R., Büdel, B., Rauhut, A., Diederich, P., Ertz, D., Geiser, D. M., Hosaka, K., Inderbit zin, P., Kohlmeyer, J., Volkmann-Kohlmeyer, B., Mostert, L., O'Donnell, K., Sipman, H., Rogers, J. D., Shoemaker, R. A., Sugiyama, J., Summerbell, R. C., Untereiner, W., Johnston, P. R., Stenroos, S., Zuccaro, A., Dyer, P.S., Crittenden, P. D., Cole, M. S., Hansen, K., Trappe, J. M., Yahr, R., Lutzoni, F., & Spatafora, J. W. (2009). The Ascomycota tree of life: a phylum-wide phylogeny clarifies the origin and evolution of fundamental reproductive and ecological traits. Systematic Biology 58(2), 224–239.

Swofford, D.L. (2003). PAUP*. Phylogenetic analysis using parsimony (*and other methods), v. 4.0b10. Computer programme. Sinauer associates, Sunderland, Massachusetts, USA.

Tibpromma, S., Hyde, K. D., McKenzie, E. H. C., Bhat, D. J., Phillips, A. J. L., Wanasinghe, D. N., Samarakoon, M. C., Jayawardena, R. S., Dissanayake, A. J., Tennakoon, D. S., Doilom, M., Phookamsak, R., Tang, A. M. C., Xu, J., Mortimer, P. E., Promputtha, I., Maharachchikumbura, S. S. N., Khan, S., & Karunarathna, S. C. (2018). Fungal diversity notes 840–928: Micro-fungi associated with Pandanaceae. Fungal Diversity, 93, 1–160.

Vilgalys, R., & Hester, M. (1990). Rapid genetic identifification and mapping of enzymatically amplified ribosomal DNA from several Cryptococcus species. Journal of Bacteriology, 172, 4238–4246.

White, T. J., Burns, T., Lee, S., & Taylor, J. W. (1990). Amplification and direct sequencing of fungal ribosomal RNA genes for phylogenetics. In M. A. Innis, D. H. Gelfand, J. J. Sninsky, & T. J. White (Eds.), PCR protocols: A guide to methods and applications. San Diego (pp. 315–322). Academic Press.

Zhang, Y. X., Huang, J. H., & Xiang, M. M. (2011). First report of Myrothecium leaf spot of Hemionitis arifolia caused by Myrothecium roridum in China. Plant Disease, 95(8), 1030.
Acknowledgments
The research is supported by the project of National Natural Science Foundation of China (Nos. 31972222, 31560489), Program of Introducing Talents of Discipline to Universities of China (111 Program, D20023), National Key Technology Research and Development Program of the Ministry of Science and Technology of China (2014BAD23B03/03), Talent project of Guizhou Science and Technology Cooperation Platform ([2017]5788-5), and Guizhou Science, Technology Department International Cooperation Basic Project ([2018]5806). Xue-Juan Pan thanks High Level Innovative Talents Training Project of Guizhou Province (2016-4038). Nalin Wijayawardene thanks National Natural Science Foundation of China (No. 31950410558).
Ethics declarations
All authors have ensured the manuscript complies to the Ethical Rules applicable for this journal.
About this article
Cite this article
Zhang, Q., Wijayawardene, N.N., Hyde, K.D. et al. Xepicula yifeii sp. nov. caused a leaf blight of Lasia spinosa (Araceae) in South China karst. Eur J Plant Pathol (2020). https://doi.org/10.1007/s10658-020-02060-3
Keywords
Myrothecium

Pathogenicity

Phylogeny

Taxonomy