Abstract
In vitro experiments showed that six isolates, belonging to different biovars, were equally susceptible to mustard essential oil (MEO) vapor. The proportion of cell mortality and colony growth inhibition were directly related to the dose of MEO. A 24 h exposure to 1 or 2 μL of AITC per liter of box volume resulted in mortality of 89% and 92% of cells, respectively, and exposure to 10 μL L−1 resulted in 100% cell mortality. The growth of developing colonies was reduced by 89% at 2 or 4 μL L−1 and by 96% at 6 or 10 μL L−1. The leakage of intracellular materials increased with increasing doses of MEO vapor. The decline in soil inoculum density by fumigation was directly related to the MEO dose. The initial inoculum density of approximately 3 × 105 colony-forming units per gram of soil declined by 67, 91 and 96% at fumigation doses of 25, 50 and 75 μL of allyl isothiocyanate (AITC) per liter of soil, respectively. The pathogen was not detected at a fumigation dose of 100 μL L−1. Disease control was also related to the fumigation dose. After 48 days, the bacterial wilt symptoms did not develop on the tomatoes when the soil was fumigated at 100 μL L−1 or higher.
This is a preview of subscription content, log in to check access.
Access options
Buy single article
Instant access to the full article PDF.
US$ 39.95
Price includes VAT for USA
Subscribe to journal
Immediate online access to all issues from 2019. Subscription will auto renew annually.
US$ 199
This is the net price. Taxes to be calculated in checkout.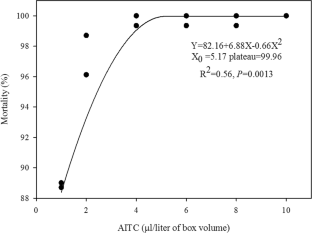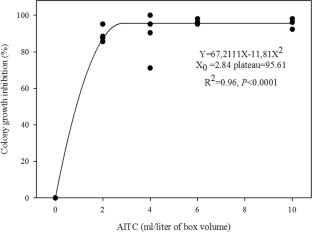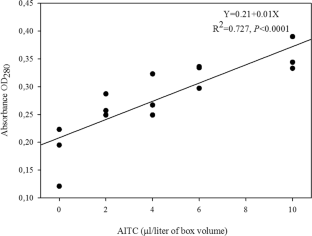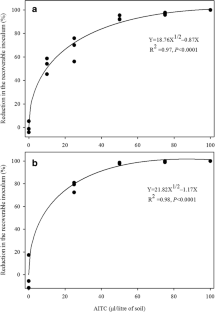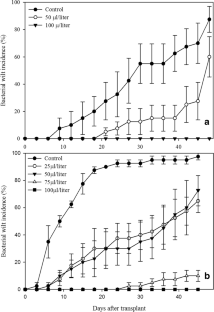 References
Abd-Alla, M. A., & Haggag, W. M. (2013). Use of some plant essential oils as post-harvest botanical fungicides in the management of anthracnose disease of mango fruits (Mangi feraindica L.) caused by Colletotrichum gloeosporioides (penz). International Journal of Agriculture and Forestry, 3(1), 1–6.

Arthy, J. R., Akiew, E. B., Kirkegaard, J. A., & Trevorrow, P. R. (2005). Using Brassica spp. as biofumigants to reduce the population of Ralstonia solanacearum. In C. Allen, P. Prior, & A. C. Hayward (Eds.), Bacterial wilt disease and the Ralstonia solanacearum species complex (pp. 159–165). St. Paul: American Phytopathological Society Press.

Bandyopadhyay, S., & Khalko, S. (2016). Biofumigation-an eco-friendly approach for managing bacterial wilt and soft rot disease of ginger. Indian Phytopathology, 69(1), 53–56.

Borek, V., Morra, M. J., Brown, P. D., & Mccaffrey, J. P. (1995). Transformation of the glucosinolate-derived allelochemicals allyl isothiocyanate and allylnitrile in soil. Journal of Agriculture and Food Chemistry, 43(7), 1935–1940.

Cox, S. D., Gustafson, J. E., Mann, C. M., Markham, J. L., Liew, Y. C., Hartland, R. P., Bell, H. C., Warmington, J. R., & Wyllie, S. G. (1998). Tea tree oil causes K+ leakage and inhibits respiration in Escherichia coli. Letters in Applied Microbiology, 26(5), 355–358.

Deberdt, P., Perrin, B., Coranson-Beaudu, R., Duyck, P. F., & Wicker, E. (2012). Effect of Allium fistulosum extract on Ralstonia solanacearum populations and tomato bacterial wilt. Plant Disease, 96(5), 687–692.

Dhingra, O. D., Costa, M. L. N., & Silva, G. J. (2004a). Potential of allyl isothiocyanate to control Rhizoctonia solani seedling damping off and seedling blight in transplant production. Journal of Phytopathology, 152(6), 352–357.

Dhingra, O. D., Costa, M. L. N., Silva, J. G. J., & Mizubuti, E. S. G. (2004b). Essential oil of mustard to control Rhizoctonia solani causing seedling damping off and seedling blight in nursery. Fitopatologia Brasileira, 29(6), 683–686.

Dhingra, O. D., Jham, G. N., Rodrigues, F. A., Silva, G. J., Jr., & Costa, M. L. N. (2009a). Fumigation with essential oil of mustard retards fungal growth and accumulation of ergosterol and free fatty acid in stored shelled groundnuts. Journal of Stored Products Research, 45(1), 24–31.

Dhingra, O. D., Jham, G. N., Rodrigues, F. A., Silva, G. J., Jr., & Costa, M. L. N. (2009b). Retardation of fungal deterioration of stored soybeans by fumigation with mustard essential oil. Australasian Plant Pathology, 38(5), 540–545.

Duniway, J. M. (2002). Status of chemical alternatives to methyl bromide for pre-plant fumigation of soil. Phytopathology, 92(12), 1337–1343.

Elphinstone, J. G. (2005). The current bacterial wilt situation: a global overview. In C. Allen, P. Prior, & A. C. Hayward (Eds.), Bacterial Wilt: the disease and the Ralstonia solanacearum species complex (pp. 9–28). St. Paul: APS Press.

Graham, J., Jones, D. A., & Lloyd, A. B. (1979). Survival of Pseudomonas solanacearum race 3 in plant debris and in latently infected potato tubers. Phytopathology, 69(10), 1100–1103.

Harvey, S. G., Hannahan, H. N., & Sams, C. E. (2002). Indian mustard and allyl isothiocyanate inhibit Sclerotium rolfsii. Journal of the American Society for Horticultural Science, 127(1), 27–31.

Hayward, A. C. (1991). Biology and epidemiology of bacterial wilt caused by Pseudomonas solanacearum. Annual Review of Phytopathology, 29(1), 65–87.

Hong, J. C., Momol, T. M., Ji, P., Olson, S. M., Colee, J., & Jones, J. B. (2011). Management of bacterial wilt in tomatoes with thymol and acibenzolar-S-methyl. Crop Protection, 30(10), 1340–1345.

Ji, P., Momol, M. T., Olson, S. M., Pradhanang, P. M., & Jones, J. B. (2005). Evaluation of thymol as biofumigant for control of bacterial wilt of tomato under field conditions. Plant Disease, 89(5), 497–500.

Kelman, A. (1954). The relationship of pathogenicity in Pseudomonas solanacearum to colony appearance on a tetrazolium medium. Phytopathology, 44(12), 693–695.

Kirkegaard, J. A., Sarwar, M., & Matthiessen, J. N. (1998). Assessing the biofumigation potential of crucifers. Acta Horticulturae, (459, 1), 105–112.

Lage, D. A. C. (2009). Fumigação do solo com óleo essencial de mostarda para o controle da murcha de fusário em tomateiro. Viçosa: Universidade Federal de Viçosa.

Lin, C. M., Kim, J., Du, W. X., & Wei, C. I. (2000a). Bactericidal activity of isothiocyanate against pathogens on fresh produce. Journal of Food Protection, 63(1), 25–30.

Lin, C. M., Preston, J. F., & Wei, C. I. (2000b). Antibacterial mechanism of allyl isothiocyanate. Food Protection, 63(6), 727–734.

Messiha, N., van Diepeningen, A., Wenneker, M., van Beuningen, A., Janse, J., Coenen, T., Termorshuizen, A., van Bruggen, A., & Blok, W. (2007). Biological soil disinfestation (BSD), a new control method for potato brown rot, caused by Ralstonia solanacearum race 3 biovar 2. European Journal of Plant Pathology, 117(4), 403–415.

Oliveira, R. D. L., Dhingra, O. D., Lima, A. O., Jham, G. N., Berhow, M. A., Holloway, R. K., & Vaughn, S. F. (2011). Glucosinolate content and nematicidal activity of Brazilian wild mustard tissues against Meloidogyne incognita in tomato. Plant and Soil, 341(1–2), 155–164.

Olivier, A. R., Uda, Y., Bang, S. W., Honjo, H., Fukami, M., & Fukui, R. (2006). Dried residues of specific cruciferous plants incorporated into soil can suppress the growth of Ralstonia solanacearum, independently of glucosinolate content of the residues. Microbes and Environments, 21(4), 216–226.

Pradhanang, P. M., Momol, M. T., Olson, S. M., & Jones, J. B. (2003). Effects of plant essential oils on Ralstonia solanacearum population density and bacterial wilt incidence in tomato. Plant Disease, 87(4), 423–427.

Ren, Z., Li, Y., Fang, W., Yan, D., Huang, B., Zhu, J., Wang, X., Wang, X., Wang, Q., Guo, M. & Cao, A. (2018). Evaluation of allyl isothiocyanate as a soil fumigant against soil‐borne diseases in commercial tomato (Lycopersicon esculentum Mill.) production in China. Pest Management Science, 74(9), 2146–2155.

Santos, B. M., Gilreath, J. P., Motis, T. N., Noling, J. W., Jones, J. P., & Norton, J. A. (2006). Comparing methyl bromide alternatives for soilborne disease, nematode and weed management in fresh market tomato. Crop Protection, 25(7), 690–695.

Schaad, N. W., Jones, J. B., & Chun, W. (2001). Laboratory guide for identification of plant pathogenic bacteria (3th ed.). Minnesota: American Phytopathological Society.

Schurt, D. A. (2006). Potencial do isotiocianato de alilo no controle de Sclerotium rolfsii e Sclerotinia sclerotiorum. Viçosa: Universidade Federal de Viçosa.

Sharma, J. P., & Kumar, S. (2004). Effect of crop rotation on population dynamics of Ralstonia solanacearum in tomato wilt sick soil. Indian Phytopathology, 57(1), 80–81.

Shofran, B. G., Purrington, S. T., Breidt, F., & Fleming, H. P. (1998). Antimicrobial properties of sinigrin and its hydrolysis products. Journal of Food Science, 63(4), 621–624.

Song, L., Morrison, J. J., Botting, N. P., & Thornalley, P. J. (2005). Analysis of glucosinolates, isothiocyanates, and amine degradation products in vegetable extracts and blood plasma by LC–MS/MS. Analytical Biochemistry, 347(2), 234–243.

van Elsas, J. D., van Overbeek, L. S., Bailey, M. J., Schönfeld, J., & Smalla, K. (2005). Fate of Ralstonia solanacearum biovar 2 as affected by conditions and soil treatments in temperate climate zones. In C. Allen, P. Prior, & A. C. Hayward (Eds.), Bacterial wilt disease and the Ralstonia solanacearum species complex. St. Paul: American Phytopathological Society Press.

Zasada, I. A., & Ferris, H. (2003). Sensitivity of Meloidogyne javanica and Tylenchulus semipenetrans to Isothiocyanates in laboratory assays. Phytopathology, 93(6), 747–750.
Acknowledgments
The first author would like to express their gratitude to Fundação de Amparo à Pesquisa do Estado de Minas Gerais - FAPEMIG for their M.Sc. fellowship. O. D. Dhingra would like to thank CNPq for his research fellowship.
Funding
This study was funded by Fundação de Amparo à Pesquisa do Estado de Minas Gerais - FAPEMIG
Ethics declarations
Conflict of Interest
The authors declare that they have no conflict of interest.
Research involving human participants and or animals
This article does not contain any studies with human participants or animals performed by any of the authors.
Informed consent
Additional informed consent was obtained from all individual participants for whom identifying information is included in this article.
About this article
Cite this article
de Carvalho Pontes, N., Yamada, J.K., Fujinawa, M.F. et al. Soil fumigation with mustard essential oil to control bacterial wilt in tomato. Eur J Plant Pathol 155, 435–444 (2019). https://doi.org/10.1007/s10658-019-01777-0
Accepted:

Published:

Issue Date:
Keywords
Mustard essential oil

Control of bacterial wilt

Plant essential oil

Ralstonia solanacearum