Abstract
Rust (Phakopsora euvitis) is an important fungal disease in grapevines grown in tropical and subtropical regions. Epidemiological works have been conducted on plant disease resistance, however, little is known about defense mechanisms of resistance to the disease. Leaves of Vitis vinifera cv. Moscato Giallo were inoculated with P. euvitis and lesions were formed with pustules surrounded by water-soaked halo 17 days after inoculation. Foliar tissue of injured and sound material was fixed and submitted to histological techniques. Emergence of pustules from stomata was observed. In water-soaked halo, hyphae of fungus were not observed. In this region, foliar blade presented mesophyll modified by cell hypertrophy with reduction of intercellular spaces and accumulation of pectic compounds. Hypertrophied cells showed parietal thickenings in the cellulose and pectin layers. In the areas delimited by water-soaked halo in the pustule region, the fungus grew vigorously in intercellular spaces of chlorophyll parenchyma; however, vascular bundles also restricted the advance of fungus where sheath cells present parietal pectic thickenings. Therefore, although Vitis vinifera cv. Moscato showed rust symptoms on leaves, pathogen colonization was limited by the formation of water-soaked haloes and vascular bundles, which resulted in minor injuries along the foliar limbo.
This is a preview of subscription content, log in to check access.
Access options
Buy single article
Instant access to the full article PDF.
US$ 39.95
Price includes VAT for USA
Subscribe to journal
Immediate online access to all issues from 2019. Subscription will auto renew annually.
US$ 199
This is the net price. Taxes to be calculated in checkout.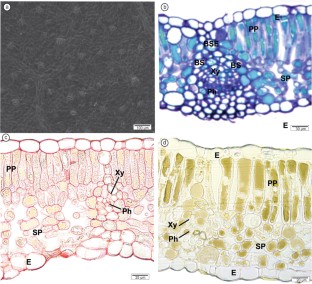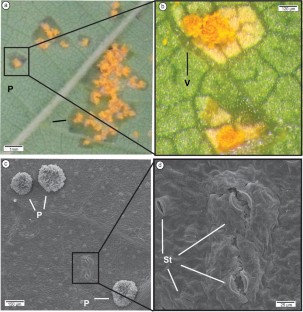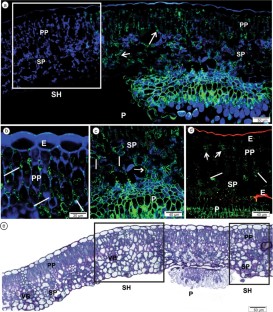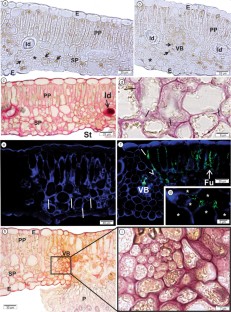 References
Adaskaveg, J. E. (1992). Defense mechanisms in leaves and fruit of trees to fungal infection. In R. A. Blanchette & A. R. Biggs (Eds.), Defense mechanisms of woody plants against fungi (pp. 207–245). New York: Sping-Verlag.

Agrios, G. N. (2005). Plant pathology (5th ed.). San Diego: Academic Press.

Albersheim, P., Darvil, A., Roberts, K., Sederoff, R., & Staehelin, A. (2011). Plant cell walls. From chemistry to biology (430p). New York: Garland Science.

Amorim, L., Spósito, M. B., & Kuniyuki, H. (2016). Doenças da videira. In L. Amorim, J. A. M. Rezende, A. Bergamin Filho, & L. E. A. Camargo (Eds.), Manual de Fitopatologia: Doenças das plantas cultivadas (pp. 745–585). Ouro Fino- MG: Agronômica Ceres.

Angelotti, F., Scapin, C. R., Tessmann, D. J., Vida, J. B., Vieira, R. A., & Souto, E. R. (2008). Resistência de genótipos de videira à ferrugem. Pesquisa Agropecuária Brasileira, 43(9), 1129–1134.

Angelotti, F., Scapin, C. R., Tessmann, D. J., Vida, J. B., & Canteri, M. G. (2014). The effect of temperature, leaf wetness and light on development of grapevine rust. Australasian Plant Pathology, 43(1), 9–13.

Appezzato-da-Glória, B., Bron, I. U., & Machado, S. R. (2004). Lanosidade em cultivares de pêssego (Prunus persica (L.) Batsch): estudos anatômicos e ultra-estruturais. Revista Brasileira de Botânica, 27(1), 55–61.

Bellincampi, D., Cervone, F., & Lionetti, V. (2014). Plant cell wall dynamics and wall-related susceptibility in plant-pathogen interactions. Frontiers in Plant Science, 5(228), 1–8.

Candolfi-Vasconcelos, M. C., & Koblet, W. (1990). Yield, fruit quality, bud fertility and starch reserves of the wood as a function of leaf removal in Vitis vinifera - evidence of compensation and stress recovering. Vitis, 29, 199–221.

Chamberlain, C. J. (1932). Methods in plant histology (5th ed.p. 416). Chicago: The University of Chicago Press.

Chatasiri, S., & Ono, Y. (2008). Phylogeny and taxonomy of the Asian grapevine leaf rust fungus, Phakopsora euvitis, and its allies (Uredinales). Mycoscience, 49, 66–74.

Chowdhury, J., Henderson, M., Schweizer, P., Burtonm, R. A., Fincher, G. B., & Little, A. (2014). Differential accumulation of callose, arabinoxylan and cellulose in nonpenetrated versus penetrated papillae on leaves of barley infected with Blumeria graminis f. sp. hordei. New Phytologist, 204(3), 650–660.

FAOSTAT, 2017. <http://www.fao.org/faostat/en/>. Acessed in 10/09/2017.

Greenspan, P., Mayer, E. P., & Fowler, S. D. (1985). Nile red Ba selective fluorescent stain for intracellular lipid droplets. Journal of Cell Biology, 100, 965–973.

Hennessy, C. R., Daly, A. M., & Hearnden, M. N. (2007). Assessment of grapevine 214 cultivars for resistance to Phakopsora euvitis. Australasian Plant Pathology, 36(4), 313–317.

Hinch, J. M., & Clarke, A. E. (1982). Callose formation in Zea mays as a response to infection with Phytophthora cinnamomi. Physiological Plant Pathology, 21, 121–124.

Horridge, G. A., & Tamm, S. L. (1969). Critical point drying for scanning electron microscopy study of cilliar motion. Science, 3869, 871–818.

Hückelhoven, R. (2007). Cell Wall –associated mechamisms of disease resistance and susceptibility. Annual Review of Phytopathology, 45, 101–127.

Hughes, J., & McCully, M. E. (1975). The use os brithtener in study of plant structure. Stain Technology, 50, 319–452.

Johansen, D. A. (1940). Plant microtechnique. New York: McGraw-Hill Company Inc..

Karabourniotis, G., Borman, J. F., & Liakoura, V. (1999). Different leaf surface characteristics of three grape cultivars affect leaf optical properties as measured with fibre optics: Possible implication in stress tolerance. Australian Journal of Plant Physiology, 26, 47–53.

Karnovsky, M. J. (1965). A formaldehyde–glutaraldehyde fixative of high osmolality for use in electron microscopy. Journal of Cell Biology, 27, 137–138.

Keogh, R. C., Deverall, B. J., & Mc Leod, S. (1980). Comparison of histological and physiological responses to Phakopsora pachyrhizi in resistant and susceptible soybean. Transactions of the British Mycological Society, 74(2), 329–333.

Lionetti, V., Cervone, F., & Bellincampi, D. (2012). Methyl esterification of pectin plays a role during plant-pathogen interactions and affects plant resistance to diseases. Plant Physiology, 169(16), 1623–1630.

Marques, J. P. R., Hoy, J. W., Appezzato-da-Glória, B., Viveros, A. F. G., Vieria, M. L. C., & Baisakh, N. (2018). Sugarcane cell wall-associated defense responses to infection by Sponsorium scitameneum. Frontiers in Plant Science, 9, 698.

Nogueira Júnior, A. F., Ribeiro, R. V., Appezzato-da-Glória, B., Soares, M. K. M., Rasera, J. B., & Amorim, L. (2017). Phakopsora euvitis causes unusual damage to leaves and modifies carbohydrate metabolism in grapevine. Frontiers in Plant Science, 8, 1675.

O'Brien, T. P., Feder, N., & McCully, M. E. (1964). Polychromatic staining of plant cell walls by toluidine blue. Protoplasma, 59, 368–373.

Peaucell, A., Braybrook, S., & Herman-Höfte, H. (2012). Cell wall mechanics and growth control in plants: the role of pectins revisited. https://doi.org/10.3389/fpls.2012.00121.

Platero, M., & Tejerina, G. (1976). Calcium nutrition in Phaseolus vulgaris in relation to its resistance to Erwinia carotovora. Phytopathologische Zeitschrift, 85, 314–319.

Primiano, I. V., Loehrer, M., Amorim, L., & Schaffrath, U. (2017). Asian grapevine leaf rust caused by Phakopsora euvitis: An important disease in Brazil. Plant Pathology, 66, 691–701.

Tessmann, D. J., Dianese, J. C., Gent, W., Vida, J. B., & May-de-Mio, L. L. (2004). Grape rust caused by Phakopsora euvitis, a new disease for Brazil. Fitopatologia Brasileira, 29(3), 338–338.

Unger, S., Büche, C., Boso, S., & Kassemeyer, H-H. (2007). The course of colonization of two different genotypes by indicates compatible and incompatible host-pathogen interactions. Phytopathology, 97(7), 780–786.
Acknowledgements
The authors gratefully acknowledge the financial support of the São Paulo Research Foundation (FAPESP Proc: 2013/24003-9). We thank the Center of Support in Electron Microscopy Applied to Agriculture, ESALQ, USP, at the laboratory of Plant Anatomy of ESALQ (LanVeg) for the use of equipment. We also thank Msc. Marli Kasue Missake Soares for helping in material preparation for the anatomical analysis. BLN thanks Dr. Antonio F. Nogueira Jr. for his comments to the manuscript.
About this article
Cite this article
Navarro, B.L., Marques, J.P.R., Appezzato-da- Glória, B. et al. Histopathology of Phakopsora euvitis on Vitis vinifera. Eur J Plant Pathol 154, 1185–1193 (2019). https://doi.org/10.1007/s10658-019-01719-w
Accepted:

Published:

Issue Date:
Keywords
Anatomy

Fungal infection

Grapevine rust

Hipertrophy

Pectin

Resistance mechanisms