Abstract
The banana Xanthomonas wilt disease (BXW) has threatened the livelihood of millions of farmers in East Africa. Use of resistant varieties is the most cost-effective method of managing this bacterial disease. A reliable and rapid screening method is needed to select resistant banana varieties. An in vitro screening method was developed for early evaluation of Xanthomonas wilt resistance using small tissue culture-grown plantlets. Eight cultivars of banana were screened with sixteen isolates of Xanthomonas campestris pv. musacearum using this method. There were significant differences (P < 0.0001) in susceptibility among the various banana cultivars tested, whereas no significant difference (P = 0.92) in pathogenicity was observed between the pathogen isolates. The cv. Pisang Awak (Kayinja) was found to be highly susceptible and Musa balbisiana resistant. Nakitembe was found to be moderately resistant while cvs Mpologoma, Mbwazirume, Sukali Ndiizi, FHIA-17 and FHIA-25 were susceptible. The susceptibility of these cultivars was further tested in vivo by artificial inoculation of potted plants with similar results. This study shows that an in vitro screening test can serve as a convenient, cheap and rapid screening technique to discriminate BXW-resistant from BXW-susceptible banana cultivars.
Access options
Buy single article
Instant access to the full article PDF.
US$ 39.95
Tax calculation will be finalised during checkout.
Subscribe to journal
Immediate online access to all issues from 2019. Subscription will auto renew annually.
US$ 119
Tax calculation will be finalised during checkout.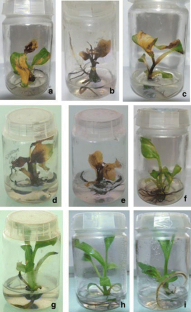 Abbreviations
BAP:

6-benzylaminopurine

BXW:

banana Xanthomonas wilt

IAA:

indole-3-acetic acid

IBA:

indole-3-butyric acid

Xcm :

Xanthomonas campestris pv. musacearum
References
Agrios, G. N. (1997). Plant pathology (4th ed.). London: Academic.

Asea, G., Lipps, P. E., Pratt, R. C., Gordon, S. G., & Adipala, E. (2005). Development of greenhouse inoculation procedures for evaluation of partial resistance to Cercospora zeae-maydis in Maize inbreds. Journal of Phytopathology, 153, 647–653.

Atkinson, M. M., Huang, J. S., & Knopp, J. A. (1985). The hypersensitive reaction of tobacco to Pseudomonas syringae pv. pisi. Plant Physiology, 79, 843–847.

Denman, S., Kirk, S. A., Brasier, C. M., & Webber, J. F. (2005). In vitro leaf inoculation studies as an indication of tree foliage susceptibility to Phytophthora ramorum in the UK. Plant Pathology, 54, 512–521.

Eden-Green, S. (2004). Focus on bacterial wilt. How can the advance of banana Xanthomonas wilt be halted? Infomusa, 13, 38–41.

Engle, J. S., Madden, L. V., & Lipps, P. E. (2003). Evaluation of inoculation methods to determine resistance reactions of wheat to Fusarium graminearum. Plant Disease, 87, 1530–1535.

FAOSTAT Agriculture Data (2004). http://apps.fao.org.

Kiraly, Z. (1980). Defenses triggered by the invader: Hypersensitivity. In J. G. Horsfall, & F. B. Cowling (Eds.) Plant disease: An advanced treatise Vol 5, (pp. 201–224). London: Academic.

Klement, Z., & Goodman, R. N. (1967). The hypersensitive reaction to infection by bacterial plant pathogens. Annual Review of Phytopathology, 5, 17–44.

Kull, L. S., Vuong, T. D., Powers, K. S., Eskridge, K. M., Steadman, J. R., & Hartman, G. L. (2003). Evaluation of resistance screening methods for Sclerotinia stem rot of soybean and dry bean. Plant Disease, 87, 1471–1476.

Mobambo, K. N., Pasberg-Gauhl, C., Gauhl, F., & Zuofa, K. (1994). Early screening for black leaf streak/black Sigatoka under natural inoculation conditions. Infomusa, 3, 4–16.

Murashige, T., & Skoog, F. (1962). A revised medium for rapid growth and bioassays with tobacco tissue cultures. Physiologia Plantarum, 15, 473–497.

Ndungo, V., Eden-Green, S., Blomme, G., Crozier, J., & Smith, J. (2005). Presence of banana Xanthomonas wilt (Xanthomonas campestris pv. musacearum) in the Democratic Republic of Congo (DRC). New Disease Report, 11, http://www.bspp.org.uk/ndr/july2005/2005-29.asp.

Onyeka, T. J., Dixon, A. G. O., & Ekpo, E. J. A. (2005). Identification of levels of resistance to cassava root rot disease (Botryodiplodia theobromae) in African landraces and improved germplasm using in vitro inoculation method. Euphytica, 145, 281–288.

SAS (2003). SAS System for Windows, version 9.1. Cary, NC: SAS Institute.

Ssekiwoko, F., Tushemereirwe, W. K., Batte, M., Ragama, P. E., & Kumakech, A. (2006). Reaction of banana germplasm to inoculation with Xanthomonas campestris pv. musacearum. African Crop Science Journal, 14, 151–156.

Steventon, L. A., Happstadius, I., Okori, P., & Dixelius, C. (2002). Development of a rapid technique for the evaluation of the response of Brassica napus to Verticillium wilt. Plant Disease, 86, 854–858.

Thwaites, R., Eden-Green, S. J., & Black, R. (2000). Diseases caused by bacteria. In D. R. Jones (Ed.) Diseases of banana, abaca and enset pp. 213–240. Wallingford, UK: CABI Publishing.

Tripathi, L. (2005). Transgenic technologies for developing bacterial disease resistance in plants. In D. Thangadurai, T. Pullaiah, & L. Tripathi (Eds.) Genetic resources and biotechnology (vol. Vol 3, pp. 200–220). New Delhi: Regency Publications.

Tripathi, L., Tripathi, J. N., Oso, R. T., Hughes, J. d'A., & Keese, P. (2003). Regeneration and transient gene expression of African Musa species with diverse genomic constitution and ploidy levels. Tropical Agriculture, 80, 182–187.

Tripathi, L., Tripathi, J. N., Tushemereirwe, W. K., & Bandyopadhyay, R. (2007). Development of a semi-selective medium for isolation of Xanthomonas campestris pv. musacearum from banana plants. European Journal of Plant Pathology, 117, 177–186.

Tushemereirwe, W., Kangire, A., Ssekiwoko, F., Offord, L. C., Crozier, J., Boa, E., et al. (2004). First report of Xanthomonas campestris pv. musacearum on banana in Uganda. Plant Pathology, 53, 802.

Twizeyimana, M., Ojiambo, P. S., Tenkouano, A., Ikotun, T., & Bandyopadhyay, R. (2007). Rapid screening of Musa species for resistance to black leaf streak using in vitro plantlets in tubes and detached leaves. Plant Disease, 91, 308–314.

Yirgou, D., & Bradbury, J. F. (1974). A note on wilt of banana caused by the enset wilt organism Xanthomonas musacearum. East African Agricultural and Forestry Journal, 40, 111–114.
Acknowledgements
We thank Sam Korie and Henry Mwaka for assisting with statistical analysis and Fen Beed for helpful discussion. We wish to express our appreciation to Kawanda Agricultural Research Institute, Uganda for providing the laboratory facilities and The Gatsby Charitable Foundation and IITA for financial support.
About this article
Cite this article
Tripathi, L., Odipio, J., Tripathi, J.N. et al. A rapid technique for screening banana cultivars for resistance to Xanthomonas wilt. Eur J Plant Pathol 121, 9–19 (2008). https://doi.org/10.1007/s10658-007-9235-4
Received:

Accepted:

Published:

Issue Date:
Keywords
Banana cultivars

Screening method

Xanthomonas wilt