Abstract
In this paper the impact of legislation on the GDP growth rate is investigated, both before and after the great economic and financial crisis of 2007–2008. The analysis has been performed using data from the twenty Italian regions from 1995 to 2016. Using several econometric models, the most significant result shows that flows of legislation can push economic growth into a recovery phase of the business cycle, while they should be reduced during recession phases, as they constitute a constraint to economic growth.
Access options
Buy single article
Instant access to the full article PDF.
US$ 39.95
Tax calculation will be finalised during checkout.
Subscribe to journal
Immediate online access to all issues from 2019. Subscription will auto renew annually.
US$ 79
Tax calculation will be finalised during checkout.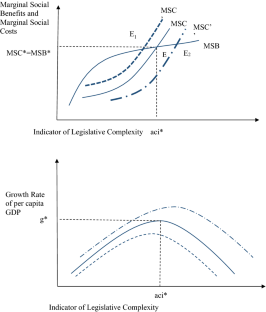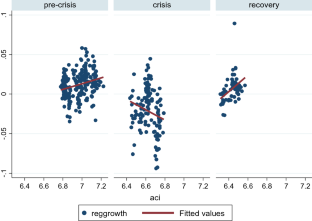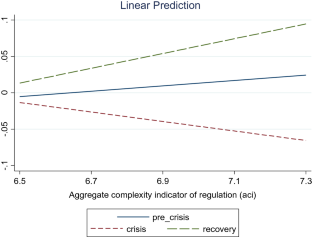 Notes
1.

The laws (legislation) constitute the primary legislation. The regulations (or rules) are the secondary legislation issued by government and executive agencies as a way to enforce laws passed by lawmakers (Taylor 2010).

2.

For the definition and explanation of business cycle phases, see Zarnowitz (1992).

3.

In this research the social costs and social benefits are considered, instead of welfare, to measure the impact of economic policies like laws and regulation. Therefore we rule out the problem of income inequality distribution due to legislation, keeping the share of welfare among the agents of the economy steady. The problem of income redistribution is only indirectly considered because is outside the scope of this paper.

4.

den Hertog (2010) affirms that "The inefficiency in the allocation of resources in the absence of regulation is again depicted by the curve EL.".

5.

Masur and Posner (2017) states: " … The two theories imply different things about regulation. If Summers is right, then the government needs to engage in stimulative policy, one in which cutbacks in regulation may play an important part if monetary policy is failing (as many believe) and government spending is stymied by gridlock. If Gordon is right, stimulus will do no good, and we need to become accustomed to low rates of economic growth. In Gordon's world, regulation could even become more stringent: as the returns of investment fall, the opportunity cost of regulation falls as well, which should be reflected in a reduction of the discount factor used in cost–benefit analyses of regulation. All of these issues must be resolved. But the regulatory component of macroeconomic policy deserves more consideration than it has received …".

6.

Loeper (2011) affirms that "… Non-uniform consumer protection rules, accounting norms, or governance rules also increase legal uncertainty and compliance costs for firms which produce or invest in different jurisdictions…".

7.

Broughel (2017) underlined that legislative complexity has risen sharply in the last few years.

8.

The conflicts (actual and potential) between domestic laws and European legislation are solved by the European court, while the conflict between domestic law and the constitutional Charter is decided by the Italian Constitutional court.

9.

Pursuant to the limits of article 117 of the Constitution of the Italian Republic.

10.

In matters not listed in article 117 of the Constitution of the Italian Republic.

11.

The main difference between the regions with special status and the ordinary status is that while the ordinary statute is adopted and modified by regional law, the special statute is adopted by constitutional law, as well as any change thereof.

12.

The overall outcome of the constitutional reforms was an increase in the powers of the fifteen regions with ordinary statutes, thus reducing the gap between them and the five special ones.

13.

Art. 117 subsection 2 of Italian Constitutional Chart says "Concurrent legislation matters are those relating to: international relations and with the European Union of the Regions; foreign trade; job protection and safety; education, without prejudice to the autonomy of educational institutions and with the exclusion of vocational education and training; professions; scientific and technological research and innovation support for production sectors; health protection; supply; sports order; civil protection; territorial government; civil ports and airports; large transport and navigation networks; ordering of communication; national energy production, transport and distribution; complementary and supplementary pension; coordination of public finance and the tax system; enhancement of cultural and environmental heritage and promotion and organization of cultural activities; savings banks, rural banks, regional credit companies; regional land and agricultural credit institutions. In matters of concurrent legislation, the Regions have legislative power, except for the determination of the fundamental principles, reserved to the legislation of the State.".

14.

Decarolis and Giorgiantonio (2015) wrote: " …in the development of national legislation, there has been a proliferation of regulatory initiatives at the local level (Regions, Provinces and Municipalities). This has led to a significant instability of the regulatory framework, leading to uncertainty for public and private operators in the sector. …" (see also Decarolis and Giorgiantonio. 2014).

15.

Palermo and Wilson (2014) argue that: " … while the legal framework for decentralisation remains unclear and contradictory in parts, the Constitutional Court has performed a key role in interpreting the provisions and giving life to the decentralised system, in which regional governments now perform a much more prominent role. This new system of more decentralised multi-level government must nevertheless contend with a political culture and party system that remains highly centralised, while the administrative apparatus has undergone no comparable shift to take account of state decentralisation, leading to the duplication of bureaucracy at all territorial levels and continuing conflicts over policy jurisdiction".

16.

For the advantages of coordination in the presence of negative externalities due to decentralization, see Klibanoff and Murdoch (1995).

17.

A specific mechanism exists for regional opinions to be taken into account during the EU legislative process. EU proposals are transmitted to the CRPA, the Conference of the Presidents of the Assembly of Regional Councils and of Autonomous Provinces and to the presidents of the regional executive committees and of the regional councils, which have twenty days to submit their comments to the central Government. In the case of EU legislation of importance for the Regions and Autonomous Provinces, or at the request of one or more Regions or Autonomous Provinces, the Government convenes the State-Region Conference to reach a common decision within twenty days (after which—or in case of urgency—the government can proceed). If the State-Region Conference so requests, the Government undertakes for 20 days not to express an opinion in the EU Council.

18.

It is worth noting that if it is difficult to coordinate the law-making process of the European Union, the State, regions and the Constitutional Court. It is quite impossible to ensure that all the regions follow the same pattern in their law production during the phases of a business cycle.

19.

20.

In consideration of the novelty of the analysis of the impact of legislation on the growth rate of the economy, it is not possible to trace this type of analysis to any of the main economic cycle models, namely: (i) Kitchin's short cycle, based on changes in stocks and with a short duration, from 2 to 4 years; (ii) Juglar average cycle, based on changes in credit and bank reserves, of 4–10 years; (iii) Kondratiev's long cycle, of much longer duration (50–60 years).

21.

22.

Dagher (2018) uses the metaphor of "regulatory pendulum", to explain the dynamic pattern of regulation that increases during the recovery phase of the business cycle, and falls in times of recession.

23.

Regional laws are used to perform distributive spending in district-specific transfers (e.g., pork barrel spending) (Battaglini and Coate 2007).

24.

The costs of complexity consist of: (i) legislation costs: resources spent on making law (including influence costs); (ii) information acquisition costs: time spent on verification and interpretation of the rule (including expenditure on advisors); (iii) decision costs: resources spent on analysis of the consequences—private compliance costs (implementation costs); (iv) public compliance costs: costs of enforcement by government agencies and courts In standard neoclassical economics the costs of complexity are simply ignored. (Thomsen 2011).

25.

Loeper (2011) affirms that " … Non uniform consumer protection rules, accounting norms, or governance rules also increase legal uncertainty and compliance costs for firms which produce or invest in different jurisdictions …".

26.

For a formal derivation of Fig. 1 following Klibanoff and Morduch (1995), we assume that the costs of negative externality of coordination EC are a function of the indicator of legislative complexity aci, such that EC = f(aci), with dEC/d(aci) > 0 and d2EC/d(aci)2 > 0, and GDP = g[f(aci)], under conditions that dGDP/d(aci) > 0 and d2GDP/d(aci)2 < 0.

27.

The sentences by the Constitutional Court of Italy have the same effects on all the twenty regions regarding national law. In the hypothesis where the constitutional court made a sentence regarding a regional law the effects are limited to the borders of the region in question. This happens occasionally and is ignored in what follows.

28.

We also apply the Dumitrescu and Hurlin (2012) test in the pre-crisis period, which is the only period in which the test can be performed due to the limited time dimension of our data, and find that \(aci\) appears to Granger-cause \(reggrowth\) at the 0.01 significance level and not vice versa.

29.

We are in debt to Giovanni Ramello for this kind suggestion.
References
Acemoglu, D., & James, R. (2008). The role of institutions in growth and development. Commission on growth and development working paper, No. 10. Washington, DC: World Bank.

Aligica, P. D., & Vlad, T. (2012). Polycentricity: From polanyi to ostrom, and beyond. Governance: An international journal of policy, administration, and institutions, 25(2), 237–272.

Arellano, M., & Bond, S. (1991). Some tests of specification for panel data: Monte Carlo evidence and an application to employment equations. The Review of Economic Studies, 58(2), 277–297.

Bai, J., & Perron, P. (1998). Estimating and testing linear models with multiple structural changes. Econometrica, 66(1), 47–78.

Baldini, G., & Baldi, B. (2014). Decentralization in Italy and the troubles of federalization. Regional & Federal Studies, 24(1), 87–108.

Bardhan, P. (2002). Decentralization of governance and development. Journal of Economic Perspectives, 16(4), 185–205.

Battaglini, M., & Coate, S. (2007). Inefficiency in legislative policymaking: A dynamic analysis. American Economic Review, 97(1), 118–149.

Belhocine, N., & Jirasavetakul, L. B. F. (2020). "Lessons from two public sector reforms in Italy". IMF working paper No. 20/40. Available at SSRN: https://ssrn.com/abstract=3555909.

Benhabib, J. (2003). The trade-off between inequality and growth. Annals of Economics and Finance, 4, 329–345.

Blinder, A. S. (2015). Financial entropy and the optimality of over-regulation. The New International Financial System: Analyzing the Cumulative Impact of Regulatory Reform, 48, 3.

Brown, V. L. (1926). The south sea company and contraband trade. The American Historical Review, 31, 662–678.

Burbank, S. B. (1987). "The Costs of Complexity." Faculty Scholarship Paper 1222, University of Pennsylvania Law School.

Cacciatore, M., & Fiori, G. (2016). The macroeconomic effects of goods and labor markets deregulation. Review of Economic Dynamics, 20, 1–24.

Dagher, J. (2018). "Regulatory cycles: Revisiting the political economy of financial crises." IMF working paper, WP 18/8.

Dawson, J. W., & Seater, J. J. (2013). Federal regulation and aggregate economic growth. Journal of Economic Growth, 18(2), 137–177.

Decarolis, F., & Giorgiantonio, C. (2014). Tuteladellaconcorrenza e rispettodellespecificitàterritorialinegliappalti di lavoripubblici: Stato, Regioni o EntiLocali? Mercato, ConcorrenzaRegole, 1, 25–68.

Decarolis, F., & Giorgiantonio, C. (2015). Local public procurement regulations: The case of Italy. International Review of Law and Economics, 43, 209–226.

den Hertog, J. (2010). "Review of economic theories of regulation." Utrecht School of Economics Tjalling C. Koopmans Research Institute Discussion Paper Series 10–18.

Diebold, F. X., Rudebusch, G. D., & Sichel, D. E. (1993). Further evidence on business-cycle duration dependence. In J. H. Stock & M. W. Watson (Eds.), Business cycles, indicators and forecasting. Chicago: Chicago University Press.

Di Vita, G. (2010). Production of laws and delay in court decisions. International Review of Law and Economics, 30(3), 276–281.

Di Vita, G. (2012). The determinants of legal disputes duration. An empirical analysis with micro data. Journal of Institutional and Theoretical Economics, 168(4), 563–587.

Di Vita, G. (2012). Normative complexity and the length of administrative disputes: Evidence from Italian regions. European Journal of Law and Economics, 34(1), 197–213.

Di Vita, G. (2018). Institutional quality and the growth rates of the Italian regions: The costs of regulatory complexity. Papers in Regional Science, 97(4), 1057–1081.

Djankov, S., McLiesh, C., & Ramalho, R. M. (2006). Regulation and growth. Economics Letters, 92, 395–401.

Dumitrescu, E.-I., & Hurlin, C. (2012). Testing for Granger non-causality in heterogeneous panels. Economic modelling, 29(4), 1450–1460.

Fiorito, R., & Kollintzas, T. (1994). Stylized facts of business cycles in the G7 from a real business cycles perspective. European Economic Review, 38(2), 235–269.

Francesco, P., & Wilson, A. (2014). The multi-level dynamics of state decentralization in Italy. Comparative European Politics, 12(4–5), 510–530.

Gennaioli, N., La Porta, R., Silanes, F. L. D., & Shleifer, A. (2014). Growth in regions. Journal of Economic Growth, 19(3), 259–309.

Giannola, A., Petraglia, C., & Scalera, D. (2016). Net fiscal flows and interregional redistribution in Italy: A long-run perspective (1951–2010). Structural Change and Economic Dynamics, 39(1), 1–16.

Giorgiantonio, C., (2017). "Principio Di Sussidiarietà E Istanze Centripete: 14 Anni Di Applicazione Del Nuovo Titolo V." (The Principle of Subsidiarity and Centripetal Forces: 14 Years of Application of the 2001 Italian Constitutional Reform). Bank of Italy Occasional Paper No. 376, Available at SSRN: https://ssrn.com/abstract=2956316 or https://doi.org/10.2139/ssrn.2956316

Glaeser, E. L., La Porta, R., Lopez-de-Silanes, F., & Shleifer, A. (2004). Do institutions cause growth? Journal of Economic Growth, 9(3), 271–303.

Granger Clive, W. J. (1969). Investigating causal relations by econometric models and cross-spectral methods. Econometrica, 37(3), 424–438.

Italian National Institute of Statistics (ISTAT). (2017). Italian territorial public accounts (Conti Pubblici Territoriali). Rome: ISTAT.

Italian National Institute of Statistics (ISTAT). (2018). The Italian Economy in the Great Economic Crises (La Società Italiana a le Grandi Crisi Economiche). Rome: ISTAT.

Jean-Philippe, C., & Jonathan, C. (2005). Business cycle dynamics in OECD countries: Evidence, causes and policy implications. In K. Christopher & D. Norman (Eds.), The changing nature of the business cycle. Sydney: Reserve Bank of Australia.

Kaplow, L. (1995). A model of the optimal complexity of legal rules. Journal of Law, Economics, & Organization, 11(1), 150–163.

Kim, S. (2009). Institutions and US regional development: A study of Massachusetts and Virginia. Journal of Institutional Economics, 5(2), 181–205.

Kiyotaki, N. (2011). A perspective on modern business cycle theory. Federal Reserve Bank of Richmond Economic Quarterly, 97(3), 195–208.

Klibanoff, P., & Jonathan, M. (1995). Decentralization, externalities, and efficiency. Review of Economic Studies, 62(2), 223–247.

Kydland, F. E., & Prescott, E. C. (1982). Time to build and aggregate fluctuations. Econometrica, 50(6), 1345–1370.

Liddo, Di., Giuseppe, C. M., & Porcelli, F. (2018). Government size, decentralization and growth: Empirical evidence from Italian regions. Applied Economics, 50(25), 2777–2791.

Lippi, A. (2011). Evaluating the 'quasi federalist' programme of decentralisation in Italy since 1990s: A side-effects approach. Local Government Studies, 37(5), 495–516.

Loayza, N. V., Oviedo, A. M., & Serven, L. (2004). Regulation and macroeconomic performance. World Bank Policy Research Working Paper No. 3469.

Loayza, N. V., Oviedo, A. M & Serven, L. (2005). The impact of regulation on growth and informality: cross-country evidence. World Bank Policy Research Working Paper Series No. 3623.

Loeper, A. (2011). Coordination in heterogeneous federal systems. Journal of Public Economics, 95, 900–912.

Lohse, T., & Thomann, C. (2015). Are bad times good news for the Securities and Exchange Commission? European Journal of Law and Economics, 40, 33–47.

Mankiw, G. N. (1989). Real business cycles: A New Keynesian Perspective. Journal of Economic Perspectives, 3(3), 79–90.

Marcos, F., Santaló, J., & Sánchez-Graells, A. (2010). Measuring regulatory intensity by the Spanish Regions (1978–2009). IndretRevista para el Análisis del Derecho, 4(10), 1–39.

Masur, J. S. & Posner, E. A. (2017). "Should Regulation Be Countercyclical?". Yale Journal on Regulation , 34(3), Available at: https://digitalcommons.law.yale.edu/yjreg/vol34/iss3/4.

McCoy, P. A. (2016). Countercyclical regulation and its challenges. Arizona State Law Journal, 47(5), 1181–1237.

McGrattan, E. R. (2006). Real business cycles". Staff report 370, Federal Reserve Bank of Minneapolis.

Montes, G. C., & Paschoal, P. C. (2016). Corruption: What are the effects on government effectiveness? Empirical evidence considering developed and developing countries. Applied Economics Letters, 23(2), 146–150.

Mora-Sanguinetti, J. S., & Pérez-Valls, R. (2020). How does regulatory complexity affect business demography? Evidence from Spain. European Journal of Law and Economics. In press.

Morlino, L. (2008). Democrazia tra consolidamento e crisi. il Mulino, Bologna.

North, D. C. (1981). Structure and change in economic history. New York: Norton.

North, D. C. (1990). Institutions, institutional change and economic performance. Cambridge: Cambridge University Press.

OECD. (2012). "The interface between subnational and national levels of government", Better regulation in Europe: Italy 2012. Paris: OECD Publishing.

Ostrom, V. (1991). Polycentricity: The structural basis of self-governing systems. The meaning of American federalism (pp. 223–48). San Francisco: ICS Press.

Ostrom, E. (2010). Beyond markets and states: Polycentric governance of complex economic systems. The American Economic Review, 100(3), 641–672.

Ostrom, V. (1972). Polycentricity (Part 1 and 2). In M. D. McGinnis (Ed.), Polycentricity and local public economies (pp. 52–74). Michigan: University of Michigan Press.

Ostrom, V., Tiebout, C. M., & Warren, R. (1961). The organization of government in metropolitan areas: A theoretical inquiry. American Political Science Review, 55(4), 831–842.

Ostrom, E. (1998). "The comparative study of public economies." Presented upon acceptance of the Frank E. Seidman distinguished award in political economy, (P.K. Seidman Foundation, Memphis, TN).

O'Driscoll, J., & Gerald, P. (1986). Money, deregulation and business cycle. Cato Journal, 6(2), 587–616.

Repullo, R., & Suarez, J. (2013). The Procyclical effects of bank capital regulation. The Review of Financial Studies, 26(2), 452–490.

Robert, B. (2001). Inequality, growth and investment. In K. A. Hassett & R. G. Hubbard (Eds.), Inequality and tax policy. Washington: AEI Press.

Rodrik, D., Subramanian, A., & Trebbi, F. (2004). Institutions rule: The primacy of institutions over geography and integration in economic development. Journal of Economic Growth, 9(2), 131–165.

Rodríguez-Pose, A. (2013). Do institutions matter for regional development? Regional Studies, 47(7), 1034–1047.

Romain, B., Romain, D., & Johannes, E. (2016). Product market deregulation and growth: New country-industry-level evidence. IMF Working Paper, 16(114), 1.

Romano, S. (1918). L'ordinamento giuridico. Studi sul concetto, le fonti e i caratteri del diritto. Spoerri, Pisa.

Schumpeter, J. (1927). The explanation of the business cycle. Economica, 21, 286–311.

Tarko, V., & Farrant, A. (2019). The efficiency of regulatory arbitrage. Public Choice, 181(1), 141–166.

Taylor, C. (2010). Constitutional and administrative law (2nd ed.). England: Harlow.

Thomsen, S. (2011). Regulation complexity and the costs of governance. In A. Brink (Ed.), Corporate governance and business ethics studies in economic ethics and philosophy (Vol. 39). Dordrecht: Springer.

Torres-Garcia, A., Ballesteros-Ruiz, C. A., & Villca-Condori, A. (2020). Bank procyclicality, business cycles and capital requirements. Journal of banking Regulation, 21, 152–169.

Vara, A. G. & Bourdin D. (2010). "Committee of the Regions, Report on the Role of regional Parliaments in the process of subsidiarity analysis within the Early warning System of the Lisbon Treaty," Committee of the Regions, drafted by EIPA.

World Bank. (2019). World development indicator. Washington: World Bank. Retrieved April 12, 2019, from http://data.worldbank.org/data-catalog/world-development-indicators.

Zarnowitz, V. (1992). What is a business cycle? In M. T. Belongia & M. R. Garfinkel (Eds.), The business cycle: Theories and evidence (pp. 3–72). Boston, MA: Kluwer Academic Publishers.
Acknowledgements
We are grateful to the Editor, prof. Alain Marciano, the two referees whose comments were helpful in order to improve this paper. The usual disclaimer applies.
Additional information
Publisher's Note
Springer Nature remains neutral with regard to jurisdictional claims in published maps and institutional affiliations.
About this article
Cite this article
Di Vita, G., Ferrante, L. Is legislation grease or sand to economic growth? An econometric analysis using data from Italian regions before and after the 2008 crisis. Eur J Law Econ (2021). https://doi.org/10.1007/s10657-021-09687-5
Keywords
Business cycle

Deregulation

Economic growth

Financial crisis 2007–2008

Italian regions

Legislative complexity

Polycentricity
JEL Classification