Abstract
Hypothyroidism and hyperthyroidism are observationally associated with sex hormone concentrations and sexual dysfunction, but causality is unclear. We investigated whether TSH, fT4, hypo- and hyperthyroidism are causally associated with sex hormones and sexual function. We used publicly available summary statistics from genome-wide association studies on TSH and fT4 and hypo- and hyperthyroidism from the ThyroidOmics Consortium (N ≤ 54,288). Outcomes from UK Biobank (women ≤ 194,174/men ≤ 167,020) and ReproGen (women ≤ 252,514) were sex hormones (sex hormone binding globulin [SHBG], testosterone, estradiol, free androgen index [FAI]) and sexual function (ovulatory function in women: duration of menstrual period, age at menarche and menopause, reproductive lifespan, and erectile dysfunction in men). We performed two-sample Mendelian randomization (MR) analyses on summary level, and unweighted genetic risk score (GRS) analysis on individual level data. One SD increase in TSH was associated with a 1.332 nmol/L lower (95% CI: − 0.717,− 1.946; p = 2 × 10–5) SHBG and a 0.103 nmol/l lower (− 0.051,V0.154; p = 9 × 10–5) testosterone in two-sample MR, supported by the GRS approach. Genetic predisposition to hypothyroidism was associated with decreased and genetic predisposition to hyperthyroidism with increased SHBG and testosterone in both approaches. The GRS for fT4 was associated with increased testosterone and estradiol in women only. The GRS for TSH and hypothyroidism were associated with increased and the GRS for hyperthyroidism with decreased FAI in men only. While genetically predicted thyroid function was associated with sex hormones, we found no association with sexual function.
Access options
Buy single article
Instant access to the full article PDF.
US$ 39.95
Tax calculation will be finalised during checkout.
Subscribe to journal
Immediate online access to all issues from 2019. Subscription will auto renew annually.
US$ 79
Tax calculation will be finalised during checkout.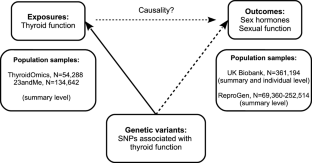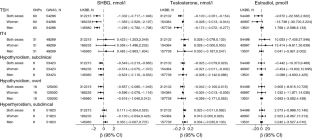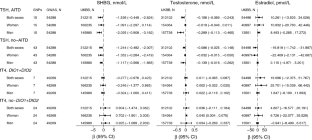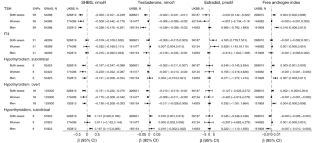 Code availability
We used standard statistical software (STATA and R) and packages to perform the analyses.
Acknowledgements
The two-sample MR approach is based on data freely available from the public domain. The authors would like to thank the ThyroidOmics consortium, 23andMe, UK Biobank, Neale lab, and ReproGen for sharing the data and making this project possible. This research has been conducted using the UK Biobank Resource under Application Number 53723.
Funding
ADK is funded by an unrestricted grant by Novo Nordisk. AK is supported by the Exchange in Endocrinology Expertise (3E) program of the European Union of Medical Specialists (UEMS), Section and Board of Endocrinology. AP is funded by the NIHR Barts Biomedical Research Centre.
Ethics declarations
Conflicts of interest
All the authors declare no conflicts of interest.
Additional information
Publisher's Note
Springer Nature remains neutral with regard to jurisdictional claims in published maps and institutional affiliations.
Supplementary information
Below is the link to the electronic supplementary material.
About this article
Cite this article
Kjaergaard, A.D., Marouli, E., Papadopoulou, A. et al. Thyroid function, sex hormones and sexual function: a Mendelian randomization study. Eur J Epidemiol (2021). https://doi.org/10.1007/s10654-021-00721-z
Received:

Accepted:

Published:
Keywords
Mendelian randomization

Thyroid function

SHBG

Testosterone

Reproductive lifespan

Erectile dysfunction