Abstract
Radiation exposure is among the few factors known to be associated with risk of central nervous system (CNS) tumors. However, the patterns of radiation risk by histological type, sex or age are unclear. We evaluated radiation risks of first primary glioma, meningioma, schwannoma, and other or not otherwise specified (other/NOS) tumors in the Life Span Study cohort of atomic bomb survivors. Cases diagnosed between 1958 and 2009 were ascertained through population-based cancer registries in Hiroshima and Nagasaki. To estimate excess relative risk per Gy (ERR/Gy), we fit rate models using Poisson regression methods. There were 285 CNS tumors (67 gliomas, 107 meningiomas, 49 schwannomas, and 64 other/NOS tumors) among 105,444 individuals with radiation dose estimates to the brain contributing 3.1 million person-years of observation. Based on a simple linear model without effect modification, ERR/Gy was 1.67 (95% confidence interval, CI: 0.12 to 5.26) for glioma, 1.82 (95% CI: 0.51 to 4.30) for meningioma, 1.45 (95% CI: − 0.01 to 4.97) for schwannoma, and 1.40 (95% CI: 0.61 to 2.57) for all CNS tumors as a group. For each tumor type, the dose–response was consistent with linearity and appeared to be stronger among males than among females, particularly for meningioma (P = 0.045). There was also evidence that the ERR/Gy for schwannoma decreased with attained age (P = 0.002). More than 60 years after the bombings, radiation risks for CNS tumors continue to be elevated. Further follow-up is necessary to characterize the lifetime risks of specific CNS tumors following radiation exposure.
This is a preview of subscription content, log in to check access.
Access options
Buy single article
Instant access to the full article PDF.
US$ 39.95
Price includes VAT for USA
Subscribe to journal
Immediate online access to all issues from 2019. Subscription will auto renew annually.
US$ 99
This is the net price. Taxes to be calculated in checkout.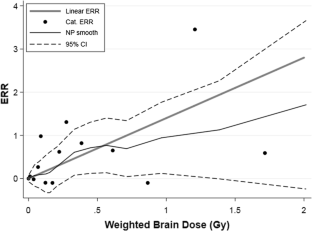 References
1.

Ostrom QT, Gittleman H, Truitt G, Boscia A, Kruchko C, Barnholtz-Sloan JS. CBTRUS statistical report: primary brain and other central nervous system tumors diagnosed in the United States in 2011–2015. Neuro-oncology. 2018;20(suppl_4):iv1–86.

2.

Villa C, Miquel C, Mosses D, Bernier M, Di Stefano AL. The 2016 World Health Organization classification of tumours of the central nervous system. Presse Med. 2018;47(11–12 Pt 2):e187–200.

3.

Alcantara Llaguno SR, Parada LF. Cell of origin of glioma: biological and clinical implications. Br J Cancer. 2016;115(12):1445–50.

4.

Kalamarides M, Stemmer-Rachamimov AO, Niwa-Kawakita M, Chareyre F, Taranchon E, Han ZY, et al. Identification of a progenitor cell of origin capable of generating diverse meningioma histological subtypes. Oncogene. 2011;30:2333.

5.

Wiemels J, Wrensch M, Claus EB. Epidemiology and etiology of meningioma. J Neurooncol. 2010;99(3):307–14.

6.

Sonig A, Gandhi V, Nanda A. From the cell of Schwann to schwannoma—a century's fruition. World Neurosurg. 2014;82(5):906–11.

7.

Amirian ES, Ostrom QT, Liu Y, Barnholtz-Sloan J, Bondy ML. Nervous system. In: Thun MJ, Linet MS, Cerhan JR, Haiman C, Schottenfeld D, editors. Cancer epidemiology and prevention. 4th ed. New York: Oxford University Press; 2018. p. 1039–60.

8.

Kaneko S, Nomura K, Yoshimura T, Yamaguchi N. Trend of brain tumor incidence by histological subtypes in Japan: estimation from the Brain Tumor Registry of Japan, 1973–1993. J Neurooncol. 2002;60(1):61–9.

9.

Sadetzki S, Chetrit A, Freedman L, Stovall M, Modan B, Novikov I. Long-term follow-up for brain tumor development after childhood exposure to ionizing radiation for tinea capitis. Radiat Res. 2005;163(4):424–32.

10.

Schneider AB, Ron E, Lubin J, Stovall M, Shore-Freedman E, Tolentino J, et al. Acoustic neuromas following childhood radiation treatment for benign conditions of the head and neck. Neuro-oncology. 2008;10(1):73–8.

11.

Little MP, de Vathaire F, Shamsaldin A, Oberlin O, Campbell S, Grimaud E, et al. Risks of brain tumour following treatment for cancer in childhood: modification by genetic factors, radiotherapy and chemotherapy. Int J Cancer. 1998;78(3):269–75.

12.

Neglia JP, Robison LL, Stovall M, Liu Y, Packer RJ, Hammond S, et al. New primary neoplasms of the central nervous system in survivors of childhood cancer: a report from the Childhood Cancer Survivor Study. J Natl Cancer Inst. 2006;98(21):1528–37.

13.

Svahn-Tapper G, Garwicz S, Anderson H, Shamsaldin A, De Vathaire F, Olsen JH, et al. Radiation dose and relapse are predictors for development of second malignant solid tumors after cancer in childhood and adolescence: a population-based case-control study in the five Nordic countries. Acta Oncol. 2006;45(4):438–48.

14.

Taylor AJ, Little MP, Winter DL, Sugden E, Ellison DW, Stiller CA, et al. Population-based risks of CNS tumors in survivors of childhood cancer: the British Childhood Cancer Survivor Study. J Clin Oncol. 2010;28(36):5287–93.

15.

Karlsson P, Holmberg E, Lundell M, Mattsson A, Holm LE, Wallgren A. Intracranial tumors after exposure to ionizing radiation during infancy: a pooled analysis of two Swedish cohorts of 28,008 infants with skin hemangioma. Radiat Res. 1998;150(3):357–64.

16.

Pearce MS, Salotti JA, Little MP, McHugh K, Lee C, Kim KP, et al. Radiation exposure from CT scans in childhood and subsequent risk of leukaemia and brain tumours: a retrospective cohort study. Lancet. 2012;380(9840):499–505.

17.

Berrington de Gonzalez A, Salotti JA, McHugh K, Little MP, Harbron RW, Lee C, et al. Relationship between paediatric CT scans and subsequent risk of leukaemia and brain tumours: assessment of the impact of underlying conditions. Br J Cancer. 2016;114(4):388–94.

18.

Mathews JD, Forsythe AV, Brady Z, Butler MW, Goergen SK, Byrnes GB, et al. Cancer risk in 680,000 people exposed to computed tomography scans in childhood or adolescence: data linkage study of 11 million Australians. BMJ. 2013;346:f2360.

19.

Meulepas JM, Ronckers CM, Smets A, Nievelstein RAJ, Gradowska P, Lee C, et al. Radiation exposure from pediatric CT scans and subsequent cancer risk in the Netherlands. J Natl Cancer Inst. 2018;111:256–63.

20.

Preston DL, Ron E, Yonehara S, Kobuke T, Fujii H, Kishikawa M, et al. Tumors of the nervous system and pituitary gland associated with atomic bomb radiation exposure. J Natl Cancer Inst. 2002;94(20):1555–63.

21.

Preston DL, Ron E, Tokuoka S, Funamoto S, Nishi N, Soda M, et al. Solid cancer incidence in atomic bomb survivors: 1958–1998. Radiat Res. 2007;168(1):1–64.

22.

Braganza MZ, Kitahara CM, Berrington de Gonzalez A, Inskip PD, Johnson KJ, Rajaraman P. Ionizing radiation and the risk of brain and central nervous system tumors: a systematic review. Neuro-oncology. 2012;14(11):1316–24.

23.

Boice JD Jr. Radiation epidemiology and recent paediatric computed tomography studies. Ann ICRP. 2015;44(1 Suppl):236–48.

24.

Hauptmann M, Meulepas JM. CT scans in childhood and risk of leukaemia and brain tumours. Lancet. 2012;380(9855):1736 (author reply -7).

25.

Gardavaud F, Luciani A, Rahmouni A. CT scans in childhood and risk of leukaemia and brain tumours. Lancet. 2012;380(9855):1735 (author reply 6-7).

26.

Zopf DA, Green GE. CT scans in childhood and risk of leukaemia and brain tumours. Lancet. 2012;380(9855):1735–6 (author reply 6-7).

27.

Meulepas JM, Ronckers CM, Merks J, Weijerman ME, Lubin JH, Hauptmann M. Confounding of the association between radiation exposure from CT scans and risk of leukemia and brain tumors by cancer susceptibility syndromes. J Radiol Prot. 2016;36(4):953–74.

28.

Meulepas JM, Hauptmann M, Lubin JH, Shuryak I, Brenner DJ. Is there unmeasured indication bias in radiation-related cancer risk estimates from studies of computed tomography? Radiat Res. 2018;189(2):128–35.

29.

Grant EJ, Brenner A, Sugiyama H, Sakata R, Sadakane A, Utada M, et al. Solid cancer incidence among the life span study of atomic bomb survivors: 1958–2009. Radiat Res. 2017;187(5):513–37.

30.

Cullings HM, Grant EJ, Egbert SD, Watanabe T, Oda T, Nakamura F, et al. DS02R1: improvements to atomic bomb survivors' input data and implementation of dosimetry system 2002 (DS02) and resulting changes in estimated doses. Health Phys. 2017;112(1):56–97.

31.

Ozasa K, Cullings HM, Ohishi W, Hida A, Grant EJ. Epidemiological studies of atomic bomb radiation at the Radiation Effects Research Foundation. Int J Radiat Biol. 2019;2019:1–13.

32.

Cullings HM, Fujita S, Funamoto S, Grant EJ, Kerr GD, Preston DL. Dose estimation for atomic bomb survivor studies: its evolution and present status. Radiat Res. 2006;166(1 Pt 2):219–54.

33.

Pierce DA, Stram DO, Vaeth M. Allowing for random errors in radiation dose estimates for the atomic bomb survivor data. Radiat Res. 1990;123(3):275–84.

34.

Sposto R, Preston DL. Correcting for catchment area non-residency in studies based on tumor registry data Hiroshima, Japan. Radiation Effects Research Foundation 1992. Report No.: CR 1-92.

35.

Furukawa K, Preston DL, Lonn S, Funamoto S, Yonehara S, Matsuo T, et al. Radiation and smoking effects on lung cancer incidence among atomic bomb survivors. Radiat Res. 2010;174(1):72–82.

36.

French B, Cologne J, Sakata R, Utada M, Preston DL. Selection of reference groups in the Life Span Study of atomic bomb survivors. Eur J Epidemiol. 2017;32(12):1055–63.

37.

Carstensen B. Age-period-cohort models for the Lexis diagram. Stat Med. 2007;26(15):3018–45.

38.

Pierce DA, Preston DL. Joint analysis of site-specific cancer risks for the atomic bomb survivors. Radiat Res. 1993;134(2):134–42.

39.

Preston DL, Lubin JH, Pierce DA, McConney ME, Shilnikova NS. Epicure risk regression and person-year computation software: command summary and user guide. Ottawa: Risk Sciences International; 2015.

40.

United Nations Scientific Committee on the Effects of Atomic Radiation. Sources, Effects and Risks of Ionizing Radiation. Effects of radiation exposure of children New York: United Nations; 2013.

41.

ICRP Publication 131: Stem Cell Biology with Respect to Carcinogenesis Aspects of Radiological Protection. SAGE Publications; 2016.

42.

Shore RE, Moseson M, Harley N, Pasternack BS. Tumors and other diseases following childhood x-ray treatment for ringworm of the scalp (Tinea capitis). Health Phys. 2003;85(4):404–8.

43.

Cologne JB, Preston DL. Impact of comparison group on cohort dose response regression: an example using risk estimation in atomic-bomb survivors. Health Phys. 2001;80(5):491–6.

44.

Veiga LH, Holmberg E, Anderson H, Pottern L, Sadetzki S, Adams MJ, et al. Thyroid cancer after childhood exposure to external radiation: an updated pooled analysis of 12 studies. Radiat Res. 2016;185(5):473–84.

45.

Little MP, Wakeford R, Borrego D, French B, Zablotska LB, Adams MJ, et al. Leukaemia and myeloid malignancy among people exposed to low doses (< 100 mSv) of ionising radiation during childhood: a pooled analysis of nine historical cohort studies. Lancet Haematol. 2018;5(8):e346–58.

46.

Yonehara S, Brenner AV, Kishikawa M, Inskip PD, Preston DL, Ron E, et al. Clinical and epidemiologic characteristics of first primary tumors of the central nervous system and related organs among atomic bomb survivors in Hiroshima and Nagasaki, 1958–1995. Cancer. 2004;101(7):1644–54.
Funding
The Radiation Effects Research Foundation (RERF), Hiroshima and Nagasaki, Japan is a public interest foundation funded by the Japanese Ministry of Health, Labour and Welfare (MHLW) and the U.S. Department of Energy (DOE). The research was also funded in part through DOE award DE-HS0000031 to the National Academy of Sciences and contract HHSN261201400009C through the U.S. National Cancer Institute (NCI), with additional support from the Division of Cancer Epidemiology and Genetics in the NCI Intramural Research Program. This publication was supported by RERF Research Protocol 1-75 and 18-61.
Additional information
Publisher's Note
Springer Nature remains neutral with regard to jurisdictional claims in published maps and institutional affiliations.
Electronic supplementary material
Below is the link to the electronic supplementary material.
About this article
Cite this article
Brenner, A.V., Sugiyama, H., Preston, D.L. et al. Radiation risk of central nervous system tumors in the Life Span Study of atomic bomb survivors, 1958–2009. Eur J Epidemiol 35, 591–600 (2020). https://doi.org/10.1007/s10654-019-00599-y
Received:

Accepted:

Published:

Issue Date:
Keywords
CNS tumor

Etiology

Cohort studies

Atomic bombs

Risk assessment