Abstract
Despite some researches indicating the possibility of correlation being induced by the common variable effect, correlation plots of ionic ratio (Na+/Cl−) versus ionic concentration (Cl−) still remain popular for interpreting the causes of groundwater salinization. There were doubts about relevance of spurious correlation in groundwater and its detection using the randomization process, owing to the fact that groundwater is charge-balanced and randomization would result in abnormal ionic ratios. In this context, the relevance of spurious correlation and its detection using randomization of common variable was established in this study, which was missing from the literature. The study used qualitative and quantitative tools for detecting the possibility of induced correlation and demonstrated the efficiency of the proposed method using published datasets from a variety of geochemical processes of groundwater salinization. In five out of the eight cases examined, the correlations observed in the plots appeared to be induced by the common variable effect and, as such, were deemed unreliable as positive indicators of the stated salinization processes. Even when the correlations appear not to be induced, it is recommended to always support the inferences with other independent evidence(s).
This is a preview of subscription content, log in to check access.
Access options
Buy single article
Instant access to the full article PDF.
US$ 39.95
Price includes VAT for USA
Subscribe to journal
Immediate online access to all issues from 2019. Subscription will auto renew annually.
US$ 99
This is the net price. Taxes to be calculated in checkout.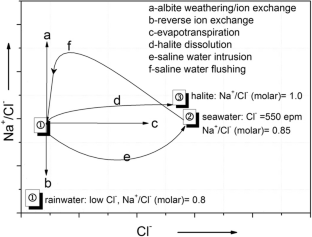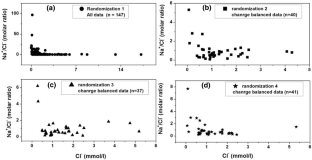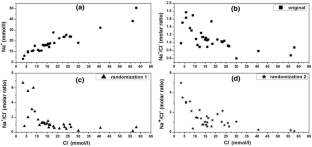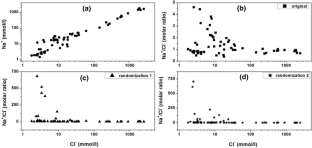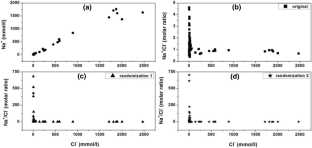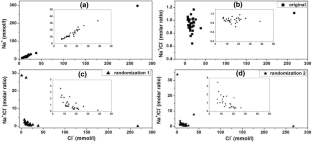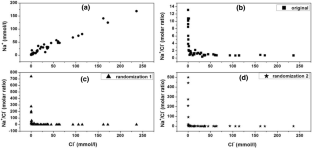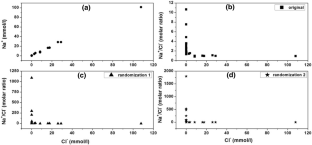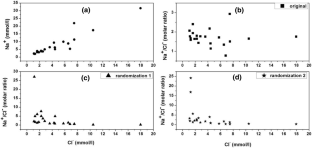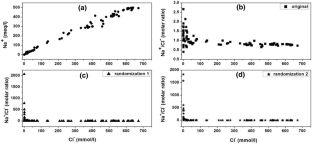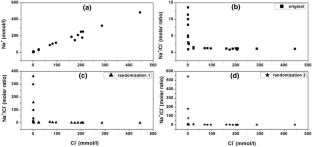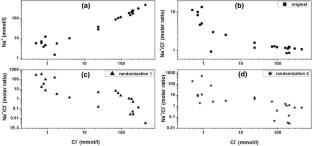 References
Abid, K., Kamel, Z., Marek, D., Chkir, N., & Abidi, B. (2011). Hydrologic and geologic factors controlling groundwater geochemistry in the Turonian aquifer (Southern Tunisia). Hydrogeology Journal.,19, 415–427.

Ang, A. H.-S., & Tang, W. H. (2007). Probability concepts in engineering, emphasis on applications in civil and environmental engineering. New York: Wiley.

Benjamin, J. R., & Cornell, C. A. (1970). Probability, statistics and decision for civil engineers. New York: McGraw-Hill.

Bonett, D. G., & Wright, T. A. (2000). Sample size requirements for estimating Pearson, Kendall and Spearman correlations. Psychometrika,65, 23–28. https://doi.org/10.1007/BF02294183.

Carol, E., Kruse, E., & Mas-Pla, J. (2009). Hydrochemical and isotopical evidence of groundwater salinization processes on the coastal plains of Samboromon Bay, Argentina. Journal of Hydrology,365, 35–345.

Carol, E., Josep, M.-P., & Eduardo, K. (2013). Interaction between continental and estuarine waters in the wetlands of the northern coastal plain of Samborombon Bay, Argentina. Applied Geochemistry,34, 152–163.

Cartwright, I., & Morgenstern, U. (2012). Constraining the groundwater recharge and the rate of geochemical processes using tritium and major ion geochemistry: ovens catchment, southeast Australia. Journal of Hydrology,475, 137–149.

Cartwright, I., Weaver, T. R., Fulton, S., Nichol, C., Reid, M., & Cheng, X. (2004). Hydrogeochemical and isotopic constraints on the origins of dryland salinity, Murray Basin, Victoria, Australia. Applied Geochemistry,19, 1233–1254.

Cazenave, A., Habib-Boubacar, D., Benoit, M., von Karina, S., Bertrand, D., & Etienne, B. (2014). The rate of sea-level rise. Nature Climate Change,4, 358–361.

Cobaner, M., Recep, Y., Ahmet, D., & Louis, H. M. (2012). Three dimensional simulation of seawater intrusion in coastal aquifers: A case study in the Goksu Deltaic Plain. Journal of Hydrology,464–465, 262–280.

Coram, J. E., Dyson, P. R., Houlder, P. A., & Evans, W. R. (2000). Australian groundwater flow systems contributing to dryland salinity. Canberra: Bureau of Rural Sciences.

Dodge, Y. (2010). The concise encyclopedia of statistics (p. 502). New York: Springer.

Dennis, R. H., & Lonna, M. F. (2006). Regional Kendall test for trend. Environmental Science and Technology,40(13), 4066–4073. https://doi.org/10.1021/es051650b.

El, M. A., El, Y. F., Fakir, Y., Zarhloule, Y., & Benavente, J. (2008). Evolution of groundwater salinity in the unconfined aquifer of Bou-Areg, Northeastern Mediterranean coast, Morocco. Environmental Geology,54, 491–503.

Farber, E., Avner, V., Ittai, G., Amer, M., Thomas, D. B., Bernhard, M., et al. (2007). The geochemistry of groundwater resources in the Jordan Valley: the impact of the Rift Valley brines. Applied Geochemistry,22, 494–514.

Farber, E., Avner, V., Ittai, G., Amer, M., Thomas, D. B., Bernhard, M., et al. (2005). Management scenarios for the Jordan River salinity crisis. Applied Geochemistry,20, 2138–2153.

Fass, T., Cook, P. G., Stieglitz, T., & Herczeg, A. L. (2007). Development of saline ground water through transpiration of sea water. Ground Water,45, 703–710.

Freedman, D. A. (1983). A note on screening regression equations. The American Statistician,37(2), 152–155.

Gascoyne, M. (2004). Hydrogeochemistry, groundwater ages and sources of salts in a granitic batholith on the Canadian Shield, southeastern Manitoba. Applied Geochemistry,19, 519–560.

Ghassemi, F., Jakeman, A. J., & Nix, H. A. (1995). Salinisation of land and water resources: Human causes, extent, management and case studies. University. Sydney: New South Wales Press.

Good, P. I., & Hardin, J. W. (2003). Common errors in statistics (and how to avoid them). New Jersey: Wiley-Interscience.

Han, D. M., Song, X. F., Matthew, J. C., Yang, J. I., & Xiao, G. Q. (2014). Chemical and isotopic constraints on evolution of groundwater salinisation in the coastal plain aquifer of Laizhaou Bay, China. Journal of Hydrology,508, 12–27.

Hem, J. D. (1989). Study and Interpretation of the Chemical Characteristics of Natural Water. USGS WSP 2254.

Herczeg, A., & Edmunds, W. M. (2000). Inorganic ions as tracers. In P. Cook & A. Herczeg (Eds.), Environmental tracers in subsurface hydrology (pp. 31–77). Boston: Kluwer Academic Publishers.

Hidalgo, M. C., Cruz-Sanjulián, J., & Sanroma, A. (1995). Geochemical Evolution of underground waters in a sedimentary river basin (water-bearing of Baza-Caniles, Granada, Spain). Tierra y tecnología,20, 39–48.

Hitchon, B., Perkins, E. H., & Gunter, W. D. (1999). Introduction to ground water geochemistry. Alberta: Geoscience.

Howard, K., & Lloyd, J. (1983). Major ion characterization of coastal saline ground waters. Ground Water,21, 429–437.

Hounslow, A. W. (1995). Water quality data analysis and interpretation. Florida: CRC Press.

Jackson, R. B., Carpenter, S. R., Dahm, C. N., McKnight, D. M., Naiman, R. J., Postel, S. L., & Running, S. W. (2001). Water in a changing world, Issues in ecology, (Vol. 9, pp. 1–16), Washington:Ecological Society of America.

Julie, C., Gattacceca, C., Vallet, C., Adriano, M., Christelle, C., Olivier, R., et al. (2009). Isotopic and geochemical characterization of salinization in the shallow aquifers of a reclaimed subsiding zone: The southern Venice Lagoon coastland. Journal of Hydrology,378, 46–61.

Kass, A., Gavrieli, I., Yechieli, Y., Vengosh, A., & Starinsky, A. (2005). The impact of freshwater and wastewater irrigation on the chemistry of shallow groundwater: a case study from the Israeli Coastal Aquifer. Journal of Hydrology,300(1–4), 314–331.

Kenney, B. C. (1982). Beware of spurious self-correlations! Water Resources Research,18, 1041–1048.

Kharaka, Y. K., Cole, D. R., Hovorka, S. D., Gunter, W. D., Knauss, K. G., & Freifeld, B. M. (2006). Gas–water–rock interactions in Frio Formation following CO2 injection: implications for the storage of greenhouse gases in sedimentary basins. Geology,34, 577–580.

Lenahan, M. J., Bristow, K. L., & de Caritat, P. (2011). Detecting induced correlations in hydrochemistry. Chemical Geology,284, 182–192.

Leybourney, M. I., & Goodfellow, W. D. (2007). Br/Cl ratios and O, H, C and B isotopic constraints on the origin of saline waters from eastern Canada. Geochimica Cosmochimica Acta,71, 2209–2223.

Lucier, A., Zoback, M., Gupta, N., & Ramakrishnan, T. S. (2005). Geomechanical aspects of CO2 sequestration in a deep saline reservoir in the Ohio River Valley region. Environmental Geosciences,13, 85–103.

Ma, J., He, J., Shi, Q., Gaofeng, Z., Wei, Z., Edmunds, W. M., et al. (2013). Groundwater recharge and evolution in the Dunhuang Basin, northwestern China. Applied Geochemistry,28, 19–31.

Matthess, G. (1982). The properties of groundwater (p. 406). New York: John Wiley and Sons.

Mercado, A. (1985). The use of hydrogeochemical patterns in carbonate sand and sandstone aquifers to identify intrusion and flushing of saline water. Ground Water,23, 635–645.

Oren, O., Yechieli, Y., Böhlke, J. K., & Dody, A. (2004). Contamination of groundwater under cultivated fields in an arid environment, central Arava Valley, Israel. Journal of Hydrology,290, 312–328.

Reed, J. L. (1921). On the correlation between any two functions and its application to the general case of spurious correlation. Journal of the Washington Academy of Sciences,11, 449–455.

Thomas, D. G. (2001). Detecting trends using spearman's rank correlation coefficient. Environmental Forensics,2(4), 359–362. https://doi.org/10.1080/713848278.

Wijngaard, J. B., Tank, A. M. G. K., & Konnen, G. P. (2003). Homogeneity of 20th century European daily temperature and precipitation series. International Journal of Climatology,23, 679–692.
Acknowledgements
The authors are grateful to all the researchers (refer Table 1), whose data were used to demonstrate the limitations of Na/Cl versus Cl common ion plot in different scenarios of groundwater salinization. Authors would like to thank the Heads of the respective Divisions for supporting this study. The authors sincerely appreciate the comments received from the anonymous reviewers which contributed to improving the scientific content and clarity of our presentation.
Additional information
Publisher's Note
Springer Nature remains neutral with regard to jurisdictional claims in published maps and institutional affiliations.
About this article
Cite this article
Keesari, T., Dauji, S. Groundwater salinization processes: pitfalls of inferences from Na+/Cl− versus Cl− correlation plots. Environ Geochem Health (2020). https://doi.org/10.1007/s10653-020-00622-2
Received:

Accepted:

Published:
Keywords
Groundwater salinity

Spurious correlation

Na–Cl ratio plot

Correlation coefficients

Hydrochemistry