Abstract
Polychlorinated biphenyls (PCBs) are included in the persistent organic pollutants designated by the Stockholm Convention and are hazardous compounds both for the environment and public health. The aim of this study was to determine the level of environmental pollution of PCBs in the Perm, in soil and biota (European pied flycatcher), and to analyze whether its presence was the cause of cancer and congenital malformations in the population. Soils in the study area had PCB concentrations of 101.87 µg/kg in the Industrialniy District and 27.81 µg/kg in the Leninskiy District of the Perm in 2005. The chemical composition of the individual PCBs and PCB groups were the same in the soils of both regions. The blood of nestlings of the European pied flycatcher raised in the Industrialniy District contained 9.61 ng PCB/ml, while those in the Leninskiy District had 5.64 ng PCB/ml in 2005. A linear correlation was established between the PCB contamination of soils and PCB contamination of pied flycatcher nestling's blood, and inverse linear correlation was established between the content of PCB in the blood of nestlings and the success of breeding of the pied flycatcher in Perm. An epidemiological analysis revealed a high incidence of cancer among the human population of the Industrialniy and Leninskiy districts (371.7 and 376.85 cases per 100,000 population, mean for the 2003–2018, respectively), which exceeded the figure for the whole of Perm (350.77 cases per 100,000 population, mean for the 2003–2018). The incidence rate of congenital malformations in Perm for the study period was 48.51 per 1000 human births. However, a decrease in the concentration of PCBs in soil and biota over a 15-year period (2005–2019) to the less than the detection limit did not lead to a decrease in the incidence of these diseases. Probably, PCB contamination was not the main cause of oncological diseases and congenital malformations in the population of the study area.
This is a preview of subscription content, log in to check access.
Access options
Buy single article
Instant access to the full article PDF.
US$ 39.95
Price includes VAT for USA
Subscribe to journal
Immediate online access to all issues from 2019. Subscription will auto renew annually.
US$ 99
This is the net price. Taxes to be calculated in checkout.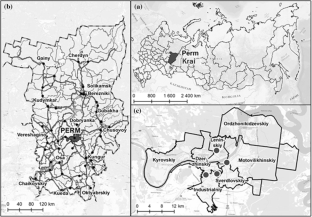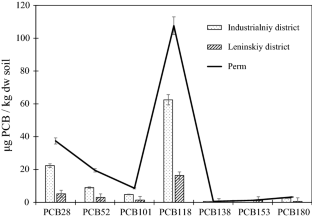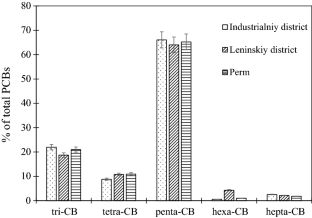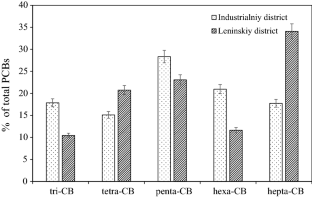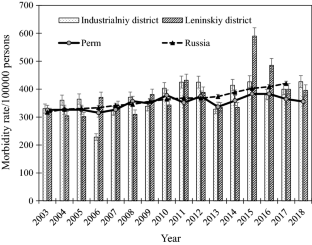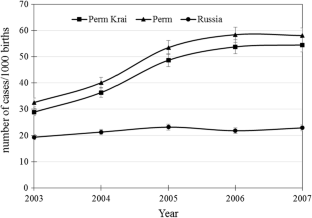 References
ANZECC (Australian and New Zeland Environment and Conservation Council), NHMRC (National Health and Medical Research Council), ANZECC B (invironmental investigation levels) from Australian and New Zealand Guidelines for the Assessment and Management of Contaminated sites (1992).

ATSDR. (2000). Toxicological profile for polychlorinated biphenyls (PCBs). Atlanta: Department of Health and Human Services, Public Health Service.

Berglund, A. M. M., Sturve, J., Förlin, L., & Nyholm, N. E. I. (2007). Oxidative stress in pied flycatcher (Ficedula hypoleuca) nestlings from metal contaminated environments in northern Sweden. Environmental Research,105, 330–339.

Brink, N. W., & Bosveld, A. T. C. (2001). PCB concentration and metabolism patterns in common terns (Sterna hirundo) from different breeding colonies in the Netherlands. Marine Pollution Bulletin,42(4), 280–285.

CCME (Canadian Council of Ministers of the Environment). (2003). Canadian Environmental quality Guidelines. Summary table.

Demikova, N. S., & Lapina, A. S. (2012). Congenital malformations in the regions of Russian federation: Results of monitoring in 2000–2010. Epidemiology,2, 91–98.

Dolgova, S. V., & Denisenko, A. N. (2010). Structure and level of malignancy incidence in the Nizhni Novgorod region. The cancer service's state and the ways of its improvement. Volga Cancer Herald,4, 10–13. (In Russ.).

Egorova, D. O., Demakov, V. A., & Plotnikova, E. G. (2013). Bioaugmentation of a polychlorobiphenyl contaminated soil with two aerobic bacterial strains. Journal of Hazardous Materials,261, 378–386.

Hoffman, D. J., Melancon, M. J., Klein, P. N., Eissemann, J. D., & Spann, J. W. (1998). Comparative developmental toxicity of planar polychlorinated biphenyls congeners in chickens, american kestrels and common terns. Environmental Toxicology and Chemistry,17(4), 747–757.

Iseki, N., Izuka, T., Hayama, S., Masunaga, S., & Nakanishi, J. (2001). Accumulation profiles and burdens of dioxins, furans and dioxin-like PCBs in common cormorants (Phalacrocorax carbo), from Japan. Organohalogen Compounds,51, 336–339.

Ishankulov, M. (2008). PCB-contaminated areas in Kazakhstan and analysis of PCB impact on human health experience. In E. Mehmetli & B. Koumanova (Eds.), The fate of persistent organic pollutants in the environment (pp. 387–403). Berlin: Springer.

ISO 10382:2002 Soil quality. Determination of organochlorine pesticides and polychlorinated biphenyls. Gas-chromatographic method with electron capture detection

IUSS Working Group WRB. (2015). World reference base for soil resources 2014, update 2015. International soil classification system for naming soils and creating legends for soil maps. World Soil Resources Reports No.106. FAO, Rome.

Kania-Korwel, I., & Lehmler, H.-J. (2016). Toxicokinetics of chiral polychlorinated biphenyls across different species: a review. Environmental Science and Pollution Research,23, 2058–2080.

Kryatov, I. A., Tonkopiy, N. I., Ushakova, O. V., Vodyanova, M. A., Doneryan, L. G., Evseevs, I. S., et al. (2013). Regulation of safe levels of polychlorinated biphenyls in soil: Russian and international experience. Hygiene and sanitation,6, 52–57.

Lauby-Secretan, B., Loomis, D., Baan, R., Ghissassi, F. E., Bouvard, V., Benbrahim-Tallaa, L., et al. (2016). Use of mechanistic data in the IARC evaluations of the carcinogenicity of polychlorinated biphenyls and related compounds. Environmental Science and Pollution Research,23, 2220–2229.

Liu, S. J., Zhang, S. P., Qu, Ch., Liu, W., & Du, Y. G. (2010). The association between the environmental exposure to polychlorinated biphenyls (PCBs) and breast cancer risk and progression. Science China. Chemistry,53(5), 974–979.

Mahmood, A., Syed, J. H., Malik, R. N., Zheng, Q., Cheng, Z., Li, J., et al. (2014). Polychlorinated biphenyls (PCBs) in air, soil, and cereal crops along the two tributaries of rever Chenab, Pakistan: concentrations, distribution, and screening level risk assessment. Science of the Total Environment,481, 596–604.

Malina, N., & Mazlova, E. A. (2017). Temporal and spatial variation of polychlorinated biphenyls (PCBs) contamination in environmental compartments of highly polluted area in Central Russia. Chemosphere,185, 227–236.

Mamontova, E. A., Tarasova, E. N., & Mamontov, A. A. (2017). PCBs and OCPs in human milk in Eastern Siberia, Russia: Levels, temporal trends and infant exposure assessment. Chemosphere,178, 239–248.

Markowitz, G., & Rosner, D. (2018). Monsanto, PCBs, and the creation of a "world-wide ecological problem". Journal of Public Health and Pollution,39, 463–540.

Mo, L., Zhebg, X., Sun, Y., Yu, L., Luo, X., Xu, X., et al. (2018). Selection of passerine birds as bio-sentiel of persistent organic pollutants in terrestrial environment. Science of the Total Environment,633, 1237–1244.

Moorthie, S., Blencowe, H., Darlison, M. W., Lawn, J., Morris, J. K., & Modell, B. (2018). Estimating the birth prevalence and pregnancy outcomes of congenital malformations worldwide. Journal of Community Genetics,9, 387–396.

Muir, D., Savinova, T., Savinov, V., Alexeeva, L., Potelov, V., & Svetochev, V. (2003). Bioaccumulation of PCBs and chlorinated pesticides in seals, fishes and invertebrates from the White Sea, Russia. The Science of the Total Environment,306, 111–131.

Neigh, A. M., Zwiernik, M. J., Joldersma, C. A., Blankenship, A. L., Strause, K. D., Millsap, S. D., et al. (2007). Reproductive success of passerines exposed to polychlorinated biphenyls through the terrestrial food web of the Kalamazoo River. Ecotoxicology and Environmental Safety,66, 107–118.

Nyholm, N. E. I. (1998). Influence of heavy metal exposure during different phases of the ontogeny on the development of pied flycatcher, Ficedula hypoleuca, in natural populations. Archives of Environmental Contamination and Toxicology,35, 632–637.

Oborin, M. S., & Gavrilova, I. N. (2013). Ecological situation region as indicator of the condition of quality of the population (on an example of Perm region). Bulletin of RUDN. Series Ecology and Safety of Vital Functions,1, 22–29.

Orlinskii, D., Priputina, I., Popova, A., Shalanda, A., Tsongas, T., Hinman, G., et al. (2001). Influence of environmental contamination with PCBs on human health. Environmental Geochemistry and Health,23, 317–332.

Polder, A., Gabrielsen, G. W., Odland, J. Ø., Savinova, T. N., Tkachev, A., Løken, K. B., et al. (2008). Spatial and temporal changes of chlorinated pesticides, PCBs, dioxins (PCDDs/PCDFs) and brominated flame retardants in human brest milk from Northern Russia. Science of the Total Environment,391, 41–54.

Polychlorinated biphenyls. (2018). https://monographs.iarc.fr/wp-content/uploads/2018/06/mono107-001.pdf. Accessed 25 Mart 2019.

Revich, B., Aksel, E., Ushakova, T., Ivanova, I., Zhuchenko, N., Kluev, N., et al. (2001). Dioxin exposure and public health in Chapaevsk, Russia. Chemosphere,43, 951–966.

Revich, B., & Shelepchikov, A. (2008). Persistent organic pollutants (POPs) hot spots in Russia. In E. Mehmetli & B. Koumanova (Eds.), The fate of persistent organic pollutants in the environment (pp. 113–126). Berlin: Springer.

Robertson, L. W., & Hansen, L. G. (2001). PCBs: Recent advances in environmental toxicology and health effects (p. 461). Lexington: University Press of Kentucky.

Rybkin, A. V., & Rybkina, D. O. (2006). Levels of organochlorine contaminants in the blood of Pied flycatxths (Ficedula hypoleuca) in a big industrial center. Povolzhskiy Journal of Ecology,1, 51–60.

Salvador, R. B., Van der Jeugd, H., & Tomotani, B. M. (2017). Taxonomy of the European Pied Flycatcher Ficedula hypoleuca (Aves: Muscicapidae). Zootaxa,4291(1), 171–182.

Soil Science Division Staff. (2017). Soil survey manual. In C. Ditzler, K. Scheffe, & H. C. Monger (Eds.), USDA handbook 18. Washington, D.C.: Government Printing Office.

Weber, R., Herold, C., Hollert, H., Kamphues, J., Blepp, M., & Ballschmiter, K. (2018). Reviewing the relevance of dioxin and PCB sources for food from animal origin and the need for their inventory, control and management. Environmental Sciences Europe,30, 42.

Yu, L.-H., Luo, X.-J., Liu, H.-Y., Zeng, Y.-H., Zheng, X.-B., Wu, J.-P., et al. (2014). Organohalogen contamination in passerine birds from three metropolises in China: Geographical variation and its implication for anthropogenic effects on urban environments. Environmental Pollution,188, 118–123.

Zhao, X., Zheng, M., Zhang, B., Zhang, Q., & Liu, W. (2006). Evidence for the transfer of polychlorinated biphenyls, polychlorinated dibenzo-p-dioxins, and polychlorinated dibenzofurans from soil into biota. Science of the Total Environment,368, 744–752.
Additional information
Publisher's Note
Springer Nature remains neutral with regard to jurisdictional claims in published maps and institutional affiliations.
About this article
Cite this article
Egorova, D.O., Buzmakov, S.A. Carcinogenic and teratogenic status of human population and polychlorinated biphenyls contaminations of soils and biota (European pied flycatcher) in a Perm (Western Ural, Russia). Environ Geochem Health (2020). https://doi.org/10.1007/s10653-020-00615-1
Received:

Accepted:

Published:
Keywords
PCB

Contamination

Soil

Blood

Malignant neoplasm morbidity rate

Congenital malformations