Abstract
Environmental exposure to arsenic is a major public health challenge worldwide. Growing evidence indicates that coal-burning arsenic can cause hepatic oxidative damage. However, the value of Rosa roxburghii Tratt (RRT) with antioxidant properties on arsenic-caused hepatic oxidative damage has never been elucidated yet. In this study, the animals were exposed to coal-burning arsenic (10 mg/kg bw) for 90 days and the result showed a loss of body weight, impaired liver function and liver diseases, increased hepatic oxidative damage and metabolic disorder of multiple elements including selenium, copper, zinc which were related to synthesis of antioxidant enzymes. Another finding is that RRT restored the abnormal liver function and alleviated the procedures of liver diseases of arsenic poisoning rats. In addition, it could also effectively reduce the degree of oxidative damage in serum and liver, and restore the activity of some antioxidant enzymes. Importantly, RRT reversed the content of most disordered elements caused by arsenic in liver and reduced the excretion of several essential elements in urine, including selenium, copper and zinc. Our study provides some limited evidence that RRT can alleviate coal-burning arsenic-induced liver damage induced by regulating elemental metabolic disorders and liver oxidation and antioxidant balance. The study provides a scientific basis for further studies of the causes of the arsenic-induced liver damage, and effective intervention strategies.
This is a preview of subscription content, log in to check access.
Access options
Buy single article
Instant access to the full article PDF.
US$ 39.95
Price includes VAT for USA
Subscribe to journal
Immediate online access to all issues from 2019. Subscription will auto renew annually.
US$ 99
This is the net price. Taxes to be calculated in checkout.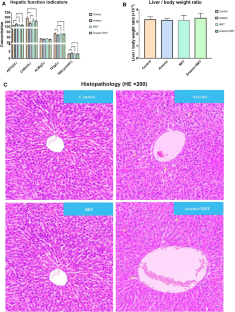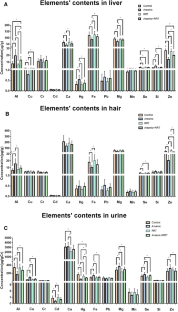 References
Ali, M. M., Frei, E., Straub, J., Breuer, A., & Wiessler, M. (2002). Induction of metallothionein by zinc protects from daunorubicin toxicity in rats. Toxicology,179(1–2), 85–93. https://doi.org/10.1016/s0300-483x(02)00322-0.

Amini, M., Abbaspour, K. C., Berg, M., Winkel, L., Hug, S. J., Hoehn, E., et al. (2008). Statistical modeling of global geogenic arsenic contamination in groundwater. Environmental Science and Technology,42(10), 3669–3675. https://doi.org/10.1021/es702859e.

Amuno, S., Jamwal, A., Grahn, B., & Niyogi, S. (2018). Chronic arsenicosis and cadmium exposure in wild snowshoe hares (Lepus americanus) breeding near Yellowknife, Northwest Territories (Canada), part 1: Evaluation of oxidative stress, antioxidant activities and hepatic damage. Science of the Total Environment,618, 916–926. https://doi.org/10.1016/j.scitotenv.2017.08.278.

Anawar, H. M., Akai, J., Mostofa, K. M. G., Safiullah, S., & Tareq, S. M. (2002). Arsenic poisoning in groundwater: Health risk and geochemical sources in Bangladesh. Environment International,27(7), 597–604.

Bodaghi-Namileh, V., Sepand, M. R., Omidi, A., Aghsami, M., Seyednejad, S. A., Kasirzadeh, S., et al. (2018). Acetyl-l-carnitine attenuates arsenic-induced liver injury by abrogation of mitochondrial dysfunction, inflammation, and apoptosis in rats. Environmental Health Perspectives,58, 11–20. https://doi.org/10.1016/j.etap.2017.12.005.

Cao, J., Gao, Z., Yan, J., Li, M., Su, J., Xu, J., et al. (2016). Evaluation of trace elements and their relationship with growth and development of young children. Biological Trace Element Research,171(2), 270–274.

Carlin, D. J., Naujokas, M. F., Bradham, K. D., Cowden, J., Heacock, M., Henry, H. F., et al. (2016). Arsenic and environmental health: State of the science and future research opportunities. Environmental Health Perspectives,124(7), 890–899. https://doi.org/10.1289/ehp.1510209.

Chen, G., & Kan, J. (2018a). Characterization of a novel polysaccharide isolated from Rosa roxburghii Tratt fruit and assessment of its antioxidant in vitro and in vivo. International Journal of Biological Macromolecules,107(Pt A), 166–174. https://doi.org/10.1016/j.ijbiomac.2017.08.160.

Chen, G., & Kan, J. (2018b). Ultrasound-assisted extraction, characterization, and antioxidant activity in vitro and in vivo of polysaccharides from Chestnut rose (Rosa roxburghii tratt) fruit. Journal of Food Science and Technology,55(3), 1083–1092.

Chen, Y., Liu, Z. J., Liu, J., Liu, L. K., Zhang, E. S., & Li, W. L. (2014). Inhibition of metastasis and invasion of ovarian cancer cells by crude polysaccharides from rosa roxburghii tratt in vitro. Asian Pacific Journal of Cancer Prevention,15(23), 10351–10354.

El-Safty, I. A., Gadallah, M., Shafik, A., & Shouman, A. E. (2002). Effect of mercury vapour exposure on urinary excretion of calcium, zinc and copper: Relationship to alterations in functional and structural integrity of the kidney. Toxicology and Industrial Health,18(8), 377–388. https://doi.org/10.1191/0748233702th160oa.

Escudero-Lourdes, C. (2016). Toxicity mechanisms of arsenic that are shared with neurodegenerative diseases and cognitive impairment: Role of oxidative stress and inflammatory responses. Neurotoxicology,53, 223–235. https://doi.org/10.1016/j.neuro.2016.02.002.

Finkelman, R. B., Belkin, H. E., & Zheng, B. (1999). Health impacts of domestic coal use in China. Proceedings of the National Academy of Sciences of the United States of America,96(7), 3427–3431. https://doi.org/10.1073/pnas.96.7.3427.

Formigari, A., Irato, P., & Santon, A. (2007). Zinc, antioxidant systems and metallothionein in metal mediated-apoptosis: Biochemical and cytochemical aspects. Comparative Biochemistry and Physiology Part C: Toxicology & Pharmacology,146(4), 443–459. https://doi.org/10.1016/j.cbpc.2007.07.010.

Gaffney-Stomberg, E. (2019). The impact of trace minerals on bone metabolism. Biological Trace Element Research,188(1), 26–34.

Guo, X., Chen, X., Wang, J., Liu, Z., Gaile, D., Wu, H., et al. (2018). Multi-generational impacts of arsenic exposure on genome-wide DNA methylation and the implications for arsenic-induced skin lesions. Environment International,119, 250–263. https://doi.org/10.1016/j.envint.2018.06.024.

Hamza, R. Z., Al-Harbi, M. S., & El-Shenawy, N. S. (2017). Ameliorative effect of vitamin E and selenium against oxidative stress induced by sodium azide in liver, kidney, testis and heart of male mice. Biomedicine & Pharmacotherapy,91, 602–610. https://doi.org/10.1016/j.biopha.2017.04.122.

Huang, M., Xu, Q., & Deng, X. X. (2014). L-Ascorbic acid metabolism during fruit development in an ascorbate-rich fruit crop chestnut rose (Rosa roxburghii Tratt). Journal of Plant Physiology,171(14), 1205–1216. https://doi.org/10.1016/j.jplph.2014.03.010.

Huang, X., Yan, H., Zhai, L., Yang, Z., & Yi, Y. (2019). Characterization of the Rosa roxburghii Tratt transcriptome and analysis of MYB genes. PLoS ONE,14(3), e0203014.

Jiang, W., Liu, J., Li, P., Lu, Q., Pei, X., Sun, Y., et al. (2017). Magnesium isoglycyrrhizinate shows hepatoprotective effects in a cyclophosphamide-induced model of hepatic injury. Oncotarget,8(20), 33252–33264. https://doi.org/10.18632/oncotarget.16629.

Jones, M. R., Tellez-Plaza, M., Vaidya, D., Grau, M., Francesconi, K. A., Goessler, W., et al. (2016). estimation of inorganic arsenic exposure in populations with frequent Seafood Intake: Evidence From MESA and NHANES. American Journal of Epidemiology,184(8), 590–602. https://doi.org/10.1093/aje/kww097.

Li, D., An, D., Zhou, Y., Liu, J., & Waalkes, M. P. (2006). Current status and prevention strategy for coal-arsenic poisoning in Guizhou, China. Journal of Health, Population and Nutrition,24(3), 273–276.

Li, S. W., He, Y., Zhao, H. J., Wang, Y., Liu, J. J., Shao, Y. Z., et al. (2017). Assessment of 28 trace elements and 17 amino acid levels in muscular tissues of broiler chicken (Gallus gallus) suffering from arsenic trioxide. Ecotoxicology and Environmental Safety,144, 430–437.

Li, S., Xiao, T., & Zheng, B. (2012). Medical geology of arsenic, selenium and thallium in China. Science of the Total Environment,421–422, 31–40. https://doi.org/10.1016/j.scitotenv.2011.02.040.

Liu, W., Xu, Z., Li, H., Guo, M., Yang, T., Feng, S., et al. (2017). Protective effects of curcumin against mercury-induced hepatic injuries in rats, involvement of oxidative stress antagonism, and Nrf2-ARE pathway activation. Human and Experimental Toxicology,36(9), 949–966. https://doi.org/10.1177/0960327116677355.

Liu, J., Zheng, B., Aposhian, H. V., Zhou, Y., Chen, M. L., Zhang, A., et al. (2002). Chronic arsenic poisoning from burning high-arsenic-containing coal in Guizhou, China. Environmental Health Perspectives,110(2), 119–122.

Ma, L., Li, J., Zhan, Z., Chen, L., Li, D., Bai, Q., et al. (2016). Specific histone modification responds to arsenic-induced oxidative stress. Toxicology and Applied Pharmacology,302, 52–61. https://doi.org/10.1016/j.taap.2016.03.015.

Maciejewska, K., Drzazga, Z., & Kaszuba, M. (2014). Role of trace elements (Zn, Sr, Fe) in bone development: Energy dispersive X-ray fluorescence study of rat bone and tooth tissue. BioFactors,40(4), 425–435.

Maggini, S., Wintergerst, E. S., Beveridge, S., & Hornig, D. H. (2007). Selected vitamins and trace elements support immune function by strengthening epithelial barriers and cellular and humoral immune responses. British Journal of Nutrition,98(S1), S29–S35.

Mandal, B. K., Ogra, Y., & Suzuki, K. T. (2003). Speciation of arsenic in human nail and hair from arsenic-affected area by HPLC-inductively coupled argon plasma mass spectrometry. Toxicology and Applied Pharmacology,189(2), 73–83.

Morrell, A., Tallino, S., Yu, L., & Burkhead, J. L. (2017). The role of insufficient copper in lipid synthesis and fatty-liver disease. IUBMB Life,69(4), 263–270. https://doi.org/10.1002/iub.1613.

Naujokas, M. F., Anderson, B., Ahsan, H., Aposhian, H. V., Graziano, J. H., Thompson, C., et al. (2013). The broad scope of health effects from chronic arsenic exposure: Update on a worldwide public health problem. Environmental Health Perspectives,121(3), 295–302. https://doi.org/10.1289/ehp.1205875.

Okamoto, T. (2002). NSAID zaltoprofen improves the decrease in body weight in rodent sickness behavior models: Proposed new applications of NSAIDs (Review). International Journal of Molecular Medicine,9(4), 369–372.

Podhorska-Okolow, M., Dziegiel, P., Dolinska-Krajewska, B., Dumanska, M., Cegielski, M., Jethon, Z., et al. (2006). Expression of metallothionein in renal tubules of rats exposed to acute and endurance exercise. Folia Histochemica et Cytobiologica,44(3), 195–200.

Ponomarenko, O., La Porte, P. F., Singh, S. P., Langan, G., Fleming, D. E. B., Spallholz, J. E., et al. (2017). Selenium-mediated arsenic excretion in mammals: A synchrotron-based study of whole-body distribution and tissue-specific chemistry. Metallomics,9(11), 1585–1595. https://doi.org/10.1039/c7mt00201g.

Rodriguez-Lado, L., Sun, G., Berg, M., Zhang, Q., Xue, H., Zheng, Q., et al. (2013). Groundwater arsenic contamination throughout China. Science,341(6148), 866–868. https://doi.org/10.1126/science.1237484.

Sahin, Z., Ozkaya, A., Yilmaz, O., Yuce, A., & Gunes, M. (2017). Investigation of the role of alpha-lipoic acid on fatty acids profile, some minerals (zinc, copper, iron) and antioxidant activity against aluminum-induced oxidative stress in the liver of male rats. The Journal of Basic and Clinical Physiology and Pharmacology,28(4), 355–361. https://doi.org/10.1515/jbcpp-2015-0160.

Shen, H., Xu, W., Zhang, J., Chen, M., Martin, F. L., Xia, Y., et al. (2013). Urinary metabolic biomarkers link oxidative stress indicators associated with general arsenic exposure to male infertility in a han chinese population. Environmental Science and Technology,47(15), 8843–8851. https://doi.org/10.1021/es402025n.

Sikorska, K., Bernat, A., & Wroblewska, A. (2016). Molecular pathogenesis and clinical consequences of iron overload in liver cirrhosis. Hepatobiliary & Pancreatic Diseases International,15(5), 461–479.

Sinha, D., & Prasad, P. (2019). Health effects inflicted by chronic low-level arsenic contamination in groundwater: A global public health challenge. Journal of Applied Toxicology. https://doi.org/10.1002/jat.3823.

van der Westhuizen, F. H., van Rensburg, C. S., Rautenbach, G. S., Marnewick, J. L., du Loots, T., Huysamen, C., et al. (2008). In vitro antioxidant, antimutagenic and genoprotective activity of Rosa roxburghii fruit extract. Phytotherapy Research,22(3), 376–383. https://doi.org/10.1002/ptr.2330.

Verma, P., Sharma, A. K., Shankar, H., Sharma, A., & Rao, D. N. (2018). Role of trace elements, oxidative stress and immune system: A triad in premature ovarian failure. Biological Trace Element Research,184(2), 325–333.

Wang, D., Luo, P., Zou, Z., Wang, Q., Yao, M., Yu, C., et al. (2019). Alterations of arsenic levels in arsenicosis residents and awareness of its risk factors: A population-based 20-year follow-up study in a unique coal-borne arsenicosis County in Guizhou, China. Environment International,129, 18–27. https://doi.org/10.1016/j.envint.2019.05.005.

Wang, Y., Zhang, Z., Wang, X., Qi, D., Qu, A., & Wang, G. (2017). Amelioration of ethanol-induced hepatitis by magnesium isoglycyrrhizinate through inhibition of neutrophil cell infiltration and oxidative damage. Mediators of Inflammation,2017, 3526903. https://doi.org/10.1155/2017/3526903.

WHO (2011) Arsenic in drinking‐water. Background document for development of WHO guidelines for drinking‐water quality. (Vol. WHO reference number: WHO/SDE/WSH/03.04/75/rev1). Geneva.

Xie, G., Meng, X., Wang, F., Bao, Y., & Huo, J. (2017). Eriodictyol attenuates arsenic trioxide-induced liver injury by activation of Nrf2. Oncotarget,8(40), 68668–68674. https://doi.org/10.18632/oncotarget.19822.

Xu, F., Liu, Y., Zhao, H., Yu, K., Song, M., Zhu, Y., et al. (2017). Aluminum chloride caused liver dysfunction and mitochondrial energy metabolism disorder in rat. Journal of Inorganic Biochemistry,174, 55–62. https://doi.org/10.1016/j.jinorgbio.2017.04.016.

Xu, Y. Y., Zeng, Q. B., Yao, M. L., Yu, C., Li, J., & Zhang, A. H. (2016). A possible new mechanism and drug intervention for kidney damage due to arsenic poisoning in rats. Toxicology Research,5(2), 511–518.

Zachara, B. A. (2015). Selenium and selenium-dependent antioxidants in chronic kidney disease. Advances in Clinical Chemistry,68, 131–151. https://doi.org/10.1016/bs.acc.2014.11.006.

Zhang, A., Feng, H., Yang, G., Pan, X., Jiang, X., Huang, X., et al. (2007). Unventilated indoor coal-fired stoves in Guizhou province, China: Cellular and genetic damage in villagers exposed to arsenic in food and air. Environmental Health Perspectives,115(4), 653–658. https://doi.org/10.1289/ehp.9272.

Zofková, I., Nemcikova, P., & Matucha, P. (2013). Trace elements and bone health. Clinical Chemistry and Laboratory Medicine,51(8), 1555–1561.
Acknowledgements
This study was supported by the National Science Foundation of China (81430077, U1812403)
Ethics declarations
Conflict of interest
The authors have declared that there is no conflict of interest.
Additional information
Publisher's Note
Springer Nature remains neutral with regard to jurisdictional claims in published maps and institutional affiliations.
Electronic supplementary material
Below is the link to the electronic supplementary material.
About this article
Cite this article
Xu, Y., Yu, C., Zeng, Q. et al. Assessing the potential value of Rosa Roxburghii Tratt in arsenic-induced liver damage based on elemental imbalance and oxidative damage. Environ Geochem Health (2020). https://doi.org/10.1007/s10653-020-00612-4
Received:

Accepted:

Published:
Keywords
Rosa Roxburghii Tratt

Arsenic

Liver

Oxidative stress

Elements