Abstract
The aim of this research is to determine the design criteria of habitable spaces with microclimate data for ecological urbanization. Different types of housing in the city of Erzurum, which is in the northeast region of Turkey, were used in this study. The hourly microclimate and air pollution data from 2018 for the city center were used to analyze the relationships between different residential textures, air pollution, green area, and thermal comfort. The data of Ata Botanical Garden, where trees are dense, and the vicinity of the city center, where air pollution is most intense, are discussed. The physiological equivalent temperature (PET) and sky view factor (SVF) data were analyzed with a RayMan Pro 2.1 computer model. Spatial settlement area analyses were conducted by evaluating the SVF values in ArcGIS 10.3. The relationships between air pollution, residential textures, and SVF data were determined. A comparative analysis of existing green areas was undertaken with the pollution forecast maps. The statistical results indicated that there is a difference in the relationship between the thermal comfort and air pollution of the residential textures and the SVF value of the study area according to the seasons. A strong relationship was found in the present study between pollutants and SVF, while it is weaker for green areas. Air pollution was observed to have the lowest density in the areas where detached house types are located among the different residential textures. In addition, in the same area, street geometry is closer to its ideal form, and therefore thermal comfort is also at a higher level. As a result of this study, residential textures were found to have effects on air pollution and thermal comfort.
Access options
Buy single article
Instant access to the full article PDF.
US$ 39.95
Tax calculation will be finalised during checkout.
Subscribe to journal
Immediate online access to all issues from 2019. Subscription will auto renew annually.
US$ 79
Tax calculation will be finalised during checkout.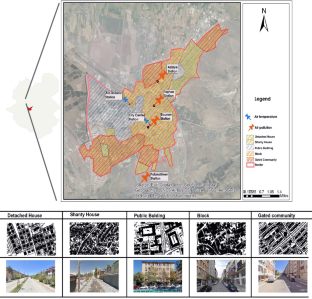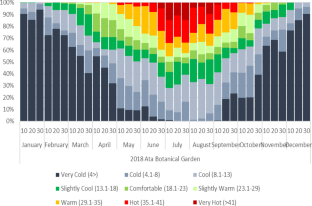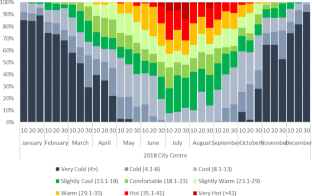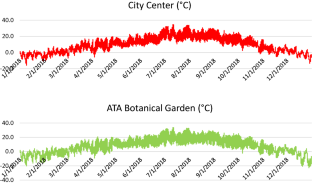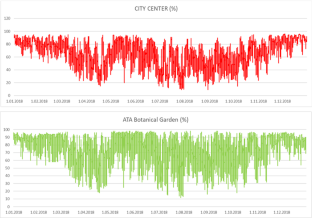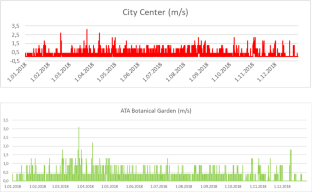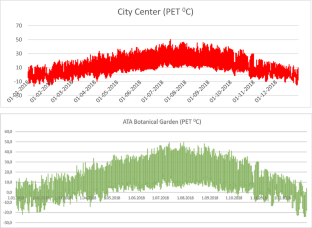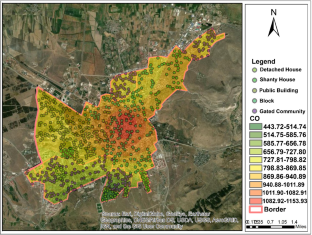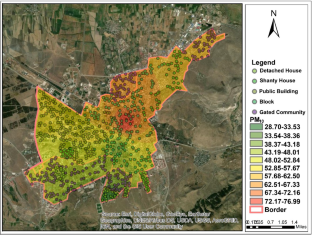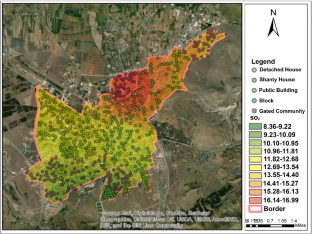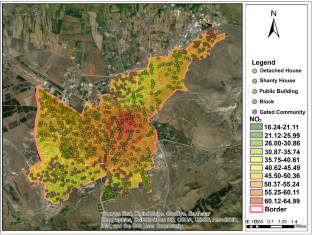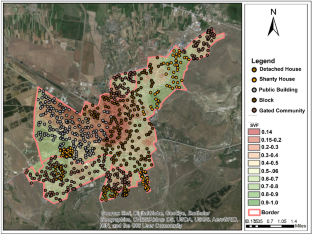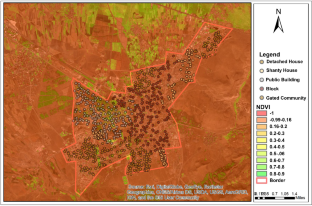 References
Abhijith KV, Kumar P, Gallagher J, McNabola A, Baldauf R, Pilla F, Broderick B, Di Sabatino S, Pulvirenti B (2017) Air pollution abatement performances of green infrastructure in open road and built-up street canyon environments—a review. Atmos Environ 162:71–86. https://doi.org/10.1016/j.atmosenv.2017.05.014

Ali-Toudert F, Mayer H (2007) Effects of asymmetry, galleries, overhanging façades and vegetation on thermal comfort in urban street canyons. Sol Energy 81:742–754. https://doi.org/10.1016/j.solener.2006.10.007

Anonymous (2018). https://earthexplorer.usgs.gov/ as of 2018.

Ben Ishak A, Moslah Z, Trabelsi A (2016) Analysis and prediction of PM10 concentration levels in Tunisia using statistical learning approaches. Environ Ecol Stat 23:469–490. https://doi.org/10.1007/s10651-016-0349-8

Bisquert M, Sanchez JM, Caselles V, Lopez-Urea R (2015) Evaluation of disaggregated thermal images for evapotranspiration estimation in Barrax test site. Remote Sens Agric Ecosyst Hydrol XVII. https://doi.org/10.1117/12.2195068

Biswas A, Hwang J, Angers J (2015) Air pollution effects on clinic visits in small areas of Taiwan revisited. Environ Ecol Stat 22:17–32. https://doi.org/10.1007/s10651-014-0289-0

Bulgan E, Yilmaz S (2017) Quantification of summer thermal bioclimate of different urban forms in Erzurum City Centre. J Inst Sci Technol 7:235–242

Buccolieri R, Sandberg M, Di Sabatino S (2010) City breathability and its link to pollutant concentration distribution within urban-like geometries. Atmos Environ 44:1894–1903. https://doi.org/10.1016/j.atmosenv.2010.02.022

Canan F, Golasi I, Ciancio V, Coppi M, Salata F (2019). Outdoor thermal comfort conditions during summer in a cold semi-arid climate. A transversal field survey in Central Anatolia (Turkey). Build Environ 148 (1):212–224

Cheung PK, Jim CY (2018) Comparing the cooling effects of a tree and a concrete shelter using PET and UTCI. Build Environ 130:49–61

Chen L, Ng E, An X, Ren C, Lee M, Wang U, He Z (2012) Sky view factor analysis of street canyons and its implications for daytime intra-urban air temperature differentials in high-rise, high-density urban areas of Hong Kong: A GIS-based simulation approach. Int J Climatol 32:121–136. https://doi.org/10.1002/joc.2243

Eeftens M, Beekhuizen J, Beelen R, Wang M, Vermeulen R, Brunekreef B, Huss A, Hoek G (2013) Quantifying urban street configuration for improvements in air pollution models. Atmos Environ 72:1–9. https://doi.org/10.1016/j.atmosenv.2013.02.007

Fu X, Liu J, Ban-Weiss GA, Zhang J, Huang X, Ouyang B, Popoola O, Tao S (2017) Effects of canyon geometry on the distribution of traffic-related air pollution in a large urban area: Implications of a multi-canyon air pollution dispersion model. Atmos Environ 165:111–121. https://doi.org/10.1016/j.atmosenv.2017.06.031

Gong F, Zeng Z, Zhang F, Li X, Ng E (2018) Mapping sky, tree, and building view factors of street canyons in a high-density urban environment. Build Environ 134:155–167. https://doi.org/10.1016/j.buildenv.2018.02.042

Gromke C, Blocken B (2015) Influence of avenue-trees on air quality at the urban neighborhood scale. Part II: Traffic pollutant concentrations at pedestrian level. Environ Pollut 196:176–184. https://doi.org/10.1016/j.envpol.2014.10.015

Hami A, Abdi B, Zarehaghi D, Bin S (2019) Assessing the thermal comfort e ff ects of green spaces: a systematic review of methods, parameters, and plants' attributes. Sustain Cities Soc 49:101634. https://doi.org/10.1016/j.scs.2019.101634

Höppe PR (1993) Heat balance modelling. Experientia 49(9):741–746

Jamei E, Rajagopalan P (2019) Effect of street design on pedestrian thermal comfort. Archit Sci Rev 62(2):92–111. https://doi.org/10.1080/00038628.2018.1537236

Jarihani AA, Callow JN, McVicar TR, Van Niel TG, Larsen JR (2015) Satellite-derived Digital Elevation Model (DEM) selection, preparation and correction for hydrodynamic modelling in large, low-gradient and data-sparse catchments. J Hydrol 524:489–506. https://doi.org/10.1016/j.jhydrol.2015.02.049

Javanroodi K, Nik VM (2020) Interactions between extreme climate and urban morphology: Investigating the evolution of extreme wind speeds from mesoscale to microscale. Urban Clim 31(100544):1–24. https://doi.org/10.1016/j.uclim.2019.100544

Kántor N, Unger J (2011) Benefits and opportunities of adopting GIS in thermal comfort studies in resting places: an urban park as an example. Landsc Urban Plan 98(1):36–46. https://doi.org/10.1016/j.landurbplan.2010.07.008

Köppen W (1918) Klassifikation der Klimate nach Temperatur, Niederschlag und Jahresablauf (Classification of climates according to temperature, precipitation and seasonal cycle). Petermanns Geogr Mitt 64:193–203

Köppen W, Geiger R (1954) Klima der erde (Climate of the earth). Wall Map 1,16 Mill. Klett-Perthes, Gotha

Li C, Wang Z, Li B, Peng ZR, Fu Q (2019) Investigating the relationship between air pollution variation and urban form. Build Environ 147:559–568

Lindström J, Szpiro AA, Sampson PD et al (2014) A flexible spatio-temporal model for air pollution with spatial and spatio-temporal covariates. Environ Ecol Stat 21:411–433. https://doi.org/10.1007/s10651-013-0261-4

Ma X, Wang M, Zhao J, Zhang L, Liu W (2020) Performance of different urban design parameters in improving outdoor thermal comfort and health in a pedestrianized zone. Int J Environ Res Public Health 17(2258):2–19. https://doi.org/10.3390/ijerph17072258

Martinelli L, Matzarakis A (2017) Influence of height/width proportions on the thermal comfort of courtyard typology for Italian climate zones. Sustain Cities Soc 29:97–106. https://doi.org/10.1016/j.scs.2016.12.004

Matzarakis A, Mayer H, Iziomon MG (1999) Applications of a universal thermal index: physiological equivalent temperature. Int J Biometeorol 43(2):76–84. https://doi.org/10.1007/s004840050119

Matzarakis A, Rutz F, Mayer H (2007) Modelling radiation fluxes in simple and complex environments-application of the RayMan model. Int J Biometeorol 51(4):323–334. https://doi.org/10.1007/s00484-006-0061-8

Matzarakis A, Rutz F, Mayer H (2010) Modelling radiation fluxes in simple and complex environments: basics of the RayMan model. Int J Biometeorol 54(2):131–139. https://doi.org/10.1007/s00484-009-0261-0

MGM (2018) Turkish State Meteorological Service (MGM) shared their data. https://www.mgm.gov.tr/

MoEU (2018) Republic of Turkey, Ministrty of Environment and Urbanisation (CSB). http://mobil.air.gov.tr/Default.ltr.aspx. http://www.who.int/topics/air_pollution/en.

Miao C, Yu S, Hu Y, Bu R, Qi L, He X (2020) How the morphology of urban street canyons affects suspended particulate matter concentration at the pedestrian level: an in-situ investigation. Sustain Cities Soc 55:1–7

Mutlu E, Yilmaz S, Yilmaz H, Mutlu BE (2018) Analysis of urban settlement unit by envi-met according to different aspects in cold regions. İn: 6th annual international Conference on Architecture and Civil Engineering (ACE 2018), oral presentation, 14–15 May 2018, Singapore

Nosek Š, Fuka V, Kukačka L, Kluková Z, Jaňour Z (2018) Street-canyon pollution with respect to urban-array complexity: The role of lateral and mean pollution fluxes. Build Environ 138:221–234. https://doi.org/10.1016/j.buildenv.2018.04.036

Oke TR (1988) Street design and urban canopy layer climate. Energy Build 11:103–113. https://doi.org/10.1016/0378-7788(88)90026-6

Pollice A, Jona Lasinio G (2012) Major PM10 source location by a spatial multivariate receptor model. Environ Ecol Stat 19:57–72. https://doi.org/10.1007/s10651-011-0173-0

Potchter O, Cohen P, Lin TP, Matzarakis A (2018) Outdoor human thermal perception in various climates: a comprehensive review of approaches, methods and quantification. Sci Total Environ 631:390–406. https://doi.org/10.1016/j.scitotenv.2018.02.276

Ryswyk KV, Prince N, Ahmed M, Brisson E, Miller JD, Villeneuve PJ (2019) Does urban vegetation reduce temperature and air pollution concentrations? Findings from an environmental monitoring study of the Central Experimental Farm in Ottawa, Canada. Atmos Environ 218:116886. https://doi.org/10.1016/j.atmosenv.2019.116886

Sader SA, Winne JC (1992) RGB-NDVI colour composites for visualizing forest change Dynamics. Int J Remote Sens 13(16):3055–3067. https://doi.org/10.1080/01431169208904102

Sari EN (2019) Analysis of the relationship between air pollution and housing pattern: example of Erzurum. Ataturk University, Master thesis, Erzurum, p 172

Shi Y, Xie X, Fung JCH, Ng E (2018) Identifying critical building morphological design factors of street-level air pollution dispersion in high-density built environment using mobile monitoring. Build Environ 128:248–259. https://doi.org/10.1016/j.buildenv.2017.11.043

Shishegar N (2013) Street design and urban microclimate: analyzing the effects of street geometry and orientation on airflow and solar access in urban Canyons". J Clean Energy Technol 1(1):52–56. https://doi.org/10.7763/JOCET.2013.V1.13

Silva LT, Monteiro JP (2016) The influence of urban form on environmental quality within a medium-sized city. Procedia Eng 161:2046–2052

Taleghani M, Tenpierik A, van den Dobbelsteen A (2014) Energy performance and thermal comfort of courtyard/atrium dwellings in the Netherlands in the light of climate change. Renew Energy 63:486–497. https://doi.org/10.1016/j.renene.2013.09.028

Toy S, Yilmaz S, Yilmaz H (2007) Determination of bioclimatic comfort in three different land uses in the city of Erzurum, Turkey. Build Environ 42(3):1315–1318. https://doi.org/10.1016/j.buildenv.2005.10.031

Toy S, Yilmaz S (2010) Evaluation of 10-year temperature differences between urban and rural ares of a well-planned, unindustrialised and medium- size Turkish town, Erzincan. J Urban Plan Dev ASCE 136(4):349–356

UN (2018) World Population Prospects 2017, Unated Nations DESA/Population Division. https://www.un.org/development/desa/en/news/population/2018-revision-of-world-urbanization-prospects.html

Unger J (1999) Comparisons of urban and rural bioclimatological conditions in the case of a Central-European city. Int J Biometeorol 43(3):139–144

Wang M, Madden M, Liu X (2017) Exploring the relationship between urban forms and CO2 emissions in 104 Chinese Cities. J Urban Plan Dev. https://doi.org/10.1061/(ASCE)UP.1943-5444.0000400

Wania A, Bruse M, Blond N, Weber C (2012) Analysing the influence of different street vegetation on traffic-induced particle dispersion using microscale simulations. J Environ Manag 94:91–101. https://doi.org/10.1016/j.jenvman.2011.06.036

Wu C, Chen Y, Pan W, Zeng Y, Chen M, Leon Y, Lung SC (2017) Land-use regression with long-term satellite-based greenness index and culture-speci fi c sources to model PM 2.5 spatial-temporal. Environ Pollut 224:148–157. https://doi.org/10.1016/j.envpol.2017.01.074

Xu M, Hong B, Mi J, Yan S (2018) Outdoor thermal comfort in an urban park during winter in cold regions of China. Sustain Cities Soc 43:208–220. https://doi.org/10.1016/j.scs.2018.08.034

Yang F, Qian F, Lau SS (2013) Urban form and density as indicators for summertime outdoor ventilation potential: a case study on high-rise housing in Shanghai. Build Environ 70:122–137. https://doi.org/10.1016/j.buildenv.2013.08.019

Yavaş M, Yilmaz S (2020) Climate sensitive urban design principles: the case of Erzurum City. J Plan 30(2):294–312. https://doi.org/10.14744/planlama.2020.04934

Yilmaz H, Yilmaz S, Yavaş M, Mutlu E, Koç A (2016). Climate-sensitive Pavement Modelling for Pedestrian Ways. In: 4th International Conference on Countermeasures to Urban Heat Island (UHI) 2016. Procedia Engineering, vol 169, pp 408–415

Yilmaz S, Mutlu E, Yilmaz H (2018a) Alternative scenarios for ecological urbanizations using envi-met model. Environ Sci Pollut Res 25(26):26307–26321

Yilmaz S, Yilmaz H, Irmak MA, Kuzulugil AC, Koç A (2018) Effects of urban Pinus sylvestris (L.) plantation sites on thermal comfort. Acta Hortic 1215:39–44. https://doi.org/10.17660/ActaHortic.2018.1215.6

Yuan M, Huang Y, Shen H, Li T (2018) Effects of urban form on haze pollution in China: Spatial regression analysis based on PM2.5 remote sensing data. Appl Geogr 98:215–223. https://doi.org/10.1016/j.apgeog.2018.07.018

Zhang X, Zhong T, Wang K, Cheng Z (2009) Scaling of impervious surface area and vegetation as indicators to urban land surface temperature using satellite data. Int J Remote Sens 30(4):841–859

Zhou W, Yang W, Wan W et al (2018) The influences of industrial gross domestic product, urbanization rate, environmental investment, and coal consumption on industrial air pollutant emission in China. Environ Ecol Stat 25:429–442. https://doi.org/10.1007/s10651-018-0412-8
Acknowledgments
This work was orally presented at the "ICEEE'2020 International Conference on Economics, Energy and Environment, Türkiye, 25- 27 Haziran 2020". Authors present their special thanks to "Scientific and Technological Research Council of Turkey, TÜBİTAK under Project No: 215O627" and Turkish State Meteorological Service (DMI) for sharing their data free of charge. We would also like to thank the Ministry of Environment and Urbanism, General Directorate of Environmental Management, Laboratory, Measurement and Monitoring Department, Clean Air Center (CAC) "Air Quality Preliminary Studies" for helping us with the pollution data of the city of Erzurum, which we needed in the early stages of the project, and for sharing their valuable measurement results with us. The authors expressed their special thanks to a part of Elif Nur Sari's Master's thesis.
Additional information
Handling Editor: Luiz Duczmal.
About this article
Cite this article
Yilmaz, S., Sezen, I. & Sari, E.N. The relationships between ecological urbanization, green areas, and air pollution in Erzurum/Turkey. Environ Ecol Stat (2021). https://doi.org/10.1007/s10651-021-00484-6
Received:

Revised:

Accepted:

Published:
Keywords
Air pollution

Ecological urbanization

Green areas

Sky view factor

Thermal comfort