Abstract
The co-application of exogenous 100 µM melatonin (MT) and 100 µM salicylic acid (SA) on 21-day-old safflower seedlings grown in the presence of cadmium (Cd, 100 µM) toxicity was investigated. The application of MT, SA, or MT + SA efficiently improved toxicity symptoms and declined Cd toxicity as shown by a considerable rise in plant biomass production and chlorophyll content accompanied by decreased level of oxidative stress markers. In Cd stressed plants, the simultaneous application of MT and SA led to sharp decreases in MDA and H2O2 amounts (61.04 and 49.11%, respectively), related to plants treated with Cd alone. With respect to the control, a 41 and 48% increment in reduced glutathione (GSH) and ascorbate (ASC) content was recorded in Cd-treated seedlings. Though, with the addition of MT, SA, or MT + SA, the content of GSH and ASC increased more. The application of MT, SA, or MT + SA caused a sharp induction in phytochelatin content of the leaves of Cd-treated seedlings, while in roots, the highest PC content was recorded only in the presence of MT, which was about 1.8-fold greater than in plant treated with Cd alone. The activity of enzymes responsible for the ascorbate-glutathione cycle and glyoxalase system considerably improved by using MT, SA, or the combination of MT and SA. Our findings suggest a possible synergic interaction between MT and SA in tolerating Cd toxicity by reducing Cd uptake, improving chlorophyll biosynthesis and accelerating ascorbate-glutathione cycle as well as the modulation of glyoxalase system.
Access options
Buy single article
Instant access to the full article PDF.
US$ 39.95
Tax calculation will be finalised during checkout.
Subscribe to journal
Immediate online access to all issues from 2019. Subscription will auto renew annually.
US$ 79
Tax calculation will be finalised during checkout.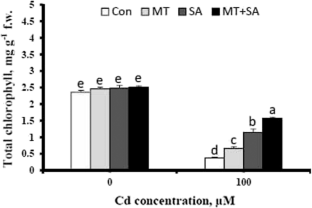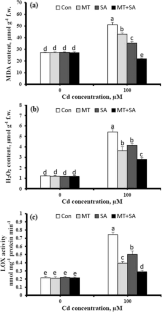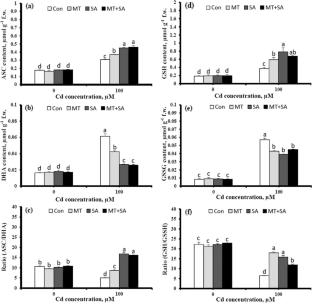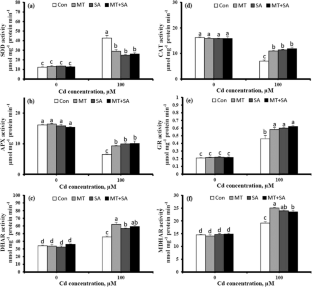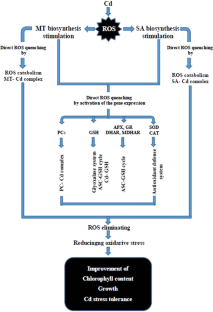 References
Abid M, Danish S, Zafar-ul-Hye M, Shaaban M, Iqbal MM, Rehim A, Qayyum MF, Naqqash MN (2017) Biochar increased photosynthetic and accessory pigments in tomato (Solanum lycopersicum L.) plants by reducing cadmium concentration under various irrigation waters. Environ Sci Pollut Res 4(27):22111–22118

Aebi H (1984) Catalase in vitro. Method Enzymol 105:121–126

Afzal J, Hu C, Imtiaz M, Elyamine AM, Rana MS, Imran M, Farag MA (2019) Cadmium tolerance in rice cultivars associated with antioxidant enzymes activities and Fe/Zn concentrations. Int J Environ Sci Technol 16:4241–4252

Ahmad P, Ahanger MA, Alyemeni MN, Wijaya L, Alam P (2018) Exogenous application of nitric oxide modulates osmolyte metabolism, antioxidants, enzymes of ascorbate-glutathione cycle and promotes growth under cadmium stress in tomato. Protoplasma 255:79–93

Al Mahmud J, Hasanuzzaman M, Nahar K, Rahman A, Hossain MS, Fujita M (2017) Maleic acid assisted improvement of metal chelation and antioxidant metabolism confers chromium tolerance in Brassica juncea L. Ecotoxicol Environ Saf 144:216–226

Anderson ME (1985) Determination of glutathione and glutathione disulfide in biological samples. Methods Enzymol 113:548–554

Angelova VR, Perifanova-Nemska MN, Uzunova GP, Kolentsova EN (2016) Accumulation of heavy metals in safflower (Carthamus tinctorius L.). Int J Biol Biomol Agric Food Biotechnol Eng 10(7):410–415

Arnon DI, Hogland DR (1940) Crop production in artificial solutions and in soils with special references to factors influencing yields and absorption of inorganic nutrients. Soil Sci 50:463–484

Banerjee A, Samanta S, Roychoudhury A (2020) Spermine ameliorates prolonged fluoride toxicity in soil-grown rice seedlings by activating the antioxidant machinery and glyoxalase system. Ecotoxicol Environ Saf 189:109737. https://doi.org/10.1016/J.ecoenv.2019.109737

Bankaji I, Caçador I, Sleimi N (2015) Physiological and biochemical responses of Suaeda fruticosa to cadmium and copper stresses: growth, nutrient uptake, antioxidant enzymes, phytochelatin, and glutathione levels. Environ Sci Pollut Res 22:13058–13069

Batista BL, Nigar M, Mestrot A, Rocha BA, Júnior FB, Price AH, Raab A, Feldmann J (2014) Identification and quantification of phytochelatins in roots of rice to long-term exposure: evidence of individual role on arsenic accumulation and translocation. J Exp Bot 65:1467–1479

Beauchamp C, Fridovich I (1971) Superoxide dismutase: improved assays and an assay applicable to acrylamide gels. Anal Biochem 44:276–287

Bellini E, Maresca V, Betti C, Castiglione MR, Fontanini D, Capocchi A, Sorce C, Borsò M, Bruno L, Sorbo S, Basile A (2020) The moss leptodictyum riparium counteracts severe cadmium stress by activation of glutathione transferase and phytochelatin synthase, but slightly by phytochelatins. Int J Mol Sci 21(5):1583

Bradford MM (1976) A rapid sensitive method for the quantification of microgram quantities of protein utilizing the principle of protein-dye binding. Anal Biochem 72:248–254

Cui G, Zhao X, Liu S, Sun F, Zhang C, Xi Y (2017) Beneficial effects of melatonin in overcoming drought stress in wheat seedlings. Plant Physiol Biochem 118:138–149

Degola F, De Benedictis M, Petraglia A, Massimi A, Fattorini L, Sorbo S, Basile A, Sanità di Toppi L (2014) A Cd/Fe/Zn-responsive phytochelatin synthase is constitutively present in the ancient liverwort Lunularia cruciata (L.) dumort. Plant Cell Physiol 55(11):1884–1891

Doderer A, Kokkelink I, van der Veen S, Valk BE, Schram A, Douma AC (1992) Purification and characterization of two lipoxygenase isoenzymes from germinating barley Protein Structure and Molecular Enzymology 1120(1):97–104

Doulis AG, Debian N, Kingston-Smith AH, Foyer CH (1997) Differential localization of antioxidants in maize. Plant Physiol 114:1031–1037

Gill SS, Tuteja N (2010) Reactive oxygen species and antioxidant machinery in abiotic stress tolerance in crop plants. Plant Physiol Biochem 48:909–930

Goodarzi A, Namdjoyan S, Soorki AA (2020) Effects of exogenous melatonin and glutathione on zinc toxicity in safflower (Carthamus tinctorius L.) seedlings. Ecotoxicol Environ Saf 201:110853

Guo JK, Zhou R, Ren XH, Jia HL, Hua L, Xu HH, Lv X, Zhao J, Wei T (2018) Effects of salicylic acid, epi-brassinolide and calcium on stress alleviation and Cd accumulation in tomato plants. Plant stress responses. Agronomy 157:491–496

Hasan MK, Ahammed GJ, Yin L, Shi K, Xia X, Zhou Y, Yu J, Zhou J (2015) Melatonin mitigates cadmium phytotoxicity through modulation of phytochelatins biosynthesis, vacuolar sequestration, and antioxidant potential in Solanum lycopersicum L. Front Plant Sci 6:601

Hasanuzzaman M, Fujita M (2013) Exogenous sodium nitroprusside alleviates arsenic-induced oxidative stress in wheat (Triticum aestivum L.) seedlings by enhancing antioxidant defense and glyoxalase system. Ecotoxicol 22:584–596

Hasanuzzaman M, Hossain MA, Fujita M (2011) Selenium-induced up-regulation of the antioxidant defense and methylglyoxal detoxification system reduces salinity-induced damage in rapeseed seedlings Biol Trace Elem Res 143:1704–1721

Hasanuzzaman M, Matin MA, Fardus J, Hasanuzzaman MD, Hossain MS, Parvin K (2019) Foliar application of salicylic acid improves growth and yield attributes by upregulating the antioxidant defense system in Brassica campestris plants grown in lead-amended soils. Acta Agrobot 72(2):1765. https://doi.org/10.5586/aa.1765

Hasanuzzaman M, Nahar K, Rahman A, Mahmud JA, Alharby HF, Fujita M (2018) Exogenous glutathione attenuates lead-induced oxidative stress in wheat by improving antioxidant defense and physiological mechanisms. J Plant Interact 13(1): 203–212.

Heath RL, Packer L (1968) Photoperoxidation in isolated chloroplasts. I. Kinetics and stoichiometry of fatty acid peroxidation. Arch Biochem Biophys 125:189–198

Hernández-Ruiz J, Arnao MB (2018) Relationship of melatonin and salicylic acid in biotic/abiotic plant stress responses. Agronomy 8(4):33. https://doi.org/10.3390/agronomy8040033

Haydari M, Maresca V, Rigano D, Taleei A, Shahnejat-Bushehri AA, Hadian J, Sorbo S, Guida M, Manna C, Piscopo M, Notariale R (2019) Salicylic acid and melatonin alleviate the effects of heat stress on essential oil composition and antioxidant enzyme activity in mentha×piperita and mentha arvensis L. Antioxidants 8(11):547

Hodges DM, Andrews CJ, Johnson DA, Hamilton RI (1996) Antioxidant compound responses to chilling stress in differentially sensitive inbred maize lines. Physiol Plant 98:685–692

Hossain MA, Fujita M (2010) Evidence for a role of exogenous glycinebetaine and proline in antioxidant defense and methylglyoxal detoxification systems in mung bean seedlings under salt stress. Physiol Mol Biol Plants 16:19–29

Hossain MZ, Hossain MD, Fujita M (2006) Induction of pumpkin glutathione S-transferase by different stresses and its possible mechanisms. Biol Plantarum 50:210–218

Hossain MA, Nakano Y, Asada K (1984) Monodehydroascorbate reductase in spinach chloroplasts and its participation in regeneration of ascorbate for scavenging hydrogen peroxide. Plant Cell Physiol 25:385–395

Huang Y, Zhu Z, Wu X, Liu Z, Zou J, Chen Y, Su N, Cui J (2019) Lower cadmium accumulation and higher antioxidative capacity in edible parts of Brassica campestris L. seedlings applied with glutathione under cadmium toxicity. Environ Sci Poll Res 26(13):13235–13245

Kaya C, Okant M, Ugurlar F, Alyemeni MN, Ashraf M, Ahmad P (2019) Melatonin-mediated nitric oxide improves tolerance to cadmium toxicity by reducing oxidative stress in wheat plants. Chemosphere 225:627–638

Khunpon B, Chaum S, Faiyue B, Uthaibutra J, Saengnil K (2018). Paclobutrazol mitigates salt stress in indica rice seedlings by enhancing glutathione metabolism and glyoxalase system. Biologia https://doi.org/10.2478/s11756-018-0132-4.

Kuhnlenz T, Hofmann C, Uraguchi S, Schmidt H, Schempp S, Weber M, Lahner B, Salt DE, Clemens S (2016) Phytochelatin synthesis promotes leaf Zn accumulation of Arabidopsis thaliana plants grown in soil with adequate Zn supply and is essential for survival on Zn-Contaminated soil. Plant Cell Physiol 57:2342–2352

Li Q, Wang G, Wang Y, Yang D, Guan C, Jia J (2019) Foliar application of salicylic acid alleviate the cadmium toxicity by modulation the reactive oxygen species in potato. Ecotoxicol Environ Saf 172:317–325

Li ZG, Xu Y, Bai LK, Zhang SY, Wang Y (2018). Melatonin enhances thermotolerance of maize seedlings (Zea mays L.) by modulating antioxidant defense, methylglyoxal detoxification, and osmoregulation systems. Protoplasma https://doi.org/10.1007/s00709-018-1311-4

Lichtenthaler HK (1987) Chlorophylls and carotenoids: pigments of photosynthetic biomembranes. Method Enzymol 148:350–382

Maresca V, Sorbo S, Loppi S, Funaro F, Del Prete D, Basile A (2020) Biological effects from environmental pollution by toxic metals in the "land of fires" (Italy) assessed using the biomonitor species Lunularia cruciata L. (Dum). Environ Poll 265:115000

Metwally A, Finkemeier I, Georgi M, Dietz KJ (2003) Salicylic acid alleviates the cadmium toxicity in barley seedlings. Plant Physiol 132(1):272–281

Mishra S, Jha AB, Dubey RS (2011) Arsenite treatment induces oxidative stress, upregulates antioxidant system, and causes phytochelatin synthesis in rice seedlings. Protoplasma 248:565–577

Mishra S, Srivastava S, Tripathi RD, Govindarajan R, Kuriakose SV, Prasad MNV (2006) Phytochelatin synthesis and response of antioxidants during cadmium stress in Bacopa monnieri L. Plant Physiol Biochem 44(1):25–37

Molina AS, Nievas C, Chaca MVP, Garibotto F, Gonzalez U, Marsa SM, Luna C, Gimenez MS, Zirulnik F (2008) Cadmium-induced oxidative damage and antioxidative defense mechanisms in Vigna mungo L. Plant Growth Regul 56:285–295

Mostofa MG, Fujita M (2013) Salicylic acid alleviates copper toxicity in rice (Oryza sativa L.) seedlings by up-regulating antioxidative and glyoxalase systems. Ecotoxicology 22(6):959–973

Mostofa MG, Seraj IS, Fujita M (2014) Exogenous sodium nitroprusside and glutathione alleviate copper toxicity by reducing copper uptake and oxidative damage in rice (Oryza sativa L.) seedlings. Protoplasma 251:1373–1386

Nabaei M, Amooaghaie R (2020) Melatonin and nitric oxide enhance cadmium tolerance and phytoremediation efficiency in Catharanthus roseus (L.) G. Don. Environ Sci Pollut Res 27:6981–6994

Nahar K, Hasanuzzaman M, Alam MM, Rahman A, Suzuki T, Fujita M (2016) Polyamine and nitricoxide crosstalk: antagonistic effects on cadmium toxicity in mung bean plants through upregulating the metal detoxification, antioxidant defense and methylglyoxal detoxification systems. Ecotoxicol Environ Saf 126:245–255

Nakano Y, Asada K (1987) Purification of ascorbate peroxidase in spinach chloroplasts; its inactivation in ascorbate-depleted medium and reactivation by monodehydroascorbate radical. Plant Cell Physiol 28(1):131–140

Namdjoyan SH, Abolhasani Soorki A, Elyasi N, Kazemi N, Simaei M (2020) Melatonin alleviates lead-induced oxidative damage in safflower (Carthamus tinctorius L.) seedlings Ecotoxicol 29:108–118

Namdjoyan S, Kermanian H, Soorki AA, Tabatabaei SM, Elyasi N (2017) Interactive effects of salicylic acid and nitric oxide in alleviating zinc toxicity of Safflower (Carthamus tinctorius L.). Ecotoxicology 26:752–761

Namdjoyan SH, Khavari-Nejad RA, Bernard F, Nejad-Sattari T, Shaker H (2011) Antioxidant defense mechanisms in response to cadmium treatments in two safflower cultivars. Russ J Plant Physiol 58:403–413

Nawaz MA, Huang Y, Bie Z, Ahmed W, Reiter RJ, Niu M, Hameed S (2016) Melatonin: current status and future perspectives in plant science. Front Plant Sci 6:1230

Ni J, Wang Q, Shah FA, Liu W, Wang D, Huang S, Fu S, Wu L (2018) Exogenous melatonin confers cadmium tolerance by counterbalancing the hydrogen peroxide homeostasis in wheat seedlings Molecules 23(4):799

Principato GB, Rosi G, Talesa V, Giovanni E, Uotila L (1987) Purification and characterization of two forms of glyoxalase II from the liver and brain of Wistar rats. Biochem Biophys Acta 911:349–355

Pereira AS, Dorneles AOS, Bernardy K, Sasso VM, Bernardy D, Possebom G, Rossato LV, Dressler VL, Tabaldi LA (2018) Selenium and silicon reduce cadmium uptake and mitigate cadmium toxicity in Pfaffia glomerata (Spreng.) Pedersen plants by activation antioxidant enzyme system. Environ Sci Pollut Res 25(19):18548–18558

Sarafi E, Tsouvaltzis P, Chatzissavvidis C, Siomos A, Therios I (2017) Melatonin and resveratrol reverse the toxic effect of high boron (B) and modulate biochemical parameters in pepper plants (Capsicum annuum L.). Plant Physiol Biochem 112:173–82

Sanita di Toppi L, Gabbrielli R (1999) Response to cadmium in higher plants. Environ Exp Bot 41:105–130

Sharma A, Shahzad B, Kumar V, Kohli SK, Sidhu GPS, Bali AS, Kapoor D, Bhardwaj R, Zheng B (2019a) Phytohormones regulate accumulation of osmolytes under abiotic stress. Biomolecules 9(7):285

Sharma A, Shahzad B, Rehman A, Bhardwaj R, Landi B, Zheng B (2019b) Response of phenylpropnoid pathway and the role of polyphenols in plants under abiotic stress. Biomolecules 24(13):2452

Siddiqui MH, Alamri S, Alsubaie QD, Ali HM (2020) Melatonin and gibberellic acid promote growth and chlorophyll biosynthesis by regulating antioxidant and methylglyoxal detoxification system in tomato seedlings under salinity. Plant Growth Regul https://doi.org/10.1007/s00344-020-10122-3

Sun S, Zhou X, Cui X, Liu C, Fan Y, McBride MB, Li Y, Li Z, Zhuang P (2020) Exogenous plant growth regulators improved phytoextraction efficiency by Amaranths hypochondriacus L. in cadmium contaminated soil. Plant Growth Regul 90(1):29–40

Szalai G, Krantev A, Yordanova R, Popova LP, Janda T (2013) Influence of salicylic acid on phytochelatin synthesis in Zea mays during Cd stress. Turk J Bot 37:708–714

Velikova V, Yordanov I, Edreva A (2000) Oxidative stress and some antioxidant systems in acid rain-treated bean plants: protective role of exogenous polyamines. Plant Sci 151(1):59–66

Wang Q, Liang X, Dong Y, Xu L, Zhang X, Kong J, Liu S (2013) Effects of exogenous salicylic acid and nitric oxide on physiological characteristics of perennial ryegrass under cadmium stress. Plant Growth Regul 32:721–731

Wang Y, Wang Y, Li GZ, Hao L (2019) Salicylic acid-altering Arabidopsis plant response to cadmium exposure: underlying mechanisms affecting antioxidation and photosynthesis-related processes. Ecotoxicol Environ Saf 169(2019):645–653

Zhang N, Sun Q, Zhang H, Cao Y, Weeda S, Ren S, Guo YD (2015) Roles of melatonin in abiotic stress resistance in plants. J Exp Bot 66(3):647–656

Zhou J, Jiang Z, Ma J, Yang L, Wei Y (2017) The effects of lead stress on photosynthetic function and chloroplast ultrastructure of Robinia pseudoacacia seedlings. Environ Sci Pollut Res 24(11):10718–10726

Zhou C, Liu Z, Zhu Lin, Ma Z, Wang J, Zhu J (2016) Exogenous melatonin improves plant iron deficiency tolerance via increased accumulation of polyamine-mediated nitric oxide. Int J Mol Sci 17(11):1777. https://doi.org/10.3390/ijms17111777

Zaid A, Mohammad F, Wani SH, Siddique KMH (2019) Salicylic acid enhances nickel stress tolerance by up-regulating antioxidant defense and glyoxalase systems in mustard plants. Ecotoxicol Environ Saf 180:575–587
Acknowledgements
This work was supported by the funding of Research Council of the Shahr-e-Qods Branch of Islamic Azad University. Special acknowledgments are given to the editors and reviewers.
Author contributions
ZA design of the work, and interpretation of data and writing of the manuscript. SHN acquisition, analysis, and interpretation of data for the work. AAS acquisition, analysis, and interpretation of data for the work.
Ethics declarations
Conflict of interest
The authors declare no competing interests.
Ethical approval
This article does not contain any studies with animal.
Informed consent
Informed consent was obtained from all individual participants included in the study.
Additional information
Publisher's note Springer Nature remains neutral with regard to jurisdictional claims in published maps and institutional affiliations.
About this article
Cite this article
Amjadi, Z., Namdjoyan, S. & Abolhasani Soorki, A. Exogenous melatonin and salicylic acid alleviates cadmium toxicity in safflower (Carthamus tinctorius L.) seedlings. Ecotoxicology (2021). https://doi.org/10.1007/s10646-021-02364-y
Keywords
Antioxidant system

Cadmium

Carthamus tinctorius L.

Melatonin

Salicylic acid