Abstract
As apex predators, blacktip sharks (Carcharhinus limbatus) are highly susceptible to biomagnified mercury (Hg) particularly in the Gulf of Mexico (GOM), which is known to contain fishes and invertebrates with elevated Hg levels. Blacktip sharks occur in the GOM year-round and are heavily fished both commercially and recreationally, but little is known about how Hg affects the species. In this study, blood, muscle, liver, and kidney samples were collected from neonatal (n = 57) and juvenile (n = 13) blacktip sharks in Charlotte Harbor, Florida. Hg concentrations in neonates and juveniles were found to be elevated in muscle (mean ± SE = 0.59 ± 0.23 mg kg−1), liver (0.39 ± 0.29 mg kg−1), kidney (0.56 ± 0.25 mg kg−1), and blood (0.059 ± 0.041 mg kg−1) compared to other local shark species and conspecifics from other areas. Blood plasma chemistry, hematology, and liver histology were evaluated to assess the relationship between Hg and tissue damage. Plasma chemistry parameters alanine aminotransferase (ALT) and phosphorus (PHOS) were not correlated with tissue Hg or liver condition index. Hematological effects were also not correlated with tissue Hg. However, melanomacrophage presence and lipid deposition, evaluated as part of histopathological analysis, were found to exhibit a statistically significant association with concentrations of Hg in tissue and ALT levels. These results suggest that Hg exposure potentially had a negative effect on the livers of the blacktip sharks evaluated in the present study.
Access options
Buy single article
Instant access to the full article PDF.
US$ 39.95
Tax calculation will be finalised during checkout.
Subscribe to journal
Immediate online access to all issues from 2019. Subscription will auto renew annually.
US$ 79
Tax calculation will be finalised during checkout.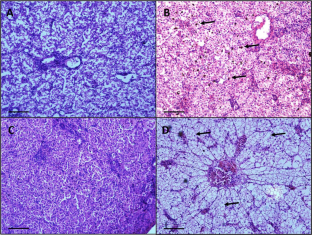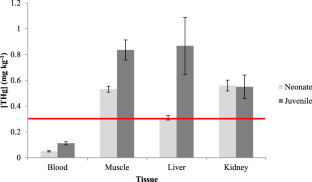 Data availability
The raw data is available upon request. No plants, plant materials, or cell lines were used in this study—so plant reproducibility is not applicable.
References
Abaxis (2015) VetScan® Comprehensive Diagnostic Profile. pp. 1–14. https://www.abaxis.com/sites/default/files/resource-packages/500-7123%20Rev%20E%20Comp%20Diag%20Prof%20PI.pdf

Adams DH, McMichael RH (1999) Mercury levels in four species of sharks from the Atlantic coast of Florida. Fish Bull 97:372–379

Adams DH, McMichael RH Jr, Henderson GE (2003) Mercury levels in marine and estuarine fishes of Florida 1989–2001. Wildl Conserv 57. https://doi.org/10.1016/j.neuropharm.2006.03.002

Adams DH, Sonne C (2013) Mercury and histopathology of the vulnerable goliath grouper, Epinephelus itajara, in U.S. waters: A multi-tissue approach. Environ Res 126:254–263. https://doi.org/10.1016/j.envres.2013.05.010

Adams DH, Sonne C, Basu N, et al. (2010) Mercury contamination in spotted seatrout, Cynoscion nebulosus: an assessment of liver, kidney, blood, and nervous system health. Sci Total Environ 408:5808–5816. https://doi.org/10.1016/j.scitotenv.2010.08.019

Aly S, Zaki M, El-genaidy H (2003) Pathological, biochemical, haematological and hormonal changes in catfish (Clarias gariepinus) exposed to lead pollution. J Egypt Vet Med Assoc 63:331–342

Atkins A, Jacobson E, Hernandez J, et al. (2010) Use of a portable point-of-care (Vetscan VS2) biochemical analyzer for measuring plasma biochemical levels in free-living loggerhead sea turtles (Caretta caretta). J Zoo Wildl Med 41:585–593. https://doi.org/10.1638/2009-0023.1

Bano Y, Hasan M (1990) Histopathological lesions in the body organs of cat-fish (Heteropneustes fossilis) following mercury intoxication. J Environ Sci Heal B25:67–85

Barrera-García A, O'Hara T, Galván-Magaña F, et al. (2013) Trace elements and oxidative stress indicators in the liver and kidney of the blue shark (Prionace glauca). Comp Biochem Physiol - A Mol Integr Physiol 165:483–490. https://doi.org/10.1016/j.cbpa.2013.01.024

Barst BD, Rosabal M, Campbell PGC, et al. (2016) Subcellular distribution of trace elements and liver histology of landlocked Arctic char (Salvelinus alpinus) sampled along a mercury contamination gradient. Environ Pollut 212:574–583. https://doi.org/10.1016/j.envpol.2016.03.003

Bhan A, Sarkar NN (2005) Mercury in the environment: effect on health and reproduction. Rev Environ Health 20:39–56

Brooks EJ, Mandelman JW, Sloman KA, et al. (2012) The physiological response of the Caribbean reef shark (Carcharhinus perezi) to longline capture. Comp Biochem Physiol - A Mol Integr Physiol 162:94–100. https://doi.org/10.1016/j.cbpa.2011.04.012

Brown L (1993) Aquaculture for veterinarians: Fish husbandry and medicine. Butterworth-Heinemann Limited, South Korea

Castro JL (1996) Biology of the blacktip shark, Carcharhinus limbatus, off the southeastern United States. Bull Mar Sci 59:508–522

Chen C, Driscoll C, Kamman N (2012) Mercury hotspots in freshwater ecosystems: drivers, processes, and patterns. In: B. MS (ed.) Mercury in the Environment: Pattern and Process. University of California Press, Berkeley, CA, pp 143–166

Clarkson TW, Magos L (2006) The toxicology of mercury and its chemical compounds. Crit Rev Toxicol 36:609–662

Cortes E (1999) Standardized diet compositions and trophic levels of sharks. ICES J Mar Sci 56:707–717. https://doi.org/10.1006/jmsc.1999.0489

da Silva GS, Neto FF, de Assis HCS, et al. (2012) Potential risks of natural mercury levels to wild predator fish in an Amazon reservoir. Environmenal Monit Assess 184:4815–4827. https://doi.org/10.1007/s10661-011-2304-3

Dawson M (1982) Effects of long-term mercury exposure on hematology of striped bass Morone saxatilis. Fish Bull US Natl Mar Fish Serv 80:389–392

Day RD, Segars AL, Arendt MD, et al. (2007) Relationship of blood mercury levels to health parameters in the loggerhead sea turtle (Caretta caretta). Environ Health Perspect 115:1421–1428. https://doi.org/10.1289/ehp.9918

de Matos LS, Silva JOS, Kasper D, Carvalho LN (2018) Assessment of mercury contamination in Brycon falcatus (Characiformes: Bryconidae) and human health risk by consumption of this fish from the Teles Pires River, Southern Amazonia. Neotrop Ichthyol 16: https://doi.org/10.1590/1982-0224-20160106

Dove ADM, Arnold J, Clauss TM (2010) Blood cells and serum chemistry in the world's largest fish: the whale shark Rhincodon typus. Aquat Biol 9:177–183. https://doi.org/10.3354/ab00252

Driscoll CT, Mason RP, Chan HM, et al. (2013) Mercury as a global pollutant: Sources, pathways, and effects. Environ Sci Technol 47:4967–4983. https://doi.org/10.1021/es305071v

Ehnert-Russo SL, Gelsleichter J (2020) Mercury Accumulation and Effects in the Brain of the Atlantic Sharpnose Shark (Rhizoprionodon terraenovae). Arch Environ Contam Toxicol 78:267–283. https://doi.org/10.1007/s00244-019-00691-0

Essien EB, Abbey BW, Chinwe N (2015) Assessment of the toxic effect of mixed effluents from trans-amadi industrial layout on Tilapia (Oreochromis niloticus) in Okrika River, Port Harcourt, Rivers State, Nigeria. J Environ Earth Sci 5:53–60

Evans DW, Cohen C, Hammerschmidt C, et al. (2015) White paper on Gulf of Mexico mercury fate and transport: applying scientific research to reduce the risk from mercury in Gulf of Mexico Seafood. NOAA Technical Memorandum NOS NCCOS 192. pp 1–54. https://doi.org/10.7289/V50Z717Z

Florida Department of Environmental Protection (2020) Your Guide to Eating Fish Caught in Florida. Florida Department of Environmental Protection, Tallahassee, FL

Florida Department of Health and RehabilitativeServices (1991) HRS and Department of Agriculture health advisory for marine fish. Florida Department of Health and Rehabilitative Services, Tallahassee, FL

Francis MP, Stevens JD (2000) Reproduction, embryonic development, and growth of the porbeagle shark, Lamna nasus, in the southwest Pacific Ocean Fish Bull 98:41–63

Gallagher AJ, Serafy JE, Cooke SJ, Hammerschlag N (2014) Physiological stress response, reflex impairment, and survival of five sympatric shark species following experimental capture and release. Mar Ecol Prog Ser 496:207–218. https://doi.org/10.3354/meps10490

Garner MM (2013) A retrospective study of disease in elasmobranchs. Vet Pathol 0:1–13. https://doi.org/10.1177/0300985813482147

Giari L, Simoni E, Manera M, Dezfuli BS (2008) Histo-cytological responses of Dicentrarchus labrax (L.) following mercury exposure. Ecotoxicol Environ Saf 70:400–410. https://doi.org/10.1016/j.ecoenv.2007.08.013.10

Gill TS, Pant JC (1985a) Mercury-induced blood anomalies in the freshwater teleost. Water Air Soil Pollut 24:165–171

Gill TS, Pant JC (1985b) Erythrocytic and leukocytic responses to cadmium poisoning in a freshwater fish, Puntius conchonius Ham. Environ Res 36:327–337

Guardiola FA, Chaves-Pozo E, Espinosa C, et al. (2016) Mercury accumulation, structural damages, and antioxidant and immune status changes in the gilthead seabream (Sparus aurata L.) exposed to methylmercury. Arch Environ Contam Toxicol 70:734–746. https://doi.org/10.1007/s00244-016-0268-6

Guilherme S, Valega M, Pereira ME, et al. (2008) Erythrocytic nuclear abnormalities in wild and caged fish (Liza aurata) along an environmental mercury contamination gradient. Ecotoxicol Environ Saf 70:411–421. https://doi.org/10.1016/j.ecoenv.2007.08.016

Harms C, Ross T, Segars A (2002) Plasma biochemistry reference values of wild bonnethead sharks, Sphyrna tiburo. Vet Clin Pathol 31:111–115. https://doi.org/10.1111/j.1939-165X.2002.tb00289.x

Harris R, Pollman C, Hutchinson D, et al. (2012a) A screening model analysis of mercury sources, fate and bioaccumulation in the Gulf of Mexico. Environ Res 119:53–63. https://doi.org/10.1016/j.envres.2012.08.013

Harris R, Pollman C, Landing W, et al. (2012b) Mercury in the Gulf of Mexico: sources to receptors. Environ Res 119:42–52. https://doi.org/10.1016/j.envres.2012.08.001

Harter TS, Shartau RB, Brauner CJ, Farrell AP (2014) Validation of the i-STAT system for the analysis of blood parameters in fish. Conserv Physiol 2. https://doi.org/10.1093/conphys/cou037

Hoffmayer ER, Parsons GR, Horton J (2006) Seasonal and interannual variation in the energetic condition of adult male Atlantic sharpnose shark. Rhizopriondon terraenovae in the northern Gulf of Mexico. J Fish Biol 68:645–653

Hussey NE, Cocks DT, Dudley SFJ, et al. (2009) The condition conundrum: application of multiple condition indices to the dusky shark Carcharhinus obscurus. Mar Ecol Prog Ser 380:199–212. https://doi.org/10.3354/meps07918

Jan AT, Azam M, Siddiqui K, et al. (2015) Heavy metals and human health: Mechanistic insight into toxicity and counter defense system of antioxidants. Int J Mol Sci 16:29592–29630. https://doi.org/10.3390/ijms161226183

Lackner R (1998) "Oxidative stress" in fish by environmental pollutants. In: Fish Ecotoxicology. Birkhäuser, Basel

Larose C, Canuel R, Lucotte M, Di Giulio RT (2008) Toxicological effects of methylmercury on walleye (Sander vitreus) and perch (Perca flavescens) from lakes of the boreal forest. Comp Biochem Physiol Part C.147:139–149. https://doi.org/10.1016/j.cbpc.2007.09.002

Limón-Pacheco J, Gonsebatt ME (2009) The role of antioxidants and antioxidant-related enzymes in protective responses to environmentally induced oxidative stress. Mutat. Res. - Genet Toxicol. Environ. Mutagen 674:137–147

Lincoln RA, James P, Chesney EJ, et al. (2011) Fish Consumption and Mercury Exposure among Louisiana Recreational Anglers. Environ Health Perspect 119:245–251. https://doi.org/10.1289/ehp.1002609

Łuczyńska J, Paszczyk B, Łuczyński MJ (2018) Fish as a bioindicator of heavy metals pollution in aquatic ecosystem of Pluszne Lake, Poland, and risk assessment for consumer's health. Ecotoxicol Environ Saf 153:60–67. https://doi.org/10.1016/j.ecoenv.2018.01.057

Lyons K, Carlisle A, Preti A, et al. (2013) Effects of trophic ecology and habitat use on maternal transfer of contaminants in four species of young of the year lamniform sharks. Mar Environ 90:27–38

Lyons K, Lowe C (2013) Mechanisms of maternal transfer of organochlorine contaminants and mercury in the common thresher shark (Alopias vulpinus). Can J Fish Aquat Sci 70:1667–1672

Maceda-Veiga A, Figuerola J, Martínez-Silvestre A, et al. (2015) Inside the Redbox: applications of haematology in wildlife monitoring and ecosystem health assessment. Sci Total Environ 514:322–332. https://doi.org/10.1016/j.scitotenv.2015.02.004

Manire C, Hueter R, Hull E, Spieler R (2001) Serological changes associated with gill-net capture and restraint in three species of sharks. Trans Am Fish Soc 130:1038–1048. https://doi.org/10.1577/1548-8659(2001)1302.0.CO;2

Mela M, Randi MAF, Ventura DF, et al. (2007) Effects of dietary methylmercury on liver and kidney histology in the neotropical fish Hoplias malabaricus. Ecotoxicol Environ Saf 68:426–435. https://doi.org/10.1016/j.ecoenv.2006.11.013

Merly L, Lange L, Meÿer M, et al. (2019) Blood plasma levels of heavy metals and trace elements in white sharks (Carcharodon carcharias) and potential health consequences. Mar Pollut Bull 142:85–92. https://doi.org/10.1016/j.marpolbul.2019.03.018

Mull CG, Lyons K, Blasius ME, et al. (2013) Evidence of maternal offloading of organic contaminants in white sharks (Carcharadon carcharias). PLoS ONE 8:2–9. https://doi.org/10.1371/journal.pone.0062886

Murussi CR, Costa MD, Leitemperger JW, et al. (2016) Exposure to different glyphosate formulations on the oxidative and histological status of Rhamdia quelen. Fish Physiol Biochem 42:445–455. https://doi.org/10.1007/s10695-015-0150-x

Oguri M (1990) A review of selected physiological characteristics unique to elasmobranchs. In: Pratt HL Jr, Gruber SH, Taniuchi T (eds) Elasmobranchs as living resources: advances in the biology, ecology, systematics, and the status of the fisheries. NOAA Technical Report NMFS 90, US Department of Commerce, pp 49–54

Otway NM (2015) Serum biochemical reference intercals for free-living Sand Tiger sharks (Carcharias taurus) from east Australian waters. Vet Clin Pathol 44:262–274. https://doi.org/10.1111/vcp.12254

Pike C, Manire C, Gruber S (1993) Nutrition and nutritional diseases in sharks. In: Fish medicine. W.B. Saunders Company, Philadelphia, PA, p 764

Raldúa D, Díez S, Bayona JM, Barceló D (2007) Mercury levels and liver pathology in feral fish living in the vicinity of a mercury cell chlor-alkali factory. Chemosphere 66:1217–1225. https://doi.org/10.1016/j.chemosphere.2006.07.053

Reistad NA, Norris SB, Rumbold DG (2020) Mercury in neonatal and juvenile blacktip sharks (Carcharhinus limbatus). Part I: Exposure assessment. Ecotoxicology (this issue)

Rice KM, Walker EM, Wu M, et al. (2014) Environmental mercury and its toxic effects. J Prev Med Public Heal 47:74–83. https://doi.org/10.3961/jpmph.2014.47.2.74

Rumbold D, Wasno R, Hammerschlag N, Volety A (2014) Mercury accumulation in sharks from the coastal waters of Southwest Florida. Arch Environ Contam Toxicol 67:402–412. https://doi.org/10.1007/s00244-014-0050-6

Rumbold DG, Lange TR, Richard D, et al. (2018) Mercury biomagnification through food webs along a salinity gradient down-estuary from a biological hotspot. Estuar Coast Shelf Sci 200:116–125. https://doi.org/10.1016/j.ecss.2017.10.018

Salamat N, Alijani Ardeshir R, Movahedinia A, Rastgar S (2017) Liver histophysiological alterations in pelagic and benthic fish as biomarkers for marine environmental assessment. Int J Environ Res 11:251–262. https://doi.org/10.1007/s41742-017-0023-5

Sandheinrich MB, Wiener JG (2011) Methylmercury in freshwater fish: recent advances in assessing toxicity of environmentally relevant exposures. In: Environmental contaminants in biota: interpreting tissue concentrations, 2nd edn. CRC Press, Boca Raton, FL

Schaefer AM, Stavros H-CW, Bossart GD, et al. (2011) Associations between mercury and hepatic, renal, endocrine, and hematological parameters in Atlantic bottlenose dolphins (Tursiops truncatus) along the eastern coast of Florida and South Carolina. Arch Environ Contam Toxicol 61:688–695. https://doi.org/10.1007/s00244-011-9651-5

Senthamilselvan D, Chezhian A, Suresh E, Ezhilmathy R (2012) Toxic effects of heavy metals (cadmium plus mercury) on haematological parameters and DNA damage in Lates calcarifer. J Toxicol Environ Heal Sci 4:156–161. https://doi.org/10.5897/JTEHS12.028

Shah SL, Altindag A (2004) Hematological parameters of tench (Tinca tinca L.) after acute and chronic exposure to lethal and sublethal mercury treatments. Bull Environ Contam Toxicol 73:911–918. https://doi.org/10.1007/s00128-004-0513-y

Smith M, Warmolts D, Thoney D, Editors RH (eds) (2004) Elasmobranch husbandry manual: captive care of sharks, rays, and their relatives. Special Publication of the Ohio Biological Survey

Spargo, AL (2001) The physiological effects of catch and release angling on the post-release survivorship of juvenile sandbar sharks (Carcharhinus plumbeus). University of Rhode Island, Kingston, RI. Open Access Masters Theses. https://doi.org/10.23860/thesis-spargo-abbey-2001

Stoot LJ, Cairns NA, Cull F, et al. (2014) Use of portable blood physiology point-of-care devices for basic and applied research on vertebrates: a review. Conserv Physiol 2: https://doi.org/10.1093/conphys/cou011

Thangam Y, Umavathi S, Vysakh VB (2016) Investigation of mercury toxicity in haematological parameters to fresh water fish Cyprinus carpio. Int J Sci Res 5:1039–1043

Ung CY, Lam SH, Hlaing MM, et al. (2010) Mercury-induced hepatotoxicity in zebrafish: in vivo mechanistic insights from transcriptome analysis, phenotype anchoring and targeted gene expression validation. BMC Genomics 11:212. https://doi.org/10.1186/1471-2164-11-212

Ureña R, Peri S, Ramo J, Torreblanca A (2007) Metal and metallothionein content in tissues from wild and farmed Anguilla anguilla at commercial size. Environ Int 33:532–539. https://doi.org/10.1016/j.envint.2006.10.007

van Hees KE, Ebert DA (2017) An evaluation of mercury offloading in two central California elasmobranchs. Sci Total Environ 590-591:154–162

Vélez-Alavez M, Labrada-Martagón V, Méndez-Rodriguez LC, et al. (2013) Oxidative stress indicators and trace element concentrations in tissues of mako shark (Isurus oxyrinchus). Comp Biochem Physiol - A Mol Integr Physiol 165:508–514. https://doi.org/10.1016/j.cbpa.2013.03.006

Vieira LR, Gravato C, Soares AMVM, et al. (2009) Acute effects of copper and mercury on the estuarine fish Pomatoschistus microps: linking biomarkers to behaviour. Chemosphere 76:1416–1427. https://doi.org/10.1016/j.chemosphere.2009.06.005

Webber HM, Haines TA (2003) Mercury effects on predator avoidance behavior of a forage fish, golden shiner (Notemigonus crysoleucas) Environ Toxicol Chem 22:1556–1561. https://doi.org/10.1897/1551-5028(2003)222.0.co;2

Weijs L, Briels N, Adams D, et al. (2015) Maternal transfer of organohalogenated compounds in sharks and stingrays. Mar Pollut Bull 92:59–68

Wiener J, Krabbenhoft D, Heinz G, Scheuhammer A (2003). Ecotoxicology of Mercury. In: Hoffman D, Rattner B, Burton, G Jr, Cairns, J Jr (eds) Handbook of Ecotoxicology, Second. Lewis, pp 409–463

Wilhelm Filho D (2007) Reactive oxygen species, antioxidants and fish mitochondria. Front Biosci 12:1229–1237. https://doi.org/10.2741/2141

Yadav KK, Trivedi SP (2009) Sublethal exposure of heavy metals induces micronuclei in fish, Channa punctata. Chemosphere 77:1495–1500. https://doi.org/10.1016/j.chemosphere.2009.10.022

Yaragina NA, Marshall CT (2000) Trophic influences on interannual and seasonal variation in the liver condition index of Northeast Arctic cod (Gadus morhua). ICES J Mar Sci 57:42–55. https://doi.org/10.1006/jmsc.1999.0493
Acknowledgements
We would like to thank all the FGCU students that provided field support on this project including: J. Hemberger, M. Scroggin, E. Krueger, V. Miller, T. Stiehl, J. Forbes, and J. Knoer. We would also like to thank Drs. G. Tolley and J. Douglass for their advice on early drafts of this paper and especially Drs. C. Campbell and L. Arnett Chinn for their guidance on procedures and analysis used in this project, along with an anonymous reviewer whose comments improved this manuscript. Finally, we would like to thank C. Reistad and D. Norris for their assistance and support through the sampling, analysis, and writing processes. Funding for this work was provided by an internal grant from Florida Gulf Coast University.
Funding
This study was supported entirely by funds internal to the university.
Author contributions
All three authors participated in sample collection and processing; Ms. Reistad and Mrs. Norris were each responsible for different analytical procedures, data analysis and interpretations (i.e., different thesis). Dr. Rumbold provided mentorship.
Ethics declarations
Conflict of interest
The authors certify that they have no affiliations with or involvement in any organization or entity with any financial interest or non-financial interest in the subject matter or materials discussed in this manuscript.
Ethics approval
These collections were made under Florida Fish and Wildlife Conservation Commission Special Activity License SAL -15-1347A-SRP and FGCU's Institutional Animal Care and Use Committee (IACUC) Protocol #1516-10 titled "Effects of mercury on the health of Blacktip shark embryos, neonates and juveniles".
Consent for publication
The authors certify that this manuscript is our original unpublished work, has not been published elsewhere, and is not under consideration by another journal. All authors have approved the manuscript and agree with its submission.
Consent to participate
This research did not involve human subjects, so clinical trial registration is not applicable.
Additional information
Publisher's note Springer Nature remains neutral with regard to jurisdictional claims in published maps and institutional affiliations.
About this article
Cite this article
Norris, S.B., Reistad, N.A. & Rumbold, D.G. Mercury in neonatal and juvenile blacktip sharks (Carcharhinus limbatus). Part II: Effects assessment. Ecotoxicology 30, 311–322 (2021). https://doi.org/10.1007/s10646-020-02325-x
Accepted:

Published:

Issue Date:
Keywords
Elasmobranch

Neonate

Juvenile

Hematology

Histology

Mercury