Abstract
The aim of the present study was to investigate the toxicity effects of cadmium–nickel (Cd–Ni) after single and mixtures exposures over the macrophyte Lemna gibba. Effects were assessed on growth, as frond number and fresh weight and biochemical parameters, such as total protein content and activity of antioxidant enzymes. Plants were exposed to single Cd and Ni in concentrations that ranged between 0.13–33 mg/L and 0.18 and 11.82 mg/L, respectively. For binary mixtures, individual metal IC50 values were used for selection of the evaluated concentrations. The experimental design consisted in three different ratios based on the concept of toxic units (TU), each ratio was evaluated by five different concentrations. Both single and mixture treatments were performed for 7 days following the conditions according to OECD (2006). Single and mixture exposures affected plant growth and the biomarkers of the antioxidant response. Growth parameters showed a differential sensitivity after individual metal exposures. Cd was more toxic for L. gibba plants when fresh weight was considered, but on the contrary, considering frond number, Ni was the most toxic metal. IC50-7d, based on growth rate calculated on frond number were 17.8 and 2.47 mg/L, and on fresh weight were 1.08 and 3.89 mg/L, for Cd and Ni respectively. LOEC values for Cd were obtained at 2.06 and 1.03 mg/L, for frond number and fresh weight, respectively; while for Ni, these values were 0.92 and 11.82 mg/L. The three evaluated ratios for binary mixtures resulted in a high toxicity considering the same response variables in single metal exposures. Ratio 1 (2/3 TU Cd–1/3 TU Ni) was the most toxic considering both frond number and fresh weight, showing percentage inhibition of growth rates of 96 and 90%, respectively for the highest concentration. A modification of the protein content was observed in single, but especially in the mixture treatments. The activity of catalase (CAT; EC 1.11.1.6), ascorbate peroxidase (APOX; EC 1.11.1.11) and guaiacol peroxidase (GPOX; EC 1.11.1.7) was also affected in single and mixtures assays. APOX and GPOX showed a higher increase of its activities respect the controls after mixture treatments than for single metal treatments. Such optimization of the antioxidant system could be one of the causes of the antagonistic toxicity observed in mixture exposures. Concentration addition (CA) reference model, based on frond number, in Cd–Ni mixtures was not a good predictor to evaluate toxicity from dissolved metal concentration since the results showed that toxicity was less than additive, with an average of ΣTU = 2.17. The observed antagonisms resulted to be stronger in mixtures with higher metal concentrations.
Access options
Buy single article
Instant access to the full article PDF.
US$ 39.95
Tax calculation will be finalised during checkout.
Subscribe to journal
Immediate online access to all issues from 2019. Subscription will auto renew annually.
US$ 79
Tax calculation will be finalised during checkout.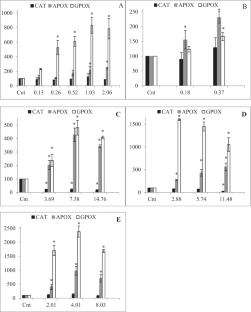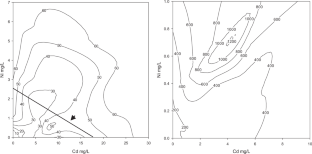 References
Backhaus T, Faust M (2012) Predictive environmental risk assessment of chemical mixtures: a conceptual Framework. Environ Sci Technol 46:2564–2573

Balistrieri LS, Mebane CA (2014) Predicting the toxicity of metal mixtures. Sci Total Environ 466-467:788–799

Basile A, Sorbo S, Cardi M, Lentini M, Castiglia D, Cianciullo P, Conte B, Loppi S, Esposito S (2015) Effects of heavy metals on ultrastructure and Hsp70 induction in Lemna minor L. exposed to water along the Sarno River, Italy. Ecotoxicol Environ Saf 114:93–101

Bhaduri AM, Fulekar MH (2012) Antioxidant enzyme responses of plants to heavy metal stress. Rev Environ Sci Biotechnol 11:55–69

Bradford MM (1976) A rapid and sensitive method for the quantitation of microgram quantities of protein utilizing the principle of protein-dye binding. Anal Biochem 72:248–254

Chance B, Sies H, Boveris A (1979) Hydroperoxide metabolism in mammalian organs. Physiol Rev 59:527–605

Cherif J, Mediouni C, Ben Ammar W, Jemal F (2011) Interactions of zinc and cadmium toxicity in their effects on growth and in antioxidative systems in tomato plants (Solanum lycopersicum). J Environ Sci 23:837–844

Demim S, Drouiche N, Aouabed A, Benayad T, Dendene-Badache O, Semsari S (2013) Cadmium and nickel: Assessment of the physiological effects and heavy metal removal using a response surface approach by L. gibba. Ecol Eng 61(1):426–435

Di Marzio WD, Cifoni M, Sáenz ME, Galassi D, Di Lorenzo T (2018) The ecotoxicity of binary mixtures of imazamox and ionized ammonia on freshwater copepods: implications for environmental risk assessment in groundwater bodies. Ecotoxicol Environ Saf 149:72–79

Dirilgen N (2011) Mercury and lead: assessing the toxic effects on growth and metal accumulation by Lemna minor. Ecotoxicol Environ Saf 74(1):48–54

Dogan M, Karatas M, Aasim M (2018) Cadmium and lead bioaccumulation potentials of an aquatic macrophyte Ceratophyllum demersum L.: a laboratory study. Ecotoxicol Environ Safety 148:431–440

Drost W, Matzke M, Backhaus T (2007) Heavy metal toxicity to Lemna minor: studies on the time dependence of growth inhibition and the recovery after exposure. Chemosphere 67:36–43

Feng J, Shi Q, Wang X, Wei M, Yang F, Xu H (2010) Silicon supplementation ameliorated the inhibition of photosynthesis and nitrate metabolism by cadmium (Cd) toxicity in Cucumis sativus L. Sci Hortic 123(4):521–530

Gajewska E, Skłodowska M, Słaba M, Mazur J (2006) Effect of nickel on antioxidative enzyme activities, proline and chlorophyll contents in wheat shoots. Biol Plant 50(4):653–659

Gopalapillai Y, Hale B (2015) Evaluating the concentration addition approach for describing expected toxicity of a ternary metal mixture (Ni, Cu, Cd) using metal speciation and response surface regression. Environ Chem 13:447–456

John R, Ahmad P, Gadgil K, Sharma S (2008) Effect of cadmium and lead on growth, biochemical parameters and uptake in Lemna polyrrhiza L. Plant Soil Environ 54(6):262–270

Jonker MJ, Svendsen C, Bedaux JJM, Bongers M, Kammenga JE (2005) Significance testing of synergistic/antagonistic, dose level–dependent, or dose ratio–dependent effects in mixture dose–response analysis. Environ Toxicol Chem 24:2701–2713

Khellaf N, Zerdaoui M (2010) Growth response of the duckweed Lemna gibba L. to copper and nickel phytoaccumulation. Ecotoxicology 19(8):1363–1368

Khellaf N, Zeradaoui M, Faure O, Leclerc JC (2008) Tolerance to heavy metal in the duckweed, Lemna minor. Environ Int 34:1022–1026

Kortenkamp A, Backhaus T, Faust M (2009) State of the art report on mixture toxicity. Final Report. 070307/2007/485103/ ETU/D.1. European Commission, Brussels

Lock K, Janssen CR (2002) Mixture toxicity of zinc, cadmium, copper, and lead to the potworm Enchytraeus albidus. Ecotoxicol Environ Saf 52:1–7

Maehly AC, Chance B (1954) The assay of catalase and peroxidase. In: Glick D (ed), Methods of biochemical analysis, vol 1. Intersciences Publishers Inc, New York, p 357

Maleva MG, Nekrasova GF, Borisova GG, Chukina NV, Ushakova OS (2012) Effect of heavy metals on photosynthetic apparatus and antioxidant status of Elodea. Russ J Plant Physl 59(2):190–197

Martinez RS, Sáenz ME, Alberdi JL, Di Marzio WD (2019) Comparative ecotoxicity of single and binary mixtures exposures of nickel and zinc on growth and biomarkers of Lemna gibba. Ecotoxicology 28(6):686–697

Martinez S, Sáenz ME, Alberdi JL, Di Marzio WD (2020) Comparative ecotoxicity of single and binary mixtures exposures of cadmium and zinc on growth and biomarkers of Lemna gibba. Ecotoxicology 29(5):571–583

Megateli S, Semsari S, Couderchet M (2009) Toxicity and removal of heavy metals (cadmium, copper and zinc) by Lemna gibba. Ecotoxicol Environ Saf 72:1774–1780

Mnasri M, Ghabriche R, Fourati E, Zaier H, Sabally K, Barrington S, Lutts S, Abdelly C, Ghnaya T (2015) Cd and Ni transport and accumulation in the halophyte Sesuvium portulacastrum: implication of organic acids in these processes. Front Plant Sci 6:156

Moller I, Jensen P, Hansson A (2007) Oxidative modifications to cellular components in plants. Annu Rev Plant Biol 58:459–81

Montvydienė D, Marčiulionienė D (2007) Assessment of toxic interaction of metals in binary mixtures using Lepidium sativum and Spirodela polyrrhiza. Polish J Environ Stud 16(5):777–783

Mullineaux MP, Karpinski S, Creissen GP (2008) Integration of signaling in antioxidant defenses. In: Demmig-Adams B, et al. (eds.), Photoprotection, photoinhibition, gene regulation, and environment. Springer Science+Business Media B.V. Dordrecht, Netherlands, pp 223–239

Nakano Y, Asada K (1981) Hydrogen peroxide is scavenged by ascorbate-specific peroxidase in spinach chloroplast. Plant Cell Physiol 22:867–880

Nazar R, Iqbal N, Masood A, Khan MIR, Syeed S, Khan NA (2012) Cadmium toxicity in plants and role of mineral nutrients in its alleviation. Am J Plant Sci 3:1476–1489

OECD (2006) Guidelines for the testing of chemicals 221—Lemna sp. Growth Inhibition Test. OECD, Paris

Palma JM, Sandalio LM, Corpas JF, Romero-Puertas MC, McCarthy I, del Rio LA (2002) Plant proteases protein degradation and oxidative stress: role of peroxisomes. Plant Physiol Biochem 40:521–530

Parnian A, Chorom M, Jaafarzadeh N, Dinarvand M (2016) Use of two aquatic macrophytes for the removal of heavy metals from synthetic medium. Ecohydrol Hydrobiol 16:194–200

Razinger J, Dermastia M, Drinovec L, Drobne D, Zrimec A, Koce JD (2007) Antioxidative responses of duckweed (Lemna minor L.) to short-term copper exposure. Env Sci Pollut Res 14(3):194–201

Schickler H, Caspi H (1999) Response of antioxidative enzymes to nickel and cadmium stress in hyperaccumulator plants of the genus Alyssum. Physiol Plant 105:39–44

Seregin IV, Kozhevnikova AD (2006) Physiological role of nickel and its toxic effects on higher plants. Russ J Plant Physiol 53(2):257–277

Sharma SS, Dietz KJ (2009) The relationship between metal toxicity and cellular redox imbalance. Trends Plant Sci 14:43–50

Souza VL, de Almeida AAF, Lima SGC, Cascardo JCM, Silva DC, Mangabeira PAO, Gomes FP (2011) Morphophysiological responses and programmed cell death induced by cadmium in Genipa americana L. (Rubiaceae). Biometals 24:59–71

Sparks T (2000) Statistics in ecotoxicology. Wiley, New York

Vardanyan LG, Ingole BS (2006) Studies on heavy metal accumulation in aquatic macrophytes from Sevan (Armenia) and Carambolim (India) lake systems. Environ Int 32:208–218

Wang Z, Yao L, Liu G, Liu W (2014) Heavy metals in water, sediments and submerged macrophytes in ponds around the Dianchi Lake, China. Ecotoxicol Environ Saf 107:200–206

Yilmaz DD, Parlak KU (2011) Nickel-induced changes in lipid peroxidation, antioxidative enzymes, and metal accumulation in Lemna Gibba. Int J Phytoremediation 13(8):805–817

Zar JH (2010) Biostatistical analysis. Pearson, Boston
Ethics declarations
Conflict of interest
The authors declare that they have no conflict of interest.
Ethical approval
This article does not contain any studies with human participants or animals performed by any of the authors.
Informed consent
Informed consent was obtained from all individual participants included in the study.
Additional information
Publisher's note Springer Nature remains neutral with regard to jurisdictional claims in published maps and institutional affiliations.
About this article
Cite this article
Martinez, S., Sáenz, M.E., Alberdi, J.L. et al. Comparative ecotoxicity of single and binary mixtures exposures of cadmium and nickel on growth and biomarkers of Lemna gibba. Ecotoxicology 30, 91–103 (2021). https://doi.org/10.1007/s10646-020-02312-2
Accepted:

Published:

Issue Date:
Keywords
Heavy metal

Lemna gibba

Antioxidant enzymes

Binary mixture

CA model