Abstract
The magnitude and distribution of lead contamination remain unknown in wetland systems. Anthropogenic deposition of lead may be contributing to negative population-level effects in waterfowl and other organisms that depend on dynamic wetland habitats, particularly if they are unable to detect and differentiate levels of environmental contamination by lead. Detection of lead and behavioral response to elevated lead levels by waterfowl is poorly understood, but necessary to characterize the risk of lead-contaminated habitats. We measured the relationship between lead contamination of wetland soils and habitat use by mottled ducks (Anas fulvigula) on the Upper Texas Coast, USA. Mottled ducks have historically experienced disproportionate negative effects from lead exposure, and exhibit a unique nonmigratory life history that increases risk of exposure when inhabiting contaminated areas. We used spatial interpolation to estimate lead in wetland soils of the Texas Chenier Plain National Wildlife Refuge Complex. Soil lead levels varied across the refuge complex (0.01–1085.51 ppm), but greater lead concentrations frequently corresponded to areas with high densities of transmittered mottled ducks. We used soil lead concentration data and MaxENT species distribution models to quantify relationships among various habitat factors and locations of mottled ducks. Use of habitats with greater lead concentration increased during years of a major disturbance. Because mottled ducks use habitats with high concentrations of lead during periods of stress, have greater risk of exposure following major disturbance to the coastal marsh system, and no innate mechanism for avoiding the threat of lead exposure, we suggest the potential presence of an ecological trap of quality habitat that warrants further quantification at a population scale for mottled ducks.
Access options
Buy single article
Instant access to the full article PDF.
US$ 39.95
Tax calculation will be finalised during checkout.
Subscribe to journal
Immediate online access to all issues from 2019. Subscription will auto renew annually.
US$ 79
Tax calculation will be finalised during checkout.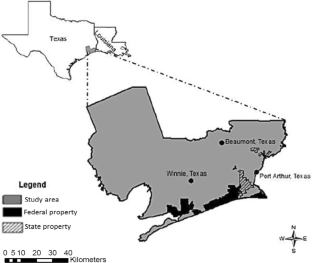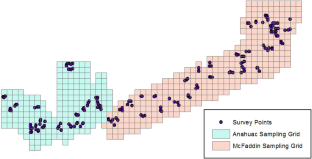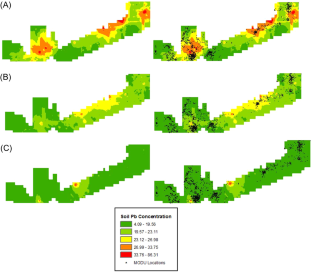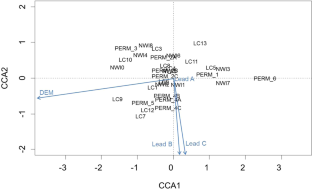 References
Allen GP, Salomon J, Bassoullet P, Du Penhoat Y, De Grandpre C (1980) Effects of tides on mixing and suspended sediment transport in macrotidal estuaries. Sed Geol 26:69–90

Anderson WL, Havera SP, Montgomery RA (1987) Incidence of ingested shot in waterfowl in the Mississippi Flyway, 1977–1979. Wildl Soc Bull 15:181–188

Batzer DP, Baldwin AH Eds (2012) Wetland habitats of North America: ecology and conservation concerns. University of California Press, Berkley

Bellrose FC (1955) A comparison of recoveries from reward and standard bands. J Wildl Manag 19:71–75

Bellrose FC (1959) Lead poisoning as a mortality factor in waterfowl populations. IL Nat Hist Surv Bull 27:235–288

Beyer WN, Audet DJ, Morton A, Campbell JK, LeCaptain L (1998) Lead exposure of waterfowl ingesting Coeur d'Alene River basin sediments. J Environ Qual 27:1533–1538

Bhattacharjee J, Haukos D, Neaville J (2007) Vegetation response to disturbance in a coastal marsh in Texas. Commun Ecol 8:15–24

Blood ER, Anderson P, Smith PA, Nybro C, Ginsberg KA (1991) Effects of hurricane Hugo on coastal soil solution chemistry in South Carolina. Biotrop 23:348–355

Bollhöfer A, Rosman KJR (2001) Isotopic source signatures for atmospheric lead: the Northern Hemisphere. Geochim Et Cosmochim Acta 65:1727–1740

Cambardella CA, Moorman TB, Parkin TB, Karlen DL, Novak JM, Turco RF, Konopka RE (1994) Field-scale variability of soil properties in central Iowa soils. Soil Sci Soc Am J 58:1501–1511

Check L, Marteel-Parrish A (2013) The fate and behavior of persistent, bioaccumulative, and toxic (PBT) chemicals: examining lead (Pb) as a PBT metal. Rev Environ Health 28:85–96

Coburn DR, Metzler DW, Treichler R (1951) A study of absorption and retention of lead in wild waterfowl in relation to clinical evidence of lead poisoning. J Wildl Manag 15:186–192

Davis JM, Otto DA, Weil DE, Grant LD (1990) The comparative developmental neurotoxicity of lead in humans and animals. Neurotoxicol Teratol 12:215–229

Eagles-Smith CA, Ackerman JT, De La Cruz SEW, Takekawa JY (2009) Mercury bioaccumulation and risk to three waterbird foraging guilds is influenced by foraging ecology and breeding stage. Environ Poll 157:1993–2002

Elith J, Phillips SJ, Hastie T, Dudik M, Chee YE, Yates CJ (2011) A statistical explanation of MaxEnt for ecologists. Divers Distrib 17:43–57

ESRI (2012) ArcGIS. ESRI, Redlands, CA

Figuerola J, Mateo R, Green AJ, Mondain-Monval JY, Lefranc H, Mentaberre G (2005) Grit selection in waterfowl and how it determines exposure to ingested lead shot in Mediterranean wetlands. Environ Conserv 32:226–234

Fisher FM, Hall SL, Wilder RW, Robinson BC, Lobpries DS (1986) An analysis of spent shot in Upper Texas Coastal waterfowl wintering habitat. In: Feieraben JS, Russel AB (eds) Lead poisoning in waterfowl, a workshop. National Wildlife Federation, Washington, D.C., p 50–53

Fisher IJ, Pain DJ, Thomas VG (2006) A review of lead poisoning from ammunition sources in terrestrial birds. Biol Conserv 131:421–432

Golden NH, Warner SE, Coffey MJ (2016) A review and assessment of spent lead ammunition and its exposure and effects to scavenging birds in the United States. Rev Environ Contam Toxic 237:123–191

Guisan A, Edwards Jr TC, Hastie T (2002) Generalized linear and generalized additive models in studies of species distributions: setting the scene. Ecol Model 157:89–100

Guisan A, Zimmermann NE (2000) Predictive habitat distribution models in ecology. Ecol Model 135:147–186

Haig SM, D'Elia J, Eagles-Smith C, Fair JM, Gervais J, Herring G, Rivers JW, Schulz JH (2014) The persistent problem of lead poisoning in birds from ammunition and fishing tackle. Condor 116:408–428

Hanley JA, McNeil BJ (1982) The meaning and use of the area under a receiver operating characteristic (ROC) curve. Radiology 143:29–36

Haukos D, Martinez S, Heltzel J (2010) Characteristics of ponds used by breeding mottled ducks on the Chenier Plain of the Texas Gulf Coast. J Fish Wildl Manag 1:93–101

Howes NC, FitzGerald DM, Hughes ZJ, Georgiou IY, Kulp MA, Miner MD, Smith JM, Barras JA (2010) Hurricane-induced failure of low salinity wetlands. Proc Natl Acad Sci USA 107:14014–14019

Irwin JC, Karstad LH (1972) The toxicity for ducks of disintegrated lead shot in a simulated-marsh environment. J Wildl Dis 8:149–154

Janssen S, Dumont G, Fierens F, Mensink C (2008) Spatial interpolation of air pollution measurements using CORINE land cover data. Atmos Environ 42:4884–4903

Jørgensen SS, Willems M (1987) The fate of lead in soils: the transformation of lead pellets in shooting-range soils. Ambio 16:11–15

Keim BD, Muller RA, Stone GW (2007) Spatiotemporal patterns and return periods of tropical storm and hurricane strikes from Texas to Maine. J Clim 20:3498–3509

Kennish MJ (2001) Coastal salt marsh systems in the US: a review of anthropogenic impacts. J Coast Res 17:731–748

Kennish MJ (2002) Environmental threats and environmental future of estuaries. Environ Conserv 29:78–107

Kokko H, Sutherland WJ (2001) Ecological traps in changing environments: ecological and evolutionary consequences of a behaviourally mediated Allee effect. Evol Ecol Res 3:537–551

Longcore JR, Corr PO, Spencer Jr HE (1982) Lead shot incidence in sediments and waterfowl gizzards from Merrymeeting Bay, Maine. Wildl Soc Bull 10:3–10

Mateo R, Belliure J, Dolz J, Aguilar Serrano J, Guitart R (1998) High prevalences of lead poisoning in wintering waterfowl in Spain. Arch Environ Contam Toxicol 35:342–347

Mateo R, Guitart R, Green AJ (2000) Determinants of lead shot, rice, and grit ingestion in ducks and coots. J Wildl Manag 64:939–947

McBride RA, Taylor MJ, Byrnes MR (2007) Coastal morphodynamics and Chenier-Plain evolution in Southwestern Louisiana, USA: a geomorphic model. Geomorphol 88:367–422

McCracken KG, Afton AD, Peters MS (2000) Condition bias of hunter-shot ring-necked ducks exposed to lead. J Wildl Manag 64:584–590

McDowell SK (2014) Environmental availability and lead exposure to mottled ducks (Anas fulvigula) in the Texas Chenier Plains region. Thesis, Stephen F. Austin State University

McDowell SK, Conway WC, Haukos DA, Moon JA, Comer CE, Hung I (2015) Blood lead exposure concentrations in mottled ducks (Anas fulvigula) on the upper Texas coast. J Southeast Assoc Fish Wildl Agencies 2:221–228

Merchant ME, Shukla SS, Akers HA (1991) Lead concentrations in wing bones of the mottled duck. Environ Toxicol Chem 10:1503–1507

Merendino MT, Lobpries DS, Neaville JE, Ortego JD, Johnson WP (2005) Regional differences and long-term trends in lead exposure in mottled ducks. Wildl Soc Bull 33:1002–1008

Moon JA (2014) Mottled duck (Anas fulvigula) ecology in the Texas Chenier Plain region. Dissertation, Stephen F. Austin State University

Moon JA, Haukos DA, Conway WC (2015) Mottled duck (Anas fulvigula) movements in the Texas Chenier plain region. J Southeast Assoc Fish Wildl Agencies 2:255–261

Moon JA, Haukos DA, Conway WC (2017) Seasonal survival of adult female mottled ducks. J Wildl Manag 81:461–469

Moulton DW, Frentress CD, Stutzenbaker CD, Lobpries DS, Brownlee WC (1988) Ingestion of shotshell pellets by waterfowl wintering in Texas. In: Weller MW (ed) Waterfowl in winter. University of Minnesota Press, Minneapolis, p 597–607

Nelson BW, Fink Jr LK (1978) Geological and botanical features of sand beach systems in Maine and their relevance to the critical areas program of the state planning office. Maine Critical Areas Program, Augusta

NRCS (2012) Soil survey geographic (SSURGO) database, Web Soil Survey. https://websoilsurvey.nrcs.usda.gov/. Accessed 8 Jan 2017

Pain DJ (1996) Lead in waterfowl. In: Beyer GHHWN (ed) Environmental contaminants in wildlife: interpreting tissue concentrations. Lewis, Boca Raton, p 251–264

Phillips S, Dudik M, Schapire R (2012) A brief tutorial on Maxent. Princeton University Press, Princeton

R Development Core Team (2014) R: a language and environment for statistical computing. R Foundation for Statistical Computing. https://www.r-project.org/foundation/

Riecke TV, Conway WC, Haukos DA, Moon JA, Comer CE (2015) Baseline blood Pb concentrations in black-necked stilts on the Upper Texas Coast. Bull Environ Contam Toxicol 95:465–469

Rigby EA, Haukos DA (2012) Breeding season survival and breeding incidence of female mottled ducks on the Upper Texas Gulf Coast. Waterbirds 35:260–269

Rigby EA, Haukos DA (2015) Duckling survival, fecundity, and habitat selection of mottled duck broods on the Upper Texas Gulf coast. J Southeast Assoc Fish Wildl Agencies 2:156–163

Rocke TE, Samuel MD (1991) Effects of lead shot ingestion on selected cells of the mallard immune system. J Wildl Dis 27:1–9

Rooney C (2002) The fate of lead in soils contaminated with lead shot. Dissertation, Lincoln University, Christchurch

Samuel MD, Fuller MR (1994) Wildlife radiotelemetry. In: Bookhout TA (ed) Research and management techniques for wildlife habitats, 5th edn. The Wildlife Society, Bethesda, p 370–418

Sanderson GC, Wood SG, Foley GL, Brawn JD (1992) Toxicity of bismuth shot compared with lead and steel shot in game-farm mallards. Trans N Am Wildl Nat Resour Conf 57:526–540

Schlaepfer MA, Runge MC, Sherman PW (2002) Ecological and evolutionary traps. Trends Ecol Evol 17:474–480

Schulz JH, Millspaugh JJ, Washburn BE, Wester GR, Lanigan III JT, Franson JC (2002) Spent-shot availability and ingestion on areas managed for mourning doves. Wildl Soc Bull 30:112–120

Sharma P, Dubey RS (2005) Lead toxicity in plants. Braz J Plant Phys 17:35–52

Spehar RL, Anderson RL, Fiandt JT (1978) Toxicity and bioaccumulation of cadmium and lead in aquatic invertebrates. Environ Pollut 15:195–208

Stendell RC, Smith RI, Burnham KP, Christensen RE (1979) Exposure of waterfowl to lead: a nationwide survey of residues in wing bones of seven, 1973-1973. Special Science Report–Wildlife No. 223, U.S. Department of the Interior, Fish and Wildlife Service, Washington, D.C.

Stockton CW, Meko DM (1975) A long-term history of drought occurrence in western United States as inferred from tree rings. Weatherwise 28:244–249

Stone GW, Grymes JM, Dingler JR, Pepper DA (1997) Overview and significance of hurricanes on the Louisiana coast, USA. J Coast Res 13:656–669

Stutzenbaker CD (1988) The mottled duck: its life history, ecology and management. Texas Parks and Wildlife Department, Austin

Tomasevic M, Antanasijevic D, Anicic M, Deljanin I, Peric-Grujic A, Ristic M (2013) Lead concentrations and isotope ratios in urban tree leaves. Ecol Indic 24:504–509

Turner RE, Baustian JJ, Swenson EM, Spicer JS (2006) Wetland sedimentation from hurricanes Katrina and Rita. Science 314:449–452

Uhlig HH (1971) Corrosion and corrosion control: an introduction to corrosion science and engineering, 2nd edn. John Wiley and Sons, Hoboken

U.S. EPA (2012) Selected analytical methods for environmental remediation and recovery (SAM)EPA/600/R-12/555. U.S. Environmental Protection Agency, Washington, D.C.

USFWS (2007) Anahuac National Wildlife Refuge habitat management plan. U.S. Fish and Wildlife Service, Sabine Pass

USFWS (2008) Texas Chenier Plain Refuge Complex: final environmental impact statement, comprehensive conservation plan, and land protection plan, vols 1 and 2. Sabine Pass. U.S. Fish and Wildlife Service, Albuquerque

USFWS (2013a) Nontoxic shot regulations for hunting waterfowl and coots in the U.S. https://www.fws.gov/birds/bird-enthusiasts/hunting/nontoxic.php. Accessed 8 Aug 2017

USFWS (2013b) National Wetlands Inventory. https://www.fws.gov/wetlands/. Accessed 8 Aug 2017

Weegman MD, Weegman MM (2007) Chromium and selenium in invertebrate prey of lesser scaup. J Wildl Manag 71:778–782

Weis JS, Weis P (2004) Metal uptake, transport and release by wetland plants: implications for phytoremediation and restoration. Environ Int 30:685–700

Wobeser GA (1997) Diseases of wild waterfowl. Plenum Press, New York, NY

Zhang C (2006) Using multivariate analyses and GIS to identify pollutants and their spatial patterns in urban soils in Galway, Ireland. Environ Pollut 142:501–511

Zimmerman D, Pavlik C, Ruggles A, Armstrong MP (1999) An experimental comparison of ordinary and universal kriging and inverse distance weighting. Math Geol 31:375–390
Acknowledgements
We would like to acknowledge field staff on the Texas Chenier Plain National Wildlife Refuge complex, particularly the contributions of Patrick Walther who was an invaluable asset to data collection and mottled duck conservation as a whole. Any use of trade, firm, or product names is for descriptive purposes only and does not imply endorsement by the United States Government. The findings and conclusions in this article are those of the author(s) and do not necessarily represent the views of the United States Fish and Wildlife Service.
Funding
Financial and logistical support for this project was provided in part by the United States Fish and Wildlife Service Region 2 Migratory Bird Office (Jeff Haskins) and Division of Refuges, United States Fish and Wildlife Service Avian Health and Disease Program, United States Geologic Survey Kansas Cooperative Fish and Wildlife Research Unit, Stephen F. Austin State University, and Texas Tech University.
Ethics declarations
Conflict of interest
The authors declare that they have no conflict of interest.
Ethical approval
All applicable international, national, and/or institutional guidelines for the care and use of animals were followed.
Informed consent
Informed consent was obtained from all individual participants included in the study.
Additional information
Publisher's note: Springer Nature remains neutral with regard to jurisdictional claims in published maps and institutional affiliations.
About this article
Cite this article
Kearns, B., McDowell, S., Moon, J. et al. Distribution of contaminants in the environment and wildlife habitat use: a case study with lead and waterfowl on the Upper Texas Coast. Ecotoxicology 28, 809–824 (2019). https://doi.org/10.1007/s10646-019-02079-1
Accepted:

Published:

Issue Date:
Keywords
Anas fulvigula

Contaminants

Ecological trap

Lead

Mottled duck

Species distribution model