The Labour Market for Older Workers: Mechanisms and Institutions
Introduction
European labour markets are ageing. The share of older workers in the labour market is increasing strongly because of the combination of the ageing of the population and the increasing participation rate of older workers. The ageing of society and the resulting pressure on the pension systems have led to many reforms to encourage longer working lives, as advocated by OECD (
2006
). Part of these reforms have been successful and the participation rate of persons aged 55–64 in the EU27 has increased to 55 % in 2013 (Fig.
1
). The participation rate of older workers increased even stronger in the Netherlands. The share of older workers will continue to rise as the increase in the statutory pension age will become effective in the upcoming years in many countries.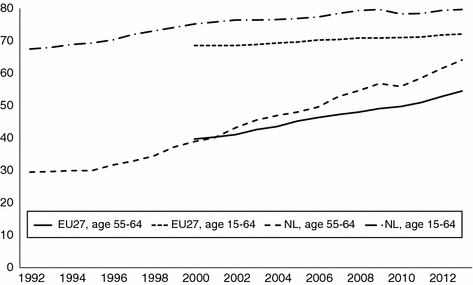 Keywords
Labour Market 
Unemployed Worker 
Employment Protection Legislation 
Mandatory Retirement 
Wage Scale 
These keywords were added by machine and not by the authors. This process is experimental and the keywords may be updated as the learning algorithm improves.
Copyright information
© Springer Science+Business Media New York 2014