Abstract
There is considerable evidence that highlights the importance of family involvement in early childhood education and care (ECEC) on children's development and how when combined with professional involvement has a very positive impact on children's holistic development and therefore, quality ECEC. However, in practice, communicating with families from diverse backgrounds who have limited time, employment obligations, and varying expectations for their child's ECEC has proven to be challenging. To investigate family involvement practices in ECEC services, 18 semi-structured interviews with Irish practitioners and 15 families were conducted. To understand the influence of family involvement on children's development, this study was underpinned by Bronfenbrenner's Bio-ecological framework. The interviews demonstrated that there is a dearth of communication between the home and ECEC services which results in misunderstandings between ECEC stakeholders (practitioners and families). Five barriers to family involvement (attitudinal, structural, cultural, environmental, and welfare) were identified during the interview phase. Subsequently, the development of TeachKloud, a cloud-based management ECEC tool, originated in part, to facilitate quality family involvement practices. TeachKloud was trialled for three months by seven ECEC services and 13 families of children aged 2.8–5.6 years old. A survey was administered after the respective trials to assess the efficacy of TeachKloud in supporting quality practice in ECEC services. This paper focuses on TeachKloud's impact on family involvement. Findings indicate that online technologies such as TeachKloud decrease barriers to family involvement and make children's learning more visible to families, thereby, improving the quality of ECEC provision.
Access options
Buy single article
Instant access to the full article PDF.
US$ 39.95
Tax calculation will be finalised during checkout.
Subscribe to journal
Immediate online access to all issues from 2019. Subscription will auto renew annually.
US$ 79
Tax calculation will be finalised during checkout.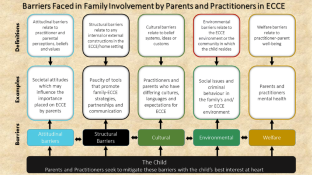 References
Alshawi, A. T., & Alshumaimeri, Y. A. (2017). Practitioner electronic portfolio and its relation to EFL student practitioner performance and attitude. International Journal of Education and Literacy Studies. https://doi.org/10.7575/aiac.ijels.v.5n.1p.42.

Arthur, L., Beecher, B., Death, E., Dockett, S., & Farmer, S. (2017). Programming and planning in early childhood settings (7th ed.). South Melbourne: Cengage.

Babbie, E. (2016). The practice of social research (14th ed.). Belmont: Cengage and Learning.

Birks, M., & Mills, J. (2015). Grounded theory (2nd ed.). London: SAGE Publications.

Blair, R., & Godsall, L. (2006). One school's experience in implementing e-portfolios. Quarterly Review of Distance Education, 7(2), 145–153.

Bronfenbrenner, U. (1979). The ecology of human development. Cambridge, MA: Harvard University Press.

Bronfenbrenner, U., & Pamela, A. M. (2007). The bioecological model of human development. In W. Damon & R. M. Lerner (Eds.), Handbook of child psychology (6th ed.). Hoboken, NJ: Wiley.

Carlisle, E., Stanley, L., & Kemple, K. M. (2005). Opening doors: Understanding school and family influences on family involvement. Early Childhood Education Journal, 33(3), 155–162.

Carr, M. (2001). Assessment in early childhood settings: Learning stories. London: Paul Chapman Publishing.

CECDE. (2006). Síolta: The national quality framework for ECEC. Dublin: The Stationery Office.

Click, P. M., Karkos, K., & Robertson, C. (2014). Administration of programs for young children (9th ed.). Stamford, CT: Cengage Learning.

Crawford, R. (2010). Valuing technology in the music classroom: Results from a recent case study indicate why technology should be used in education. Victorian Journal of Music Education, 13(1), 29–35.

Daniel, R. G., Wang, C., & Berthelsen, D. (2016). Early school-based parent involvement, children's self-regulated learning and academic achievement: An Australian longitudinal study. Early Childhood Research Quarterly, 36, 168–177.

Davis, C., & Yang, A. (2009). Keeping in touch with families all year long. Education Digest. Retrieved 18 February 18, 2017, from https://web.uvic.ca/~gtreloar/Articles/Communication/Keeping%2520in%2520Touch%2520with%2520Families%2520All%2520Year%2520Long%2520Responsive%2520Classroom.pdf.

Drummond, K. E., & Reys, A. M. (2018). Nutrition research. Burlington, MA: Jones and Bartlett Learning.

Epstein, J. (2001). School, family and community partnerships. New York: Westview Press.

Epstein, J. L. (1991). Effects on student achievement of practitioner practice of parent involvement. Advances in Reading/Language Research, 5, 261–276.

Epstein, J. L. (1992). School and family partnerships. In M. Aiken (Ed.), Encyclopaedia of educational research (6th ed., pp. 1139–1151). New York: Macmillan.

Epstein, J. L., & Sheldon, S. B. (2002). Present and accounted for: Improving student attendance through family and community involvement. The Journal of Educational Research, 95, 308–318.

Essa, L. E. (2012). Introduction to early childhood education. Belmont, CA: Cengage Learning.

EZCare. (2017). Childcare management software. Retrieved June 19, 2017, from https://www.ezcaresoftware.com/.

Fan, X. (2001). Parental involvement and students' academic achievement: A growth modeling analysis. Journal of Experimental Education, 70(1), 27–61.

Fantuzzo, J., Gadsden, V., Li, F., Sproul, F., McDermott, P., Hightower, D., et al. (2013). Multiple dimensions of family engagement in early childhood education: Evidence for a short form of the Family Involvement Questionnaire. Early childhood research quarterly, 28(4), 734–742.

Garner, A., & Bonds-Raacke, J. (2013). Influence of university level direct instruction on educators' use of technology in the classroom. Reading Improvement, 50(4), 145–157.

GDPR. (2018). General Data Protection Regulation GDPR. Retrieved March 8, 2018, from https://gdpr-info.eu/.

Hallet, E. (2016). Early years practice: For educators and practitioners. London: SAGE.

Hernandez, M. W., Estrera, E., Markovitz, C. E., Muyskens, P., Bartley, G., Bollman, K., Kelly, G., & Silberglitt, B. (2015). Uses of technology to support early childhood practice. OPRE Report 2015-38. Washington, DC: Office of Planning, Research and Evaluation, Administration for Children and Families, U.S. Department of Health and Human Services.

HiMama. (2017). Childcare apps for superstars. Retrieved June 29, 2017, from https://www.himama.com/.

Higgins, A., & Cherrington, S. (2017). What's the Story? Exploring parent-practitioner communication through e-portfolios. Australasian Journal of Early Childhood, 42(4), 13–21.

Hoover-Dempsey, K. V., Walker, J. M. T., Sandler, H. M., Whetsel, D., Green, C. L., Wilkins, A. S., et al. (2005). Why do parents become involved? Research findings and implications. The Elementary School Journal, 106(2), 106–130.

Hornby, G. (2011). Parental involvement in childhood education: Building effective school-family partnerships. Christchurch: Springer.

Hornby, G., & Blackwell, I. (2018). Barriers to parental involvement in education: An update. Educational Review, 70(1), 109–119. https://doi.org/10.1080/00131911.2018.1388612.

Howard-Payne, L. (2016). Glaser or Strauss? Considerations for selecting a grounded theory study. South African Journal of Psychology, 46(1), 50–62.

Jeynes, W. (2005a). Effects of parental involvement and family structure on the academic achievement of adolescents. Marriage and Family Review, 37(3), 99–115.

Jeynes, W. (2005b). A meta-analysis of the relation of parental involvement to urban elementary school student academic achievement. Urban Education, 40, 237–269.

Jimoyiannis, A. (2012). Developing a pedagogical framework for the design and the implementation of e-portfolios in educational practice. Themes in Science & Technology Education, 5(1/2), 107–132.

Keen, D. (2007). Parents, families, and partnerships: Issues and considerations. International Journal of Disability, Development and Education, 54(3), 339–349.

Kim, Y. (2009). Minority parental involvement and school barriers: Moving the focus away from deficiencies of parents. Educational Research Review, 4(2), 80–102.

Lamb, D. (2013). Promoting the case for using a research journal to document and reflect on the research experience. The Electronic Journal of Business Research Methods, 11(2), 84–91.

Latunde, Y. (2017). Research in parental involvement. California: Palgrave MacMillan.

Lee, W., Hatherly, A., & Ramsey, K. (2002). Using ICT to document children's learning. Early Childhood Folio, 6, 10–16.

Malone, D. (2015). Culture: A potential challenge for parental involvement in schools. Delta Kappa Gamma Bulletin, 82(1), 14–18.

Meltzer, S. (2013). Step-by-step professional development in technology. London: Routledge.

Moles, O. (1993). Collaboration between schools and disadvantaged parents: obstacles and openings. In N. Chavkin (Ed.), Families and schools in a pluralistic society (pp. 21–49). Albany, NY: SUNY University Press.

Moloney, M. (2015). Untangling the knots–[k]not easy: professional identity in the early childhood care and education sector. Trinity College Dublin: NCCA. Retrieved October 21, 2015, from https://www.ecalignment.ie/publications.html.

NCCA. (2009). The national curriculum framework for early childhood care and education. Dublin: The Stationery Office.

Nitecki, E. E. (2015). Integrated school-family partnerships in preschool: Building quality involvement through multidimensional relationships. School Community Journal, 25(2), 195–219.

Oinas, S., Vainikainen, M-P., & Hotulainen, R. (2017). Technology-enhanced feedback for pupils and parents in Finnish basic education. Computers & Education, 108, 59–70. https://doi.org/10.1016/j.compedu.2017.01.012.

Olmstead, C. (2013). Using technology to increase parent involvement in schools. Techtrends, 57(6), 28–37.

Parra, J., Gomariz, M.-Á., Hernández-Prados, M.-Á., & García-Sanz, M.-P. (2017). Family involvement in early childhood education. RELIEVE: Revista Electrónica de Investigación y Evaluación Educativa, 23(1), 1–23. https://doi.org/10.7203/relieve.23.1.9258.

Peters, M., Seeds, K., Goldstein, A., & Coleman, N. (2007). Parental involvement in children's education survey. Research report 034. London: OCSE.

Pirchio, S., Tritrini, C., Passiatore, Y., & Taeschner, T. (2013). The role of the relationship between parents and educators for child behaviour and wellbeing. International Journal About Parents in Education, 7(2), 145–155.

Pitler, H., Ross, E. H., & Kuhn, M. (2012). Using technology with classroom instruction that works. Virginia: ASCD.

Pobal, (2018). Early years sector profile report 2017/2018. Retrieved from https://www.pobal.ie/app/uploads/2018/11/Early-Years-Sector-Profile-Report-2017-2018.pdf.

Practitioner Support Network and Parentline Plus. (2010). Beyond the school gate: How schools and families can work better together. Retrieved January 3, 2017, from https://www.educationsupportpartnership.org.uk/resources/research-reports/beyond-school-gates.

Preston, C., & Mowbray, L. (2008). Use of SMART boards for teaching, learning and assessment in kindergarten science. Teaching Science, 54(2), 50–53.

Reynolds, J., Houlston, C., Coleman, L., & Harold, G. (2014). Parental conflict (1st ed.). Bristol: Policy Press.

Rubin, H. J., & Rubin, I. (2005). Qualitative interviewing: The art of hearing data. Thousand Oaks, Calif: Sage Publications.

Sheppard, A. (2009). School attendance and attainment: Poor attendees perceptions of schoolwork and parental involvement in their education. British Journal of Special Education, 36(2), 104–111.

SmartCare. (2017). ChildCare is now connected. Retrieved June 29, 2017, from https://www.smartcare.com/.

Straus, A. L. (1987). Qualitative analysis for social scientists. Cambridge: Cambridge University Press.

Strauss, A., & Corbin, J. (1998). Basics of qualitative research: Techniques and procedures for developing grounded theory. Thousand Oaks, CA: SAGE.

Sylva, K., Melhuish, E., Sammons, P., Siraj-Blatchford, I., & Taggart, B. (2004). The effective pre-school education (EPPE) project: Final report. A longitudinal study funded by the DfES 1997–2004. Nottingham: DfES Publication.

Turney, K., & Kao, G. (2009). Barriers to school involvement: are immigrant parents disadvantaged? Journal of Educational Research, 102(4), 257–271.

TUSLA. (2017). Register of early years services by county. Retrieved April 15, 2017, from https://www.tusla.ie/services/preschool-services/list-of-pre-school-services-by-county.

Van Laere, K., Vandenbroeck, M., Roets, G., & Peeters, J. (2014). Challenging the feminisation of the workforce: Rethinking the mind–body dualism in early childhood care and education. Gender and Education, 26(3), 232–245.

Vanover, S. T. (2016). Finding quality early childcare: A step-by-step guide for parents about what matters most. Lanham, MD: Rowman & Littlefield.

Vera, E. M., Susman-Israel, M., Coyle, L., Cross, J., Knight-Lynn, L., Moallem, I., et al. (2012). Exploring the educational involvement of parents of English learners. School Community Journal, 22(2), 183–202.

Whalley, M, & the Pen Green Centre Team. (2007). Involving parents in their children's learning (2nd ed.). London: Paul Chapman.

Wilder, S. (2014). Effects of parental involvement on academic achievement: A meta-synthesis. Educational Review, 66(3), 377–397.

Williams, V. I., & Cartledge, G. (1997). Passing notes: To parents. Teaching Exceptional Children, 30(1), 30–34.

Yavuz, K. G., & Yanpar Yelken, T. (2016). Preparing digital stories through the inquiry-based learning approach: Its effect on prospective practitioners' resistive behaviours toward research and technology-based instruction. Educational Sciences: Theory & Practice, 16, 2141–2165.

Yoder, J., & Lopez, A. (2013). Parents' perceptions of involvement in children's education: Findings from a qualitative study of public housing residents. Child & Adolescent Social Work Journal, 30(5), 415–433.
Additional information
Publisher's Note
Springer Nature remains neutral with regard to jurisdictional claims in published maps and institutional affiliations.
About this article
Cite this article
Oke, A., Butler, J.E. & O'Neill, C. Identifying Barriers and Solutions to Increase Parent-Practitioner Communication in Early Childhood Care and Educational Services: The Development of an Online Communication Application. Early Childhood Educ J 49, 283–293 (2021). https://doi.org/10.1007/s10643-020-01068-y
Keywords
Educational technology

Family involvement

Quality