Abstract
Fitness is in part determined by the success of prey capture, often achieved in marine piscivores using teeth to capture and process prey. In ram feeding piscivores, a pattern of monognathic heterodonty has been observed where tooth size either increases posteriorly (Scomberomorus maculatus), or anteriorly (Carcharhinus limbatus), with exceptions such as Trichiurus lepturus and Sphyraena barracuda which have large anterior fangs. Tooth size and placement, as related to prey capture, was examined in Atlantic Spanish Mackerel (S. maculatus), Great Barracuda (S. barracuda), Atlantic Cutlassfish (T. lepturus), and the Blacktip shark (C. limbatus) by quantifying tooth occlusion along the jaw. Percent gape at occlusion in S. maculatus decreased anteriorly in a linear fashion, indicating occlusion from posterior to anterior. Therefore, prey initially contact the posterior teeth with high puncture pressure during high velocity strikes, capitalizing the region of greatest bite force. For S. barracuda and T. lepturus, posterior teeth and premaxillary fangs occlude at similar percent gapes (within 10%). The premaxillary fangs are likely used for initial capture due to the high angular velocity of the anterior section of the jaw and then for cutting, due to their laterally compressed shape. In C. limbatus all teeth occluded within a narrow range of 1.4–8.8% gape, indicating that all teeth meet at almost complete jaw closure. Simultaneous puncture of teeth prevents prey escape while maximizing the cutting area during head shaking. Thus, various tooth size and dentition patterns may yield similar success in prey capture, serving the same function.
This is a preview of subscription content, log in to check access.
Access options
Buy single article
Instant access to the full article PDF.
US$ 39.95
Price includes VAT for USA
Subscribe to journal
Immediate online access to all issues from 2019. Subscription will auto renew annually.
US$ 199
This is the net price. Taxes to be calculated in checkout.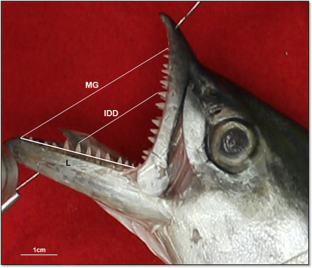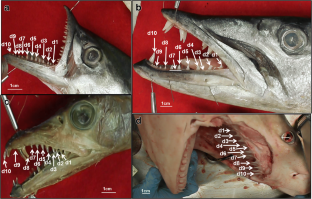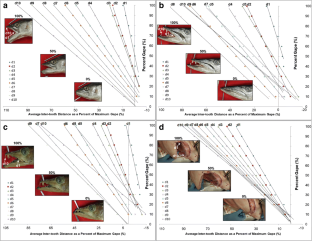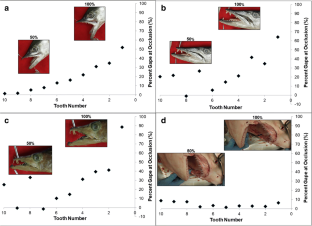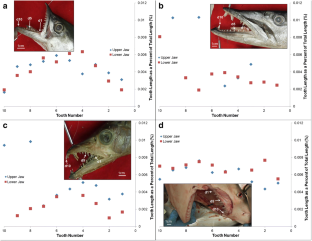 References
Alfaro ME, Bolnick DI, Wainwright PC (2005) Evolutionary consequences of many-to‐one mapping of jaw morphology to mechanics in labrid fishes. Am Nat 165:140–154. https://doi.org/10.1086/429564

Anderson PSL, Rayeld EJ (2012) Virtual experiments, physical validation: Dental morphology at the intersection of experiment and theory. JR Soc Interface 9:1846–1855. https://doi.org/10.1098/rsif.2012.0043

Anderson PSL, LaCosse J, Pankow M (2016) Point of impact: The effect of size and speed on puncture mechanics. Interface Focus 6:20150111. https://doi.org/10.1098/rsfs.2015.0111

Bemis WE (1984) Morphology and growth of lepidosirenid lungfish tooth plates. J Morphol 179:73–93. https://doi.org/10.1002/jmor.1051790108

Bemis KE, Burke SM, St John CA, Hilton EJ, Bemis WE (2019) Tooth development and replacement in the Atlantic Cutlassfish, Trichiurus lepturus, with comparisons to other Scombroidei. J Morphol 280:78–94. https://doi.org/10.1002/jmor.20919

Bigelow HB, Farfante IP, Schroeder WC (1948) Fishes of the Western North Atlantic: Lancelets, Cyclostomes and Sharks. Sears Foundation for Marine Research. Yale University, New Haven

Cappetta H (1987) Chondrichthyes II, Mesozoic and Cenozoic Elasmobranchii. Vol 3B. In: Shultze HP (ed) Handbook of Paleoichthyology. Verlag, Munich, pp 474–475. https://doi.org/10.1080/02724634.1988.10011678

Castro JI (1996) Biology of the blacktip shark, Carcharhinus limbatus, off the southeastern United States. Bull Mar Sci 59:508–522

Clark E, von Schmidt K (1965) Sharks of the central gulf coast of Florida. Bull Mar Sci 15:13–83

Compagno LJV (1984) Sharks of The World. An Annotated and Illustrated Catalogue of Shark Species Known to Date. Part 1. Hexanchiformes to Lamniformes. United Nations Food and Agriculture Organization, Rome

Curio E (1976) The Ethology of Predation. Springer-Verlag, Berlin

de Schepper N, Van Wassenbergh S, Adriaens D (2008) Morphology of the jaw system in trichiurids: trade-offs between mouth closing and biting performance. Zool J Linn Soc 152:717–736. https://doi.org/10.1111/j.1096-3642.2008.00348.x

de Sylva DP (1963) Systematics and life history of the great barracuda, Sphyraena barracuda. University of Miami Press, Coral Gables

Dean MN, Ramsay JB, Schaefer JT (2008) Tooth reorientation affects tooth function during prey processing and tooth ontogeny in the lesser electric ray, Narcine brasiliensis. Zool 111:123–134. https://doi.org/10.1016/j.zool.2007.05.004

Deang JF, Persons AK, Oppedal AL, Rhee H, Moser RD, Horstemeyer MF (2018) Structure, property, and function of sheepshead (Archosargus probatocephalus) teeth. Arch Oral Biol 89:1–8. https://doi.org/10.1016/j.archoralbio.2018.01.013

Dickson GC (1979) Concepts of occlusion. Ann R Coll Surg Engl 61:177–182

Enax J, Prymak O, Raabe D, Epple M (2012) Structure, composition, and mechanical properties of shark teeth. J Struct Biol 178:290–299. https://doi.org/10.1016/j.jsb.2012.03.012

Ferguson AR, Huber DR, Marc JL, Motta PJ (2015) Feeding performance of king mackerel, Scomberomorus cavalla. J Exp Zool 323A:339–413. https://doi.org/10.1002/jez.1933

Fink WL (1981) Ontogeny and phylogeny of tooth attachment modes in actinopterygian fishes. J Morphol 167:167–184. https://doi.org/10.1002/jmor.1051670203

Frazetta TH (1988) The mechanics of cutting and the form of shark teeth (Chondrichthyes, Elasmobranchii). Zoomorphology 108:93–107. https://doi.org/10.1007/BF00539785

Freeman PW (1998) Form, function, and evolution in skulls and teeth of bats. Papers in Nat Res 9:140–156

Freeman PW, Lemen CA (2007) The trade-off between tooth strength and tooth penetration: Predicting optimal shape of canine teeth. J Zool 273:273–280. https://doi.org/10.1111/j.1469-7998.2007.00325.x

Gardiner JM, Atema J (2014) Flow sensing in sharks: lateral line contributions to navigation and prey capture. In: Bleckmann H, Mogdans J, Coombs SL (eds) Flow sensing in air and water. Springer-Verlag, Berlin, pp 127–146. https://doi.org/10.1007/978-3-642-41446-6_5

Grubich JR (2005) Disparity between feeding performance and predicted muscle strength in the pharyngeal musculature of black drum, Pogonias cromis (Sciaenidae). Environ Biol Fish 74:261–272. https://doi.org/10.1111/j.1439-0426.2010.01459.x

Grubich JR, Rice AN, Westneat MK (2008) Functional morphology of bite mechanics in the great barracuda (Sphyraena barracuda). Zool 111:16–29. https://doi.org/10.1016/j.zool.2007.05.003

Habegger ML, Motta PJ, Huber DR, Deban SM (2011) Feeding biomechanics in the Great Barracuda during ontogeny. J Zool 283:63–72. https://doi.org/10.1111/j.1469-7998.2010.00745.x

Helfman GS, Collette BB, Facey DE, Bowen BW (2009) The Diversity of Fishes. Biology, Evolution, and Ecology. Wiley-Blackwell, West Sussex, 720 pp

Hernandez LP, Motta PJ (1997) Trophic consequences of differential performance: Ontogeny of oral jaw-crushing performance in the sheepshead, Archosargus probatocephalus (Teleostei, Sparidae). J Zool 243:737–756. https://doi.org/10.1111/j.1469-7998.1997.tb01973.x

Herrel A, Adriaens D, Verraes W, Aerts P (2002) Bite performance in clariid fishes with hypertrophied jaw adductors as deduced by bite modeling. J Morphol 253:196–205. https://doi.org/10.1002/jmor.1121

Huber DR, Eason TG, Hueter RE, Motta PJ (2005) Analysis of the bite force and mechanical design of the feeding mechanism of the durophagous horn shark Heterodontus francisci. J Exp Biol 208:3553–3571. https://doi.org/10.1242/jeb.01816

Huber DR, Weggelaar CL, Motta PJ (2006) Scaling of bite force in the blacktip shark Carcharhinus limbatus. Zoology 109:109–119. https://doi.org/10.1016/j.zool.2005.12.002

Jernvall J, Thesleff I (2012) Tooth shape formation and tooth renewal: evolving with the same signals. Development 139:3487–3497. https://doi.org/10.1242/dev.085084

Kadison E, D'Alessandro EK, Davis GO, Hood PB (2010) Age, growth, and reproductive patterns of the great barracuda, Sphyraena barracuda, from the Florida Keys. Bull Mar Sci 86:773–784. https://doi.org/10.5343/bms.2009.1070

Knapp FT (1950) Menhaden utilization in relation to the conservation of food and game fishes of the Texas gulf coast. Trans Am Fish Soc 79:137–144. https://doi.org/10.1577/1548-8659(1949)79[137:MUIRTT]2.0.CO;2

Liem KF (1980) Acquisition of energy by teleosts: adaptive mechanisms and evolutionary patterns. In: Ali MA (ed) Environmental Physiology of Fishes. Springer, Boston, pp 299–344

Liem KF, Bemis WE, Walker WF, Grande L (2001) Functional Anatomy of Vertebrates. An Evolutionary Perspective. Thomson Brooks/Cole, Belmont

Mara KR, Motta PJ, Huber DR (2010) Bite force and performance in the durophagous bonnethead shark, Sphyrna tiburo. J Exp Zool Part A 313:95–105. https://doi.org/10.1002/jez.576

Martins AS, Haimovici M (1997) Distribution, abundance and biological interactions of the cutlassfish Trichiurus lepturus in the southern Brazil subtropical convergence ecosystem. Fish Res 30:217–227. https://doi.org/10.1016/S0165-7836(96)00566-8

Martins AS, Haimovici M, Palacios R (2005) Diet and feeding of the cutlassfish Trichiurus lepturus in the subtropical convergence ecosystem of southern Brazil. J Mar Biol Assoc UK 85:1223–1229. https://doi.org/10.1017/S002531540501235X

Mihalitsis M, Bellwood D (2019) Functional implications of dentition-based morphotypes in piscivorous fishes. R Soc Open Sci 6. https://doi.org/10.1098/rsos.190040

Moss SA (1972) The feeding mechanism of sharks of the family Carcharhinidae. J Zool Lond 167:423–436. https://doi.org/10.1111/j.1469-7998.1972.tb01734.x

Motta PJ (2004) Prey capture behavior and feeding mechanics of elasmobranchs. In: Carrier JC, Musick JA, Heithaus MR (eds) Biology of Sharks and Their Relatives. CRC Press, Boca Raton, pp 165–202

Motta PJ, Huber DR (2012) Prey capture behavior and feeding mechanics of elasmobranchs. In: Carrier CJ, Musick JA, Heithaus MR (eds) Biology of Sharks and Their Relatives, 2nd edn. CRC Press, Boca Raton, pp 139–164

Motta PJ, Wilga CD (2001) Advances in the study of feeding behaviors, mechanisms, and mechanics of sharks. Environ Biol Fish 60:131–156

Nakamura I, Parin NV (1993) Snake mackerels and cutlassfishes of the world. FAO, Rome

Norton SF, Brainerd EL (1993) Convergence in the feeding mechanics of ecomorphologically similar species in the Centrarchidae and Cichlidae. J Exp Biol 176:11–29

Osse JWM (1990) Form changes in fish larvae in relation to changing demands of function. Netherlands J Zool 40:362–385. https://doi.org/10.1163/156854289X00354

Plikus MV, Zeichner-David M, Mayer JA, Reyna J, Bringas P, Thewissen JGM, Snead ML, Chai Y, Chuong CM (2005) Morphoregulation of teeth: modulating the number, size, shape and differentiation by tuning Bmp activity. Evol Dev 7:440–457. https://doi.org/10.1111/j.1525-142X.2005.05048.x

Porter HT, Motta PJ (2004) A comparison of strike and prey capture kinematics of three species of piscivorous fishes: Florida gar (Lepisosteus platyrhincus), redfin needlefish (Strongylura notata), and great barracuda (Sphyraena barracuda). Mar Biol 145:989–1000. https://doi.org/10.1007/s00227-004-1380-0

Powlik JJ (1995) On the geometry and mechanics of tooth position in the white shark, Carcharodon carcharias. J Morphol 226:277–288. https://doi.org/10.1002/jmor.1052260304

Ramsay JB, Wilga CD (2007) Morphology and mechanics of the teeth and jaws of white-spotted bamboo sharks (Chiloscyllium plagiosum). J Morphol 268:664–682

Schmidt TW (1989) Food habits, length-weight relationship and condition factor of young great barracuda, Syphraena barracuda (Walbaum), from Florida Bay, Everglades National Park, Florida. Bull Mar Sci 44:163–170

Schofield RMS, Choi S, Coon JJ, Goggans MS, Kreisman TF, Silver DM, Nesson MH (2016) Is fracture a bigger problem for smaller animals? Force and fracture scaling for a simple model of cutting, puncture and crushing. Interface Focus 6:20160002. https://doi.org/10.1098/rsfs.2016.0002

Song J, Ortiz C, Boyce MC (2011) Threat-protection mechanics of an armored fish. J Mech Behav Biomed Mater 4:699–712. https://doi.org/10.1016/j.jmbbm.2010.11.011

Sonnefeld MJ, Turingan RG, Sloan TJ (2014) Functional morphological drivers of feeding mode in marine teleost fishes. Adv Zool Bot 2:6–14. https://doi.org/10.13189/azb.2014.020102

Streelman JT, Webb JF, Albertson RC, Kocher TD (2003) The cusp of evolution and development: a model of cichlid tooth shape diversity. Evol Dev 5:600–608. https://doi.org/10.1046/j.1525-142X.2003.03065.x

Tabor RA, Shively RS, Poe TP (1993) Predation of juvenile salmonids by smallmouth bass and northern squawfish in the Columbia River near Richland, Washington. N Am J Fish Manag 13:831–838

Trapani J (2001) Position of developing replacement teeth in teleosts. Copeia 2001:35–51. https://doi.org/10.1643/0045-8511

van Casteren A, Crofts SB (2019) The Materials of Mastication: Material Science of the Humble Tooth. Integr Comp Biol 59:1681–1689. https://doi.org/10.1093/icb/icz129

Videler JJ, Hess F (1984) Fast Continuous Swimming of Two Pelagic Predators, Saithe (Pollachius Virens) and Mackerel (Scomber Scombrus): a Kinematic Analysis. J Exp Biol 109:209–228

Wainwright PC, Ferry-Graham LA, Waltzek TB et al (2001) Evaluating the use of ram and suction during prey capture by cichlid fishes. J Exp Biol 204:3039–3051

Wainwright PC, Alfaro ME, Bolnick DI, Hulsey CD (2005) Many-to-one mapping of form to function: a general principle in organismal design? Integr Comp Biol 45:256–262. https://doi.org/10.1093/icb/45.2.256

Walters V (1962) Body form and swimming performance in the scombroid fishes. Am Zool 2:143–149

Wautier K, Van der heyden C, Huysseune A (2001) A quantitative analysis of pharyngeal tooth shape in the zebrafish (Danio rerio, Teleostei, Cyprinidae). Arch Oral Biol 46:67–75. https://doi.org/10.1016/S0003-9969(00)00091-1

Westneat MW (1994) Transmission of force and velocity in the feeding mechanisms of labrid fishes (Teleostei, Perciformes). Zoomorphology 114:103–118. https://doi.org/10.1007/BF00396643

Westneat MW (2003) A biomechanical model for analysis of muscle force, power output and lower jaw motion in fishes. J Theor Biol 223:269–281. https://doi.org/10.1016/S0022-5193(03)00058-4

Whitenack LB, Motta PJ (2010) Performance of shark teeth during puncture and draw: implications for the mechanics of cutting. Biol J Linn Soc 100:271–286. https://doi.org/10.1111/j.1095-8312.2010.01421.x

Wilga CD, Motta PJ, Sanford CP (2007) Evolution and ecology of feeding in elasmobranchs. Integr Comp Biol 47:55–69. https://doi.org/10.1093/icb/icm029

Wroe S, Huber DR, Lowry M et al (2008) Three-dimensional computer analysis of white shark jaw mechanics: how hard can a great white bite? J Zool 276:336–342. https://doi.org/10.1111/j.1469-7998.2008.00494.x

Yamaoka K (1983) Feeding behavior and dental morphology of algal scraping cichlids (Pisces:Teleostei) in Lake Tanganyika. African Study Monographs 4:77–89. https://doi.org/10.14989/68000
Acknowledgements
This work was in-part supported by the Porter Family Foundation grant to EC. We thank Capt. Dave Zalewski and the crew of the Lucky Too charters, Rob Robins from the Florida Museum of Natural History, and Jayne Gardiner from New College of Florida for their generous support of specimens. This work is dedicated to David and Rebecca Carr. Animal welfare was approved under IACUC protocol number IS00005719 to PJM.
Additional information
Publisher's Note
Springer Nature remains neutral with regard to jurisdictional claims in published maps and institutional affiliations.
Electronic supplementary material
About this article
Cite this article
Carr, E.M., Motta, P.J. Tooth length and occlusion in four species of piscivorous fishes: getting a grip on prey. Environ Biol Fish (2020). https://doi.org/10.1007/s10641-020-00991-8
Received:

Revised:

Accepted:

Published:
Keywords
Prey capture

Ram feeding

Dentition

Heterodonty

Piscivorous fishes