Abstract
We have maintained pupfish derived from a refuge population of the critically endangered Devils Hole pupfish (Cyprinodon diabolis) and the closely related and endangered Ash Meadows pupfish (C. nevadensis mionectes) in our laboratory for 9 years at the ecologically relevant temperatures of 28 and 33 °C. We asked if insights gained by our captive husbandry could inform on what pressures may be impacting the conservation of these fishes in the wild. Breeding is affected by temperature such that few eggs are deposited by fishes maintained at 33 °C. Fish acclimated to either 28 or 33 °C prefer 28 °C suggesting native habitats such as Devils Hole are not optimal for the fish. In addition to temperature, we found that providing cover in the form of aquarium plants and carpet squares increased egg deposition and larval survival presumably due to reduced oophagy and cannibalism of newly hatched larvae. The decline of the native population of C. diabolis coincided with a change in the algal community of Devils Hole from mats of green algae to sheet forming cyanobacteria. Our experiments suggest this lack of cover resulted in oophagy and cannibalism that reduced the reproductive capacity of Devils Hole pupfish. We suggest efforts at restoring cover in Devils Hole will have the greatest impact on enhancing survivorship of this species especially in light of the reduced breeding opportunities that will likely result from continuing global climate change.
This is a preview of subscription content, log in to check access.
Access options
Buy single article
Instant access to the full article PDF.
US$ 39.95
Price includes VAT for USA
Subscribe to journal
Immediate online access to all issues from 2019. Subscription will auto renew annually.
US$ 199
This is the net price. Taxes to be calculated in checkout.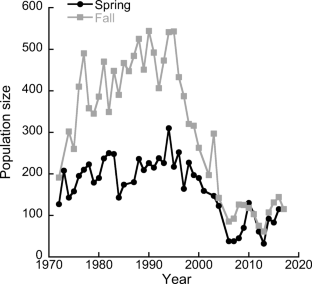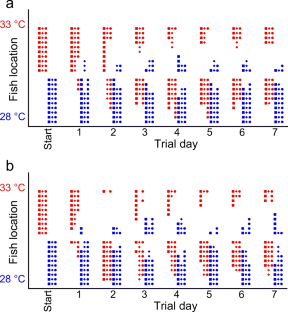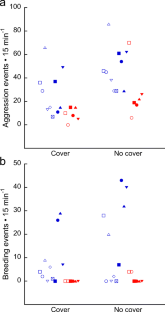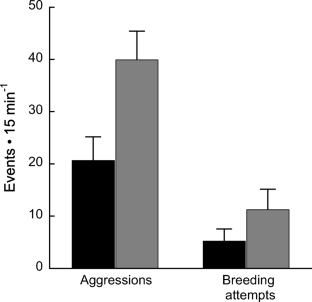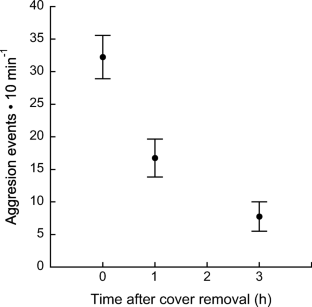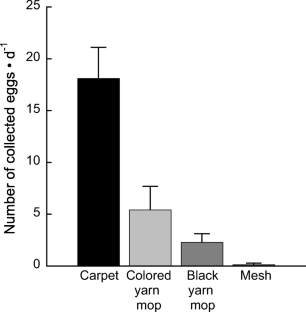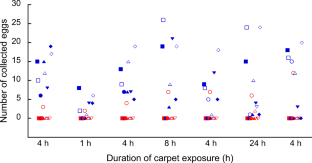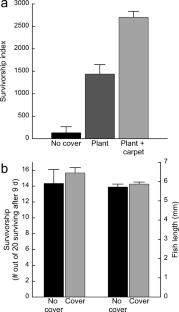 References
Bernot MJ, Wilson KP (2012) Spatial and temporal variation of dissolved oxygen and ecosystem energetics in devils hole, Nevada. West North Am Nat 72:265–275

Brown JH, Feldmeth CR (1971) Evolution in constant and fluctuating environments. Thermal tolerances of desert pupfish (Cyprinodon). Evolution 25:390–398

Chaudoin A, Feuerbacher OG, Bonar SA, Barrett PJ (2015) Underwater videography out performs above-water videography and in-person surveys for monitoring the spawning of devils hole pupfish. N Am J Fish Manag 35:1252–1262

Deacon JE, Taylor FR, Pedretti JW (1995) Egg viability and ecology of devils hole pupfish: insights from captive propagation. Southwest Nat 40:216–223

Echelle AA (2008) The western north American pupfish clade (Cyprinodontidae, Cyprinodon): mitochondrial DNA divergence and drainage history. Spec Papers Geol Soc of America 439:27–38

Feurbacher OG, Mapula JA, Bonar SA (2015) Propagation of hybrid devils hole pupfish x ash meadows Amargosa pupfish. N Amer J Aquaculture 77:513–523

Garlin G, Jardine A, Merideth R, Black M, LeRoy S (2013) Assessment of climate change in the Southwest United States: a report prepared for the national climate assessment. Southwest climate Alliance. Island Press, Washington, DC

Gustafson ES, Deacon JE (1997) Distribution of larval Devils Hole pupfish, Cyprinodon diabolis Wales, in relation to dissolved oxygen concentration in Devils Hole. Contract no.1443PH13095341 National Park Service, Death Valley National Park, Pahrump, NV

Hausner MB, Wilson KP, Gaines DB, Suarez F, Tyler SW (2013) The shallow thermal regime of devils hole, Death Valley National Park. Limnol Oceanog Fluids Environ 3:119–138

Hausner MB, Wilson KP, Gaines DB, Suarez F, Scoppettone GG, Tyler SW (2014) Life in a fishbowl: prospects for the endangered devils hole pupfish (Cyprinodon diabolis) in a changing climate. Water Resour Res 50:7020–7034

Heuton MB, Ayala L, Burg C, Dayton K, McKenna K, Morante A, Puentedura G, Urbina N, Hillyard S, Steinberg S, van Breukelen F (2015) Paradoxical anaerobism in desert pupfish. J Exp Biol 218:3739–3745. https://doi.org/10.1242/jeb.130633

Heuton M, Ayala L, Morante A, Dayton K,. Jones AC, Hunt JR,·McKenna A, van Breukelen F. Hillyard S (2018) Oxygen consumption of desert pupfish at ecologically relevant temperatures suggests a significant role for anaerobic metabolism. J Comp Physiol B doi:https://doi.org/10.1007/s00360-018-1174-1, 188, 821, 830

Hillyard SD (2011) Life in hot water: the desert pupfish. In: Farrell AP, Stevens D (eds) Encyclopedia of fish physiology: from genome to environment. Academic Press, London, pp 1831–1842

Jones AC, Lim D, Wayne-Thompson JJ, Urbina N, Puentedura G, Hillyard S, van Breukelen F (2016) Oxygen consumption is limited at ecologically relevant rearing temperatures in pupfish eggs. J Exp Zool 00A:1–9. https://doi.org/10.1002/jez.2048

Landwehr JM, Winograd IJ (2012) Devils Hole, Nevada-A Primer. US Geological Survey Fact Sheet:2012–3021

Mapula, JA (2011) Relationship between food types and growth and survival of larval of larval hybrid devils hole pupfish. MS Thesis, U of Arizona, Tucson AZ

Martin AP (2005) Genetic analysis of Cyprinodon diabolis: hybridization with C. nevadensis in the point of rocks refuge. Nevada division of wildlife report

Martin AP, Echelle AA, Zegers G, Baker S, Keeler-Foster CL (2012) Dramatic shifts in the gene pool of a managed population of an endangered species may be exacerbated by high genetic load. Conserv Genet 13:349–358

Martin CH, Crawford JE, Turner BJ, Simons LH (2016) Diabolical survival in Death Valley: recent pupfish colonization, gene flow and genetic assimilation in the smallest species range on earth. Proc R Soc B 283:2015–2334

McCracken, RD (1990) History of Amargosa Valley Nevada. Nye County Press, Tonopah, Nevada

Minckley CO, Deacon JE (1975) Foods of the devils hole pupfish Cyprinodon diabolis. SW Naturalist 20:105–111

Riggs AC, Deacon JE (2002) Connectivity in desert aquatic ecosystems: the devils hole story. pp 1–38 In Conference Proceedings. Spring-fed Wetlands: Important scientific and cultural resources of the intermountain region. http://www.wetlands.dri.edu

Shepard WD, Blinn DW, Hoffman RJ, Kantz PT (2000) Algae of devils hole Nevada, Death Valley National Park. West North Am Naturalist 60:410–119

Smith G, Dowling T, Gobalet K, Lugaski T, Shiozawa D, Evans P (2002) Biogeography and rates of evolution of Great Basin fishes. In: Hershler R, Madsen D, Curry D (eds) Great Basin aquatic systems history: Smithsonian contributions to the earth sciences, pp 175–234

Sumner FB, Sargent MC (1940) Some observations on the physiology of warm spring fishes. Ecology 21:45–54

US Fish and Wildlife Service (1990) Recovery plan for endangered and threatened species of ash meadows, Nevada. US Fish and Wildlife Service. Portland OR 123 pp.

Wales JH (1930) Biometrical studies of some races of cyprinodont fishes from the Death Valley region with description of Cyprinodon diabolis, n sp. Copeia 1930:61–70
Acknowledgments
This work was supported by grants from the US National Park Service, US Fish and Wildlife Service, the Nevada Department of Wildlife and a Faculty Opportunity Award from University of Nevada Las Vegas. FvB is supported by the National Science Foundation IOS 1655091.
Additional information
Publisher's note
Springer Nature remains neutral with regard to jurisdictional claims in published maps and institutional affiliations.
About this article
Cite this article
Burg, G.C., Johnson, J., Spataro, S. et al. Care and propagation of captive pupfish from the genus Cyprinodon: insight into conservation. Environ Biol Fish 102, 1015–1024 (2019). https://doi.org/10.1007/s10641-019-00887-2
Received:

Accepted:

Published:

Issue Date:
Keywords
Temperature effects

Fecundity

Predation

Thermal preference