Abstract
Orestias ascotanensis Parenti is a critically-endangered fish species endemic to the Ascotán salt pan springs. Given the importance of reproduction and early development in effective conservation of fish populations, this study describes the embryonic development of O. ascotanensis under laboratory conditions. Between 2014 and 2015, 50 individuals were captured and maintained under controlled conditions, including temperature, photoperiod and feeding regimen, to induce spawning for artificial fertilization. Females were subjected to hormone therapy with Ovaprim®. Water temperature was maintained at 20 °C (± 1 °C), conductivity at 2800–3600 μS·cm−1 and photoperiod at 16:8 (light hours: dark hours). Males showed changes in color and courtship behavior, and females developed a slightly bulging belly. Eggs were 1.55–2.5 mm in diameter, with abundant yolk and dozens of adhesion filaments. Embryonic development lasted 14–18 days; it was divided into five periods, which can be sub-divided into 21 stages, from fertilization to hatching. O. ascotanensis showed indications of partial spawning species, including oocytes at different stages of development, relatively large eggs as compared to adult fish length and low batch spawning. Characteristics such as partial spawning, highly-pigmented eggs and larvae and advanced larval development at hatching could be adaptations to the extreme conditions of the salt pan springs, including high levels of ultraviolet radiation and salinity as well as significant daily temperature changes.
This is a preview of subscription content, log in to check access.
Access options
Buy single article
Instant access to the full article PDF.
US$ 39.95
Price includes VAT for USA
Subscribe to journal
Immediate online access to all issues from 2019. Subscription will auto renew annually.
US$ 199
This is the net price. Taxes to be calculated in checkout.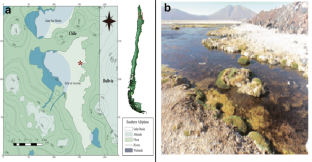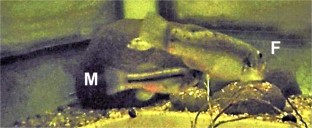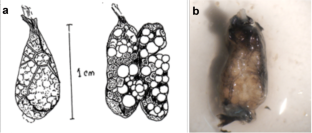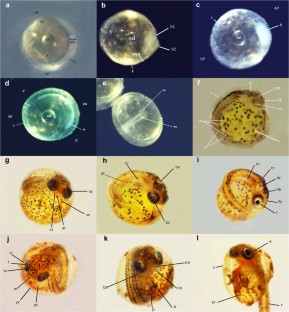 References
Arany Z, Huang LE, Eckner R (1996) As essential role p300/CBP in the cellular response to hypoxia. Proc Natl Acad Sci U S A 93:12969–12973

Arenzon A, Lemos CA, Bohrer M (2002) The influence of temperature on the embryonic development of the annual fish Cynopoecilus melanotaenia (Cyprinodontiformes, Rivulidae). Braz J Biol 62(4B):743–747

Arezo MJ, Papa NG, Berois N, Clivio G, Montagne J, De la Piedra S (2017) Annual killifish adaptations to ephemeral environments: diapause I in two Austrolebias species. Dev Dyn 246:848–857

Bao R, Sáez A, Servant-Vildary S, Cabrera L (1999) Lake-level and salinity reconstruction from diatom analyses in Quillagua formation (late Neogene, central Andean Forearc, northern Chile). Palaeogeogr Palaeoclimatol Palaeoecol 153:309–335

Carrillo M, Rodriguez J (2001) Bases fisiológicas de la reproducción de peces tropicales. In: Rodriguez H, Victoria O, Carrillo M (eds) Fundamentos de acuicultura continental. Instituto Nacional de Pesca y Acuicultura, Colombia, pp 189–218

Comte S, Vila I (1992) Spawning of Basilichthys microlepidotus (Jenyns). J Fish Biol 41:971–981

Dejoux C, Iltis A (1991) El lago Titicaca. Síntesis del conocimiento limnológico actual. Orstom. Hisbol, La Paz Bolivia

Dominguez-Castanedo O, Valdesalici S, Rosales-Torres AM (2017) Developmental ecology of annual killifish Millerichthys robustus (Cyprinodontiformes: Cynolebiidae). Dev Dyn 246:802–806

Furness AI (2016) The evolution of an annual life cycle in killifish: adaptation to ephemeral aquatic environments through embryonic diapauses. Biol Rev 91(3):796–812. https://doi.org/10.1111/brv.12194

Keller B, Soto D (1998) Hydrogeologic influences on the preservation of Orestias ascotanensis (Teleostei: Cyprinodontidae), in Salar de Ascotán, northern Chile. Rev Chil Hist Nat 71:147–156

Kimmel Ballard CW, Kimmel S, Ullmann B, Shilling T (1995) Stages of embryonic development of the zebrafish. Dev Dyn 203:253–310

Kupren K, Mamcarz A, Kucharczyk D (2011) Effect and variable constant thermal conditions on embryonic and early larval development of fish from the genus Leuciscus (Cyprinidae, Teleostei). Czech J Anim Sci 56(2):70–80

Lauzanne L (1982) Les Orestias (Pisces, Cyprinodontidae) du Petit Lac Titicaca. Rev Hydrobiol Trop 15(1):38–70

Leis J, Carson-Ewart B (2000) In: Leis M, Carson-Ewart BM (eds) The larvae of indo-Pacific coastal fishes: an identification guide to marine fish larvae. Fauna malesiana handbook 2. Australian Museum, Sydney

Mijkherjee M, Praharaj A, Shamik D (2002) Conservation of endangered fish stocks through artificial propagation and larval rearing technique in West Bengal India. Aquacult Asia 2:8–11

Miller B, Nummela S (2009) Fish reproduction. In: Miller B (ed) Early life history of marine fishes. University of California Press, USA

Ministerio del Medio Ambiente (MMA) (2015) Inventario Nacional de especies. URL: http://especies.mma.gob.cl

Morales P, Vila I, Poulin E (2011) Genetic structure in remnant populations of an endangered cyprinodontid fish, Orestias ascotanensis, endemic to the Ascotán salt pan of the Altiplano. Conserv Genet 12:1639–1643

Mueller K, Neuhauss S (2014) Sunscreen for fish: co-option of UV light protection for camouflage. PLoS One 9(1):e87372. https://doi.org/10.1371/journal.pone.0087372

Murua H, Saborido-Rey F (2003) Female Reproductive Strategies of Marine fish species of North Atlantic. J Northwest Atl Fish Soc 33:23–31

Parker A, Cornfield I (1995) Molecular perspective on evolution and zoogeography of cyprinodontid killifishes (Teleostei, Atherinomorpha). Copeia 1995:8–21

Pepin P (1991) Effect of temperature and size on development, mortality and survival rates of the pelagic early life-history of marine fish. Can J Fish Aquat Sci 48:503–518

Podrabsky EJ, Riggs CL, Romney AL, Cody Woll J, Wagner KM, Culpepper KM, Cleaver TG (2017) Embryonic development of the annual killifish Austrofundulus limnaeus: an emerging model for ecological and evolutionary developmental biology. Dev Dyn 246:779–801. https://doi.org/10.1002/DVDY.24513

Saborido-Rey F (2008) Ecología de la reproducción y potencial reproductivo en las poblaciones de peces marinos. Instituto de Investigaciones marinas (CSIC), Universidad de Vigo, España

Tyler CR, Sumpter JP (1996) Oocytes growth and development in teleost. Rev Fish Biol Fish 6:287–318

Vazzoler AE (1996) Biologia da reprodução de peixes Teleósteos: Teoria e prática. Editora da Universiade Estadual de Maringá, Brasil

Vila I, Mendez MA, Scott S, Morales PM, Poulin E (2007) Threatened fishes of the world: Orestias ascotanensis Parenti, 1984 (Cyprinodontidae). Environ Biol Fish 80:491–492. https://doi.org/10.1007/s10641-006-9150-0

Vila I, Scott S, Lam N, Iturra P, Mendez M (2010) Karyological and morphological analysis of divergence among species of the killifish genus Orestias (Teleostei:Cyprinodontidae) from the southern Altiplano. In: (Nelson JS, Shultze HP, Wilson M) Origin and Phylogenetics Interrelationships of Teleosts. Honoring Gloria Arratia. M (Eds). Verlag Dr. F. Pfeil München

Vila I, Morales P, Scott S, Poulin E, Véliz D, Harrod C, Méndez MA (2013) Phylogenetic and phylogeographic analysis of the genus Orestias (Teleostei: Cyprinodontidae) in the southern Chilean Altiplano: the relevance of ancient and recent divergence processes in speciation. J Fish Biol 82:927–943. https://doi.org/10.1111/jfb.12031

Wootton RJ (1999) Ecology of teleost fishes: Champan and hall, Londres

Wu RSS (2002) Hypoxia: From molecular responses to ecosystem responses. Mar Pollut Bull 45(1–12):35–45
Acknowledgments
Comisión Nacional Científica y Tecnológica Project 1140543.
Ethics declarations
Ethical approval
All procedures involving animals were performed in accordance with the standards of the Universidad de Chile Bioethics Committee.
Additional information
Publisher's note
Springer Nature remains neutral with regard to jurisdictional claims in published maps and institutional affiliations.
About this article
Cite this article
Macaya, C., Lam, N. & Vila, I. Embryological development of the high-altitude killifish Orestias ascotanensis Parenti 1984 (Teleostei: Cyprinodontidae). Environ Biol Fish 102, 675–684 (2019). https://doi.org/10.1007/s10641-019-00859-6
Received:

Accepted:

Published:

Issue Date:
Keywords
Extremophiles

Altiplano

Salt pan springs

Artificial reproduction