Abstract
This study followed up on a selected cohort of 4945 Science, Technology, English and Mathematics (STEM) teacher participants from six Sub-Saharan African countries namely: Kenya, Tanzania, Uganda, Ethiopia, Ghana and Nigeria. The teachers were involved in an instructional digital professional development programme targeted at building their capacity to embed ICT into school organizational and curriculum practices. This study sought to evaluate the impact of the ICT- instructional professional development programme in relation to the quality and the extent of the teachers' transfer of the programme's ideas from capacity building to classroom instructional practices. Data for the study were collected using semi-structured survey instrument and diaries kept to maintain records of activities and events during the period of implementation. Findings revealed that the teachers expressed general satisfaction with content and processes of the training programme; however, essential conditions to support transfer of the training's ideas to school level seemed not adequate during the period of implementation. Implications for effective professional development in integrating ICT into school organization and curriculum practices that have sustainable impact on teaching and learning particularly in Sub-Saharan regions and similar contexts are discussed.
This is a preview of subscription content, log in to check access.
Access options
Buy single article
Instant access to the full article PDF.
US$ 39.95
Price includes VAT for USA
Subscribe to journal
Immediate online access to all issues from 2019. Subscription will auto renew annually.
US$ 99
This is the net price. Taxes to be calculated in checkout.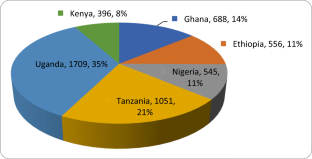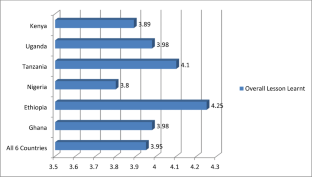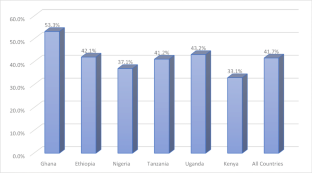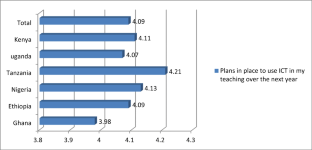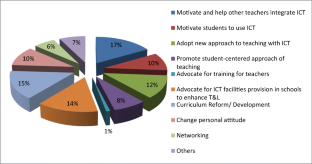 References
Agyei, D. D. (2013). Analysis of technology integration in teacher education in Ghana. Journal of Global Initiatives: Policy, Pedagogy, Perspective, 8(1 & 2), 69–86.

Agyei, D. D., & Voogt, J. (2012). Developing technological pedagogical content knowledge in pre-service mathematics teachers through collaborative design. Australasian Journal of Educational Technology, 28(4), 547–564.

Agyei, D. D., & Voogt, J. (2014). Examining factors affecting beginning teachers' transfer of learning of ICT-enhanced learning activities in their teaching practice. Australasian Journal of Educational Technology, 30(1), 92–105.

Baldwin, T. T., & Ford, J. K. (1988). Transfer of training: A review and directions for future research. Personnel Psychology, 41, 63–105.

Baylor, A. L., & Ritchie, D. (2002). What factors facilitate teacher skill, teacher morale, and perceived student learning in technology-using classrooms? Computers & Education, 39, 395–414.

Creswell, J. W., Plano Clark, V. L., Gutmann, M., & Hanson, W. (Eds.). (2003). Advanced mixed methods research designs. Thousand Oaks: Sage.

Ebersole, S., & Vorndam, M. (2003). Adoption of computer based instructional methodologies: A case study. International Journal of E-Learning, 2(2), 15–20.

Ely, D. P. (1999). Conditions that facilitate the implementation of educational technology innovations. Educational Technology, 39, 23–27.

Fishman, B., & Krajcik, J. S. (2003). What does it mean to create sustainable science curriculum innovation? Science Education, 87(4), 564–573.

Fullan, M. (2007). The new meaning of educational change (4th ed.). New York: Teachers College Press.

Goktas, Y., Yıldırım, Z., & Yıldırım, S. (2008). A review of ICT related courses in preservice teacher education programmes. Asia Pacific Education Review, 9, 168–179.

Guskey, T. R. (1985). Implementing mastery learning. Belmont: Wadsworth.

Guskey, T. R. (1986). Staff development and the process of teacher change. Educational Researcher, 15(5), 5–12.

Guskey, T. R. (1990). Cooperative mastery learning strategies. Elementary School Journal, 91(1), 33–42.

Guskey, T. R. (1991). Enhancing the effectiveness of professional development programs. Journal of Educational and Psychological Consultation, 2(3), 239–247.

Guskey, T. R. (1998). The age of our accountability. Journal of Staff Development, 19(4), 1–9.

Guskey, T. R. (2002). Does it make a difference? Evaluating professional development. Educational Leadership, 59(6), 45–51.

Guskey, T. R. (2015). On your mark: Challenging the conventions of grading and reporting. Bloomington: Solution Tree.

Guskey, T. R., & Sparks, D. (1996). Exploring the relationship between staff development and improvements in student learning. Journal of Staff Development, 17(4), 1–6.

Hennessy, S., Harrison, D., & Wamakote, L. (2010). Teacher factors influencing classroom use of ICT in Sub-Saharan Africa. Itupale Online Journal of African Studies, 2, 39–54.

Kay, R. H. (2006). Evaluating strategies used to incorporate technology into pre-service education: A review of the literature. Journal of Research on Technology in Education, 38, 383–408.

Kelz, A. (2011). Bridging the gap – from teacher to e-teacher. In S. Greener & A. Rospigliosi (Eds.), Proceedings of the 10th European conference on e-learning (pp. 363–369). Brighton: Academic Conferences and Publishing International Limited.

Meelissen, M. (Ed.). (2008). Computer attitudes and competencies among primary and secondary school students. New York: Springer.

Meloncon, L. (2007). Exploring electronic landscapes: Technical communication, online learning, and instructor preparedness. Technical Communication Quarterly, 16(1), 31–53.

Miles, M. B., & Huberman, A. M. (1994). An expanded source book: Qualitative data analysis (2nd ed.). London: Sage Publications.

Morse, J. M. (1991). Approaches to qualitative-quantitative methodological triangulation. Nursing Research, 40, 120–123.

Niederhauser, D. S., Howard, S. K., Voogt, J., Agyei, D. D., Laferriere, T., Tondeur, J., & Cox, M. J. (2018). Sustainability and scalability in educational technology initiatives: Research-informed practice. Technology, Knowledge and Learning, 23, 507–523.

Ottevanger, W., van den Akker, J. J. H., & de Feiter, L. (2007). Developing science, mathematics and ICT education in Sub-Saharan Africa (SMICT): Patterns and promising practices. World Bank Working Paper, 101, 1–84.

Paraskeva, F., Bouta, H., & Papagianna, A. (2008). Individual characteristics and computer self-efficacy in secondary education teachers to integrate technology in educational practice. Computer and Education, 50(3), 1084–1091.

Philipsen, B., Tondeur, J., & Zhu, C. (2016). Exploring digital didactics: An explorative case study on learning to teach online. In J. Novotná & A. Jančařík (Eds.), Proceedings of the 15th European conference on e-learning (pp. 555–561). Prague: Charles University Academic Conferences and Publishing International Limited.

Redmond, P. (2011). From face-to-face teaching to online teaching: Pedagogical transitions. In ASCILITE 2011:28th annual conference of the Australasian society for computers in learning in tertiary education: Changing demands, changing directions (pp. 1050–1060). Hobart: ASCILITE.

Saks, A. M. (2002). So what is a good transfer of training estimate? A reply to Fitzpatrick. The Industrial-Organizational Psychologist, 39, 29–30.

Todorova, A., & Osburg, T. (2009). Factors for the sustainability of a teacher professional development programme for technology integration. Paper presented at the London international conference on education. London.

United Nations Economic Commission for Africa (UNECA). (2005). Economic report on Africa 2005: Meeting the challenges of unemployment and poverty in Africa. Addis Ababa: UNECA.

Webb, M., & Cox, M. (2004). A review of pedagogy rated to information and communications technology. Technology, Pedagogy and Education, 13(3), 235–286.

Yamnill, S., & McLean, G. N. (2001). Theories supporting transfer of training. Human Resource Development Quarterly, 12(2), 195–208.
Additional information
Publisher's note
Springer Nature remains neutral with regard to jurisdictional claims in published maps and institutional affiliations.
About this article
Cite this article
Agyei, D.D. Integrating ICT into schools in Sub-Saharan Africa: from teachers' capacity building to classroom implementation. Educ Inf Technol (2020). https://doi.org/10.1007/s10639-020-10253-w
Received:

Accepted:

Published:
Keywords
Technology integration

Professional development

Capacity building, transfer of learning