Abstract
Integrating gamification in the learning process has become a significant factor in the success of teaching, learning, and research in higher education. Education can leverage gamification by enhancing learning management systems to make learning enjoyable and engaging for students. We, however, lack the underpinnings into factors affecting the acceptance of gamification in education. To help solve this, we tested and extended previous acceptance models. Overall, we explored the users' perception and acceptance of adding gamification to learning among students in higher education. The results show that Image is an insignificant factor in students' behavioral intention to use gamification. The current paper contributes to the perceptual process for gamification research in learning; deriving implications for gamification application and pioneering research on gamification acceptance in developing countries. We conclude with opportunities, practical and theoretical implications for researchers and practitioners to extend our knowledge of gamification research.
Access options
Buy single article
Instant access to the full article PDF.
US$ 39.95
Tax calculation will be finalised during checkout.
Subscribe to journal
Immediate online access to all issues from 2019. Subscription will auto renew annually.
US$ 79
Tax calculation will be finalised during checkout.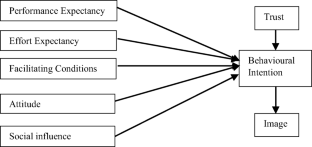 References
Ajzen, I. (1991). The theory of planned behavior. Organizational Behavior and Human Decision Processes, 50(2), 179–211.

Alexiou, A., & Schippers, M. C. (2018). Digital game elements, user experience and learning: A conceptual framework. Education and Information Technologies, 23(6), 2545–2567.

Barnes, J., & Kennewell, S. (2017). Investigating teacher perceptions of teaching ICT in Wales. Education and Information Technologies, 22(5), 2485–2497.

Boateng, R., Boateng, S. L., Awuah, R. B., Ansong, E., & Anderson, A. B. (2016). Videos in learning in higher education: Assessing perceptions and attitudes of students at the University of Ghana. Smart Learning Environments, 3(1), 8.

Bokhari, R. H. (2005). The relationship between system usage and user satisfaction: A meta-analysis. Journal of Enterprise Information Management, 18(2), 211–234.

Bourgonjon, J., Valcke, M., Soetaert, R., & Schellens, T. (2010). Students' perceptions about the use of video games in the classroom. Computers & Education, 54(4), 1145–1156.

Cohen, J. (1994). The earth is round (P-less-than.05). American Psychologist, 49(12), 997–1003. https://doi.org/10.1037//0003-066X.49.12.997.

Davis, F., Bagozzi, R., & Warshaw, P. (1989). User acceptance of computer technology: A comparison of two theoretical models. Management Science [serial online], 35(8), 982–1003.

Davis, F. D., Bagozzi, R. P., & Warshaw, P. R. (1992). Extrinsic and intrinsic motivation to use computers in the workplace 1. Journal of Applied Social Psychology, 22(14), 1111–1132.

De-Marcos, L., García-Cabot, A., & García-López, E. (2017). Towards the social Gamification of e-learning: A practical experiment. International Journal of Engineering Education, 33(1), 66–73.

Deng, L., Turner, D. E., Gehling, R., & Prince, B. (2010). User experience, satisfaction, and continual usage intention of IT. European Journal of Information Systems, 19(1), 60–75.

Deterding, S., Sicart, M., Nacke, L., O'Hara, K., & Dixon, D. (2011). Gamification: Using game-design elements in non-gaming contexts. In Proceedings of the CHI 2011. Vancouver, BC, Canada, 10.1145/1979742.1979575.

Featherstone, M., & Habgood, J. (2019). UniCraft: Exploring the impact of asynchronous multiplayer game elements in gamification. International Journal of Human-Computer Studies, 127, 150–168.

Filippou, J., Cheong, C., & Cheong, F. (2018). A model to investigate preference for use of Gamification in a learning activity. Australasian Journal of Information Systems, 22.

Fisher, D. J., Beedle, J., & Rouse, S. E. (2013). Gamification: A study of business teacher educators' knowledge of, attitudes toward, and experiences with the gamification of activities in the classroom. The Journal of Research in Business Education, 56(1), 1.

Ghani, J. A., & Deshpande, S. P. (1994). Task characteristics and the experience of optimal flow in human-computer interaction. The Journal of Psychology, 128(4), 381–391.

Hamari, J. (2013). Transforming homo economicus into homo ludens: A field experiment on gamification in a utilitarian peer-to-peer trading service. Electronic Commerce Research and Applications, 12(4), 236–245.

Hanus, M. D., & Fox, J. (2015). Assessing the effects of gamification in the classroom: A longitudinal study on intrinsic motivation, social comparison, satisfaction, effort, and academic performance. Computers & Education, 80, 152–161.

Harwood, T., & Garry, T. (2015). An investigation into gamification as a customer engagement experience environment. Journal of Services Marketing, 29(6/7), 533–546.

Holmes, J. B., & Gee, E. R. (2016). A framework for understanding game-based teaching and learning. On the Horizon, 24(1), 1–16.

Hsu, S. H., Chang, J. W., & Lee, C. C. (2013). Designing attractive gamification features for collaborative storytelling websites. Cyberpsychology, Behavior and Social Networking, 16(6), 428–435.

Jasperson, J. S., Carter, P. E., & Zmud, R. W. (2005). A comprehensive conceptualization of post-adoptive behaviors associated with information technology enabled work systems. MIS Quarterly, 29(3), 525–557.

Kapp, K. M. (2012). The gamification of learning and instruction: Game-based methods and strategies for training and education. San Francisco: Pfeiffer.

Katz, R., Rebentisch, E. S., & Alien, T. J. (1996). A study of technology transfer in a multinational cooperative joint venture. IEEE Transactions on Engineering Management, 43(1), 97–105.

Kim, H., Suh, K. S., & Lee, U. K. (2013). Effects of collaborative online shopping on shopping experience through social and relational perspectives. Information & Management, 50(4), 169–180.

Kline, R. B. (2011). Principles and practice of structural equation modeling (3rd ed.). New York: Guilford Press.

Kolog, E. A. (2018). Detecting emotions in students' generated content: An evaluation of EmoTect system. In International Conference on Technology in Education (pp. 235–248). Springer, Singapore. Retrieved from https://link.springer.com/chapter/10.1007/978-981-13-0008-0_22. Accessed on 8 Jan 2019.

Leaning, M. (2015). A study of the use of games and gamification to enhance student engagement, experience and achievement on a theory-based course of an undergraduate media degree. Journal of Media Practice, 16(2), 155–170.

Liu, D., Santhanam, R., & Webster, J. (2017). Toward meaningful engagement: A framework for design and research of Gamified information systems. MIS Quarterly, 41(4).

Mattingly, B. A., & Lewandowski Jr., G. W. (2013). The power of one: Benefits of individual self-expansion. The Journal of Positive Psychology, 8(1), 12–22.

Moore, G. C., & Benbasat, I. (1991). Development of an instrument to measure the perceptions of adopting an information technology innovation. Information Systems Research, 2, 192–222.

Nousiainen, T., Kangas, M., Rikala, J., & Vesisenaho, M. (2018). Teacher competencies in game-based pedagogy. Teaching and Teacher Education, 74, 85–97.

Ngampornchai, A., & Adams, J. (2016). Students' acceptance and readiness for E-learning in northeastern Thailand. International Journal of Educational Technology in Higher Education, 13(1), 34.

Nunnally, J. (1978). Psychometric theory. New York: McGraw.

Ofosu-Ampong, K., & Boateng, R. (2018). Gamifying Sakai: Understanding game elements for learning. In Proceedings of the Twenty-fourth Americas Conference on Information Systems. Retrieved from: https://aisel.aisnet.org/amcis2018/Education/Presentations/4. Accessed on 8 Jan 2019.

Peart, D. J., Rumbold, P. L., Keane, K. M., & Allin, L. (2017). Student use and perception of technology-enhanced learning in a mass lecture knowledge-rich domain first-year undergraduate module. International Journal of Educational Technology in Higher Education, 14(1), 40.

Podsakoff, P., MacKenzie, S., Lee, J., & Podsakoff, N. (2003). Common method biases in behavioral research: A critical review of the literature and recommended remedies. Journal of Applied Psychology, 88(5), 879–903.

Prinsloo, M., & Snyder, I. (2007). Young people's engagement with digital literacies in marginal contexts in a globalized world. Language and Education, 21(3), 171–179.

Robey, D., Anderson, C., & Raymond, B. (2013). Information technology, materiality, and organizational change: A professional odyssey. Journal of the Association for Information Systems, 14(7), 1.

Rogers, E. (2003). Diffusion of innovation (5th ed.). New York: The Free Press.

Robertson, J., Sorbello, T., & Unsworth, K. (2008). Innovation implementation: The role of technology diffusion agencies. Journal of Technology Management & Innovation, 3(3), 1–10.

Roldán, J. L., & Sánchez-Franco, M. J. (2012). Variance-based structural equation modeling: Guidelines for using partial least squares in information systems research. In Research methodologies, innovations and philosophies in software systems engineering and information systems (pp. 193-221). IGI global.

Rooney, P. (2012). A theoretical framework for serious game design: Exploring pedagogy, play and fidelity and their implications for the design process. International Journal of Game-Based Learning (IJGBL), 2(4), 41–60.

Santhanam, R., Liu, D., & Shen, W. C. M. (2016). Research note—Gamification of technology-mediated training: Not all competitions are the same. Information Systems Research, 27(2), 453–465.

Seaborn, K., & Fels, D. I. (2015). Gamification in theory and action: A survey. International Journal of Human-Computer Studies, 74, 14–31.

Setterstrom, A. J., & Pearson, J. M. (2019). Social influence and willingness to pay for massively multiplayer online games: An empirical examination of social identity theory. Communications of the Association for Information Systems, 44(1), 2.

Son, M., & Han, K. (2011). Beyond the technology adoption: Technology readiness effects on post-adoption behavior. Journal of Business Research, 64(11), 1178–1182.

Ssekakubo, G., Suleman, H., & Marsden, G. (2011). Issues of adoption: Have E-learning management systems fulfilled their potential in developing countries? In Proceedings of the South African Institute of Computer Scientists and Information Technologists Conference on Knowledge, Innovation and Leadership in a Diverse, Multidisciplinary Environment (pp. 231–238). Cape Town, South Africa.: ACM New York. 10.1145/2072221.2072248.

Strmečki, D., Bernik, A., & Radošević, D. (2015). Gamification in e-learning: Introducing gamified design elements into e-learning systems. Journal of Computer Science, 11(12), 1108–1117.

Thompson, R., Barclay, D. W., & Higgins, C. A. (1995). The partial least squares approach to causal modeling: Personal computer adoption and use as an illustration. Technology Studies: Special Issue on Research Methodology, 2(2), 284–324.

Treiblmaier, H., Putz, L. M., & Lowry, P. B. (2018). Research commentary: Setting a definition, context, and theory-based research agenda for the Gamification of non-gaming applications. AIS Transactions on Human-Computer Interaction, 10(3), 129–163.

UNICEF Ghana Report (2017). "Handwashing with Ananse." Evaluating the effectiveness of a game-based handwashing curriculum to generate learning and behavior change. Retrieved from: https://www.unicef.org/ghana/HWWA_Evaluation_White_Paper.pdf. .

Venkatesh, V., Morris, M. G., Davis, G. B., & Davis, F. D. (2003). User acceptance of information technology: Toward a unified view. MIS Quarterly, 27, 425–478.

Verkijika, S. F., & De Wet, L. (2015). Using a brain-computer interface (BCI) in reducing math anxiety: Evidence from South Africa. Computers & Education, 81, 113–122.

Walton, M., & Pallitt, N. (2012). 'Grand theft South Africa': Games, literacy and inequality in consumer childhoods. Language and Education, 26(4), 347–361.

Yang, Y., Asaad, Y., & Dwivedi, Y. (2017). Examining the impact of gamification on intention of engagement and brand attitude in the marketing context. Computers in Human Behaviour, 73, 459–469.
Ethics declarations
Competing interests
The authors declare that they have no competing interests.
Additional information
Publisher's note
Springer Nature remains neutral with regard to jurisdictional claims in published maps and institutional affiliations.
About this article
Cite this article
Ofosu-Ampong, K., Boateng, R., Anning-Dorson, T. et al. Are we ready for Gamification? An exploratory analysis in a developing country. Educ Inf Technol 25, 1723–1742 (2020). https://doi.org/10.1007/s10639-019-10057-7
Received:

Accepted:

Published:

Issue Date:
Keywords
Gamification supported learning

Acceptance of gamification

User perception

Game elements