Summary
This study reports the results of a monocentric prospective analysis conducted with the aim of evaluating the impact of XRCC1 rs25487, XRCC3 rs861539, XRCC3 rs1799794, RAD51 rs1801320 and GSTP-1 rs1695 single nucleotide polymorphisms (SNP) on patients with high-grade glioma treated with concomitant radio-chemotherapy. From October 2010 to August 2019, a total of 75 patients aged ≥18 years, with histological diagnosis of high-grade glioma, isocitrate dehydrogenase (IDH) 1/2 wild type and treated with radio-chemotherapy and sequential chemotherapy with temozolomide (TMZ) were prospectively recruited. The local ethic committee approved this study (Comitato Etico di Area Vasta Nord Ovest [CEAVNO]; protocol 3304/2011). After a median follow up of 25 months (range: 7–98 months), median progression-free survival (PFS) and overall survival (OS) were 11 months (CI95%: 8–14 months) and 18 months (CI95%: 15–21 months), respectively. In univariate and multivariate Cox regression analysis, a statistically significant association with PFS and OS was found with XRCC3 rs1799794 SNP. The study suggests that XRCC3 rs1799794 SNP can be associated with different PFS and OS in glioblastoma patients treated with radio-chemotherapy.
Access options
Buy single article
Instant access to the full article PDF.
US$ 39.95
Tax calculation will be finalised during checkout.
Subscribe to journal
Immediate online access to all issues from 2019. Subscription will auto renew annually.
US$ 79
Tax calculation will be finalised during checkout.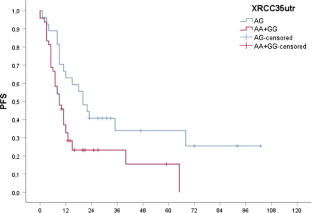 References
1.

Ostrom QT, Cioffi G, Gittleman H, Patil N, Waite K, Kruchko C, Barnholtz-Sloan JS (2019) CBTRUS statistical report: primary brain and other central nervous system tumors diagnosed in the United States in 2012-2016. Neuro-Oncology 21(Suppl 5):v1–v100

2.

Piccirillo SGM, Alonso MM, Pasqualetti F (2018) Basic and translational advances in glioblastoma. Biomed Res Int 2018:1820345

3.

Aldape K, Brindle KM, Chesler L, Chopra R, Gajjar A, Gilbert MR, Gottardo N, Gutmann DH, Hargrave D, Holland EC, Jones DTW, Joyce JA, Kearns P, Kieran MW, Mellinghoff IK, Merchant M, Pfister SM, Pollard SM, Ramaswamy V, Rich JN, Robinson GW, Rowitch DH, Sampson JH, Taylor MD, Workman P, Gilbertson RJ (2019) Challenges to curing primary brain tumours. Nat Rev Clin Oncol 16:509–520

4.

Wen PY, Weller M, Lee EQ, Alexander BM, Barnholtz-Sloan JS, Barthel FP, Batchelor TT, Bindra RS, Chang SM, Chiocca EA, Cloughesy TF, DeGroot JF, Galanis E, Gilbert MR, Hegi ME, Horbinski C, Huang RY, Lassman AB, le Rhun E, Lim M, Mehta MP, Mellinghoff IK, Minniti G, Nathanson D, Platten M, Preusser M, Roth P, Sanson M, Schiff D, Short SC, Taphoorn MJB, Tonn JC, Tsang J, Verhaak RGW, von Deimling A, Wick W, Zadeh G, Reardon DA, Aldape KD, van den Bent MJ (2020) Glioblastoma in adults: a Society for Neuro-Oncology (SNO) and European Society of Neuro-Oncology (EANO) consensus review on current management and future directions. Neuro-Oncology 22(8):1073–1113

5.

Sharma RA, Plummer R, Stock JK, Greenhalgh TA, Ataman O, Kelly S, Clay R, Adams RA, Baird RD, Billingham L et al (2016) Clinical development of new drug-radiotherapy combinations. Nat Rev Clin Oncol 13(10):627–642

6.

Limviphuvadh V, Tan CS, Konishi F, Jenjaroenpun P, Xiang JS, Kremenska Y, Mu YS, Syn N, Lee SC, Soo RA, Eisenhaber F, Maurer-Stroh S, Yong WP (2018) Discovering novel SNPs that are correlated with patient outcome in a Singaporean cancer patient cohort treated with gemcitabine-based chemotherapy. BMC Cancer 18(1):555

7.

Palmirotta R, Carella C, Silvestris E, Cives M, Stucci SL, Tucci M, Lovero D, Silvestris F (2018) SNPs in predicting clinical efficacy and toxicity of chemotherapy: walking through the quicksand. Oncotarget 9(38):25355–25382

8.

Di Stefano AL, Labussiere M, Lombardi G, Eoli M, Bianchessi D, Pasqualetti F, Farina P, Cuzzubbo S, Gallego-Perez-Larraya J, Boisselier B et al (2015) VEGFA SNP rs2010963 is associated with vascular toxicity in recurrent glioblastomas and longer response to bevacizumab. J Neuro-Oncol 121(3):499–504

9.

Pasqualetti F, Bocci G, Mey V, Menghini V, Montrone S, Cocuzza P, Ferrazza P, Seccia V, Delishaj D, Orlandini C, Fabrini MG, Danesi R (2015) Akt1 rs2498801 is related to survival in head and neck squamous cell cancer treated with radiotherapy. Anticancer Res 35(1):269–271

10.

Pasqualetti F, Gonnelli A, Cantarella M, Delishaj D, Molinari A, Ortenzi V, Carbone F, Montrone S, Ursino S, Franceschi S, Morganti R, Orlandi P, di Desidero T, Mazzanti CM, Zavaglia K, Naccarato AG, Bocci G, Paiar F (2018) Association of Glutathione S-Transferase P-1 (GSTP-1) rs1695 polymorphism with overall survival in glioblastoma patients treated with combined radio-chemotherapy. Investig New Drugs 36(2):340–345

11.

Pasqualetti F, Orlandi P, Simeon V, Cantarella M, Giuliani D, Di Desidero T, Gonnelli A, Delishaj D, Lombardi G, Sechi A et al (2018) Melanocortin Receptor-4 gene polymorphisms in glioblastoma patients treated with concomitant radio-chemotherapy. Mol Neurobiol 55(2):1396–1404

12.

Stupp R, Mason WP, van den Bent MJ, Weller M, Fisher B, Taphoorn MJ, Belanger K, Brandes AA, Marosi C, Bogdahn U et al (2005) Radiotherapy plus concomitant and adjuvant temozolomide for glioblastoma. N Engl J Med 352(10):987–996

13.

Wen PY, Macdonald DR, Reardon DA, Cloughesy TF, Sorensen AG, Galanis E, Degroot J, Wick W, Gilbert MR, Lassman AB et al (2010) Updated response assessment criteria for high-grade gliomas: response assessment in neuro-oncology working group. J Clin Oncol 28(11):1963–1972

14.

Franceschi S, Tomei S, Mazzanti CM, Lessi F, Aretini P, La Ferla M, De Gregorio V, Pasqualetti F, Zavaglia K, Bevilacqua G et al (2016) Association between RAD 51 rs1801320 and susceptibility to glioblastoma. J Neuro-Oncol 126(2):265–270

15.

Qi L, Yu HQ, Zhang Y, Ding LJ, Zhao DH, Lv P, Wang WY, Xu Y (2017) A comprehensive meta-analysis of genetic associations between key polymorphic loci in DNA repair genes and Glioma risk. Mol Neurobiol 54(2):1314–1325

16.

Gal TJ, Huang WY, Chen C, Hayes RB, Schwartz SM (2005) DNA repair gene polymorphisms and risk of second primary neoplasms and mortality in oral cancer patients. Laryngoscope 115(12):2221–2231

17.

Tew KD, Manevich Y, Grek C, Xiong Y, Uys J, Townsend DM (2011) The role of glutathione S-transferase P in signaling pathways and S-glutathionylation in cancer. Free Radic Biol Med 51(2):299–313

18.

Zhai XM, Hu QC, Gu K, Wang JP, Zhang JN, Wu YW (2016) Significance of XRCC1 Codon399 polymorphisms in Chinese patients with locally advanced nasopharyngeal carcinoma treated with radiation therapy. Asia Pac J Clin Oncol 12(1):e125–e132

19.

Jin H, Xie X, Wang H, Hu J, Liu F, Liu Z, Zhou J, Zhang Y, Xi X, Hu B, Liao Y, Tang J (2014) ERCC1 Cys8092Ala and XRCC1 Arg399Gln polymorphisms predict progression-free survival after curative radiotherapy for nasopharyngeal carcinoma. PLoS One 9(7):e101256

20.

Prados MD, Byron SA, Tran NL, Phillips JJ, Molinaro AM, Ligon KL, Wen PY, Kuhn JG, Mellinghoff IK, de Groot JF, Colman H, Cloughesy TF, Chang SM, Ryken TC, Tembe WD, Kiefer JA, Berens ME, Craig DW, Carpten JD, Trent JM (2015) Toward precision medicine in glioblastoma: the promise and the challenges. Neuro-Oncology 17(8):1051–1063

21.

Pasqualetti F, Ferrazza P, Cocuzza P, Fatigante L, Pasqualetti G, Fabbrini MG, Monzani F (2014) Radio-chemotherapy with temozolomide in elderly patients with glioblastoma. A mono-institutional experience. Anticancer Res 34(8):4281–4285

22.

Weller M, van den Bent M, Tonn JC, Stupp R, Preusser M, Cohen-Jonathan-Moyal E, Henriksson R, Rhun EL, Balana C, Chinot O et al (2017) European Association for Neuro-Oncology (EANO) guideline on the diagnosis and treatment of adult astrocytic and oligodendroglial gliomas. Lancet Oncol 18(6):e315–e329

23.

Ali AM, AbdulKareem H, Al Anazi M, Reddy Parine N, Shaik JP, Alamri A, Ali Khan Pathan A, Warsy A (2016) Polymorphisms in DNA repair gene XRCC3 and susceptibility to breast Cancer in Saudi females. Biomed Res Int 2016:8721052

24.

Bewick MA, Conlon MS, Lafrenie RM (2006) Polymorphisms in XRCC1, XRCC3, and CCND1 and survival after treatment for metastatic breast cancer. J Clin Oncol 24(36):5645–5651

25.

Burri RJ, Stock RG, Cesaretti JA, Atencio DP, Peters S, Peters CA, Fan G, Stone NN, Ostrer H, Rosenstein BS (2008) Association of single nucleotide polymorphisms in SOD2, XRCC1 and XRCC3 with susceptibility for the development of adverse effects resulting from radiotherapy for prostate cancer. Radiat Res 170(1):49–59

26.

Ott K, Rachakonda PS, Panzram B, Keller G, Lordick F, Becker K, Langer R, Buechler M, Hemminki K, Kumar R (2011) DNA repair gene and MTHFR gene polymorphisms as prognostic markers in locally advanced adenocarcinoma of the esophagus or stomach treated with cisplatin and 5-fluorouracil-based neoadjuvant chemotherapy. Ann Surg Oncol 18(9):2688–2698

27.

Mao X, Young BD, Lu YJ (2007) The application of single nucleotide polymorphism microarrays in cancer research. Curr Genomics 8(4):219–228

28.

Solini A, Simeon V, Derosa L, Orlandi P, Rossi C, Fontana A, Galli L, Di Desidero T, Fioravanti A, Lucchesi S et al (2015) Genetic interaction of P2X7 receptor and VEGFR-2 polymorphisms identifies a favorable prognostic profile in prostate cancer patients. Oncotarget 6(30):28743–28754
Acknowledgements
The authors would like to thank Fondazione Arpa for its support through the project Luca Gambicor.
Code availability
not applicable.
Ethics declarations
Ethics approval
Comitato Etico di Area Vasta Nord Ovest CEAVNO; protocol #560.
Consent to participate
not applicable.
Consent for publication
not applicable.
Statements on compliance with ethical standards and standards of research involving humans and anim
.
Conflict of interest
The authors declare that they have no conflicts of interest.
This article does not contain any studies involving animals performed by any of the authors.
All procedures performed in studies involving human participants were in accordance with the ethical standards of the institutional and/or national research committee and with the 1964 Helsinki Declaration and its later amendments or comparable ethical standards.
Informed consent was obtained from all individual participants involved in the study.
Conflict of interest
none.
Conflict of interest
all authors agreed with the content of the present paper, gave explicit consent to submit and obtained consent from the responsible authorities at the institute/organization where the work has been carried out before the work is submitted.
Additional information
Publisher's note
Springer Nature remains neutral with regard to jurisdictional claims in published maps and institutional affiliations.
About this article
Cite this article
Pasqualetti, F., Gonnelli, A., Orlandi, P. et al. Association of XRCC3 rs1799794 polymorphism with survival of glioblastoma multiforme patients treated with combined radio-chemotherapy. Invest New Drugs (2021). https://doi.org/10.1007/s10637-021-01075-9
Received:

Accepted:

Published:
Keywords
Single nucleotide polymorphism

Pharmacogenetic

Translational research

Glioblastoma

Radiotherapy biomarkers