Summary
Background Previous studies on neoadjuvant therapy for BRCA1-driven ovarian cancer (OC) demonstrated higher efficacy of mitomycin C plus cisplatin combination as compared to standard drug schemes. These data call for evaluation of the utility of this regimen for the treatment of recurrent BRCA1-associated OC. Methods The study included 12 BRCA1 germ-line mutation carriers, whose disease relapsed after one (n = 4) or two (n = 8) lines of chemotherapy. The patients received cisplatin 100 mg/m2 and mitomycin C 10 mg/m2, given every four weeks, for 6 (n = 10), 8 (n = 1) or 5 (n = 1) cycles. Retrospective data on conventional treatment of OC relapses in BRCA1 heterozygotes (n = 47) served as a control. Results Grade 3–4 toxicities were observed in 4/12 (33%) cases. There were 6 complete responses (CR), 4 partial responses (PR) and 2 instances of stable disease (SD). Comparison of patients receiving mitomycin C plus cisplatin (n = 4) or conventional therapy (n = 44) at first relapse demonstrated marginal improvement of the progression-free survival (PFS) (16.6 months vs. 10.2 months, P = .067). Use of mitomycin C plus cisplatin (n = 8) for the treatment of second relapse resulted in significant prolongation of PFS as compared to standard regimens (n = 31) (14.8 months vs. 4.8 months, P = .002). Conclusions Mitomycin C plus cisplatin shows promising activity in recurrent BRCA1-driven ovarian cancer.
This is a preview of subscription content, log in to check access.
Access options
Buy single article
Instant access to the full article PDF.
US$ 39.95
Price includes VAT for USA
Subscribe to journal
Immediate online access to all issues from 2019. Subscription will auto renew annually.
US$ 99
This is the net price. Taxes to be calculated in checkout.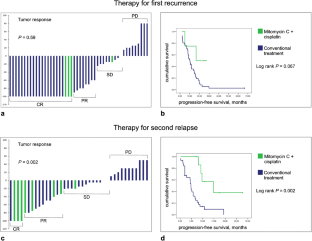 References
1.

Matulonis UA, Sood AK, Fallowfield L et al (2016) Ovarian cancer. Nat Rev Dis Primers 2:16061. https://doi.org/10.1038/nrdp.2016.61

2.

Matulonis UA (2018) Management of newly diagnosed or recurrent ovarian cancer. Clin Adv Hematol Oncol 16(6):426–437

3.

Lheureux S, Braunstein M, Oza AM (2019) Epithelial ovarian cancer: Evolution of management in the era of precision medicine. CA Cancer J Clin 69(4):280–304. https://doi.org/10.3322/caac.21559

4.

Lheureux S, Gourley C, Vergote I et al (2019) Epithelial ovarian cancer. Lancet 393(10177):1240–1253. https://doi.org/10.1016/S0140-6736(18)32552-2

5.

Marchetti C, De Leo R, Musella A et al (2018) BRCA mutation status to personalize management of recurrent ovarian cancer: A multicenter study. Ann Surg Oncol 25(12):3701–3708. https://doi.org/10.1245/s10434-018-6700-6

6.

Gorodnova T, Sokolenko A, Ni V et al (2019) BRCA1-associated and sporadic ovarian carcinomas: outcomes of primary cytoreductive surgery or neoadjuvant chemotherapy. Int J Gynecol Cancer 29(4):779–786. https://doi.org/10.1136/ijgc-2018-000175

7.

Gorodnova TV, Kotiv KB, Ivantsov AO et al (2018) Efficacy of neoadjuvant therapy with cisplatin plus mitomycin C in BRCA1-mutated ovarian cancer. Int J Gynecol Cancer 28(8):1498–1506. https://doi.org/10.1097/IGC.0000000000001352

8.

Safra T, Rogowski O, Muggia FM (2014) The effect of germ-line BRCA mutations on response to chemotherapy and outcome of recurrent ovarian cancer. Int J Gynecol Cancer 24(3):488–495. https://doi.org/10.1097/IGC.0000000000000086

9.

Bookman MA, Tyczynski JE, Espirito JL et al (2017) Impact of primary platinum-free interval and BRCA1/2 mutation status on treatment and survival in patients with recurrent ovarian cancer. Gynecol Oncol 146(1):58–63. https://doi.org/10.1016/j.ygyno.2017.04.011

10.

Moiseyenko VM, Chubenko VA, Moiseyenko FV et al (2014) Evidence for clinical efficacy of mitomycin C in heavily pretreated ovarian cancer patients carrying germ-line BRCA1 mutation. Med Oncol 31(10):199. https://doi.org/10.1007/s12032-014-0199-x

11.

NCCN clinical practice guidelines in oncology, Version 1.2020, ovarian cancer. https://www.nccn.org/professionals/physician_gls/pdf/ovarian.pdf. Accessed 1 Apr 2020

12.

Lindemann K, Gao B, Mapagu C et al (2018) Response rates to second-line platinum-based therapy in ovarian cancer patients challenge the clinical definition of platinum resistance. Gynecol Oncol 150(2):239–246. https://doi.org/10.1016/j.ygyno.2018.05.020

13.

Alsop K, Fereday S, Meldrum C et al (2012) BRCA mutation frequency and patterns of treatment response in BRCA mutation-positive women with ovarian cancer: a report from the Australian Ovarian Cancer Study Group. J Clin Oncol 30(21):2654–2663. https://doi.org/10.1200/JCO.2011.39.8545

14.

Sokolenko AP, Bizin IV, Preobrazhenskaya EV et al (2020) Molecular profiles of BRCA1-associated ovarian cancer treated by platinum-based therapy: Analysis of primary, residual and relapsed tumors. Int J Cancer 146(7):1879–1888. https://doi.org/10.1002/ijc.32776
Acknowledgements
We are cordially thankful to Ms. Sophie Leonard for the editing of this manuscript.
Funding
This work has been supported by the Russian Science Foundation [grant number 19-75-10062].
Ethics declarations
Conflict of interest
Tatyana V. Gorodnova, Anna P. Sokolenko, Sergey V. Kondratiev, Khristina B. Kotiv, Alexey M. Belyaev, Igor V. Berlev, and Evgeny N. Imyanitov declare that they have no conflicts of interest.
Ethical approval
The study was approved by the local Ethics Committee. The study was performed in accordance with the ethical standards as laid down in the 1964 Declaration of Helsinki and its later amendments.
Informed consent
All patients provided written informed consent.
Additional information
Publisher's Note
Springer Nature remains neutral with regard to jurisdictional claims in published maps and institutional affiliations.
Electronic supplementary material
About this article
Cite this article
Gorodnova, T.V., Sokolenko, A.P., Kondratiev, S.V. et al. Mitomycin C plus cisplatin for systemic treatment of recurrent BRCA1-associated ovarian cancer. Invest New Drugs (2020). https://doi.org/10.1007/s10637-020-00965-8
Received:

Accepted:

Published:
Keywords
BRCA1 mutation

Mitomycin C plus cisplatin

Ovarian cancer

Recurrence