Abstract
Purpose
To report electroretinographic (ERG) findings in advanced glaucoma treated with a single intravitreal injection of bone marrow-derived mesenchymal stem cells (MSCs).
Methods
Intravitreal injection of autologous MSCs (1 × 106 cells) was performed in 2 eyes from 2 patients with open-angle glaucoma in advanced stage of optic neuropathy (ClinicalTrials.gov, NCT02330978, 01.05.2015): cup/disk ratio worse than 0.9, visual field mean deviation index lower than − 15 dB, visual acuity of light perception, but controlled intraocular pressure. ERG tests were recorded at baseline and week 1, 4 and 48 after injection, using DTL electrodes following the ISCEV standard: After dark adaptation, ERG was elicited using white flashes of 0.01 cd.s/m2 and 3.0 cd.s/m2, followed by 10-min light adaptation (30 cd/m2) and stimuli of 3.0 cd.s/m2 and 30 Hz flicker.
Results
Patients did not show improvement on visual acuity or visual field after treatment. At baseline, ERG responses showed typical findings for advanced glaucoma, with a- and b-wave amplitude and latency within normative range, but reduced photopic negative responses. No noteworthy changes were observed on ERG responses for both cases up to 1 week after treatment, but at day 15, one patient showed retinal detachment with proliferative vitreoretinopathy and was removed from the trial. The other patient kept ERG responses stable throughout study period.
Conclusion
Although no ERG response changes were observed after MSCs injection in one case, the complication observed on the second one, along with the lack of visual function improvement, warrants further studies involving modified MSCs to treat ocular disorders, including glaucoma.
Trial registration: ClinicalTrials.gov, NCT02330978- missed in pdf
Access options
Buy single article
Instant access to the full article PDF.
US$ 39.95
Tax calculation will be finalised during checkout.
Subscribe to journal
Immediate online access to all issues from 2019. Subscription will auto renew annually.
US$ 79
Tax calculation will be finalised during checkout.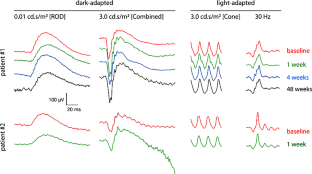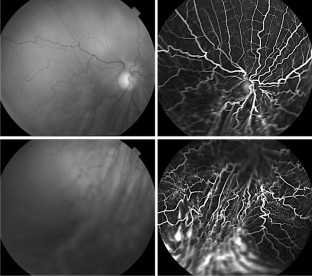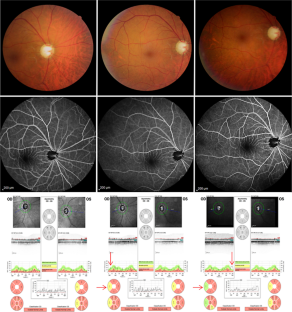 Availability of data and material
The data that support the findings of this study are available from the corresponding author, upon reasonable request.
References
1.

Johnson TV, DeKorver NW, Levasseur VA et al (2014) Identification of retinal ganglion cell neuroprotection conferred by platelet-derived growth factor through analysis of the mesenchymal stem cell secretome. Brain 137(2):503–519

2.

Park SS, Moisseiev E, Bauer G et al (2017) Advances in bone marrow stem cell therapy for retinal dysfunction. Prog Retin Eye Res 56:148–165

3.

Harrell CR, Fellabaum C, Arsenijevic A, Markovic BS, Djonov V, Volarevic V (2019) Therapeutic potential of mesenchymal stem cells and their secretome in the treatment of glaucoma. Stem Cells Int 2019:7869130

4.

Castro A, Du Y (2019) Trabecular meshwork regeneration—a potential treatment for glaucoma. Curr Ophthalmol Rep 7(2):80–88

5.

Roubeix C, Godefroy D, Mias C et al (2015) Intraocular pressure reduction and neuroprotection conferred by bone marrow-derived mesenchymal stem cells in an animal model of glaucoma. Stem Cell Res Ther 6:177

6.

Mead B, Hill LJ, Blanch RJ et al (2016) Mesenchymal stromal cell-mediated neuroprotection and functional preservation of retinal ganglion cells in a rodent model of glaucoma. Cytotherapy 18(4):487–496

7.

Vilela CAP, Souza LEB, Siqueira RC, Calado RT, Covas DT, Paula JS (2018) Ex vivo evaluation of intravitreal mesenchymal stromal cell viability using bioluminescence imaging. Stem Cell Res Ther 9(1):155

8.

McCulloch DL, Marmor MF, Brigell MG et al (2015) ISCEV Standard for full-field clinical electroretinography (2015 update). Doc Ophthalmol 130(1):1–12

9.

Tzameret A, Sher I, Belkin M et al (2014) Transplantation of human bone marrow mesenchymal stem cells as a thin subretinal layer ameliorates retinal degeneration in a rat model of retinal dystrophy. Exp Eye Res 118:135–144

10.

Mead B, Amaral J, Tomarev S (2018) Mesenchymal stem cell-derived small extracellular vesicles promote neuroprotection in rodent models of glaucoma. Invest Ophthalmol Vis Sci 59(2):702–714

11.

Kuriyan AE, Albini TA, Townsend JH et al (2017) Vision loss after intravitreal injection of autologous "stem cells" for AMD. N Engl J Med 376(11):1047–1053

12.

Pennock S, Haddock LJ, Eliott D, Mukai S, Kazlauskas A (2014) Is neutralizing vitreal growth factors a viable strategy to prevent proliferative vitreoretinopathy? Prog Retin Eye Res 40:16–34
Acknowledgements
We would kindly like to acknowledge Dr. Diego Villa Clé for performing the iliac crest aspiration to collect the bone marrow samples, as well as Prof. Rodrigo Jorge and Prof. Maria de Lourdes Veronese Rodrigues for discussing specific points of the methodology. We also acknowledge the CNPq - Brazil for the research Grant (Process # 401181/2013-8).
Funding
This study received a research Grant from CNPq - Brazil (Process # 401181/2013–8).
Ethics declarations
Statement of human rights
Informed consent was obtained from all individual participants included in the study.
Consent for publication
All authors have had full access to the entire review and agree with the decision to submit for publication.
Conflict of interest
Authors do not have any commercial or proprietary conflicting, competing interests in the materials or products described (directly or indirectly related to) in the article. The results presented in this manuscript were not presented at any previous scientific meeting.
Ethics approval
All procedures performed in this study were approved by the Ribeirão Preto Clinical Hospital Ethical Committee (process number 14151/2010) and were in accordance with Helsinki Declaration (1964) and its later amendments.
Additional information
Publisher's Note
Springer Nature remains neutral with regard to jurisdictional claims in published maps and institutional affiliations.
About this article
Cite this article
Vilela, C.A.P., Messias, A., Calado, R.T. et al. Retinal function after intravitreal injection of autologous bone marrow-derived mesenchymal stromal cells in advanced glaucoma. Doc Ophthalmol (2021). https://doi.org/10.1007/s10633-021-09817-z
Received:

Accepted:

Published:
Keywords
Glaucoma

Mesenchymal stem cells

Electroretinogram

ERG