Abstract
Background
Misdiagnosed sessile serrated lesions (SSLs) are important precursors for interval colorectal cancers.
Aims
We investigated the usage of acetic acid (AA) solution for improving the detection of SSLs in the right colon in a randomized controlled trial.
Methods
A tandem observation of the right colon was performed in 412 consecutive patients. A first inspection was performed under white light high-definition endoscopy. In the AA group, a low concentration vinegar solution (AA: 0.005%) irrigated by a water pump in the right colon was compared with a plain solution of normal saline (NS) in the diagnostic yield of SSLs during the second inspection. Secondary outcomes in overall polyp detection were measured.
Results
Qualitative comparisons showed significant differences in the detection rates of all polyps except adenomas, with remarkable improvement in the demonstration of advanced (> 20 mm), SSLs, and hyperplastic polyps during the second inspection of the right colon using the AA solution. Significant improvement was also noted in the AA group, as far as the mean number of polyps/patient detected, not only in SSLs (AA group: 0.14 vs. NS group: 0.01, P < 0.001), but also in all histological types and all size-categories in the right colon. Small (≤ 9 mm) polyps were detected at a higher rate in the sigmoid colon expanding the effect of the method in the rest of the colon.
Conclusion
AA-assisted colonoscopy led to a significant increase in SSLs detection rate in the right colon in a safe, quick, and effective manner.
Access options
Buy single article
Instant access to the full article PDF.
US$ 39.95
Tax calculation will be finalised during checkout.
Subscribe to journal
Immediate online access to all issues from 2019. Subscription will auto renew annually.
US$ 119
Tax calculation will be finalised during checkout.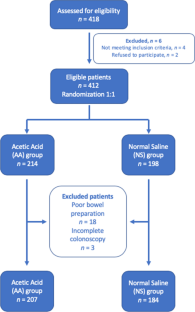 References
1.

Johnston CS, Gaas CA. Vinegar: medicinal uses and antiglycemic effect. MedGenMed. 2006; 8(2): 61. Published 2006 May 30.

2.

Jung HH, Cho SD, Yoo CK, Lim HH, Chae SW. Vinegar treatment in the management of granular myringitis. J Laryngol Otol. 2002;116:176–180. https://doi.org/10.1258/0022215021910474.

3.

Aminifarshidmehr N. The management of chronic suppurative otitis media with acid media solution. Am J Otol. 1996;17:24–25

4.

Santesso N, Mustafa RA, Schünemann HJ et al. World Health Organization Guidelines for treatment of cervical intraepithelial neoplasia 2–3 and screen-and-treat strategies to prevent cervical cancer. Int J Gynaecol Obstet. 2016;132:252–258. https://doi.org/10.1016/j.ijgo.2015.07.038.

5.

Lambert R, Rey JF, Sankaranarayanan R. Magnification and chromoscopy with the acetic acid test. Endoscopy. 2003;35:437–445. https://doi.org/10.1055/s-2003-38766.

6.

Yagi K, Aruga Y, Nakamura A, Sekine A, Umezu H. The study of dynamic chemical magnifying endoscopy in gastric neoplasia. Gastrointest Endosc. 2005;62:963–969. https://doi.org/10.1016/j.gie.2005.08.050.

7.

Parra-Blanco A, Fu KI, Nicolás-Pérez D, Gimeno-García AZ, Carrillo M, Quintero E. Is acetic acid really effective as a mucolytic agent for magnifying colonoscopy diagnosis? Endoscopy. 2007;39:920–923. https://doi.org/10.1055/s-2007-966846.

8.

Kim JH, Lee SY, Kim BK et al. Importance of the surrounding colonic mucosa in distinguishing between hyperplastic and adenomatous polyps during acetic acid chromoendoscopy. World J Gastroenterol. 2008;14:1903–1907. https://doi.org/10.3748/wjg.14.1903.

9.

Zimmer V, Heinrich C, Lammert F. Open pit pattern identifies sessile serrated adenoma/polyp on non-magnified acetic acid-enhanced colonoscopy. Clin Res Hepatol Gastroenterol. 2020;44:119–120. https://doi.org/10.1016/j.clinre.2019.04.006.

10.

Shibagaki K, Amano Y, Ishimura N et al. Magnification endoscopy with acetic acid enhancement and a narrow-band imaging system for pit pattern diagnosis of colorectal neoplasms. J Clin Gastroenterol. 2015;49:306–312. https://doi.org/10.1097/MCG.0000000000000148.

11.

Togashi K, Hewett DG, Whitaker DA, Hume GE, Francis L, Appleyard MN. The use of acetic acid in magnification chromocolonoscopy for pit pattern analysis of small polyps. Endoscopy. 2006;38:613–616. https://doi.org/10.1055/s-2006-925001.

12.

Goto N, Kusaka T, Tomita Y et al. Magnifying narrow-band imaging with acetic acid to diagnose early colorectal cancer. World J Gastroenterol. 2014;20:16306–16310. https://doi.org/10.3748/wjg.v20.i43.16306.

13.

Wiessner JR, Brown H, Haller B et al. Near focus NBI endoscopy plus acetic acid for optical polyp characterization in the colorectum - A proof of principle study. Scand J Gastroenterol. 2019;54:377–383. https://doi.org/10.1080/00365521.2019.1588364.

14.

Onishi K, Kono Y, Higashi R. Acetic Acid Spray With Narrow-Band Imaging Is Useful to Clarify the Margin of Sessile Serrated Adenoma/Polyp [published online ahead of print, 2019 Nov 11]. Am J Gastroenterol. 2019; https://doi.org/10.14309/ajg.0000000000000447.

15.

Fujimoto D, Muguruma N, Okamoto K et al. Linked color imaging enhances endoscopic detection of sessile serrated adenoma/polyps. Endosc Int Open. 2018;6:E322–E334. https://doi.org/10.1055/s-0043-124469.

16.

Yoshida N, Dohi O, Inoue K et al. The efficacy of tumor characterization and tumor detectability of linked color imaging and blue laser imaging with an LED endoscope compared to a LASER endoscope. Int J Colorectal Dis. 2020;35:815–825. https://doi.org/10.1007/s00384-020-03532-y.

17.

Yamamoto S, Shafazand M. Acetic acid-indigocarmine mixture for evaluating the margins of sessile serrated adenomas/polyps. Dig Endosc. 2017;29:817–818. https://doi.org/10.1111/den.12947.

18.

Limketkai BN, Lam-Himlin D, Arnold MA, Arnold CA. The cutting edge of serrated polyps: a practical guide to approaching and managing serrated colon polyps [published correction appears in Gastrointest Endosc: 2014 Mar; 79(3):542]. Gastrointest Endosc. 2013;77:360–375. https://doi.org/10.1016/j.gie.2012.11.013.

19.

Tribonias G, Theodoropoulou A, Konstantinidis K, et al. Comparison of standard vs high-definition, wide-angle colonoscopy for polyp detection: a randomized controlled trial. Colorectal Dis. 2010; 12(10 Online): e260–e266. https://doi.org/10.1111/j.1463-1318.2009.02145.x

20.

Kastenberg D, Bertiger G, Brogadir S. Bowel preparation quality scales for colonoscopy. World J Gastroenterol. 2018;24:2833–2843. https://doi.org/10.3748/wjg.v24.i26.2833.

21.

Papastergiou V, Paraskeva KD, Fragaki M et al. Cold versus hot endoscopic mucosal resection for nonpedunculated colorectal polyps sized 6–10 mm: a randomized trial. Endoscopy. 2018;50:403–411. https://doi.org/10.1055/s-0043-118594.

22.

Tate DJ, Awadie H, Bahin FF et al. Wide-field piecemeal cold snare polypectomy of large sessile serrated polyps without a submucosal injection is safe. Endoscopy. 2018;50:248–252. https://doi.org/10.1055/s-0043-121219.

23.

Tutticci NJ, Hewett DG. Cold EMR of large sessile serrated polyps at colonoscopy (with video). Gastrointest Endosc. 2018;87:837–842. https://doi.org/10.1016/j.gie.2017.11.002.

24.

Crockett SD, Gourevitch RA, Morris M et al. Endoscopist factors that influence serrated polyp detection: a multicenter study. Endoscopy. 2018;50:984–992. https://doi.org/10.1055/a-0597-1740.

25.

Fan C, Younis A, Bookhout CE, Crockett SD. Management of Serrated Polyps of the Colon. Curr Treat Options Gastroenterol. 2018;16:182–202. https://doi.org/10.1007/s11938-018-0176-0.

26.

Okamoto K, Kitamura S, Kimura T et al. Clinicopathological characteristics of serrated polyps as precursors to colorectal cancer: Current status and management. J Gastroenterol Hepatol. 2017;32:358–367. https://doi.org/10.1111/jgh.13482.

27.

Crockett SD, Nagtegaal ID. Terminology, Molecular Features, Epidemiology, and Management of Serrated Colorectal Neoplasia. Gastroenterology. 2019;157:949-966.e4. https://doi.org/10.1053/j.gastro.2019.06.041.

28.

Bettington M, Walker N, Rahman T et al. High prevalence of sessile serrated adenomas in contemporary outpatient colonoscopy practice. Intern Med J. 2017;47:318–323. https://doi.org/10.1111/imj.13329.

29.

Rex DK, Clodfelter R, Rahmani F et al. Narrow-band imaging versus white light for the detection of proximal colon serrated lesions: a randomized, controlled trial. Gastrointest Endosc. 2016;83:166–171. https://doi.org/10.1016/j.gie.2015.03.1915.

30.

Desai M, Sanchez-Yague A, Choudhary A et al. Impact of cap-assisted colonoscopy on detection of proximal colon adenomas: systematic review and meta-analysis. Gastrointest Endosc. 2017;86:274-281.e3. https://doi.org/10.1016/j.gie.2017.03.1524.

31.

Van Keulen KE, Soons E, Siersema PD. The Role of Behind Folds Visualizing Techniques and Technologies in Improving Adenoma Detection Rate. Curr Treat Options Gastroenterol. 2019;17:394–407. https://doi.org/10.1007/s11938-019-00242-5.

32.

Okabe S, Okamoto T, Zhao CM, Chen D, Matsui H. Acetic acid induces cell death: an in vitro study using normal rat gastric mucosal cell line and rat and human gastric cancer and mesothelioma cell lines. J Gastroenterol Hepatol. 2014;29:65–69. https://doi.org/10.1111/jgh.12775.

33.

Kashida H. Endoscopic diagnosis of sessile serrated polyp: A systematic review. Dig Endosc. 2019;31:16–23. https://doi.org/10.1111/den.13263. Epub 2018 Sep 30. PMID: 30151942; PMCID: PMC7379725.
Ethics declarations
Conflict of interest
The authors declare that there is no conflict of interest.
Ethical approval
All procedures performed in the study involving human participants were in accordance with the ethical standards of the institutional and/or national research committee and with the 1964 Declaration of Helsinki and its later amendments or comparable ethical standards.
Informed consent
Informed consent was obtained from all individual participants included in the study.
Additional information
Publisher's Note
Springer Nature remains neutral with regard to jurisdictional claims in published maps and institutional affiliations.
About this article
Cite this article
Tribonias, G., Theodoropoulou, A., Stylianou, K. et al. Irrigating Acetic Acid Solution During Colonoscopy for the Detection of Sessile Serrated Neoplasia: A Randomized Controlled Trial. Dig Dis Sci (2021). https://doi.org/10.1007/s10620-021-06858-x
Received:

Accepted:

Published:
Keywords
Colonoscopy

Sessile serrated lesion

Polyp

Acetic acid

Chromoendoscopy