Abstract
Aims
This pilot study assessed the efficacy, safety, and microbiome dynamics of fecal microbiota transplantation (FMT) for patients with chronic pouchitis.
Methods
A prospective open-label pilot study was performed at an academic center among pouchitis patients undergoing FMT. Patients received a minimum of a single FMT by pouchoscopy from healthy, screened donors. The primary outcome was clinical improvement in pouchitis assessed by patient survey at week 4. Secondary outcomes included decrease in total Pouchitis Disease Activity Index (PDAI) Score ≥ 3 at week 4, bowel movement frequency, ESR, CRP, fecal calprotectin, abdominal pain, and PDAI subscores including endoscopic and histologic changes. Stool samples were collected at baseline and 4 weeks post-FMT to assess bacterial microbiota using V4 16S rRNA sequencing.
Results
Nineteen patients were enrolled; however, 1 patient was lost to follow-up. No patients had a major adverse event or escalation of therapy related to FMT. Total PDAI scores, endoscopic scores, and histologic scores did not decrease significantly post-FMT. However, there was a statistically significant improvement in bowel movement (BM) frequency (9.25–7.25 BM/day, p = 0.03) and trend for improvement in abdominal pain to improve post-FMT (p = 0.05). Bacterial microbiota profiling revealed no distinct community-level changes post-FMT, though a small number of specific bacterial taxa significantly differed in relative abundance.
Conclusions
A single FMT has a tolerable short-term safety profile and may be associated with a decrease in bowel movements in patients with chronic pouchitis; however, no robust endoscopic or histologic changes were observed.
This is a preview of subscription content, log in to check access.
Access options
Buy single article
Instant access to the full article PDF.
US$ 39.95
Tax calculation will be finalised during checkout.
Subscribe to journal
Immediate online access to all issues from 2019. Subscription will auto renew annually.
US$ 119
Tax calculation will be finalised during checkout.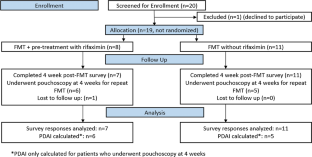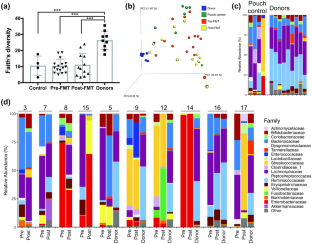 References
1.

Farouk R, Pemberton JH, Wolff BG, Dozois RR, Browning S, Larson D. Functional outcomes after ileal pouch-anal anastomosis for chronic ulcerative colitis. Ann Surg. 2000;231:919–926.

2.

Hahnloser D, Pemberton JH, Wolff BG, Larson DR, Crownhart BS, Dozois RR. The effect of ageing on function and quality of life in ileal pouch patients: a single cohort experience of 409 patients with chronic ulcerative colitis. Ann Surg. 2004;240:615–621. (discussion 621–623).

3.

Meagher AP, Farouk R, Dozois RR, Kelly KA, Pemberton JH. J ileal pouch-anal anastomosis for chronic ulcerative colitis: complications and long-term outcome in 1310 patients. Br J Surg. 1998;85:800–803.

4.

Penna C, Dozois R, Tremaine W, et al. Pouchitis after ileal pouch-anal anastomosis for ulcerative colitis occurs with increased frequency in patients with associated primary sclerosing cholangitis. Gut. 1996;38:234–239.

5.

Fazio VW, Ziv Y, Church JM, et al. Ileal pouch-anal anastomoses complications and function in 1005 patients. Ann Surg. 1995;222:120–127.

6.

Mimura T, Rizzello F, Helwig U, et al. Once daily high dose probiotic therapy (VSL#3) for maintaining remission in recurrent or refractory pouchitis. Gut. 2004;53:108–114.

7.

Gionchetti P, Rizzello F, Helwig U, et al. Prophylaxis of pouchitis onset with probiotic therapy: a double-blind, placebo-controlled trial. Gastroenterology. 2003;124:1202–1209.

8.

Borody TJ, Khoruts A. Fecal microbiota transplantation and emerging applications. Nat Rev Gastroenterol Hepatol. 2011;9:88–96.

9.

Kassam Z, Lee CH, Yuan Y, Hunt RH. Fecal microbiota transplantation for Clostridium difficile infection: systematic review and meta-analysis. Am J Gastroenterol. 2013;108:500–508.

10.

Narula N, Kassam Z, Yuan Y, et al. Systematic review and meta-analysis: fecal microbiota transplantation for treatment of active ulcerative colitis. Inflamm Bowel Dis. 2017;23:1702–1709.

11.

Stallmach A, Lange K, Buening J, Sina C, Vital M, Pieper DH. Fecal microbiota transfer in patients with chronic antibiotic-refractory pouchitis. Am J Gastroenterol. 2016;111:441–443.

12.

Landy J, Walker AW, Li JV, et al. Variable alterations of the microbiota, without metabolic or immunological change, following faecal microbiota transplantation in patients with chronic pouchitis. Sci Rep. 2015;12:12955.

13.

Fang S, Kraft CS, Dhere T, et al. Successful treatment of chronic pouchitis utilizing fecal microbiota transplantation (FMT): a case report. Int J Colorectal Dis. 2016;31:1093–1094.

14.

Schmid M, Frick J-S, Malek N, Goetz M. Successful treatment of pouchitis with Vedolizumab, but not fecal microbiota transfer (FMT), after proctocolectomy in ulcerative colitis. Int J Colorectal Dis. 2017;32:597–598.

15.

Burns LJ, Dubois N, Smith MB, et al. 499 Donor recruitment and eligibility for fecal microbiota transplantation: results from an international public stool bank. Gastroenterology. 2015;148:S96–S97.

16.

R Core Team. R: A Language and Environment for Statistical Computing. Vienna: R Foundation for Statistical Computing; 2017. https://www.R-project.org.

17.

Caporaso JG, Kuczynski J, Stombaugh J, et al. QIIME allows analysis of high-throughput community sequencing data. Nat Methods. 2010;7:335–336.

18.

Lozupone C, Knight R. UniFrac: a new phylogenetic method for comparing microbial communities. Appl Environ Microbiol. 2005;71:8228–8235.

19.

Romero R, Hassan SS, Gajer P, et al. Correction: the composition and stability of the vaginal microbiota of normal pregnant women is different from that of non-pregnant women. Microbiome. 2014;2:10.

20.

McLaughlin SD, Walker AW, Churcher C, et al. The bacteriology of pouchitis: a molecular phylogenetic analysis using 16S rRNA gene cloning and sequencing. Ann Surg. 2010;252:90–98.

21.

Tannock GW, Lawley B, Munro K, et al. Comprehensive analysis of the bacterial content of stool from patients with chronic pouchitis, normal pouches, or familial adenomatous polyposis. Inflamm Bowel Dis. 2012;18:925–934.

22.

Angriman I, Scarpa M, Castagliuolo I. Relationship between pouch microbiota and pouchitis following restorative proctocolectomy for ulcerative colitis. World J Gastroenterol. 2014;20:9665–9674.

23.

Morgan XC, Kabakchiev B, Waldron L, et al. Associations between host gene expression, the mucosal microbiome, and clinical outcome in the pelvic pouch of patients with inflammatory bowel disease. Genome Biol. 2015;8:67.

24.

Moayyedi P, Surette MG, Kim PT, et al. Fecal microbiota transplantation induces remission in patients with active ulcerative colitis in a randomized controlled trial. Gastroenterology. 2015;149:102–109.e6.

25.

Paramsothy S, Kamm MA, Kaakoush NO, et al. Multidonor intensive faecal microbiota transplantation for active ulcerative colitis: a randomised placebo-controlled trial. Lancet. 2017;389:1218–1228.

26.

Yadav A, Foromera J, Falchuk KR, Feuerstein JD. Biologics and immunomodulators for treating Crohn's disease developing after surgery for an initial diagnosis of ulcerative colitis: a review of current literature. Scand J Gastroenterol. 2018;53:813–817.

27.

Madden MV, McIntyre AS, Nicholls RJ. Double-blind crossover trial of metronidazole versus placebo in chronic unremitting pouchitis. Dig Dis Sci. 1994;39:1193–1196.

28.

Shen B, Achkar J-P, Lashner BA, et al. Irritable pouch syndrome: a new category of diagnosis for symptomatic patients with ileal pouch-anal anastomosis. Am J Gastroenterol. 2002;97:972–977.

29.

Dethlefsen L, Huse S, Sogin ML, Relman DA. The pervasive effects of an antibiotic on the human gut microbiota, as revealed by deep 16S rRNA sequencing. PLoS Biol. 2008;6:e280.

30.

Shen B, Remzi FH, Lopez AR, Queener E. Rifaximin for maintenance therapy in antibiotic-dependent pouchitis. BMC Gastroenterol. 2008;7:1–7.

31.

Isaacs KL, Sandler RS, Abreu M, et al. Rifaximin for the treatment of active pouchitis: A randomized, double-blind placebo-controlled pilot study. Inflamm Bowel Dis. 2007;13:1250–1255.
Funding
Philanthropic Gift. The study design, data collection, analysis, and interpretation were performed independently of the funding source.
Ethics declarations
Conflict of interest
ZK is currently an employee and shareholder of Finch Therapeutics Group. ZK and TL were employees of the nonprofit stool bank, OpenBiome, at the time of the study. SVL co-founded, is a shareholder, is on the board of directors and acts as a consultant for Siolta Therapeutics, and is a scientific advisory board member for Bloom Science.
Ethical approval
All procedures performed in studies involving human participants were in accordance with the ethical standards of the institutional and/or national research committee and with the 1964 Declaration of Helsinki and its later amendments or comparable ethical standards.
Additional information
Publisher's Note
Springer Nature remains neutral with regard to jurisdictional claims in published maps and institutional affiliations.
Guarantor of the article: Najwa El-Nachef.
Electronic supplementary material
Below is the link to the electronic supplementary material.
About this article
Cite this article
Selvig, D., Piceno, Y., Terdiman, J. et al. Fecal Microbiota Transplantation in Pouchitis: Clinical, Endoscopic, Histologic, and Microbiota Results from a Pilot Study. Dig Dis Sci 65, 1099–1106 (2020). https://doi.org/10.1007/s10620-019-05715-2
Received:

Accepted:

Published:

Issue Date:
Keywords
Pouchitis

IBD

Microbiome

Dysbiosis

FMT

Fecal microbiota transplantation

IPAA