5-ASA Induced Recurrent Myopericarditis and Cardiac Tamponade in a Patient with Ulcerative Colitis
Stanford Multidisciplinary Seminars
Case Presentation and Evolution
A 20-year-old woman with recently diagnosed moderate left-sided ulcerative colitis (UC) presented to the emergency department (ED) for chest pain. Two months earlier, she had been evaluated in gastroenterology clinic for bloody diarrhea and crampy left lower quadrant abdominal pain. Stool tests for infectious causes were negative. Colonoscopy demonstrated diffuse mucosal erythema, linear ulcerations, and friability that extended continuously from the rectum to the descending colon (Fig.
1
), histologically reported as acute and chronic colitis with crypt architectural distortion, consistent with inflammatory bowel disease. No granulomas or viral inclusion bodies were seen. Institution of sulfasalazine 500 mg four times daily and mesalamine enemas significantly improved her symptoms.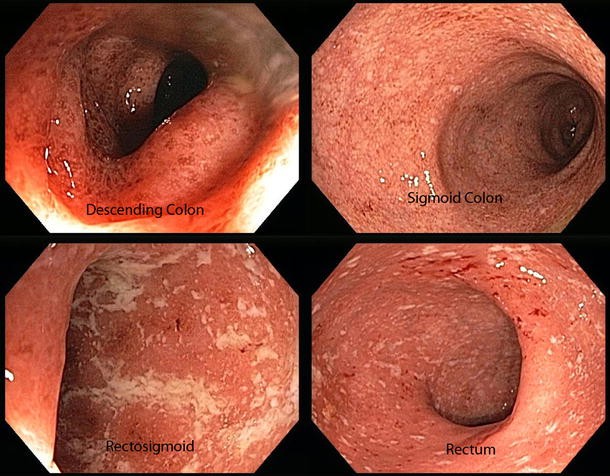 Keywords
Sulfasalazine 
Pericardial Effusion 
Pericarditis 
Cardiac Tamponade 
Mesalamine 
These keywords were added by machine and not by the authors. This process is experimental and the keywords may be updated as the learning algorithm improves.
Notes
Conflict of interest
None.
Copyright information
© Springer Science+Business Media New York 2013