Abstract
The purpose of the study was to determine the acute and long term services and supports (LTSS) utilization, cost of health care and disparities in access of care for individuals with Intellectual and Developmental Disabilities (IDD). Individuals with IDD on a waiver (receiving Medicaid-funded LTSS in community settings) compared to non-IDD individuals on a waiver control group were compared using Ohio Medicaid claims data from calendar year 2013. Results found the IDD Waiver population had lower utilization rates for emergency department visits, hospital admissions, and hospital readmissions within 30 days compared to the Non-IDD Waiver population and lower PMPM expenditures across all medical service categories except pharmacy. However, the IDD Waiver population possessed greater PMPM costs for LTSS and therefore greater overall costs of care. Furthermore, 94% of IDD Waiver individuals had an episode of care for neurological conditions, with the second most frequent episode of care being for mental health services. The two most frequent episodes of care for individuals in the Non-IDD Waiver group were for conditions related to treatment (medical/surgical) and musculoskeletal conditions. The goal of this research was to investigate the health care needs of individuals with IDD that may vary from other long term care populations. The differences in health care needs for individuals with IDD require health systems and care management that is tailored to the sub-population, with an emphasis on treatment for neurological and mental health conditions. The typical focus of care management efforts on reducing unnecessary utilization of hospital services may be less relevant to the IDD Waiver population. The results of this study will be used to make recommendations regarding the unique health care needs of individuals with IDD.
This is a preview of subscription content, log in to check access.
Access options
Buy single article
Instant access to the full article PDF.
US$ 39.95
Price includes VAT for USA
Subscribe to journal
Immediate online access to all issues from 2019. Subscription will auto renew annually.
US$ 99
This is the net price. Taxes to be calculated in checkout.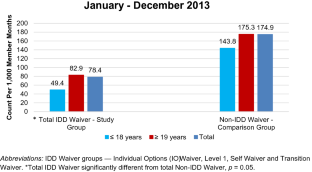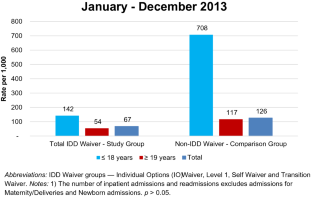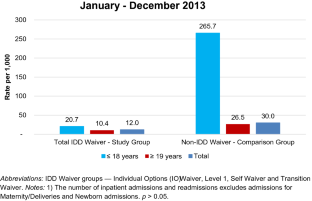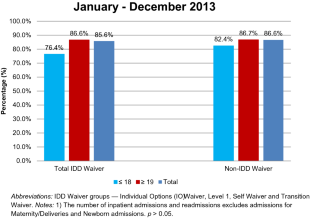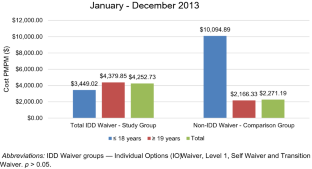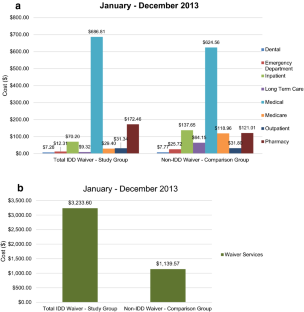 References
Ailey, S. H., Johnson, T., Fogg, L., & Friese, T. R. (2014). Hospitalizations of adults with intellectual disability in academic medical centers. Intellectual and Developmental Disabilities,52, 187–192.

Bauer, A., Taggert, L., Rasmussen, J., Hatton, C., Owen, L., & Knapp, M. (2019). Access to health care for older people with intellectual disability: A modelling study to explore the cost-effectiveness of health checks. BMC Pubilc Health.,19(1), 706. https://doi.org/10.1186/s12889-019-6912-0.

Brameld, K., Spilsbury, K., Rosenwax, L., Leonard, H., & Semmens, J. (2018). Use of health services in the last year of life and cause of death in people with intellectual disability: A retrospective mactedh cohort study. British Medical Journal Open,25(2), e020268. https://doi.org/10.1136/bmjopen-2017-020268.

Centers for Disease Control and Prevention. National Center for Health Statistics, Department of Health and Human Services. NCHS Data Brief No. 291, Nov 2017. cdc.gov Access date April 2019.

Centers for Disease Control and Prevention. National Center for Chronic Disease Prevention and Health Promotion. NCCDPHP, Oct 2019. cdc.gov Access date May 2020.

Grier, E., Abells, D., Casson, I., Gemmill, M., Ladouceur, J., Lepp, A., et al. (2018). Managing complexity in care of patients with intellectual and developmental disabilities: Natural fit for the family physician as an expert generalist. Canadian Family Physician,64(Suppl 2), S15–S22.

Hosking, F., Carey, I., Shah, S., Harris, T., DeWilde, S., Beighton, C., et al. (2016). Mortality among adults with intellectual disability in England: Comparisons with the general population. American Journal of Public Health,106(8), 1483–1490.

Hsieh, K., Rimmer, J., & Heller, T. (2012). Prevalence of falls and risk factors in adults with intellectual disability. American Journal on Intellectual and Developmental Disabilities,117, 442–454.

McQuire, C., Hassiotis, A., Harison, B., & Pilling, S. (2015). Pharmacological interventions for challenging behaviour in children with intellectual disabilities: A systematic review and meta-analysis. BMC Psychiatry.,26(15), 303. https://doi.org/10.1186/s12888-015-0688-2.

Nabhanizadeh, A., Oppewal, A., Boot, F. H., & Maesfesten, D. (2019). Effectiveness of medication reviews in identifying and reducing medication-related problems among people with intellectual disabilities: A systematic review. Journal of Applied Research in Intellectual Disabilities,32(4), 750–761.

Potvin, L. A., Fulford, C., Ouellette-Kuntz, H., & Cobigo, V. (2019). What adults with intellectual and developmental disabilities say they need to access annual health examinations: System navigation support and person-centred care. Canadian Family Physician,65(Suppl 1), S47–S52.
Funding
No funding resources were declared for this research.
Ethics declarations
Conflicts of interest
The authors have no conflicts of interest relevant to the content of the article.
Additional information
Publisher's Note
Springer Nature remains neutral with regard to jurisdictional claims in published maps and institutional affiliations.
Barbara Edwards: Retried.
About this article
Cite this article
Amin, M.R., Gentile, J.P., Edwards, B. et al. Evaluation of Health Care Disparities for Individuals with Intellectual and Developmental Disabilities in Ohio. Community Ment Health J (2020). https://doi.org/10.1007/s10597-020-00669-6
Received:

Accepted:

Published:
Keywords
Intellectual and developmental disabilities

IDD

Medicaid

Long term services and supports

LTSS

Care management