Abstract
Introduction
Mental illness is a global health challenge and continues to rise among minors. Community clinics are well positioned to provide mental health services to young people.
Objective
To assess community clinic front staff awareness of recent legislation mandating access by minors to mental health services and the actual services delivered by these clinics.
Methods
We conducted a face-to-face survey with front office staff at community clinics in service planning areas (SPA) 6, 7, and 8 in Los Angeles County (LAC) to understand the staff awareness of the services provided to the minor by the clinic. These SPAs have been previously identified as serving a low socioeconomic population. Fisher's exact test and the chi-square test were conducted to understand the factors influencing the front desk personnel awareness.
Results
Data were collected from 17 clinics in SPA6, 15 clinics in SPA7, and 4 clinics in SPA8. All of the clinics provided Family-PACT insurance, resources for domestic abuse, intimate partner violence, mental health (such as anxiety and depression) and alcohol/drug abuse; however responding front desk staff in twenty-five out of 36 (69.4%) clinics was aware of the availability of Family-PACT insurance to minor patients; 21 (58.3%) was aware that the clinic provided resources for domestic abuse or intimate partner violence, and 20 (55.5%) was aware that the clinic offered resources for mental health (such as anxiety or depression) or alcohol/drug abuse to minor patients.
Discussion
In this pilot study, about half of the front desk staff at the surveyed clinics in LA County did not know that the clinic is fully authorized and equipped to provide mental health services to the minors (patients under 18 years of age). These are missed opportunities. There is a need for better education of the front-desk personnel.
Access options
Buy single article
Instant access to the full article PDF.
US$ 39.95
Tax calculation will be finalised during checkout.
Subscribe to journal
Immediate online access to all issues from 2019. Subscription will auto renew annually.
US$ 79
Tax calculation will be finalised during checkout.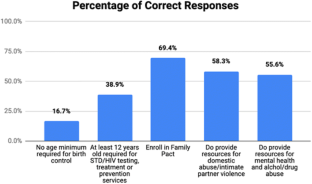 References
Beall, J., Portantino, A., Hertzberg, B., Berman, M., Carrillo, W., Diep, T., Garcia, C., Garcia, E., et al. (2019). Mental health services: youth. Retrieved August 21, 2019, from https://leginfo.legislature.ca.gov/faces/billTextClient.xhtml?bill_id=20192 0200SB12

Born This Way Foundation (BTWF) & Mental Health Services Oversight & Accountability Commission (MHSOAC). (2019). California Youth Mental Health: Understanding Resource Availability and Preferences. Retrieved September 26, 2019, from https://www.mhsoac.ca.gov/sites/default/files/documents/2019-05/BTWF%20-%20California%20Youth%20Mental%20Health%20and%20Resource%20Access%20Survey%20-%20Results%20Deck.pdf

Gulliver, A., Griffiths, K. M., & Christensen, H. (2010). Perceived barriers and facilitators to mental health help-seeking in young people: A systematic review. BMC Psychiatry, 10(1), 113.

Hogben, M., & Leichliter, J. S. (2008). Social determinants and sexually transmitted disease disparities. Sexually Transmitted Diseases, 35(12), S13–S18.

Los Angeles County Department of Public Health (LADPH) (2017). Key Indicators of Health by Service Planning Area. Retrieved December 15, 2018, from https://publichealth.lacounty.gov/ha/docs/2015LACHS/KeyIndicator/Correction/KIH_020617-sec.pdf

Los Angeles County Department of Public Health (LADPH). (2018). Pocket Guide Los Angeles. Retrieved December 15, 2018, from https://www.pocketguidela.org/frequently-asked-questions/

Patel, V., Flisher, A. J., Hetrick, S., & McGorry, P. (2007). Mental health of young people: A global public-health challenge. The Lancet, 369(9569), 1302–1313.

Rickwood, D. J., Deane, F. P., & Wilson, C. J. (2007). When and how do young people seek professional help for mental health problems? Medical Journal of Australia, 187(S7), S35–S39.

Santiago, C. D., Kaltman, S., & Miranda, J. (2013). Poverty and mental health: How do low-income adults and children fare in psychotherapy? Journal of Clinical Psychology, 69(2), 115–126.

Tylee, A., Haller, D. M., Graham, T., Churchill, R., & Sanci, L. A. (2007). Youth-friendly primary-care services: How are we doing and what more needs to be done? The Lancet, 369(9572), 1565–1573.

Verhaak, P. F., van Dijk, M., Walstock, D., & Zwaanswijk, M. (2015). A new approach to child mental healthcare within general practice. BMC Family Practice, 16(1), 132.

World Health Organization (WHO). (2012). Making health services adolescent friendly. Retrieved February 1, 2019, from https://www.who.int/maternal_child_adolescent/documents/adolescent_friendly_services/en/
Acknowledgements
We thank Dr. Kristin Meyer, from LA County Department of Public Health, for her guidance and partnership. MiOra is a 501(c)(3) organization. This work is funded in part by a grant from the California Wellness Foundation (Cal Wellness). The foundation's mission is to improve the health of Californians. Cal Wellness is dedicated to promoting equity through advocacy and access.
Ethics declarations
Conflict of interest
The authors reported no conflicting interests.
Additional information
Publisher's Note
Springer Nature remains neutral with regard to jurisdictional claims in published maps and institutional affiliations.
Appendix 1
Appendix 1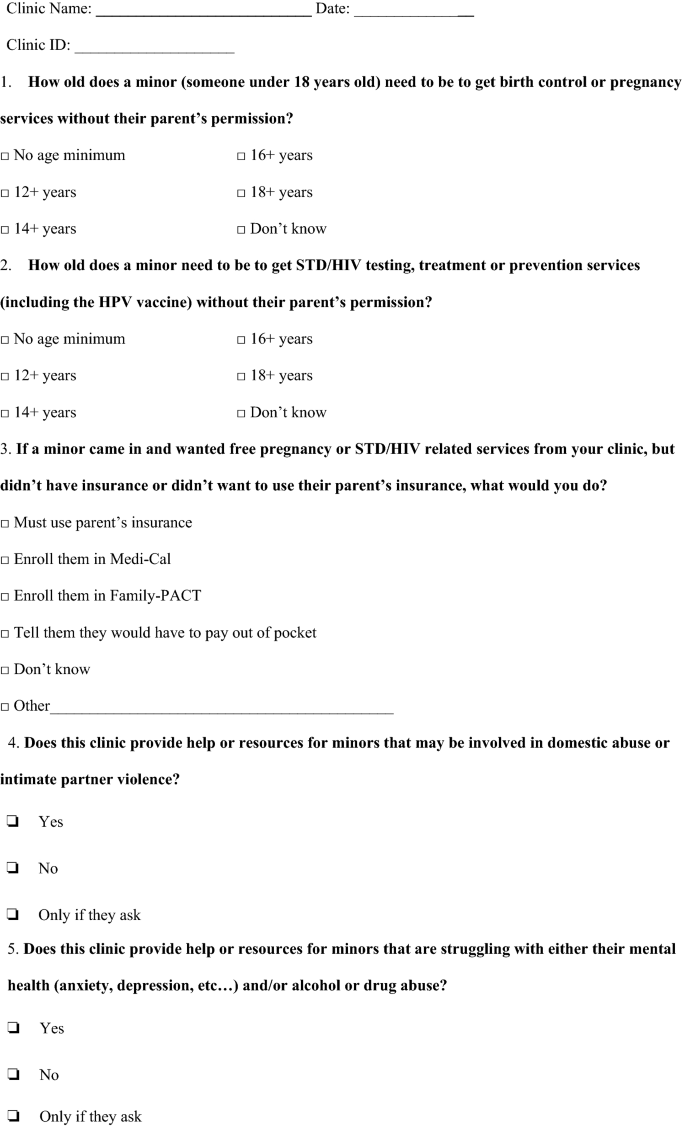 Answer key:
1.

No age minimum

2.

12+ years

3.

Enroll them in Family-PACT

4.

Answers may vary

5.

Answers may vary
About this article
Cite this article
Seu, M., Lopez, D., Nave, M. et al. Assessing Front Office Staff Awareness on Mental Health Resources at Youth Friendly Clinics in Los Angeles County. Community Ment Health J 56, 1544–1548 (2020). https://doi.org/10.1007/s10597-020-00604-9
Received:

Accepted:

Published:

Issue Date:
Keywords
Youth

Mental health

Community clinic

Los Angeles County

Front Office staff

Education