Derivatives of Azidocinnamic Acid in the Synthesis of 2-Amino-4-Arylidene-1H-Imidazol-5(4H)-Ones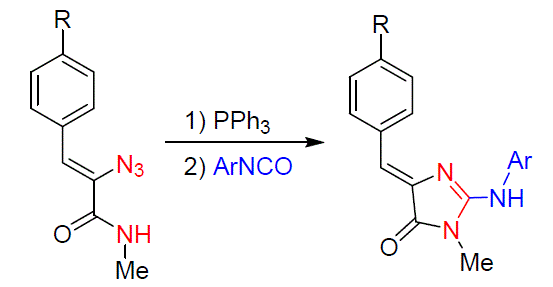 A method for the synthesis of 2-amino-4-arylidene-1H-imidazol-5(4H)-ones is proposed based on the reaction of various aromatic isocyanates with phosphazenes derived from azidocinnamic acid amides. The spectral-luminescent properties of the obtained compounds were studied. The products were shown to possess the (Z)-configuration with the help of two-dimensional spectroscopy.
Keywords
imidazolones 
isocyanates 
phosphazenes 
aza-Wittig reaction 
chromophores 
heteronuclear spin-spin coupling constants 
Notes
The study was carried out with the financial support of the Grants Council of the President of the Russian Federation (grant MK-189.2017.3).
The work was carried out using the equipment of the Collective Use Center "Bioorganic" of the Russian Academy of Sciences, supported by the Russian Ministry of Education and Science (agreement identifier RFMEFI62117X0018).
Copyright information
© Springer Science+Business Media, LLC, part of Springer Nature 2018